5 Best Business Plan Software in 2021
Compare business plan software options and learn how to pick the best software for your small business needs.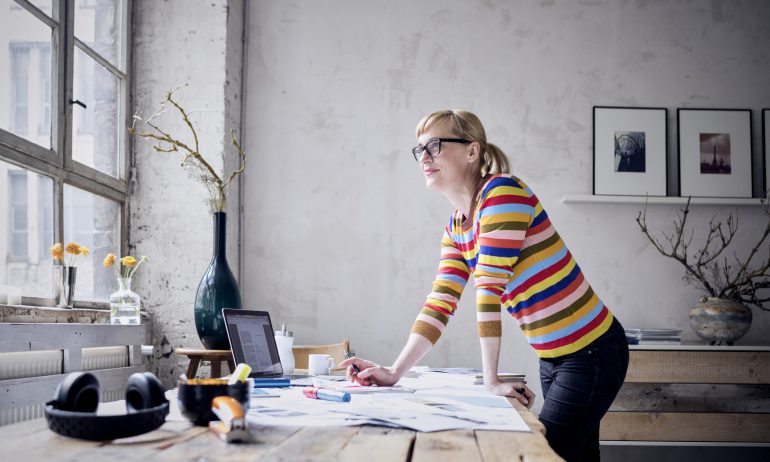 Many or all of the products featured here are from our partners who compensate us. This may influence which products we write about and where and how the product appears on a page. However, this does not influence our evaluations. Our opinions are our own. Here is a list of our partners and here's how we make money.
When you're starting a business, developing a strong business plan will be one of the first steps you take. Your business plan will cover everything from a detailed explanation of your products or services and pricing model to at least three years of financial projections—plus much more. Therefore, whether you're not sure how to get started or you're just looking to make the process easier, you may want to turn to business plan software for help.
In this guide, we'll break down five of the best business plan software options—discussing their pros, cons, features, pricing, and more—so you have all the information you need to decide which solution is right for your small business.
The right business plan software will make the process of writing your much simpler. Like many business software solutions, however, there are a number of different business plan software options out there—each of which has a unique set of features, user experience, and price.
This being said, if you're looking for a place to start your search for the best business plan software, you can explore the five top options below:
Best overall business plan software.
If you want template-rich, modern-feeling business plan software, then LivePlan may be the right pick for you. LivePlan excels with their user interface, which feels updated and slick, and also offers intuitive, easy-to-use features and options.
Their step-by-step instruction will help you kick things off from the beginning, and you can take advantage of their online learning center to continue to gain business skills.
Best for multiple business management tools in one platform.
Next on our list of the best business plan software options is GoSmallBiz, which is much more than just a business plan software. With GoSmallBiz, you have access to business continuity planning software with features that cover creating a roadmap, working through business and legal forms, building a website, and more.
In this way, GoSmallBiz is great for startups or newer businesses looking to access multiple business management tools through one platform.
Best for simple, fast business plan creation.
If you're looking for free business plan software, Enloop will be one of your closest options—they offer an all-inclusive seven-day free trial, no credit card required. Additionally, unlike some of the other options on our list, Enloop is strictly dedicated to business plan creation, including automated text writing, financial forecast comparisons, and a real-time performance score that tracks your progress.
This being said, if you'd prefer the most straightforward, fast, and simple way to write your business plan, Enloop will be a platform worth considering.
Best for startups looking to acquire funding or find investors.
Part of the Startups.com suite, Bizplan gets top marks for their user interface—it's intuitive, easy to use, and modern. You'll work with a step-by-step business plan builder to get exactly what you'd like from your business plan. It may remind you of a modern website builder, since it has drag-and-drop tools to build templates.
Moreover, for one subscription fee, you have access to all of the tools in the Startups.com network, including self-guided courses, how-to guides, masterclass videos, and more. All in all, with a direct connection to Fundable, Bizplan is a top business plan software option for startups looking to acquire funding and find investors.
Best for financial planning and budgeting.
Finally, for some of the strongest financial features among business plan software options, including budgeting and forecasting, you might check out PlanGuru. Whereas the other solutions we've reviewed were first and foremost focused on writing a business plan, PlanGuru is dedicated to business financial planning—providing the tools you need to create budgets, financial forecasts, reports, and more.
Therefore, if you need a software solution that can streamline the financial piece of your business planning processes, PlanGuru will certainly have the most to offer.
Ultimately, it's up to you to decide, which, if any, of the best business plan software solutions on our list is right for your business.
So, if you're trying to figure out how to choose between the various options out there, it might be helpful to compare your top choices based on the following criteria:
There's no doubt that properly crafting your business plan is important for the future growth and success of your small business. Luckily, the right business plan software should make the process much simpler.
This being said, whether you opt for one of the best business plan software options listed here, or another platform entirely, you'll want to take the time to compare multiple solutions and ensure you choose the one that's right for your business.
As we mentioned, it can be helpful to think about the features you're looking for, your budget, and your user-experience preferences ahead of time—that way, you'll have a set of criteria in mind as you explore different solutions.
Ultimately, perhaps the best thing you can do to find the right software is to actually test out the platforms themselves—either by using a free trial or a money-back guarantee.
This article originally appeared on JustBusiness, a subsidiary of NerdWallet.