Colorado Small Business Grants: The Top Options
Get a flavor of what Colorado small business grants require so you can manage your time and resources effectively.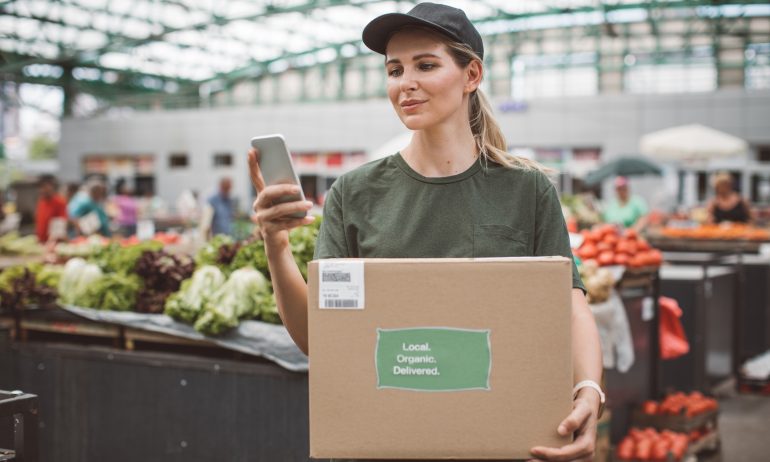 Many or all of the products featured here are from our partners who compensate us. This influences which products we write about and where and how the product appears on a page. However, this does not influence our evaluations. Our opinions are our own. Here is a list of our partners and here's how we make money.
Colorado is not only a great place to live, but also a great place to run a small business. Along with lots of fantastic resources in your state, you'll also find that there are several options for Colorado small business grants to help fund your business. That's "free money" for your Colorado business, so to speak. It's money that you don't have to pay back.
Finding the best small business grants for your specific business can take some work and a bit of strategy, but knowing where and how to go about the process is the first part of the process. Here, we'll go through different resources to find and identify the best Colorado small business grants offered both through local and government agencies in your state as well as some larger national opportunities. We'll also cover how to zero in on the right opportunities for you, and to make sure you're being efficient with the time you're spending on your Colorado small business grant applications.
The top options for Colorado small business grants
Finding the best Colorado small business grants is a two-pronged process. First, you'll want to make sure you have the pulse on Colorado small business grants that are unique to your location—both statewide and regionally. Then, you'll also want to have a sense of opportunities that are offered more widely. Although they may not necessarily be specific to Colorado-based entrepreneurs, they are open to them, which means they're worth considering. We'll go through both here.
The Denver Foundation grants
For Colorado-based nonprofit businesses doing good in their community, The Denver Foundation (TDF), which focuses on the seven-county metropolitan Denver region, offers several different grants, generally focused in the areas of basic human needs, economic opportunity, education, and leadership, and equality. Grant awards typically range from $5,000 up to $20,000.
If TDF's lists of grants aren't quite a fit for your business, it's still worth poking around their site, as they list several other resources for nonprofits to find grants.
Customized job training grants
Contingent on available funding, the customized job training grants could be a good place for Colorado-based entrepreneurs to look for funding. These grants, provided jointly through the Colorado Community College System (CCCS) and the Colorado Office of Economic Development and International Trade (OEDIT), come in two varieties.
The first program, Colorado First, provides funds for businesses that are relocating to or expanding in Colorado to train new hires. The second program, Existing Industry, is focused on established Colorado companies and provides funds to help them remain competitive within their industry, adapt to new technology, and prevent layoffs.
If you are a nonprofit in Colorado and have secured 501(3)(c) designation, you may want to consider the Ballantine Family Fund grant. This is specific to businesses working in the Southwest Colorado region, specifically La Plata, Dolores, Montezuma, Archuleta, and San Juan counties. There are four different quarterly deadlines for the awards, which range from $500 to $5,000. The Ballantine Family Fund gives out about $250,000 in total grants each year; so if you meet the criteria, it's definitely worth it to apply.
Colorado Fresh Food Financing Fund
Both nonprofits and for-profits working to expand people's access to food can apply for grant funding from the Colorado Fresh Food Financing Fund. This program provides awards up to $50,000 for businesses working in food retailing that are expanding access to low-income or disadvantaged consumers, as well as rural communities. Award winners can use the money for business operations, land, and more. They advise that your business must be past the idea phase, with, at a minimum, a completed business plan and also financial projections.
Choose Colorado Rural Business Funding
The next on our list of Colorado small business grants, Choose Colorado has a long list of funding resources for rural-based businesses. You'll find a mix of resources here, including state lending programs and tax credits as well as small business grants. It may take a little bit of digging to find your grant opportunities, but there's often a lot of money available for companies doing good work in rural development.
Choose Colorado Startup Resources
If you have a startup and are looking for Colorado small business grants specifically for your budding business, you may want to check out the Choose Colorado resource for startups. Like the rural hub, this is again a list of several different resources for Colorado-based small businesses and startups. There are other programs such as federal lending and tax credits, but you'll be able to find some grant opportunities in there that could be a fit for your business too.
When you're keeping in mind central hubs to find Colorado small business grants, make sure you check Colorado GrantWatch often. Like some of the other grant aggregators, you won't just see opportunities that are unique to Colorado-based small businesses. Still, there are a lot of wonderful opportunities here for Colorado small business grants across different industries, sectors, and more—many of which are a fit for businesses based in your state. Another good reason to keep an eye on Colorado GrantWatch is that the site updates often, which will give you a sense of what's new and which programs are currently accepting applications.
If you're a Colorado-based woman entrepreneur, you may want to consider the Amber Grant. Judges for the Amber Grant pick a female entrepreneur each month to win an award of $10,000. After all of the monthly prizes have been awarded for the year, a $25,000 award is granted to one of the 12 monthly winners, meaning if you win both the monthly and yearly prize money, you will net $35,000 total for your business.
If you'd like to apply for an Amber Grant, you'll fill out a short application with a few questions, provide some personal information, and pay a $15 application fee. Since the application doesn't require a lot of information, we'd also recommend that you fill out the additional optional question about what you'd do with the money if awarded it so the committee has a better sense of what makes your company stand out and why a grant would be crucial for you.
Finding more options for Colorado small business grants
Keeping your search going for Colorado small business grants means exploring other avenues too. As you are likely aware, there are lots of non-Colorado-specific small business grants with varying levels of awards and notoriety available to entrepreneurs throughout the country. But, of course, there are a lot of these grants and it isn't always easy to know where to start looking. It can be a real time suck just searching for grants in general.
A strategic way to start narrowing down some of the wider opportunities for your company is to search based on what's unique to your business. For instance, you may want to look into small business grants for veterans, small business grants for women, small business grants for minorities and entrepreneurs of color, small business grants for your industry specifically, etc.
This should help you get an overwhelming number of grants down to ones that are more relevant to your business. Use the same rule of thumb for applying to these grants that you would when applying for any other types of grants—focus on the grants for which you're well-qualified so you don't sink too much time into grant applications for awards you won't likely win.
How to find the right Colorado small business grant for you
Finding the right Colorado small business grant for your company, no matter what industry you're working in, is a matter of matching yourself with the right opportunity—and, of course, having a committee like your application. But most important to the process is using your time wisely.
Manage your time correctly
The thing you'll find most in the small business grant process is that it takes time—a lot of it. Looking for opportunities, figuring out what opportunities require, putting together your applications, and anything else—this all takes a great number of hours and a great deal of energy, both of which your business requires to stay afloat.
There are several strategies you can use for managing your time while applying for grants. To start, consider restricting your time daily to how much you can realistically spend on grant-related activities—maybe that's an hour a day for research or applications. Remember, any amount of time is still progress! You just don't want to jeopardize your daily operations in order to get grant applications out the door.
Understand your eligibility
As you probably noticed above, many Colorado small business grants have very specific requirements for eligibility. It's actually rare to find a grant that's open to all entrepreneurs, no matter what they're doing. So, as you're going through the grant application process, knowing the component parts of your business and your identity as a founder will be a huge help.
Make sure you know the following about your company:
How you identify (gender, race, ethnicity).

The industries into which your business fits (e.g., biotech).

Whether you're for-profit or nonprofit.

What you're going to finance with the money.

Your company's goals and mission.

How many jobs you can create with your grant (if applicable).

The local areas to which you belong (state, county, community, etc.).

The size of your project.

Who your company serves and affects.
Especially with hyper-specific grants (say, grants for a rural community or one in the education space), the more relevant a grant is to what your business is doing, the more likely you'll be in serious contention to win.
Be realistic about the process
If it sounds like grants are competitive… well, they are. In no way is winning a grant a given; as you might expect, there are a lot of people who want "free money." So, being realistic about your chances is a major part of the grant application process. That isn't to say you should be discouraged. But if you really need money quickly and definitively, you may want to instead look at traditional funding options, which your local Colorado bank may be able to help with.
It's also important to remember that grants take a while and sometimes come with restrictions for how you can use the money. This is standard, but understanding this is important for how to think realistically about how the grant money will factor into your business's financials. For faster financing options, you may want to look into business term loans.
Finally, understand that if a grant sounds like it's too good to be true, it just may be. Unfortunately, some inauthentic websites offering money to entrepreneurs are out there. If you get a bad feeling, you should always do additional research to make sure the opportunity is legitimate, or forego it entirely.
It's not easy to secure a grant award; so if you're having trouble, don't fret. You can continue to search for Colorado small business grants that better fit your business than the ones to which you've applied or you can keep an eye out for new grants popping up as they tend to do.
We mentioned it briefly before, but you also might want to look into other small business loan programs. Sure, they're not "free money" the way grants are, but certain funding programs, such as SBA loans, microloans and other Colorado government-originated programs can give you access to capital at premium rates. For some qualifying entrepreneurs, you may even be able to access loans with no interest at all.
with Fundera by NerdWallet
This article originally appeared on Fundera, a subsidiary of NerdWallet.