Contactless Payments: How They Work, How Your Business Can Accept Them
Contactless payments, including digital wallet options, can make checkout fast and secure for your customers.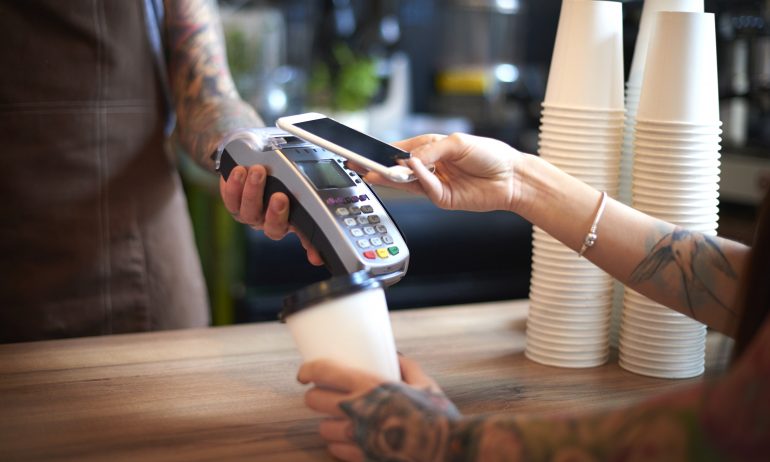 Many or all of the products featured here are from our partners who compensate us. This influences which products we write about and where and how the product appears on a page. However, this does not influence our evaluations. Our opinions are our own. Here is a list of our partners and here's how we make money.
Contactless payments, or tap-and-go transactions, are payments that customers make with contactless chip cards and mobile devices with digital wallet functions. The popularity of contactless payments, as well as its fast transaction speed and enhanced security, are all good reasons to offer a contactless payments option to customers.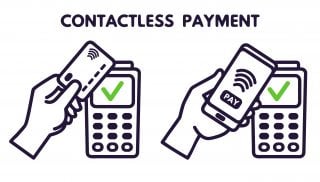 How contactless payments work
Contactless payments send a unique, one-time token to the payment terminal. The token can only be used to make that specific purchase at the point-of-sale system, adding a layer of security to the transaction.
Near-field communication, or NFC, technology is used for contactless payments and allows wireless communication between two devices — a contactless card and a card reader, for example. Technology, like NFC, that uses radio frequency identification, or RFID, has been around for decades.
To make a contactless payment, the card or mobile device must be held within two inches of the card reader. If you have a card reader or POS system for chip cards, look for the contactless icon (four curved lines that increase in size from left to right) to confirm that it can accept contactless payments, too.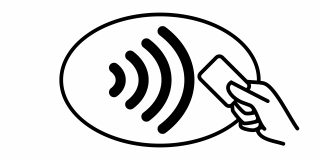 For contactless payments to work, both the card and the reader must have the contactless symbol. Although the card needs to be held within a few inches of the reader for the transaction to go through, the card and reader don't actually need to touch or "tap."
Mobile devices also use NFC technology to process payments. Customers can add a credit card to a digital wallet like Apple Pay, Samsung Pay or Google Pay. Then, when they hold their phone near the card reader, it will prompt them to confirm their purchase.
Digital wallets usually require a passcode or authentication through a fingerprint or facial recognition to complete the transaction, which can take a bit longer than tap-and-go cards.
Other types of touch-free payments
While contactless payments generally refer to tap-and-go transactions, here are some other ways to make in-person payments touch-free:
QR codes and online ordering
Some restaurants have implemented QR codes into their order and payment process to improve efficiency and reduce the amount of contact between employees and customers. With a scannable code available at each table, customers are connected to a digital menu or a complete mobile ordering and payment platform.
Peer-to-peer payment apps
Peer-to-peer payment apps like Venmo and PayPal are built for contactless payments. If your business uses one of these services, customers can find your account with your username or by scanning a QR code.
Why accept contactless payments?
There are a lot of benefits to accepting contactless payments at your business. Here are a few:
Since they work with a one-time token, mobile payments and tap-and-go card transactions can be processed without storing sensitive information, like names, card numbers and security codes. Also, because NFC technology works over very short distances, it's less likely that a would-be thief can steal your card details just by standing next to you.
Contactless payments process faster than swipe or chip card transactions — two to five seconds estimated by some providers. And they're less likely to malfunction than magstripe cards, which can take several frustrating swipes to work, and which can deteriorate from use over time.
The growing popularity of contactless payments means that customers often expect to pay with their phones or the tap of a card. With many POS systems including contactless capabilities and most U.S. banks issuing tap-and-go cards, contactless payments are becoming standard. Accepting contactless payments can help ensure that your business stays convenient for your customers.
How to accept contactless payments
Many POS card readers and terminals have built-in NFC technology so customers can tap their cards or smartphones to pay. Some examples of card readers and terminals that enable you to accept contactless payments include:
Square Contactless and Chip reader
Price: $49 for reader and $29 for optional dock; free if using Tap to Pay on iPhone.
Square's contactless and chip card reader accepts chip- and NFC-enabled credit cards, but it does not process magstripe payments. The reader can also take digital wallet and smartphone app payments, including Apple Pay, Google Pay and Samsung Pay, and it connects wirelessly to the Square mobile app via Bluetooth. Square also offers Tap to Pay on iPhone, which lets merchants accept card payments using only a regular iPhone with the Square POS app. Customers hold their cards or their own iPhone wallets near the merchant's phone to pay.
Price: $49 for reader and $29 for charging stand.
Clover's card reader processes every type of credit card payment: magstripe cards, chip cards and contactless payments — in addition to mobile wallets such as Apple Pay and Google Pay. It also connects to Clover's mobile app via Bluetooth, and can sync with other Clover devices.
Price: $79 for reader; new customers can get their first one for $29.
PayPal's Zettle card reader accepts chip, contactless and magstripe payments. It also lets customers pay with QR codes on PayPal and Venmo platforms.
Best Payment Processing Companies
Product

Payment processing fees

Monthly fee

Learn more

Helcim

0.40% + 8¢

 

plus interchange, in-person; 0.50% + 25¢ plus interchange, online.

$0

 

Square

2.6% + 10¢

 

in-person; 2.9% + 30¢ online.

$0

 

Starts at $0/month for unlimited devices and locations.

Stripe Payments

2.7% + 5¢

 

in-person; 2.9% + 30¢ online.

$0