What You Need to Know About Buying a Dunkin' Donuts Franchise
To avoid a time-consuming application process for how to buy a Dunkin' Donuts franchise, this guide breaks it down.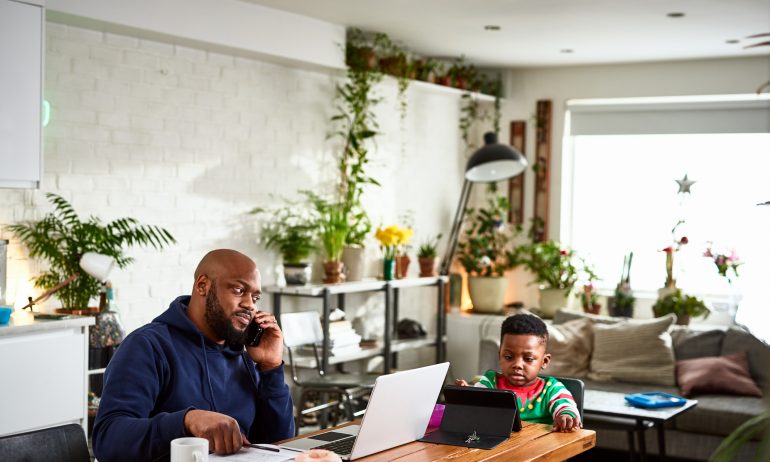 Many or all of the products featured here are from our partners who compensate us. This influences which products we write about and where and how the product appears on a page. However, this does not influence our evaluations. Our opinions are our own. Here is a list of our partners and here's how we make money.
If you're considering joining a franchise that's a leader in doughnuts and coffee, then Dunkin' (formerly Dunkin' Donuts) is an exceptional choice.
After all, when Dunkin' made "America Runs on Dunkin" their slogan, they weren't wrong. Studies show that 64% of American adults drink coffee and 200 million Americans consumed doughnuts in 2019. And when you pair coffee with doughnuts, you have the perfect combination to kickstart your morning or deliver an afternoon pick-me-up.
And if you want to deliver this experience to a loyal customer base, an opportunity awaits you. Dunkin' is recruiting applicants to expand their doughnut and coffee empire. The application process can be time-consuming and confusing, but below we'll break down what you need to know to start a Dunkin' Donuts franchise.
To start, let's take a look at some of Dunkin's accolades:
Rated number one in the Coffee and Baked Goods Category by Entrepreneur

Rated number one Airport Franchisor by Airport Franchisor

Rated number one in Customer Loyalty by Brand Keys Customer Loyalty Index
It's also worth noting that while you may think of the company as Dunkin' Donuts, they actually dropped the "Donuts" as of January 2019 and now officially go by Dunkin'. This decision was made to widen the scope of their branding. Dunkin' serves more than just delicious doughnuts—they also offer a larger food and beverage menu.
Before we dive into Dunkin's franchise application process, let's explore the pros and cons of buying a Dunkin' franchise.
Dunkin' offers some amazing benefits to their franchisees, including:
Brand authority in the coffee and doughnut industry

Worldwide recognition with 12,000 locations worldwide and 8,000 locations within the United States

You get to be your own boss

Online courses on business management through the Dunkin' Donuts Online University

Strong franchisee support with site selection assistance and training

Three-day business course in Boston, Massachusetts, after your application is approved
Dunkin' offers many benefits alongside their delicious doughnuts and coffee, but there are some disadvantages to consider:
Financial barrier to entry

Recent bad press due to hacked customer accounts

Limited creativity (this is the standard for any franchise, as you must comply with franchise branding requirements)

No Dunkin'-sponsored financing options (although, they recommend preferred lenders that offer SBA-backed loans)
How much is a Dunkin' Donuts franchise?
Now, you're ready to ask the big question: How much does a Dunkin' Donuts cost?
The Dunkin' Donuts franchise cost will vary, depending on the size of your store, location, and how many units you open. Keep in mind, there are several franchise fees associated with opening a franchise, not just a Dunkin', which often contribute to a significant initial investment. Here is a breakdown and ranges of the financial requirements to open a Dunkin' franchise:
Total investment range: $97,500 to $1.7 million

Initial franchise fee: $40,000 to $90,000 (varies by location)

Net worth: $500,000 minimum

Liquid capital: $250,000 minimum
While the figures may look high to you, the upfront costs are lower than similar food franchises. For example, Krispy Kreme's initial investment can reach over $1.9 million. McDonald's is even higher with an initial investment of up to $2.2 million.
How to open a Dunkin' Donuts franchise
Dunkin' has a multi-step process for joining their franchise that may take between 60 and 90 days. During this time, they will review your application and business plan before approving you as a franchisee candidate. After, the development stage may take eight to 15 months. During this time, you will be securing the real estate, constructing your restaurant, and training your crew.
If Dunkin' seems like the right fit for you, then you'll want to submit an application to express your interest. Below, we're outlining the steps for applying and opening your own Dunkin' location.
1. Submit a franchise application
To get started, you can submit a franchise application online. Please note that you will be required to upload a resume during the application process. Be sure to review your existing resume and tailor it to your Dunkin' application.
Upon receipt of your application, Dunkin' will send you their franchise disclosure and qualification package. Within this package, you will find and review:
Dunkin's financial statements

A copy of the franchise agreement

A list of existing franchisees who can answer any questions you may have

Cost breakdowns (advertising, royalties, etc.)
This documentation ensures that you make an informed decision when considering joining the Dunkin' franchise.
While you review this package—and you may also want an attorney to review the franchise agreement specifically—Dunkin' will request proof of citizenship and proof of your assets. Also, they will run your credit report and conduct a background check.
This completes the initial screening process.
2. Write your business plan
Next, you will meet with a franchise manager. The franchise manager will outline the following stages within the Dunkin' franchise application process.
This is your opportunity to ask questions to somebody who has experience in opening and running a Dunkin' franchise. Ask as many questions as you can. Remember to contact the list of franchisees provided in your franchise disclosure and qualification package. And remember, you also want to take this opportunity to make sure this is the right franchise for you. If the feedback you receive confirms this, you can also seek input on how to write your business plan to impress the team charged with approving applications.
There are some key elements you'll want to include when writing your business plan:
Potential sites to construct your Dunkin' franchise

Financial plan and projections
If you're still confused and need more insight, be sure to check out our guide on how to write a business plan.
At this point in the Dunkin' franchise application process, you have submitted your application, passed the background and credit check, and submitted your business plan. If all looks well, your application and business plan will be approved.
Your next step is to sign the store development agreement (SDA), which gives you the right to develop a Dunkin' location within a geographical territory.
You will also sign the franchise agreement, which is a legal contract between the franchisor and franchisee. It outlines what is expected of each party. For example, the franchisee might be expected to open a certain number of units within a timeframe. The franchisor, in turn, may be expected to supply certain marketing materials.
with Fundera by NerdWallet
4. Prepare for your grand opening
After your approval is submitted, you begin your franchisee training. This will include web-based courses on business management and a three-day business course in Boston, Massachusetts. Also, you will work with a team to help you secure financing, select a site to build your unit, and initiate construction.
After construction is complete, you will need to design your store. Make sure you comply with their brand requirements and stick with their branding colors of pink, orange, brown, and white. Also, you'll need to onboard your new staff—we recommend checking out our guide on how to hire great employees.
Make sure your staff is well-trained, your ingredients fresh, and your coffee strong. All of these will increase your chances for success when you finally open your doors for your grand opening.
How much does a Dunkin' franchisee make?
If you're investing your time, energy, and capital into a franchise, you'll expect a return on your investment. To determine whether it's worth it, you likely want to know how much a Dunkin' franchise owner makes.
A Dunkin' franchise owner can expect to make an average annual salary of $124,000. This figure fluctuates depending on the type of location you open. For example, when building a unit, you have the following options:
Located within a shopping plaza or a mall

A non-traditional location, like a gas station or convenience store
Store traffic varies by store location and building type, which will affect your Dunkin' Donuts franchise profit margins. For example, if your location is surrounded by businesses and you have a drive-through window, you can expect to receive increased business from employees grabbing coffee on their way to work. You'll want to take these factors into consideration when deciding which type of Dunkin' franchise you want to pursue and as you're writing your business plan.
Ideal Dunkin' Donuts franchisee candidate
Dunkin' has brand recognition, amazing franchisee support, and the potential to make high profits, but joining the Dunkin' franchise requires a certain personality. If you don't meet experience requirements and personality traits, you might struggle with running your location or even getting your application approved.
Here's what the ideal Dunkin' Donuts franchisee candidate looks like:
Prior food service, retail, or multi-unit management

Willingness to meet company rules and brand requirements

Understanding of the real estate development process to select the ideal site for your restaurant

Excellent interpersonal skills to deliver premium customer service and communicate with corporate personnel

Patience to undergo the extensive application process

Commitment to ongoing education about business and marketing

Flexibility to make business decisions that adapt to market trends
If Dunkin' interests you but you're curious about other franchise opportunities, check out the best coffee shop franchises for some alternatives. Here are just a few:
PJ's Coffee has been impressing their customers with premium 100% Arabica coffee sourced from Finca Terrerito and Agua Fresca. Like Dunkin', PJ's Coffee's roots started in the United States and branched internationally into Vietnam and Kuwait.
PJ's Coffee is a recommended franchise due to their extensive franchisee support. Their team will assist you with site evaluation, design, construction, and training. Their minimum franchise fee is $35,000 for a single unit, which is slightly lower than Dunkin's depending on your location.
As their name suggests, Scooter's Coffee is serving customers who are already on the go. Their drive-through coffee kiosks are ideal for those rushing to grab coffee on their way into work. Scooter's Coffee was founded in 1998 and has quickly expanded. Their 550-square-foot drive-through stores are popping up across the United States, with locations in 25 states.
Scooter's Coffee's franchise fee matches Dunkin' Donuts franchise fee minimum of $40,000. However, their liquid capital requirement is only $100,000 compared to Dunkin's $250,000 minimum. This may be an attractive alternative for those seeking a franchise with lower startup costs.
The Coffee Bean and Tea Leaf
You're likely familiar with this coffee shop brand. The Coffee Bean and Tea Leaf has a brand presence that nearly ranks with Starbucks. You've likely seen their locations as standalone restaurants, in malls, and airports.
Their "mountaintop to countertop" philosophy is one reason why they've expanded to over 1,200 locations worldwide. They inspire their customers with delicious and fresh coffee sourced from only the top 1% of Arabica beans in East Africa and Latin America. If you want a franchise that is backed by delicious coffee and amazing brand presence, then The Coffee Bean and Tea Leaf is worth considering.
Many small business owners will tell you that running your own business is a challenge. Joining a franchise can help you overcome these challenges.
When joining a franchise, especially one as supportive as Dunkin', you're never alone. You gain valuable access to experienced entrepreneurs, business resources, and a beloved brand—to name just a few franchise advantages.
If you're interested in joining the Dunkin' franchise, you'll need startup capital. Since Dunkin' doesn't offer any financing options directly, we recommend that you check into your small business loan options early.
This article originally appeared on JustBusiness, a subsidiary of NerdWallet.