How Much Does It Cost to Trademark a Business Name?
How much it costs to trademark a business name depends on the level of protection and how many classes you choose.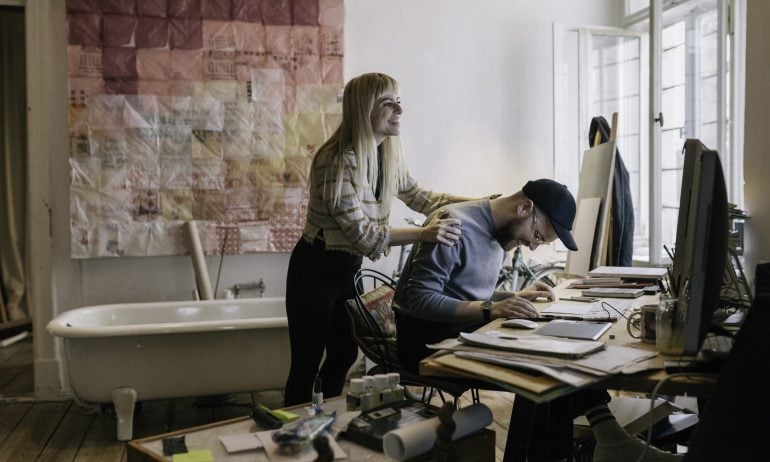 Many or all of the products featured here are from our partners who compensate us. This may influence which products we write about and where and how the product appears on a page. However, this does not influence our evaluations. Our opinions are our own. Here is a list of our partners and here's how we make money.
As a small business owner, you might give the highest priority to your business's physical assets—such as your equipment, inventory and any buildings you own. However, less tangible assets—your intellectual property—can also be very important for a small business. Your business name, slogan and logo—anything that distinguishes your business's goods or services from others in a commercial setting—are all eligible for trademark protection.
Registering a trademark has numerous benefits for your business and can prevent competitors from using your business assets. However, trademark registration can also be complicated and costly. Here, we'll describe the main stages of the process and the costs associated with each so you'll understand exactly how much it costs to trademark a business name. We'll also identify ways to save money on trademark registration.
Overview of trademark registration
A trademark is a name, phrase, logo, or symbol that distinguishes the goods or services of one company from those of another in commerce. A trademark is different from copyrights and patents, which protect other types of intellectual property assets. The business name McDonald's® is an example of a trademark, and so is the company's advertising slogan, "I'm lovin' it."
In the U.S., there are two levels of trademark registration—state and federal. Trademarking your business name at the state level is relatively simple and inexpensive, but offers only limited legal protection. On the other hand, registering your trademark with the U.S. Patent and Trademark Office (USPTO) is more complicated and costly but offers much more legal protection.
By registering your trademark federally, you can prevent anyone else from using it nationwide. You also earn the right to print ® next to your trademarked assets, putting everyone on notice that you have legal rights to the trademark.
with Fundera by NerdWallet
How much does it cost to trademark a name?
The basic cost to trademark a business name ranges from $225 to $600 per trademark class. This is the cost to submit your trademark application to the USPTO. The easiest and least expensive way to register your trademark is online, through the USPTO's Trademark Electronic Application System (TEAS). Remember that you can only register one trademark per application.
There are a few different types* of trademark applications, each with different fees:
TEAS Plus: $225 per trademark class.

TEAS RF: $275 per trademark class.

TEAS Regular: $400 per trademark class.
[*NOTE: The paper application, which was $600 per trademark class, is no longer an option effective Feb. 15, 2020, under a USPTO rule change.]
TEAS Plus has the least expensive application process, but you also have to meet more requirements to be able to use that application. You must select from among the USPTO's list of pre-approved trademark classes. Also, you must pay the per-class filing fee up front and agree to communicate with the USPTO exclusively by email and the online TEAS system.
TEAS RF is similar, except you don't have to choose your goods and services up front. You can request a custom class of goods or services if you feel your trademark doesn't fit well into one of the existing categories.
Finally, the most expensive application, TEAS Regular, is for applicants who want custom classes and the option to receive paper correspondence from the USPTO lawyers who are reviewing your application.
Remember that USPTO fees change from time to time, so it's best to check before you begin trademark registration.
Additional costs of trademarking a business name
The costs noted above are for a basic trademark application and assume that you're not using a lawyer's assistance. Here are additional factors that will increase your cost of trademarking a business name:
Choosing more than one trademark class
Before filing your trademark application, you'll need to choose the class or classes of goods and services to which your trademark belongs. Trademarks provide legal protection against infringement only for the category or categories of goods or services that you identify in your application. For example, the skincare company "Dove" holds a trademark in the toiletries class of goods, but the chocolate brand "Dove" holds a trademark in the confections and chocolate class of goods.
For each additional trademark class that you choose, the application fees noted above will double. At the moment, the USPTO recognizes 45 different trademark classes.
In most cases, you'll need to submit a drawing of your trademark along with your application. This could be a simple line drawing or a more sophisticated rendering, but it must meet the USPTO's requirements for trademark drawings.
There are two types of drawings:
Standard character drawing: A standard character drawing depicts only text and is not linked to a certain font, style, or color. An example is the word "Nike" in plain text.

Special form drawing: A stylized form drawing depicts a logo, design, or symbol of a specific font, size, style, or color. An example is the Nike logo.
In general, you can only include one drawing per application. If you want to protect the text of your business name, as well as the logo, then you'll need to fill out two separate applications, which will add to your cost.
Standard character drawings are simple and probably won't cost you anything, but special form drawings might require the work of a graphic designer or illustrator. In such cases, be prepared to spend $250 to $750, or even more, depending on the complexity of the trademark.
Most business owners who apply for a trademark are already using their trademark in commerce. However, you can also file for a trademark on the basis that you intend to use your trademark in commerce in the future. If you file on an intent-to-use basis, you'll need to submit an additional form later when you begin using your trademark.
This form—called the Statement of Use or Amendment to Allege Use—must typically be submitted no later than six months after the USPTO approves your initial application. The cost to file this form online is $100 per class of goods or services.
International trademark registration
If you use your trademark on a website, in social media, online advertising, or other places on the internet, international trademark registration is highly recommended. You can file online for international trademark registration through TEAS for a filing fee of $100 per trademark class.
Under a treaty called the Madrid Protocol, international trademark registration protects your mark in the 80 countries that are signatories, of which the U.S. is one. Each foreign country that you designate in your international trademark application will review your application and decide whether to approve it based on the trademark laws that apply in that country.
Responding to trademark office actions or oppositions
Once you submit your trademark application, it can take about six to 12 months, or even longer, for the USPTO to approve it. In some cases, your application might be further delayed if the reviewing attorney has questions or if someone files an opposition. As long as you approved electronic communications in your initial filing, you'll receive an email if the attorney has any questions and you should act quickly to address them. Responding to these questions, called office actions, can be time-consuming and might require a lawyer's help, which can add to your trademarking fees.
The USPTO gives the public a chance to respond to approved trademark applications. Another company, usually a larger and better-funded one, might file an opposition, claiming that you shouldn't be granted the trademark.
According to New York City trademark attorney Jeremy Peter Green, oppositions are filed in about one of every 25 trademark applications that he files on behalf of clients. Responding to such oppositions can be very difficult without an attorney's help. Depending on the reason for the opposition, lawyers can charge somewhere between $1,000 to several thousand dollars to respond to an opposition.
Costs to maintain your trademark
Maintaining your trademark can cost between $550 to $1,250. Filing for a trademark is not a one-and-done process. You need to maintain your trademark by showing that your business is continuing to use it in connection with the classes that you chose in your initial application.
These are the periodic trademark filings you'll need to make, along with the filing fee for each:
Between the fifth and sixth year after registration: File a Declaration of Use and/or Excusable Nonuse, also called a Section 8 affidavit. In this form, you'll show that you're still using your trademark in business. The filing fee is $125 per class for online submission.

Between the ninth and 10th year after registration: File a Declaration of Use and/or Excusable Nonuse and an Application for Renewal. A trademark expires after 10 years, so you'll need to submit a renewal application along with the Declaration of Use form. Between every ninth and 10th year after this, you'll need to submit these forms again. The online filing fee is $425 per class.

(Optional) Declaration of Incontestability: This form, also called a Section 15 affidavit, enhances your rights in your trademark and prevents people from raising common legal challenges to your trademark. There are some restrictions on using this form. For instance, you must be using your trademark for at least five consecutive years before you can file for incontestability. The filing fee is $200 for online submission.
If you provided an email address and authorized email communication in your original trademark application, then you'll receive email reminders from the USPTO before these deadlines.
Costs to hire a trademark lawyer
Given the complexity of trademark registration, many small business owners opt to hire a trademark lawyer. Hiring a lawyer comes with many benefits and less personal time spent on the trademark application process, but also will increase the costs of trademarking a business name.
Trademark lawyers typically charge a flat rate for a basic trademark search and registration. They might charge an hourly rate to respond to office actions or oppositions. Based on your trademark and where you're located, you can expect to pay between $500 and $2,000 for an initial trademark search and application.
You can find your own lawyer or use an online legal service such as LegalZoom to get help with trademark registration. On LegalZoom, you can file an initial trademark application for a flat fee of $199 per class, plus USPTO fees. Another legal service you may find helpful is UpCounsel, which has a network of lawyers who work on more complex cases, and they bill a flat fee between $600 and $800 for trademark registration.
How to lower trademarking costs
Basic trademark registration fees aren't too high; but things can add up, particularly if you have a more complicated application.
Here are a few ways to lower the costs of trademarking a business name:
Opt for state registration: Registering a trademark with your state, instead of the USPTO, can significantly reduce costs and the time it takes to process your application. However, state registration means that you'll receive legal protection against others using your mark only within the state. You will not be protected nationwide.

Hire a trademark lawyer: Obtaining legal representation right off the bat, starting with a trademark search, can save you time and money down the line. As Ruth Carter, a trademark lawyer in Phoenix, says, "It's often worth it to hire a lawyer to do the preliminary search to see if the trademark you want to register is even available. I've seen people try to do it themselves and they ended up wasting $225 in filing fees trying to get a trademark that they couldn't have because they didn't know how to do a thorough search."

Submit all filings online: The USPTO doesn't allow you to submit trademark filings by paper anymore. Although TEAS might take some getting used to, you can save some serious money by filing everything online.
Ultimately, there are several different factors that can affect the cost to trademark a business name. The number of trademark classes, your mode of filing (state or federal) and whether you're already using the trademark can all affect your price. In addition, the decision to hire a trademark lawyer will affect your total cost. Fortunately, filing for trademark protection is usually within reach even for smaller business budgets. And when all is said and done, you'll be glad for the increased legal protection that your new trademark will give you and your business.
This article originally appeared on Fundera, a subsidiary of NerdWallet.