How to Market a Product
Creating marketing messages designed for your target audience and sending them through the appropriate marketing channels are two critical steps in promoting a product.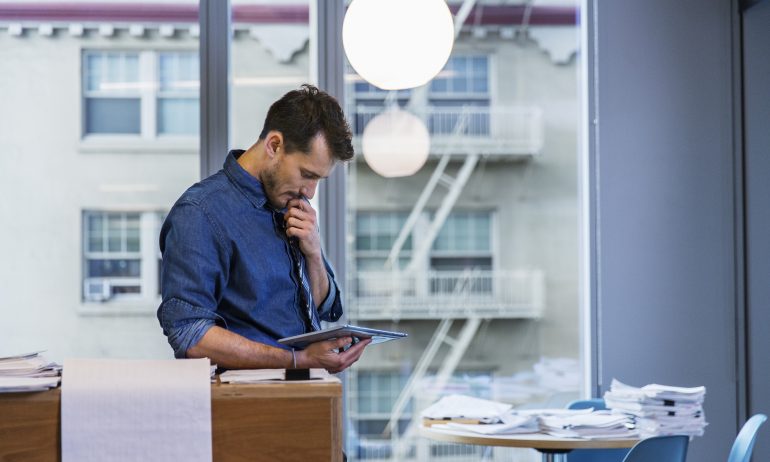 Many or all of the products featured here are from our partners who compensate us. This influences which products we write about and where and how the product appears on a page. However, this does not influence our evaluations. Our opinions are our own. Here is a list of our partners and here's how we make money.
Product marketing is the process of bringing the goods or services your business provides to the attention of potential buyers to drive sales. To market a product effectively, you'll want to design marketing materials that appeal to your target audience and coordinate the materials' release through various marketing channels. Therefore, knowledge of your product and target audience and a consistent marketing message are fundamental.
Small-business marketing may be the domain of the business owner, an in-house team or a third-party service. Whether you go it alone or receive assistance, it's crucial to have a well-thought-out plan.
When developing your product marketing strategy, consider product, price, place and promotion. These areas are the marketing mix and can help you focus your strategy. It may also be helpful to refer to the product information, pricing details, competitor analysis, marketing goals and potential marketing tactics you outlined in your business plan.
Determine the selling points of your product
Before introducing your product to a target audience, you'll want to define its unique selling points. Think about the benefits your product offers prospective customers. How does it meet their needs or solve a problem for them? Marketing is often about showing potential buyers how a product can change their lives and why they should choose your product over competitors.
Soliciting consumer feedback early on in the process can help you confirm that the benefits you assign to your product are the same as those perceived by those who use it. This can be done through emails to existing customers, surveys, focus groups and other methods.
Finally, researching your competitors and determining how your product outperforms their offerings can help you improve your marketing materials and fine-tune your messaging.
Know your target audience
Understanding your target audience and their needs is vital to creating a marketing message that will appeal to them. Ask yourself who is likely to gain the most from this product and what their distinguishing characteristics are. You can then confirm your conclusions through research.
Here are some free or low-cost resources to assist with your target audience analysis:
Pew Research Center. This nonpartisan fact tank can offer statistics on social trends, like how much time your target audience spends online.

Data.census.gov. This U.S. Census Bureau tool provides access to data sorted by demographic group, geographic area, business industry and other factors.

Industry newsletters. Newsletters specific to your industry can inform your customer base and their habits.

Social media. People Insights lets you explore audience behavior on LinkedIn, and you can get free access to audience and ad insights through your Facebook business page.

Personal networks. Your existing community, either in person or online, can also provide information and observations about consumers and your product.
Identify your marketing channels
There are numerous channels used to market a product. These include:
Business websites with blogs, newsletters, videos and other content.

Email marketing campaigns.

Digital ads on Google, Facebook, Twitter and other platforms.

Social media marketing on LinkedIn, YouTube, TikTok and other platforms.

Print ads in newspapers, coupon books, signs, billboards and flyers.

Direct mail campaigns using postcards, brochures and letters.

Broadcast advertising using radio, television and podcasts.

Open houses, trade shows, fairs and other in-person events.

Earned media through strategic public relations.
To effectively market your product — and stay within budget — you need to determine which channels will best reach your target audience. Through research, a review of relevant data and discussions with customers, try to find answers to the following questions:
Where do my ideal customers spend their time?

Do they prefer online or offline communications?

If online, what platforms are they most likely to use?

If offline, where and in what way can I best capture their attention?
Design your marketing campaigns
Once you know the channels to market your product, you can design your marketing campaigns. Aim for consistency in branding and messaging so your audience can better recognize your business.
Branding helps people identify your business and products. It's often designed to appeal to a business's target market. When your branding is consistent across all marketing materials, you can build on the positive perception that has already been generated for your business.
In addition to a brand mission statement — a one- to two-sentence explanation of your product and the philosophy behind it — common business branding elements include the business name, logo, colors, slogans and fonts. The specific tone, language and personality you take on in communications, known as your brand voice, should also be consistent throughout all promotional materials.
Messaging in marketing refers to how you communicate the value of your product to your target audience. It's not only the words and phrases you use in your marketing communications but also the feelings and emotions associated with those words and phrases. When selecting the words and phrases to use in your messaging, focus on relevant and impactful wording for your target audience.
Marketing assets may include digital ads, email campaigns, social media posts, radio and television ads, brochures, flyers and newsletters — depending on which channels you use to promote your product. Select messaging that appeals to your target audience and a design consistent with your business branding.
Many of the best marketing software programs include templates, design elements and user-friendly editing tools to help you easily create professional-grade assets for various distribution methods.
Distribute and evaluate your marketing campaigns
After your marketing materials are finalized, you can coordinate their release through the selected channels. For example, you may choose a marketing blitz approach, which generally involves a short campaign using social, email, blogs and ads to build product awareness and funnel consumers to your website or storefront. On the other hand, a drip campaign, commonly used in email marketing, could send out a limited number of marketing messages over a set period. Or, you may decide to use a combination of campaign types based on your marketing strategy.
Finally, you'll want to monitor the success rates of each of your marketing campaigns. Performance metrics will depend on the channel used. For example, a key metric for digital ads is conversion rate. It tracks the times a reader completes a simple action, such as clicking on a link to your product pricing page. Response rates for TV ads, billboards and flyers can be gathered by asking new customers how they learned about your product. Knowing the response rates to your marketing efforts will help you evaluate the effectiveness of different marketing campaigns to determine if you need to refine your strategy and where your budget is best spent.
Elizabeth Kellogg, a freelance writer, contributed to this article.
A version of this article originally appeared on Fundera, a subsidiary of NerdWallet.