The Economics of Running a NYC Corner Deli
The corner deli, or "bodega," is essential to every New York City neighborhood. Here's how to open a bodega in NYC.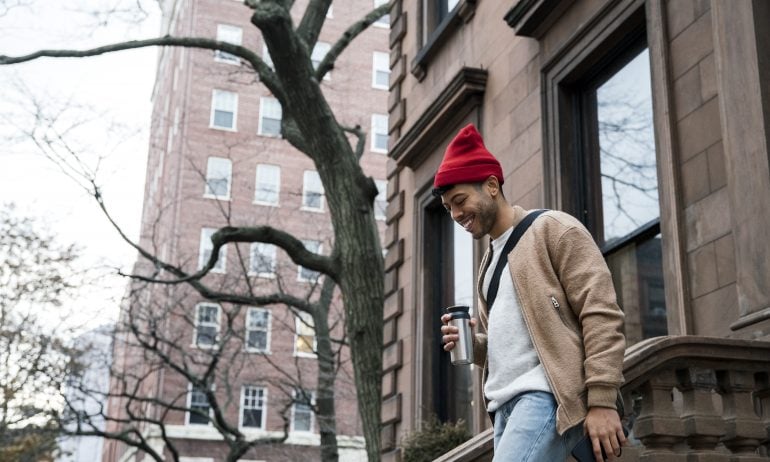 Many or all of the products featured here are from our partners who compensate us. This influences which products we write about and where and how the product appears on a page. However, this does not influence our evaluations. Our opinions are our own. Here is a list of our partners and here's how we make money.
Part grocery store, part deli, part variety store, and everything else in-between, bodegas — interchangeably called delis and corner grocers — are essential to every New York neighborhood, selling everything from beer to toiletries. The best part about all of this? Every bodega is always conveniently located down the street.
But bodegas today no longer thrive like their early 1900s versions. Nick Lablaka, a manager who's worked for four years at Ray's Gourmet in the East Village, said that rent at the small retailer — which has been opened for 28 years — has nearly doubled since last year. "Business is up and down, but it's going down right now," he says. "There are a lot of complications with rent and utilities. Everybody is struggling. Everybody is trying to do what they can."
At Madison Corner in the nexus of the Lower East Side and Chinatown, Nasser Mubarez, whose family owns multiple bodegas — including the one he's currently working at — doesn't have high hopes for the future of mini-marts: "Before 9/11, business used to boom. Now I'm not so sure, to be honest. Big companies take over and our taxes are getting higher."
Despite the struggle, there are still about 12,000 bodegas open for business around the city. Those that are still around share how they compete — and sometimes beat — the competition:
They differentiate their business
During its first two years of business, Shan Fu Grocery in the Lower East Side didn't fare too well. Four years after opening its doors, business "is getting better," says Dong Wang who owns the corner store with his wife, Helen Chan. Profits increased about two years ago when Chan decided that their store was too similar to the other Chinese-owned corner stores in the neighborhood. Noticing a rise in health foods, Chan suggested offering more organic foods. Today, Shan Fu offers a diverse mix of products from Korean instant ramens to items comparable to Whole Foods, like Chia seeds and almond butter. The owners also offer fresh juice, fruit smoothies, boba tea and customers often get a pleasant whiff of roasted chestnuts and sweet potatoes as they enter.
But they don't differentiate themselves solely by their products. Wang, who immigrated to the U.S. from the Fuzhou region of China in the early '90s, is well-known in the area for the massive snowman he builds every winter in front of his store. The snowman gets so much attention from customers and those passing by, it's dubbed the "Essex Snowman" and has inspired multiple copycats throughout the neighborhood.
They have a layout strategy
If you're going to run a successful store, you need to know that psychology plays a vital role in how people shop.
"Eye level always sells," says Mubarez, who's been working in his family's various corner stores for 10 years. "That's a fact. We put the most expensive stuff at eye level." Grocery stores are also known to place their highest margin items near the cash register since this area is most profitable as people make their impulse purchases.
Mubarez keeps staples, like bread, eggs and milk in the back or in more obscure areas. "People are going to ask for that stuff any way," he says, "it doesn't matter if they see it. It doesn't matter where you put it."
During the winter, Mubarez keeps gloves, scarves and hats at eye-level, close to the cash registers. He suggests to "work around every season."
They know their neighborhood and its residents
Nas — who didn't want to use his last name — has been working as a night manager at Stop 1 Deli for about eight months, but has been in the bodega business for six years. The one he currently works at in Chinatown is owned by two families who have multiple stores.
In his opinion, the most important business detail for any corner store is its location.
"You can't open stores where there aren't any subways or big businesses, such as hospitals and schools, around," he said. Nas also suggests "making the store go with the environment," meaning know your customers. "In the city, you need to have more delis, more salad bars ... a simple store."
Lablaka says his customers in the East Village prefer "cold cuts" because "it's faster and more convenient to eat a sandwich."
Bodega owners need to know their customers well in order to keep up with demand. If you fail only once to have what your customer is looking for, they won't come back, warns Lablaka. They have plenty of other options to choose from.
Mubarez agrees: "Customers are our everything. Whatever they ask us, we get it for them."
For inventory, bodega owners mostly get their supplies from grocery wholesale warehouses, such as Jetro Cash and Carry, which has 108 warehouses that cater to urban corner stores. Five of these warehouses are in New York City and allow anyone with a business license to enter and doesn't require minimum orders. Jetro's new location in Hunt Point is a 200,000 square foot building that houses everything from honey buns to Goya beans.
Whatever you call them, corner stores are essential to New York City with their bright, neon lights advertising everything from "Beer" to "ATM." Rising rent prices and harsh competition might make business tougher than it once was, but those who are holding on are like any small business owner, keeping up with trends, understanding their customers and thinking entrepreneurially.
This article originally appeared on JustBusiness, a subsidiary of NerdWallet.