The Ultimate Guide to Opening a Liquor Store
If you want to learn how to open a liquor store, you'll also learn some tough lessons and secrets of success, too.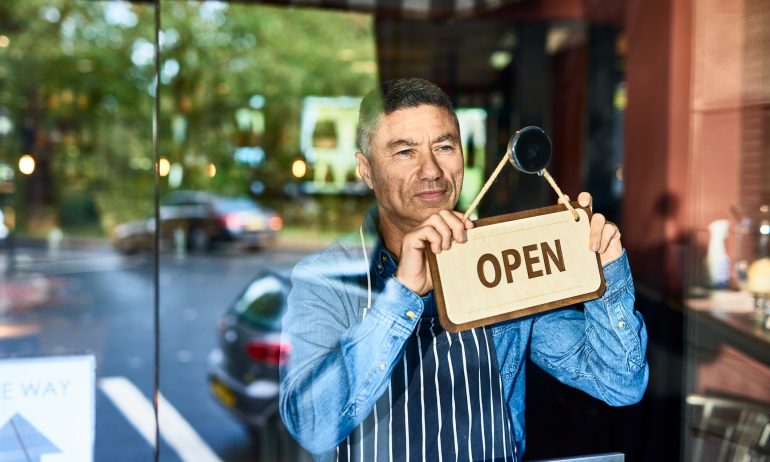 Many or all of the products featured here are from our partners who compensate us. This influences which products we write about and where and how the product appears on a page. However, this does not influence our evaluations. Our opinions are our own. Here is a list of our partners and here's how we make money.
If you're a wine, beer, or scotch lover, you may have considered opening your own liquor store before. Whether you see starting a new business as a pipe dream, or you've seriously considered it, you should know that opening a liquor store is one of the more difficult businesses to start.
But we're going to walk you through the process of opening a liquor store so you can feel confident if you decide to pursue it. We even have input from successful business owners to help guide you.
How to open a liquor store: A step-by-step guide
Opening a liquor store is one of the most regulated businesses around, so you'll want to pay close attention to the following steps.
Step 1: Write a business plan
Before you get to setting up your business, you're going to need to write a business plan and do quite a bit of research. Like we mentioned, liquor stores are some of the most difficult businesses to start and keep running so you want to make sure you do your due diligence before launching your business. If you're buying a liquor store that's doing well already, this step will be easier than if you're building one from the ground up and just starting one.
Your business plan, whether you write it on your own or use a business plan template, should include market research showing that there is a strong demand for a liquor store in your area. If there are competitors, you should also do your research on them, what they offer, and how you can do it better.
You should also consider where you're going to source your products from. When you're putting together your business plan for opening or buying a liquor store, among your biggest factors will be inventory. But in the liquor store business, your inventory considerations will kill your business if you don't know how having fully stocked shelves factors into the way customers perceive your shop among the landscape of others.
For instance, The Wine Cave in Brooklyn, owned by Moshe Mayer, is lauded on Yelp for having a wide selection of bourbon. Another review mentions it is "stocked from top to bottom with booze, wine, Champagne, sparkling wine, reds, whites, pinots, malbecs, and anything and everything in between." But this kind of inventory—more than 3,000 products—costs Mayer millions.
Your plan should include details on where you'll get funding, when you plan to turn a profit and other financial projections, the organization of your business, and the marketing and sales plan you have.
Step 2: Find the store or location you want to buy or rent
If you're looking into buying a liquor store instead of opening one on your own, you're going to need to find a liquor store that's up for sale and in your price range. The better shape the business is in already, the higher the chance that you'll be able to get a loan to buy the business.
You need to consider the neighborhood where the business is, the location of the business and its facilities, the current business the liquor store does, and what you can add to the business by buying it. You'll also want to consider why the current owner is selling. If he or she is simply retiring after a successful career, then you may easily take their place and make a profit. However, if they don't make enough sales to cover the rent, you may want to think twice before putting your own money on the line.
If you're opening up your own brand new liquor store, you'll need to find a space to rent or buy. You'll need to make sure that it's approved for selling alcohol, and that it has all of the details you need. This means storage facilities, security, somewhere you can accept shipments and deliveries, and a possible parking area for customers.
You might very well need a business loan in order to be able to buy an existing liquor store and probably if you're opening a liquor store as well. Not only will you need the funds to buy the business, the supply, or the location, but keeping it running once you have purchased or opened it is even more expensive.
"In order to succeed in the liquor industry, you have to have a lot of money," Mayer says. "In order to keep up with the big stores, you have to have the top deals. So you have to have millions of dollars in inventory and that's why a lot of liquor stores don't make any money."
You'll likely have to apply for a loan to buy a business or to open a new business. Your business and personal credit will be considered along with the cash flow of the business, what you plan to add to the business, how you plan to make money, and more. You can also look into liquor store inventory financing to help fund this expensive endeavor.
Remember you have your trusty business plan that you can use to show potential investors, family and friends, and banks or alternative lenders, to show how you plan to get a return on any investment someone is willing to make. Early on in the business process, you might need to seek funding from loans from friends and family and maybe even crowdfunding.
It can be hard to get funding from other, more traditional sources such as banks or online lenders when you're just starting out. But keep these sources in mind for once your business has been established for a year or two or you have strong business financials to show.
Step 4: Register your business
Once you have your business plan and location, it's time to register your business. To do so, you'll need to decide on a business name and entity. A liquor store is a fun business to name, but you'll need to make sure that the name you want for your liquor store is available.
In most states, you can check whether the name you want for your business is available online with the appropriate filing agency. The secretary of state frequently has a registry online where you can check the name status and register for the name. You may also want to run a quick Google and U.S. Patent and Trademark search to make sure your name isn't taken by another popular business. After all, if potential customers search for your business name online, you want your business to be the one they find.
The second part of this step is to choose a business entity. You may choose to open your liquor store as a sole proprietorship or a general partnership. However, while these types of business entities require the least amount of paperwork, they also won't protect you in the case that your liquor store runs into any legal trouble. For this level of protection, you'll need to choose a limited liability company (LLC) or corporation. We recommend consulting with a business attorney or tax professional at this stage to ensure you're choosing the best entity for your business. Once you've decided, you will then register it with the state in which you'll be operating. Again, this will likely be done with the secretary of state or chamber of commerce office.
Step 5: Get licenses, permits, and insurance
As with any business you're going to need to get the licenses, permits, and insurance necessary to legally operate your liquor store. Your dreams of opening or buying a liquor store probably don't include a long trail of application permits. But in the real world, that's how opening a business works. And obtaining those licenses requires a lot of research, time, and money.
The cost of liquor licenses vary by state—and, as you can guess, they can go well into the tens (or hundreds) of thousands of dollars. To add to the licensing headache, every city, county, and state has a different set of rules and laws. You can check here to see which department in your state you'll be dealing with when working to get everything for your business squared away. Keep in mind, depending on your state and whether it has blue laws, you might not be able to sell alcohol before a certain time of day or on certain days of the week, like Sundays.
Find out what you'll need from the Alcohol and Tobacco Tax and Trade Bureau (TTB), the entity responsible for enforcing laws "regulating alcohol production, importation, and wholesale businesses; tobacco manufacturing and importing businesses; and alcohol labeling and advertising." You'll have to register with the TTB and follow all of their rules and regulations for the industry.
If you've gone through the trouble of figuring out how to open or buy a liquor store, you don't want to risk getting your business shut down for having the wrong permits—or no permits at all. Get a business lawyer if you're feeling unsure about any of these steps, especially this one.
While you're at it, you should also obtain business insurance for your liquor store. As we mentioned, you'll likely have millions of dollars of inventory in your store. If anything should happen to those bottles, you'll want to make sure you're covered. Beyond standard business policies such as commercial property, general liability and workers compensation (if you plan to hire employees), you should also look into liquor liability insurance.
How much does it cost to open a liquor store?
Opening a liquor store is quite pricey. The upfront costs are going to be some of the most expensive costs your business will ever face.
Getting the space, the inventory, the employees, completing any renovations, setting up your cash register, and everything else that goes along with opening a liquor store costs money. You also have to factor in paying for your licenses and registrations, which can run upward of $10,000.
The location of your new liquor store will impact the price but you can expect to spend a minimum of $100,000 to open your liquor store.
Additional considerations
Before you go all-in on figuring out the details of how to open or buy a liquor store, you'll want to take a few more things into consideration, including:
1.

The modern consumer is smarter than ever before, so be an expert in your field.
Before customers get to your store, you can bet they've already done their research with customer review sites and product ratings. Shopping is no longer something that begins when a customer enters your store; often, the experience is almost done by then. With services like Drizzly and Minibar, many customers are even trying to avoid in-person interactions altogether.
Mayer says education is what makes the difference—whether they're reading reviews, blogs, or something else.
"[Before], people didn't know about wineries," says Mayer. "Now people check on ratings. People check on deals. People check on how the wineries are doing."
When you're thinking about opening or buying a liquor store, you'll want to make certain you're prioritizing your own education. If retailers are going to impress the demands of the wiser and financially savvier consumer, they're going to have to reach a level of mastery in their field. To stand apart from other liquor stores on the block, Mayer points to his decade-plus of experience in the alcoholic beverage industry. He worked in wineries since the age of 17 before hosting tastings for companies for several years.
"I have a lot of people come especially to me because they know I understand a little [about] how the palate works," Mayer says. And The Wine Cave's Yelp reviews prove that if you're looking for suggestions on what to pair with your next dinner or simply a taste of the next exotic spirit, Mayer knows how to pass the taste test.
"If someone comes into my store and they ask me for a wine for the first time, I'll ask them if they put sugar in their coffee," Mayer explains. "If they put sugar in their coffee, I know that they like sweeter wines so I will give them California wine. But if they don't, I will give them a French wine. They're more serious drinkers. They can drink black coffee."
But when you open a liquor store, your knowledge needs to extend beyond just your product. Smart entrepreneurs are also aware of all the other factors that affect the financial health of their business. For instance, know your neighborhood. Who are the people you're serving? Before signing a lease, consider contacting your local Chamber of Commerce to get a better view of your target market. Will you be serving college students or conservative suburbanites? This will greatly affect the way you do business.
2. Are you seeking investment or looking for business financing?
We might have said once or twice that there are pretty hefty upfront costs involved with opening or buying a liquor store. When you draw up your business plan for how to open a liquor store, think about your source of business financing.
If you're partnering with someone for an investment—maybe a fellow oenophile—make certain that you get your terms in writing (especially if it's a friend or family loan).
As for traditional financing options, we'll be candid: In an industry with a tough success rate and tight cash flow, you might have some difficulty convincing a lender to front you the cash for a small business loan at first. That said, you do have a few viable options for startup loans.
A surprising one you might want to consider, especially if you have a strong credit score, is a 0% intro APR business credit card. Here, you can get the liquidity you need with the timeframe to get some momentum behind your new business before your balance comes due—there are even a couple of cards with 12-month intro periods. Just make sure you can pay off your balance before the intro period ends and a variable APR sets in.
3. What's your point of difference in the market?
We're sure you've chosen a location with a lot of liquor-loving customers. But if you selected that due to the presence of existing stores, your pick can backfire—that is, if you don't select a point of differentiation.
What's your thing? Do you carry the best rosé selection in the state or import sherry no one's ever heard of? Do you offer classes that teach the neighborhood the difference between pot still and column still whiskey? Whatever passion led you to figure out how to open a liquor store, take it to the next level and use it to distinguish your store from its competitors.
The common theme you might see here? Learning to start a liquor store takes money. This is a cash-intensive business, so before you go for it, make sure you're equipped to find access to capital upfront, and commit to knowing that you're going to have to put significant money in to get anything out.
But if you're able to really face these entrepreneurial hurdles, give them a strategic think, and find that you still have a passion to open a liquor store, you're well-positioned for one last piece of advice from The Wine Cave's Mayer: Don't forget—you're still not the boss. The customer is the boss.
"If [your customers] walk in and they're not happy … [then] there are no employees, there are no stores," he says.