How to Start a Craft Business: A Step-by-Step Guide
Turn your passion and creativity into a full-fledged business. Read on to learn how to start a craft business.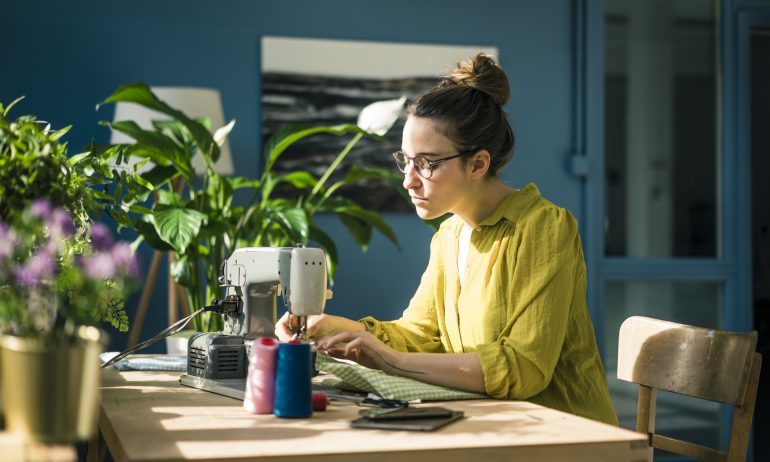 Many or all of the products featured here are from our partners who compensate us. This influences which products we write about and where and how the product appears on a page. However, this does not influence our evaluations. Our opinions are our own. Here is a list of our partners and here's how we make money.
You have the skills and the style. You can craft like a professional and you want to get your creations in front of as many eyes as possible. What else does it take to start a craft business?
Well, there are a few things. But with a little creativity and elbow grease, it is possible to turn your passion into a full-fledged business.
Smart money moves for your business
Grow your small business with tailored insights, recommendations, and expert content.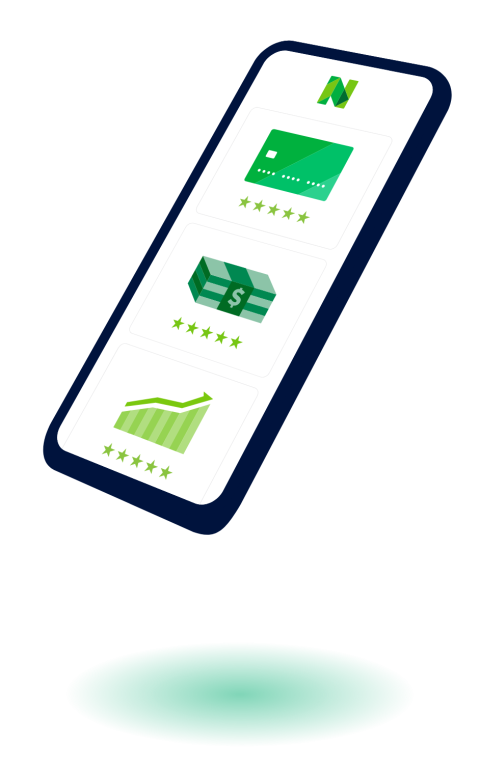 10-step checklist for starting a craft business
Before you fire up your hot glue gun, you'll want to consider these steps in order to learn how to start a craft business. These steps will help keep you on track and make sure that you don't forget the important to-dos that can help you find success.
Step 1: Identify your niche.
As a creative, you know that there is a world of possibilities out there. Your crafting skills can likely translate to a lot of different products, but when starting a crafting business, choosing a niche market is important. For example, you may want to focus on a singular product that you've already mastered, like candles. The more scents and colors the better, but it is still technically one type of product.
Similarly, you might choose a particular theme to apply to a variety of products like holiday decorations or stationery goods. Whatever path you choose to go down, start with a focused one. That way, you can limit the number of supplies you need, form a brand identity, and master your production process quickly.
When choosing which niche you will build your craft business around, it's important to not only consider your skills and interests but also the market. Are there already five candle stores in your small town? If so, that might not be the right niche for you.
Conduct a thorough market analysis to scope out your competition and find where there are openings for your unique products, as well as make note of how current businesses operate, what they're doing well, and how your business can do better.
with Fundera by NerdWallet
Step 2: Write a business plan.
If you like the process of crafting, you probably also enjoy planning. Just like you plan the perfect craft, you need to plan how to make your business succeed. And that's where writing your business plan comes in. A strong business plan includes several sections that will help keep your business on track, outline your plans for your craft business, and prove your value to any potential investors. Even if you've already launched a business, you'll want to pause and create a solid craft business plan.
While a formal business plan may not technically be necessary for a new business selling homemade crafts, it will help you plan out parts of your business that you may not have completely thought through, such as market research or marketing and selling strategies. Market research is especially important because even if you're able to create beautiful craft items, you need to demonstrate that there is a market for them. Otherwise, you won't have a profitable business.
This being said, not only is a craft business plan a vital tool for any business owner, but it will also be necessary if you choose to seek out funding to help launch or grow your business.
To make the process easier and make sure you're not missing any vital information, you might use a business plan template or invest in business plan software.
Step 3: Choose a business name.
While compiling your business plan, you will want to decide on a business name. Ideally, your business name will be catchy, easy to remember, describe the types of products your business will sell, and tell the story you want it to.
But most importantly, it needs to be available. Before officially settling on a name, check with your secretary of state's website to see if your chosen business name is already in use.
A quick Google and trademark search will also help you cover your bases. Once your name is decided, you should also consider reserving your business domain name and social media handles to establish your brand.
Step 4: Select a business entity.
Your business plan will also force you to decide how you'll structure your business. Whether you are a solo entrepreneur or have a trusty team at your disposal, you'll need to decide on the legal structure of your business.
If you haven't decided which business entity is best for your craft business, now is a great opportunity to choose. You may want to consider a sole proprietorship, general partnership, limited liability company (LLC), or corporation for your business structure.
Generally, if you're just starting your craft business, a sole proprietorship will be the most popular legal structure because its the simplest and easiest to set-up. The downside, however, is that you are personally liable for any debt your business incurs and you may be subjected to lawsuits if your products cause injury or harm to a client. As your business grows, you can think about transitioning to other legal structures, such as an LLC.
If you don't know what structure your business should be, you may want to chat with a business attorney or tax expert about what's the right decision for your craft business. You may not want to spend the extra money consulting a professional, but your business structure will affect your taxes, risk level, and other important factors.
Once you've made the decision, you will need to register your craft business with the necessary federal and state agencies.
Step 5: Define your products and services.
Remember how you defined your niche earlier? Well, it's time to get even more specific and outline the products or services your craft business will provide. If you're a new craft seller, you may want to begin selling smaller crafts, such as jewelry, mugs, stickers, etc., because you won't have to pay large fees to ship the products.
To help you better define what type of products you want to sell, consider answering the following questions:
What types of craft products inspire you?

What crafts do you have experience making?

How do these crafts fit into your niche?

What's the market demand for these products?

Where will be the best place to sell these crafts?

Where will you purchase your supplies?

How much will supplies cost?

How much will production cost?

Do you still need to research or develop your product?
Once you've answered these questions and have a polished business plan, you can use it as a roadmap to take your craft business from a daydream to a successful reality.
Step 6: Get the proper licenses, permits, and insurance.
Are you ready to roll up your sleeves and do some paperwork? Even if it's not your favorite activity, it is vital when learning how to start a craft business. You'll need to make sure you have any required licenses, permits, and insurance to start your craft business legally.
After all, the last thing you want is to get hit with a major fine or encounter legal trouble once you finally get your craft business off the ground. Depending on your location, business structure, and type of business, the types of licensing you need will vary. You may even need multiple business licenses at the state, federal, and local levels. The SBA is a great resource to help you get started, and you should also check with your local chamber of commerce.
In particular, if you're starting your craft business from home, you'll want to look into home business licensing and restrictions, as well as online seller licensing if you'll be selling your crafts online.
Additionally, if you're going to hire some employees to help with your craft business, you will also have to obtain an employer identification number (EIN). An EIN is required for tax purposes, among other things. Even if you don't think you'll hire an employee anytime soon, there are additional benefits of getting an EIN worth considering.
Finally, you'll want to look into obtaining business insurance. This is never a bad idea ever, especially if you have employees. If you've hired any employees, you have to carry workers compensation, unemployment, and potentially disability insurance.
You may also need general liability and commercial property insurance. Permits and insurance are another reason you may want to meet with a business lawyer. Their professional advice could help protect your business against future complications with the law and ensure you meet all the requirements to start your craft business legally.
Step 7: Decide where to sell your crafts.
You know what you want to sell, but where are you going to sell your goods? A local arts and crafts fair or a farmers market may be a low-key way to test the waters and get customer feedback. Or you can start by selling your products in local boutiques and consignment shops before opening your own storefront.
Of course, you can always create an ecommerce website or sell on a digital marketplace such as:
Etsy (one of the best places on the web to sell crafts)
These platforms provide great exposure to craft businesses and make it easy for customers to find and purchase your products. But, keep in mind that digital marketplaces will charge you fees for using their platforms, which can add up over time.
Additionally, these marketplaces also have a lot of competition, so you'll have to devote significant time and effort to get your business to stand out. There are plenty of great ecommerce platforms for you to choose from, so do your research on which platform will best suit your needs and then you can start building the perfect website for your craft business.
Step 8: Find small business funding.
Now that you're planning to take your crafting to a larger scale, you may need help covering expenses. Of course, your business can start as small or big as you want it to.
But if you need help making your craft business a reality, you may want to pursue some small business funding options. Luckily, there are a variety of options available to you. And remember, what works for one craft business may not work for yours. Take your time to make this decision and trust your gut.
All of this being said, once you have funding, expenses, or income, it's important to keep your personal and business expenses separate. You can do this by opening a business bank account.
You'll want to consider either a business savings account or a business checking account. Generally, new businesses opt for a business checking account. More established businesses that have a lot of cash on hand are better served by a business savings account so they can earn interest on their balance.
Step 9: Order and organize your craft supplies.
The next step in learning how to start a craft business? Finding supplies.
When crafting was just a hobby, you were probably content with running down to your local craft store for supplies. While that is still an option, you may want to think bigger. Chances are you can find your supplies cheaper by buying them in bulk from a wholesale supplier.
Shopping around (most likely online) for supplies will help you find the best deals possible. But before you start shopping, you should calculate how much inventory you need to carry. Knowing exactly what type of supplies you need, and in what quantity, will make finding a supplier much easier.
Not to mention, this will be the best way to estimate the cost of your supplies. Don't be afraid to ask other all-star crafters where they purchase their supplies—surely plenty of fellow entrepreneurs will be happy to share their insider tips.
Once your supplies are on the way, you'll need a reliable inventory system that you can follow. The last thing you need is to run out of supplies right before a big order is placed. An easy way to get organized is by using an inventory management app. These apps will help you keep track of the comings and goings of your supplies.
Step 10: Start marketing your wares.
At this point, you've almost made it through our checklist for starting a craft business. Therefore, now that you have a business name and brand, a professional business website, and you know what products your craft business will sell, it's time to start spreading the word so you can drum up a steady client base. A solid business marketing plan will make sure you're taking a thorough approach to advertise your business.
As you develop this plan, you can think about how you can show off your goods in a fun and enticing way. If you haven't already secured your social media handles, you'll want to do so now and start posting images of your unique crafts. Instagram and Facebook will be non-negotiables for your business marketing strategy.
Overall, when it comes to planning your marketing strategy and sales plan, consider two things—promotion and positioning. These two factors will help your marketing strategy succeed.
How can you successfully position your products to customers? By explaining what makes them special and valuable. Identifying your position is what your "sell" is. Once you have a sell, you can use that as the base of your promotional plan. The end goal of your promotional plan should be to get your products in front of as many potential customers as possible.
This article originally appeared on JustBusiness, a subsidiary of NerdWallet.