How to Start a Cupcake Business: A Step-by-Step Guide
Take your passion for baking to the next level and learn how to start a cupcake business in our step-by-step guide.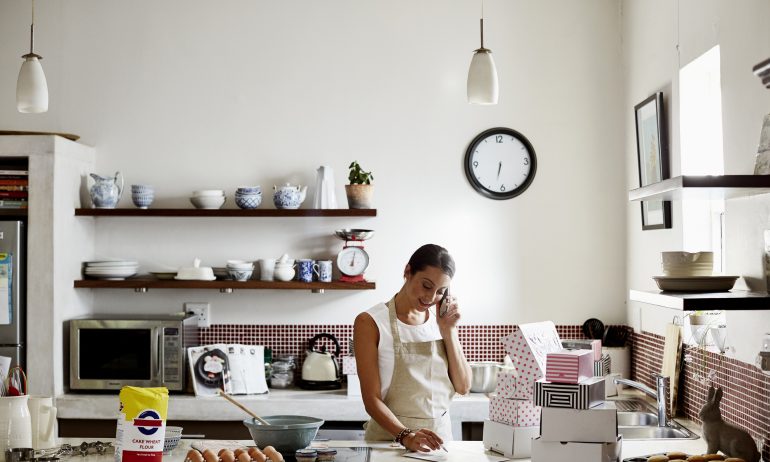 Many or all of the products featured here are from our partners who compensate us. This influences which products we write about and where and how the product appears on a page. However, this does not influence our evaluations. Our opinions are our own. Here is a list of our partners and here's how we make money.
If you think there isn't a day better spent than one baking up a storm in the kitchen, then opening a cupcake business may be the right path for you. While starting a business isn't the easiest or quickest process, it can be one of the most rewarding. If you think this is a path you want to take, keep reading to learn how to start a cupcake business.
How to start a cupcake business: The ultimate guide
Before you can start the fun parts of running a cupcake business, you'll need to make sure you take care of a few logistical steps. Take a look at this step-by-step guide that can help teach you how to start a cupcake business.
Step 1: Choose a cupcake business format
A bustling bakery filled with customers may sound pretty dreamy to some. Others may want to simply take their passion for baking at home to the next level. There is no one-size-fits-all format for cupcake businesses. You can start small or big, the choice is up to you. Depending on your goals, resources, and funding options, consider one of the following formats for your cupcake shop.
Counter style: You've probably seen this format of cupcake shop before. It's usually a small retail space with just a display case and a counter that customers can order at. You won't provide seating; instead, customers will take their cupcakes to go. This type of space can be cost effective, as you'll only need room for a kitchen (if you bake your cupcakes on site) and a counter.

Bakery and cafe hybrid: Some cupcake businesses take advantage of this hybrid format. This setup takes the counter style business a step further and provides customer seating and the potential for table service. While this format will cost more in real estate, you may be able to sell more goods (like coffee) and potentially more food by keeping customers around for a while.

Food truck: If you want to get your cupcakes to as many people as possible, consider a food truck. These shops on wheels can travel to high-impact areas like street fairs, carnivals, and other events. Or park your truck outside of office buildings when employees need an afternoon pick-me-up. Purchasing a food truck can cost less over time than renting retail space, but if you don't want to do all of your baking and decorating in this small space, you may want to consider additional kitchen space elsewhere.

Home bakery: If you want to keep your business sweet and simple, try out a home bakery format for a while. You won't be able to produce mass quantities of cupcakes, but you can focus on specialty orders or catering jobs. You'll save a fortune by not buying or renting a commercial property. You can also sell your cupcakes at a farmers market or cut a deal with local coffee shops to sell your cupcakes there.
Step 2: Write a business plan
In order to keep your business organized and to show its value to potential investors or lenders, you'll want to write a business plan. This step may take a while to complete, but it will help guide you throughout the difficult process of starting a cupcake business.
Use this plan to organize any goals you have for your business and your financial plans. By getting these ideas down on paper, you'll be able to review the work you've done so far, make a plan for what still needs to be done, and know you're working toward an end goal. Customize your business plan as need be, but the following sections are ones you should generally include in a business plan.
Executive summary: You'll start your business plan with a brief section that outlines the purpose of your business, your current and projected finances, what makes your business destined for success, and what your goals are. Consider writing this section last, even though it goes at the beginning of the plan, as it will serve as a summary of the rest of your business plan.

Company overview: Consider your company overview to be your business's elevator pitch. You'll use this section to explain what your business does and to give a glimpse at your industry and marketplace. And don't forget to share what will make your business valuable.

Market analysis: Do some digging on your industry and market, as well as who your competitors are. Dive deep and provide an analysis of what you've learned. The market analysis will be very helpful for you to reference down the line when making important decisions about your business.

Business organization: Consider this section your business's family tree. You need to outline who in your company does what. Share yours, your partners', and your key employees' background and explain how they benefit the company. If you're the only employee of your company, it's okay to keep this section brief.

Products and services: So you know you'll be selling cupcakes, but it's time to dive into greater detail here. What types of cupcakes will you sell (flavors, themes, etc.), and will you also provide other items? Provide as much detail as you have at this point about what you'll offer customers.

Marketing and sales plan: How exactly will you get customers to discover your delicious cupcakes? Explain step-by-step how you plan to market your business.

Financial plan and projections: If you have past financial data to share, now is the time to share it alongside a look at any financial projections you have for the future. This section is an important part of proving you have a valuable business on your hands, so provide as many concrete details as possible.

Appendix: For the final section of your business plan, add in any supporting information you didn't have room for in other sections of your plan. You may want to add in any valuable graphics, data points, or footnotes here.
Step 3: Choose a business entity
Choosing a business entity is an important step to starting a cupcake business, but can be a confusing one. You may want to hire a business attorney or an accountant to help with this process. How you structure your business will affect your taxes and legal responsibilities, so you'll want to choose wisely.
Consider one of the more common types of business entities:
Sole proprietorship: This type of unincorporated business has either one owner or is owned jointly by a married couple. You won't have to register your business and your taxes will be reported on your personal tax return.

General partnership: An unincorporated business that has multiple owners but is otherwise like a sole proprietorship in terms of registration and taxes.

Limited liability company (LLC): A registered business that provides all of its members with a degree of personal protection if someone sues your business. You can choose to be taxed as a partnership or corporation.

Corporation: This is a type of incorporated business; with the most common types being an S-corporation or C-corporation. Taxes will vary depending on which type of corporation you choose.
Step 4: Choose a business name
If you haven't already come up with a business name, you should start brainstorming now. Once you do decide what your desired name is, you'll need to double-check that another business isn't already using the name. Searching Google briefly will give you some idea of its availability, but a more formal Secretary of State business search is also necessary to check if any other business in your state is operating with your desired name.
To take it a step further, you should also check for trademark filings with the U.S. Patent and Trademark Office. This is especially important if you want to take your cupcake business online or to a larger market than just your town's Main Street. To really make sure you have the right to a name, and if your budget permits, hire an attorney to assist with this process. They can put in the leg work and you'll have the peace of mind that you've chosen name that is rightfully yours.
Step 5: Find the right location
Once you've chosen the right cupcake business format, you can go ahead and start the search for the perfect location. If you've chosen to move forward with a storefront, you should consider working with a commercial real estate agent that specializes in finding business spaces to rent or purchase. If you're planning to rent, you'll want to work with someone whose goal is to assist tenants, not landlords. Your chosen real estate agent should be familiar with your community, what prices are fair, and what locations are valuable. They should be able to show you spaces that come with some of your required equipment like commercial-sized ovens or refrigerators.
If you decide a food truck is more your style, find a specialty car dealer online or in-person that sells food trucks or trucks that can be transformed into food trucks. You may want to consider buying a used food truck off a website like Craigslist for a better deal, but be sure to check it out in person before committing.
Step 6: Get the appropriate licenses and permits
An important part of opening any type of business is following the rules. Each state's business requirements vary, so it's best to research your local government's requirements for any business licenses and permits needed to start a cupcake business.
Cities and counties can have specific requirements regarding business licenses and permits you must follow. You'll want to review state, city, and county government websites to ensure you have all necessary documentation filed. Your needs may vary based on where you live and your business type, but businesses within the food services industry will likely need more licenses than most. These may include:
Health department permits
Step 7: Register for taxes and obtain an EIN
As a responsible business owner, you'll have to make sure you're following the law at all times. Meaning you'll need to properly adhere to any tax, licensing, and employer requirements. Taking some time to familiarize yourself with any legal requirements of running your business will save you a lot of trouble down the road—not to mention money and stress. The business entity you chose, and other aspects of your business, will determine what business taxes you'll have to pay and how you'll file. Now may be a good time to consult a tax professional to ensure you know what to expect.
If your cupcake business needs employees to function properly, you will need an employer identification number. This number is also known as an EIN or business tax ID number. You'll obtain your EIN through the IRS and will utilize it when filing taxes for your business. It will also be used if you open a business bank account, credit card, or apply for a business loan. There are many benefits of obtaining an EIN worth considering—even if you don't plan to hire employees.
Step 8: Brand your cupcake business
Proper branding is one of the most important ways to make your cupcake business stand out. Every branding decision you make will influence how your customers view your business. The colors, logos, font, style of copy, and your name can all tell a story about your business. What type of story you want to tell is your decision to make. But remember, consistency is your friend. The more consistent your branding, the better. Consider the following areas when planning your branding:
Pause for a moment and think carefully about what story you want to tell. Whenever you make a branding decision, reference that story and see if it aligns. Ideally, your name and logo will be instantly recognizable as a symbol of your brand. You'll want your packaging, social channels, and the decor of your shop to have a similar effect.
Step 9: Separate your business finances
When you open your cupcake business, there's a good chance your personal money will fund a decent chunk of it. Rather quickly, your business and personal finances may start to mix. It's best if you can avoid mixing the two as much as possible and keep your personal finances separate from your business finances. Opening a business bank account can be one of the best ways to force this separation. Depending on which business entity you chose to structure your business, it may also be required that you establish a separate business bank account.
When you do open a business bank account, you'll have to decide which type works best for your business. If you are a new business owner, you should start with a business checking account. But if your cupcake business is already established and you find you have extra cash on hand, then a business savings account will be most beneficial so this balance can gain interest. Whichever path you choose, you'll benefit come tax season when your income and expenses are all organized.
In addition to a business bank account, you'll also want to sign up for a business credit card. There will be plenty of options to choose from, but brand-new businesses may find a 0% introductory APR credit card especially helpful. A little help covering the startup costs of your business, with no interest for a set amount of time, can't hurt—as long as you use the card responsibility and have a plan to pay off the balance before the intro offer ends and a variable APR sets in.
Step 10: Secure business funding
Even if you have a top-secret cupcake recipe that could win the hearts and stomachs of people from miles around, your business won't be able to succeed without proper funding. It takes money to make money. And in this case, it also takes money to make cupcakes. Starting a cupcake business can be costly, especially when it comes time to purchase expensive equipment or supplies in bulk. Not to mention, you might have pricey rent to pay for your storefront and employees with salaries and benefits. Once you've done the math and uncovered how much funding you need, you can consider some of the following options.
Some popular cupcake business funding options include:
Startup business loans: If you're struggling to secure funding as a new business (which is not uncommon), a startup business loan may come in handy. There are multiple options that fall under this category like an SBA microloan or a small business grant. In general, SBA loans are a popular funding option because they offer low interest rates and long repayment plans. While their standard loans typically require some business history and good financials, their microloan program is geared toward new business looking for up to $50,000.

Business line of credit: A business line of credit provides access to a set credit limit. You can borrow against that limit for any business-related expenses. The main benefit of this form of credit is that you only have to pay interest on the money you borrow, not the entire limit you have access to. Generally, you don't need strong credit to qualify for this type of funding.

Equipment financing: If you need to purchase expensive equipment for your business, such as ovens, mixers, or a food truck, equipment financing might be an avenue worth pursuing—especially when you have a lot of upfront costs to start your business. The equipment purchased serves as collateral for the loan, which can make this form of financing easier to qualify for than other types of loans.
Step 11: Master your recipes
Whether you're baking cupcakes yourself or you've hired a top-notch baker, it is important to master your recipes before opening shop. Of course, you'll want to take customer feedback into consideration, but ideally once you launch your cupcake business, they'll have only good things to say.
Cupcake shops are a popular business model, so it might be difficult to make yours stand out. This is why you need to find the perfect mix of classic and trendy flavors. You won't want to forgo timeless favorites like vanilla, chocolate, and red velvet. But you'll also want to experiment with unique flavors that no one has seen anywhere else before. Offering specialty cupcakes that suit select dietary needs may also help you stand out amongst the crowd. If you can whip up a delicious vegan or gluten-free cupcake, you'll appeal to a larger customer base.
Cupcakes make people happy. And happiness should be shared. It's time to get social. Consider investing some time fostering the following digital channels to spread the word about your cupcake business.
Social media: Start your foray into the social media world with Instagram. Tasty-looking cupcakes will perform best on social media channels that support images. Facebook isn't a bad place to start either. Experiment a little bit on a few different channels and find what works for you. You can announce new flavors, deals and promotions, and testimonials from well-fed and happy customers.

Email: It may feel a bit old-school compared to social media, but email is here to stay. In fact, many digital marketers prefer using email as a form of advertisement. Unlike social media, email isn't a trend that will pass anytime soon, there are no tricky algorithms to worry about pleasing, and no one can take your hard-earned email list from you. A popular social platform, on the other hand, could shut down without notice and take your audience with them.

Website: Every business needs a website. For a cupcake business, having a website is extra important. You need one to share your address, menu, and hours. Not to mention, it's a great place to promote your social media and email presence.

Review sites: Websites like Yelp that allow customers to leave reviews about businesses can make or break a cupcake shop. Of course, you want as many good reviews as possible. Encourage happy customers to leave reviews on these sites. You may want to offer them a coupon or a free cupcake as enticement for leaving a review. However, it's inevitable that some negative reviews will surface as well. Learn how to respond to them the right way with this guide.
Learning how to start a cupcake business is a mix of creative and logistical work. Of course, you may want to focus on baking, branding, and promoting your business on social media. But to make sure your cupcake business succeeds, you'll also have to ensure you've written a business plan, secured financing, and gotten your legal ducks in a row.
This article originally appeared on JustBusiness, a subsidiary of NerdWallet.