How to Start a Dog Walking Business
Learn how to start a dog walking business. Understand the licenses, insurance and financial solutions you may need.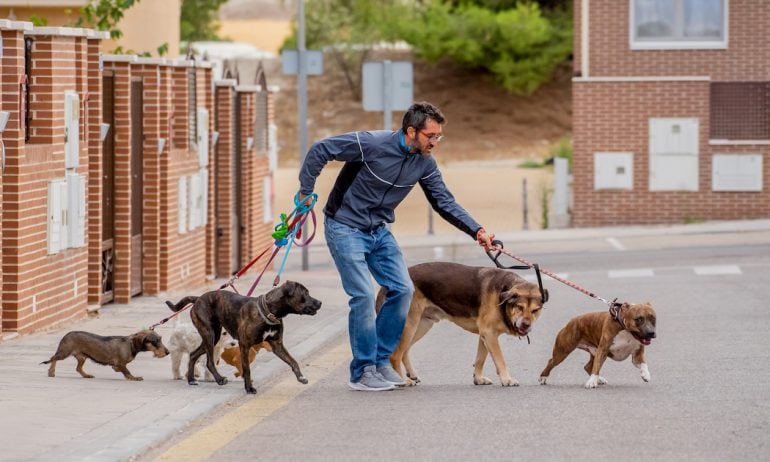 Many or all of the products featured here are from our partners who compensate us. This influences which products we write about and where and how the product appears on a page. However, this does not influence our evaluations. Our opinions are our own. Here is a list of our partners and here's how we make money.
If you've ever dreamed of spending your day in the fresh air, surrounded by furry, four-legged co-workers, then you've likely wondered how to start a dog walking business. After all, starting a dog walking business is just about the opposite of your typical office job — you get to spend time outside, stay active, and of course, hang out with dogs all day. What could be better than that?
You might be wondering how to start a business that makes enough money to be sustainable, or how some of the specifics of getting your dog walking business off the ground. Starting a dog walking business isn't always a walk in the park (sorry, we couldn't resist), as there are plenty of financial and risk-related considerations that should be taken into consideration.
As with any kind of new entrepreneurial endeavor, there's the matter of building and nurturing your clientele as well as growing your profits to keep things afloat during the rocky first few months. Plus, you'll need to think about some factors specific to the dog walking business, such as driving to your customers and buying supplies like waste bags and treats.
Learning how to start a dog walking business can definitely be worth the effort, though. Besides the obvious perks (dogs!), it also provides a ton of freedom and flexibility. So, are you ready to start your dog walking business? In this guide, we'll detail how to start a dog walking business, from the licenses and insurance you may need to obtain, to the financial solutions that can help make your dream possible.
How to start a dog walking business: A step-by-step guide
It might sound silly to wonder how to start a dog walking business, but it's not as simple as lacing up some sneakers and hitting the road. As with all other kinds of entrepreneurial endeavors, there's a lot to consider before diving in.
You'll have to make the same financial considerations as you would with any other small business venture, and will most certainly have to juggle administrative tasks alongside your daily walk schedule. Let's dive into what you need to know before starting your dog walking business.
Assess the local dog walking business landscape
You're probably familiar with the idea of "supply and demand," and it applies to just about any industry. In this case, the demand for a business in a specific area or specialty helps determine how much supply there should be.
Services in higher demand can charge their customers more, so long as there are more customers than companies. On the other hand, if there are too many providers serving too few clients, each provider ends up lowering prices in order to maintain a competitive advantage for the smaller pool of clients.
What does this have to do with walking dogs? Everything, if you want to start a successful dog walking business. Be sure that your target market isn't already saturated with dog walking companies–otherwise, you may find yourself struggling to find clients and set yourself apart from the other, more-established companies while also turning a profit.
Even the most straightforward new businesses can benefit from having a comprehensive business plan. After all, you wouldn't build a dog house without blueprints. The same idea holds true for your new dog walking business. Drafting a business plan provides you with a framework for your company to follow, and can help you determine the right strategies to help it grow in those crucial first few months.
Learning how to write a business plan doesn't have to be daunting. All you need to get started is:
A clear idea of what you want your business to be

A sense of what kind of competition you'll expect within your industry and area

Plans on how you'll organize your business (especially if you plan to hire other walkers or administrative staff)

Ideas about what services you'll offer (in this case, you may also consider including house-sitting or boarding services to your walking services)

Marketing and promotion plans to help you drum up business

Financial projections (including the cost of your services as well as expected revenue
Including a business plan as you start your dog walking business may seem like overkill depending on how big you want your business to be. Creating a plan in the early stages can, however, prepare you for growth down the line. It's also better to draft a business plan now, rather than after your business takes off and you have less time to devote to the task.
Secure the necessary business licenses
Almost every municipality and state requires companies to have business licenses before they can operate lawfully. That's true for big corporations as well as individuals and solopreneurs. Even if you want to start a dog walking business that is just you and your furry friends, you'll still need to register with your local governing body in order to make sure that what you're doing is above board and lawful. In most cases, you can get by with a relatively straightforward business license.
For example, setting up a sole proprietorship is simple and easy to operate, although it offers fewer protections than other business entities, such as a limited liability corporation (LLC). LLCs, unlike sole proprietorships, help separate an individual from his or her business.
An LLC helps you keep your personal finances separate from your business. They also help you establish distance between yourself and any legal issues your business might experience. This is particularly helpful for dog walking businesses: If an issue were to arise with your clients' beloved pets, you could be personally liable without the right business entity in place.
If you're not sure what kind of corporate entity you think your dog walking business might need, it's never a bad idea to consult a small business attorney who can help you weigh the pros and cons of each. You'll have to pay a bit more for the additional help than you would by going it alone, but you could stand to save significant money in the event of a problem down the line.
Most small businesses need some form of insurance–be they small home-based businesses or manufacturing enterprises–and a dog walking business is no different. In most cases, the more liable your company is to have something break, for someone to get hurt, or for something to go awry on your property, the more likely you are to need comprehensive business insurance to cover your business in the event of an issue. Even if your state or town doesn't require you to have certain kinds of business insurance, it's still a good idea to consider this added protection.
When you're dealing with animals, as is the case in a dog walking business, the need for insurance becomes even more important. For starters, you'll likely want to look into a solid general liability plan that can protect you in case of any damages incurred while on your client's property (or on anyone else's property during a walk).
You'll also want to think about personal and commercial property insurance to cover any losses (or damages) in the event that Fido goes off the leash and causes damage to you or your business property. Last but not least, you'll also want to get animal bailee insurance if you plan to transport dogs in your car, or if you decide to add animal boarding to your services.
This is not a comprehensive list, nor is it meant to provide any advice on which insurance you should buy. Be sure to check with a legal professional, insurance specialist, and any local governing bodies to make sure you have all the coverage you need before you start your dog walking business.
Even after all of the planning and logistics have been tackled, you're only halfway done with the work that it takes to start your dog walking business. You'll still have to market your services in order to gain new clientele.
The good news is that marketing your small business doesn't have to cost a lot in order to be effective. This is particularly true for dog walking businesses, where word-of-mouth marketing can be more valuable than paid promotion.
Creating a small business website is a good first step to launching your business. This should include things like information about yourself and your experience, the area where you're operating, pricing, and methods for prospective customers to get in touch with you. Building a simple website is often inexpensive and easy to maintain, and can do you a world of good as you build a reputation for your company.
Small business owners often overlook their ability to influence word-of-mouth advertising. This is particularly important for small businesses like the dog walking industry, since people prefer to go with the recommendations of their friends and family when entrusting the care of their beloved pets. Offering a customer referral program can also help incentivize happy customers to recommend your services by rewarding them with pre-determined perks, like free walks.
How to start a dog walking business: The financials
Although starting a dog walking business may seem like an endeavor that doesn't have high startup costs–after all, don't you really only need a good pair of walking shoes?–you may find that some extra cash is necessary to help get your business off the ground or to help it expand. Here are some small business loan options that can help your business.
Small business administration (SBA) loans
Whenever the topic of small business loans come up, SBA loans are sure to follow. That's for good reason: SBA loans are a great option for qualifying small businesses. They often have lower interest rates than regular business loans, come with longer repayment periods, and may even provide higher loan amounts than their peers.
Given that SBA loans come with such great perks, they're also highly competitive and require an extensive amount of paperwork during the approval process. Even if you don't end up getting an SBA loan, it's still worth going through the application process in most cases. You'll be fully prepared with the information you need when seeking out alternative financing options for your dog walking business.
If you need a car or vehicle to transport the furry clients of your dog walking business, you might want to consider a small business auto loan. Auto loans help small businesses get the cash they need to purchase a vehicle, all while typically coming with a lower interest rate than they'd get for a short- or long-term loan that isn't tied specifically to this purchase.
Borrowers will approach lenders for a business auto loan once they've found a specific vehicle (or vehicle type) that they wish to buy. If approved, the lender then provides the cost of the vehicle, and the borrower pays back the loan plus interest.
Sometimes small business owners need access to additional cash on a revolving basis. Say, for example, that you know you'll have a few miscellaneous expenses coming up as your dog walking business expands. You may not need a pile of cash all at once, and would certainly prefer not to pay interest on money you're not using.
That's where a small business line of credit comes in handy. Lenders provide borrowers with a capped amount of cash from which they can draw for as long as the line of credit is active. Borrowers only pay interest on the money they've drawn from the line of credit, and can borrow money several times throughout the life of the line of credit.
Small business term loans
Perhaps the broadest, all-encompassing lending products out there for small business owners are business term loans. These loans allow borrowers to access a predetermined amount of cash to pay for anything business-related, all while agreeing to pay an interest rate over a certain amount of time in exchange for the money.
If you have general needs in starting your business, term loans can help you get access to capital. Be aware though that short- and long-term loans do tend to come with higher interest rates than business auto loans, a small business line of credit, and SBA loans.
You might be surprised that starting a dog walking business takes some planning and preparation. But when you're starting your own business you need to make sure it's set up correctly and legally, and that you'll be protected if any accidents occur down the line. Additionally, taking care of animals comes with its own set of considerations.
Luckily, as long as you cover all of the right elements of starting a dog walking business–from securing the necessary licenses and insurance to finding the right financing–you'll be on your way toward bringing home the bacon. If the dogs don't eat it first, that is.
This article originally appeared on JustBusiness, a subsidiary of NerdWallet.