How to Start a Graphic Design Business
Wonder how to start a graphic design business? Our step-by-step guide has what you need to know about the process.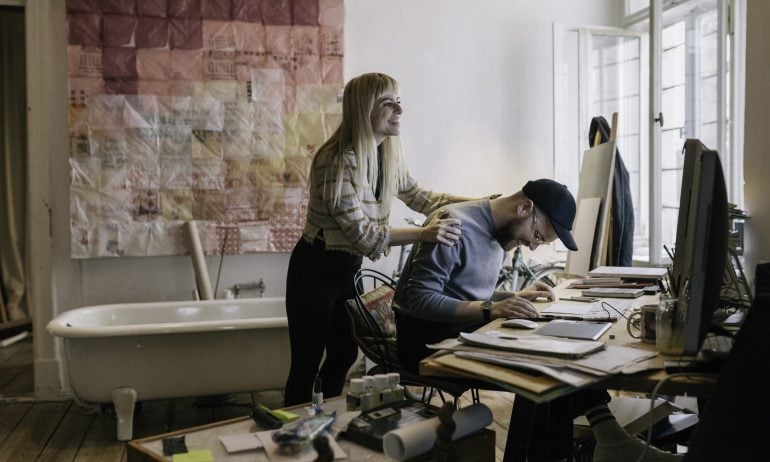 Many or all of the products featured here are from our partners who compensate us. This may influence which products we write about and where and how the product appears on a page. However, this does not influence our evaluations. Our opinions are our own. Here is a list of our partners and here's how we make money.
Deciding to start a business is a big step for any entrepreneur. However, what follows are many more steps to successfully launch and grow your business.
For those with an eye for design and the technical skills, you may be wondering how to start a graphic design business. In this guide, we'll break down all of the steps you need to know to take your graphic design business from idea to reality. Let's get started.
Step 1: Choose a name and business entity
The first step in starting a graphic design business is to choose a name and business entity.
When choosing a business name, you want to make sure you pick something that represents your personality while also making it clear to potential customers what type of business you operate. Once you have some ideas in mind, you'll need to make sure they're available for use. Searching your secretary of state's business portal, Google, and the U.S. Patent and Trademark Office are all good places to start. You'll also want to make sure any domains or social media handles are available for your business name, as well.
Once you've chosen your business name, it's time to choose the business entity you'd like for your business. This is a crucial step, as the business entity you choose will dictate how you pay taxes, your degree of personal liability, and how to structure your business. We recommend consulting with a business attorney at this stage if you're unsure how to choose. Some common options are:
Sole proprietorship: A sole proprietorship is the simplest business structure you can have. While they're easy to set up, though, you will not have any personal protections in the event that your business runs into legal or financial troubles—you and your business are seen as the same entity. You will also file business taxes on your personal return.

LLC: An LLC is a popular option because they're fairly simple to set up and they provide the business owners with a degree of personal protection. You can choose to be taxed either as a corporation or pass-through entity.

Corporation: You may also choose to structure your business as a corporation. The most common types are S-corps and C-corps, and how you're taxed and the structure of your business will depend on which type you choose.
Once you have decided on your name and business entity, you can register your business with your state. This will likely be done with your secretary of state's office. Keep in mind, you typically don't have to register a sole proprietorship; however, if you want to operate under a business name different from your own, legal name, you will have to file a DBA, or "doing business as."
Step 2: Choose your niche
As a graphic designer, there are a number of specialties you can have. While it may be tempting to do it all—and you may need to be open to accepting a variety of projects as you grow your customer base—placing yourself in a niche market can be a smart decision.
Some niche graphic design ideas include:
You likely already have specific expertise in a certain area, or you may just enjoy one facet of graphic design the most. Either way, once you've established that there is demand for this type of work, keep this niche in mind while making your other business decisions.
Step 3: Write a business plan
No matter what kind of business you're starting, you should always write a business plan. Even if no one else ever sees it, your business plan will provide a roadmap to help keep you on track through the launch and all-important early years of your business. However, should you seek outside funding or an investor down the road, you will also need to provide your business plan to prove that your business is worth investing in.
Your business plan will cover a lot of information—from a market analysis and competitor research to an overview of what services you'll provide, financial projections, and more. You should outline how much startup money you'll need to launch your business, and where this will come from (i.e. your own savings, friends and family, or business loans).
This is also a good time to set your prices and make sure they're in line with what similar graphic designers charge. You'll also want to decide if you want to charge an hourly or per-project rate. Researching your market will help you settle on an appropriate rate, but this Bonsai rate explorer can also help.
Step 4: Organize your marketing materials
In order to grow your business and find more clients, you'll want to start formalizing your business through marketing materials. Marketing materials can help spread the word about your business, showcase your portfolio, and give prospective clients a way to contact you and learn more about your experience. Here are some marketing materials to consider.
One of the most important marketing materials you can have as a small business owner is a website.
As a graphic designer, your website is a great way to show what you're capable of producing for your clients. Include a portfolio of your past work, whether for clients, an agency, or your own passion projects, as well as the types of projects you're willing to work on, contact information, positive customer testimonials, and more.
Your graphic design background will make designing a website simple, but don't get too hung up on the details. Creating a simple website that clearly shows off your work should be plenty to start attracting clients.
Beyond a business website, you'll also want to set up social media profiles for your business. Because graphic design is so visual, you'll want to choose the platforms that lend themselves to images over text, such as Instagram.
Additionally, you should consider creating a LinkedIn profile as well to connect with your network, showcase your work, and find prospective clients.
Step 5: Build your client base
With your business officially registered, your niche defined, and your business website created, you're ready to start finding work.
Some ideas to help you find your first clients include:
Join freelance graphic design groups on Facebook

Register for a freelancing site such as Upwork or Fiverr

Start networking with other creatives in your city
All of these options can help you find your first few clients, and from there your business will likely grow organically. By delivering your projects on time and to your clients' specifications, you'll slowly but surely build a reputation that will speak for itself. And never underestimate the power of word-of-mouth marketing. Make sure anyone in your network—even people who aren't in your industry—know that you've gone into business for yourself, so they can recommend you to their networks and further expand your reach.
Step 6: Separate your business and personal finances
As you start taking on clients, you'll need somewhere to put your business income. While you may be tempted to use your personal bank account, this would be a mistake. Keeping your business and personal finances separate serves some very important purposes. First of all, it will make filing your taxes much easier if you don't have to sort through every credit card charge or bank transaction to figure out which were for your business. Second, keeping this separation will help protect your personal assets in the event that your business gets into trouble.
Explore your business bank account options to find the right one for you, paying close attention to maintenance fees, transaction allowances, account minimums, and more. Next, find a business credit card that will reward you for spending (whether that's in miles, cash back, or another rewards structure).
It's also worth looking into accounting software to help manage your finances and invoice clients. These self-employed accounting software options are a good place to start.
Step 7: Consider your financing options
As you take on more clients and your business grows, you may need to expand in a meaningful way to keep up with demand. Maybe you need to hire some employees so you can take on more jobs or you need to invest in some pricey equipment to keep up with the latest technology, for example.
If this expansion costs more than you can manage on your own but would make a big difference in your bottom line, you may look into a business loan or other financing option.
When you're just starting out, it will be difficult to qualify for traditional business loans; however, once you've been in business for a year or more and have positive financials to show for it, you'll have more favorable options.
Here are some options you may want to explore:
Business line of credit: A business line of credit is a useful financing tool for any business owner. In fact, even if you don't have financing needs right away, it's good to have in your back pocket for any emergency cash flow issues or time-sensitive opportunities. A line of credit will provide you with a set amount of funds that you can draw against for any business-related purpose. You'll only pay interest on the amount you use, and once you repay it, your balance will typically reset to its original value and you can continue to dip into it as needed.

Equipment financing: If your graphic design business needs new computers or other equipment to help you complete your work, equipment financing may be an ideal solution. You'll take a quote for the equipment you want to buy to a lender, and if approved, you will receive the funds to make the purchase. The equipment will also serve as collateral, so if you fail to repay the loan, the lender can seize the equipment and liquidate it to recoup their losses.

Invoice financing: As a graphic designer, you may work on an invoice basis, where you send an invoice to your client once you've completed the work they requested. If this is the case, waiting for those invoices to be paid can put a strain on your cash flow. With invoice financing, a lender will front you a percentage (typically up to 85%) of your unpaid invoices so you get cash when you need it. Then once your customer pays, you repay the loan plus the lender fees.
When you're learning how to start a graphic design business, all the steps that you need to take to get started can seem overwhelming. However, taking the time to complete each step will help ensure you're truly prepared—financially and otherwise—to start a business in the first place. By taking your time and doing your due diligence, you're sure to start a graphic design business that can grow into a successful enterprise.
This article originally appeared on JustBusiness, a subsidiary of NerdWallet.