The Ultimate Guide to Opening an Etsy Shop
Learn what seller fees to expect and get pro tips from Etsy sellers.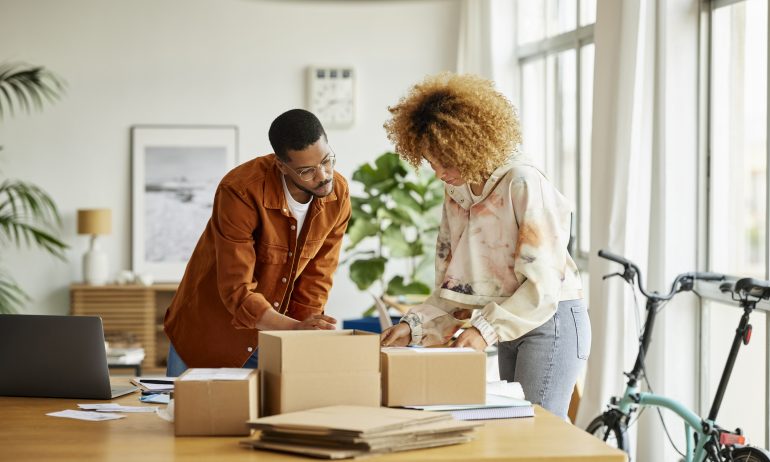 Many or all of the products featured here are from our partners who compensate us. This influences which products we write about and where and how the product appears on a page. However, this does not influence our evaluations. Our opinions are our own. Here is a list of our partners and here's how we make money.
Hand-knit dog booties? Portraits made of gum? "Seinfeld"-themed enamel pins? Whatever objects you love to craft, no matter how niche they are, there's a horde of consumers out there looking for your product — and most of them are browsing the Etsy marketplace.
If you don't have previous experience with the platform, starting an Etsy shop may seem like a complicated prospect. But in reality, opening an Etsy shop is relatively straightforward and can provide for an optimal home for your products — either alongside an e-commerce website or as your primary online storefront.
Here, we'll first walk you through how to start an Etsy shop on the platform with eight simple steps. Then, we'll discuss Etsy seller fees as well as share some tips from pro Etsy sellers about how to ensure your Etsy shop's success right from the start of your digital venture.
In-depth: How to open an Etsy shop
Opening an Etsy shop on the platform is easy; just follow these eight steps.
1. Create an Etsy account
You can set up an account with Etsy by clicking on the "Sell on Etsy" link, entering your email, name and password and finally, clicking "Continue" as shown below.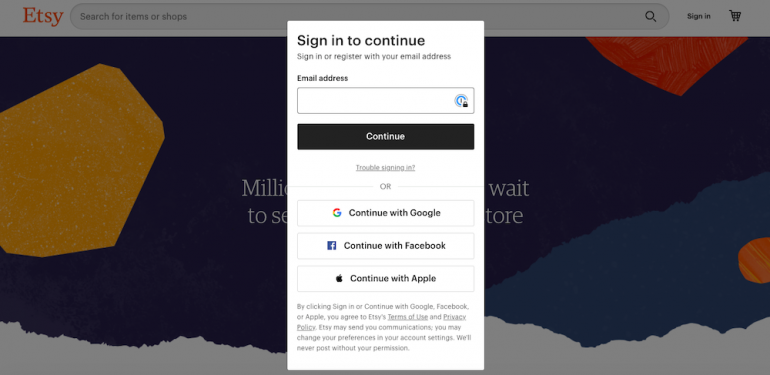 You also have the option to create an Etsy account through your established Google, Facebook or Apple account.
Additionally, if you already have an existing Etsy consumer account, you can simply log in with your credentials and then click "Open Your Etsy Shop" to start creating your own store.
2. Set your shop preferences
Next, you'll be directed to the "shop preferences" screen where you'll designate the basic settings for your store.
First, you'll set your default language, which is the language in which you'll describe your items (after opening your Etsy shop, you can choose to translate your page into other languages). Then, you'll set your home country and the currency in which you'd like to list your items.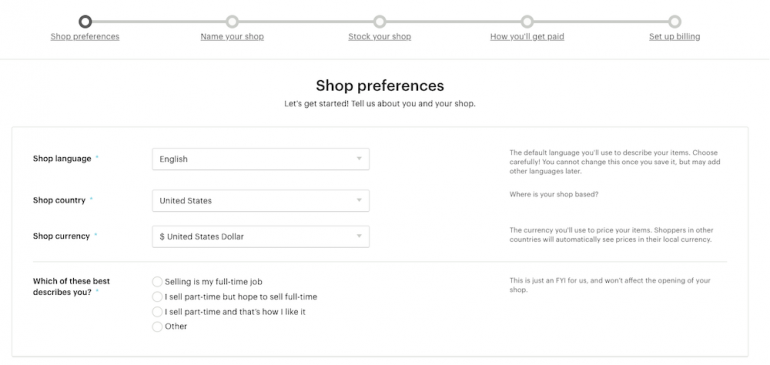 It's important to note that if your bank currency is different from your shop currency, you'll incur currency conversion fees (2.5% of the sale amount) when customers make purchases.
Finally, you'll be asked whether you're a full-time seller, part-time seller or "other." This is a question that Etsy asks for its own purposes, but doesn't affect your ability to start your Etsy shop.
3. Choose your Etsy shop name
Here's where you can start to get creative: coming up with your Etsy shop name. Ideally, your shop name is intriguing but easy for customers to remember, and reflective of your products and values.
Your store name can be anything you'd like, as long as it falls within Etsy's guidelines:
Four to 20 characters long.

No spaces or special characters.

Not a name that's already in use by another Etsy seller.

No trademark infringements.
If you try to enter a name that's already in use, Etsy will suggest some similar names that are available, as you can see in the image below: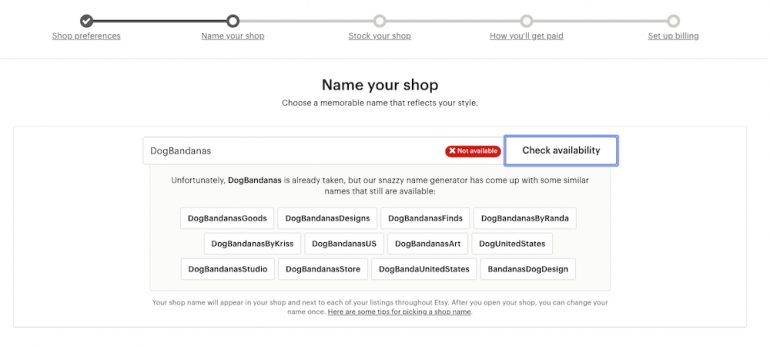 Overall, to pick the right name for your shop, you might refer to the following tips that Etsy recommends:
Try suggestive descriptive names: You can use words or phrases that evoke the feeling of your brand, as well as those that describe what you're selling. Examples: AllThatsRustic, Natural Succulents, Littlecatdraw.

Try abstract names: Abstract names can give your store an added unique element and make it easier for customers to find your store when searching online. Examples: Qualtry, Pegai, Auramore.

Use your name: Your name can be a quick and easy option — and allows you to easily change or adapt the products you sell. It will be harder, however, to find a shop that simply uses your name, so Etsy recommends adding a modifier like "Studio," "Inc," or "Workshop." Examples: JennfierCraftCorner, DIYMike, KobieMoorePaintings.
Before you actually open your Etsy shop, you'll want to take a little bit of time to choose the right business name — because after you've started, you can only change your name once.
Moreover, if you think you might eventually expand your Etsy shop to a business website, Facebook page, Instagram or even an official business name, you might do some additional research to ensure that you can acquire things like a business domain name or DBA (doing business as) that match your shop's name.
4. Add items to your shop
The next step in learning how to start an Etsy shop is to list your items. Listing physical and digital items (think printable stationery, patterns, stickers, gift tags) involves separate processes. We'll show you the basics of how to list a tangible item; you can consult Etsy's guide if you're listing a digital item.
Etsy recommends using at least five photos per item (you can include a maximum of 10) so that customers can see your product from various angles and that the size of your images is at least 1,000 pixels square.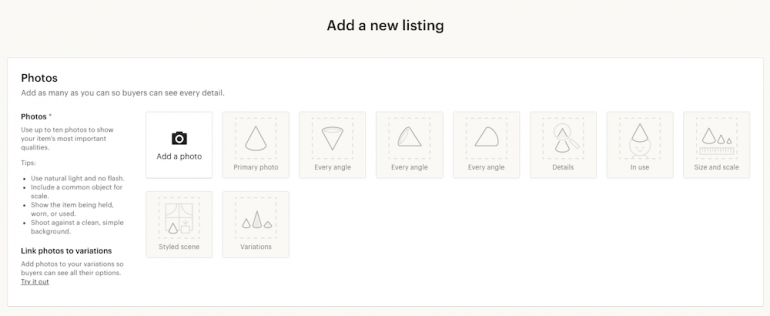 Additionally, if you have variations of a product — say, a t-shirt with multiple colors — you can include photos for those variations so that customers can see all of their options.
Your thumbnail is the first image of your item that your customers see in your shop, via search and elsewhere on Etsy — think of it as your product's headshot. Make sure it's a good one.
Complete your listing details
Give your item a title that describes the product in as much detail as possible, considering your 140-character limit. You'll also have the opportunity to provide an in-depth description, a bulleted overview of the product and additional details like the product's category and type.
In the description section, you'll also be able to preview your listing for a Google search result, which can help you optimize for e-commerce SEO.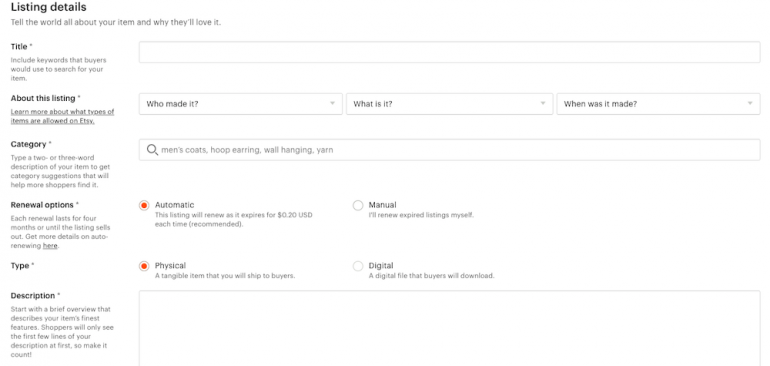 Moreover, in your listing details, you'll want to ensure that you pay attention to the section entitled "renewal options." As we'll discuss in regards to Etsy fees below, if you select "Automatic," your listing will automatically renew after it expires, every four months. Each time the listing renews, you'll be charged a 20-cent fee, so you'll want to be sure you remember this when you're starting your shop.
If you'd rather renew expired listings yourself, or alternatively delete them, you can select "manual" here.
Finally, you should take advantage of all 13 "tags" available per item. Shoppers find your item by searching for keywords in the search bar, so work backward and think about what a customer might type into search to discover your item. Those keywords are what your tags should be.

Complete your inventory and pricing
In this section, you'll enter your product's price, sales tax (if applicable), quantity (if you have more than one in stock), SKU number (if you have one) and variations.
You can add variations — like sizes, materials and colors — and link the respective photos to those variations.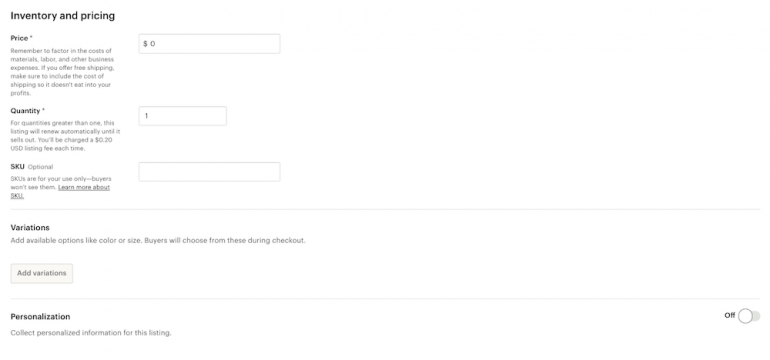 Here, you'll include all the necessary details about your shipping processes, like the shipping services you use, costs, country of origin, processing time and item weight and size.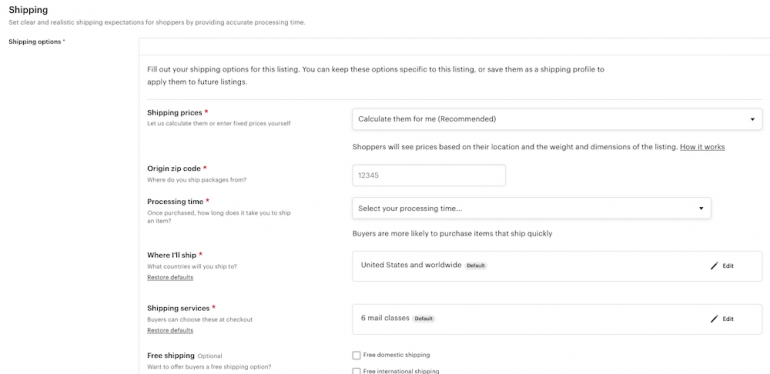 You can also opt for Etsy to calculate your shipping prices for you (which they recommend). In this case, you'll be required to fill in item weight and size (when packed). Then, based on that information, you'll be able to preview the shipping price that buyer will see.

After you've opened your Etsy shop, you'll also have the option of setting "shipping profiles" so that you can quickly update items with the same shipping costs.
You can preview your entire listing to see how it'll look to customers before setting it live.
When you're first starting your Etsy shop, you can include as many listings as you want. Etsy recommends at least 10, as the more listings you have, the more likely customers are to find you.
This being said, however, you'll want to remember that your listings are not live until you finish the setup process, so you don't want to spend too much time on an extensive number of listings if you're looking to launch your store quickly.
5. Choose your payment preferences
Once you've added your items, you'll need to set up your Etsy payment preferences.
First, you'll pick how you'd prefer to accept payments; options include PayPal, check or money order, "other," or Etsy Payments, which is the main way sellers get paid. With this option, you can accept credit cards, debit cards, Etsy gift cards and store credit and more.
Currently, Etsy requires that any seller who is eligible (based on their location) to offer Etsy Payments do so. Along these lines, although Etsy used to offer PayPal as a standalone payment option, as of May 15, 2019, sellers in eligible countries, including the U.S., must use Etsy Payments with integrated PayPal. Standalone PayPal is no longer available in these countries.
Moreover, if you're eligible for Etsy Payments, you'll need to set this up as part of your payment settings — entering your bank account and residential address (as shown above) in order to receive your payment deposits from Etsy.
When you're starting an Etsy shop, this step will depend wholly on your country.
In certain countries, Etsy will require that you provide a credit card for identity authorization purposes. You'll also need a card on file so that Etsy can charge you for selling fees (more on that below).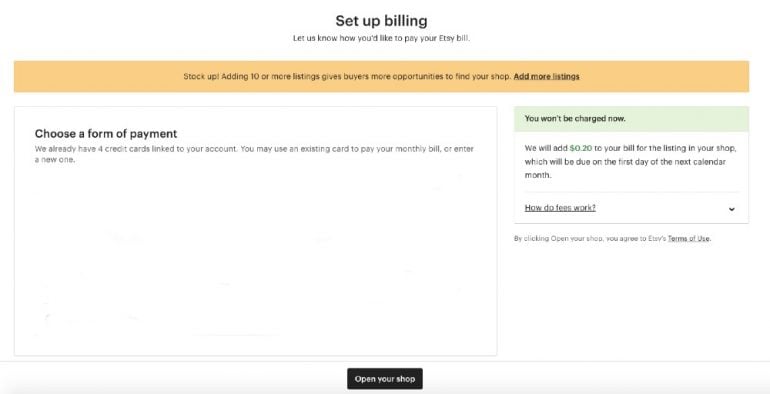 If you're a U.S. seller, you have the option to enroll in auto-billing, in which case Etsy will automatically charge your credit card on file for the selling fees you incur, so you don't have to worry about paying your monthly statement.
At this point, you've successfully learned how to start an Etsy shop. Once you click "Open Your Shop," your shop will be open.
The URL for your shop will be in one of two formats:
https://www.etsy.com/shop/yourshopname.

https://yourshopname.etsy.com.
Now that you've actually opened your Etsy shop, it's time to get started selling online.
After all, it's not enough to simply have started an Etsy shop. Just like a brick-and-mortar store, your digital store needs to be easy to find, beautifully curated, intuitively organized and constantly updated. Here are a few more sections you can fill out to ensure that your Etsy shop opens (and runs) successfully:
Your public profile is how visitors to the site can learn more about you, both as a business owner and as a person outside of your work.
In your bio, you have free range to tell the public pretty much anything you want. Say a little about your background, your interests, your qualifications and tell the story behind your products, your mission and why you love what you do.
Here, you'll answer any pertinent questions your customers may have about your manufacturing, processing, shipping and payment processes. Be sure to include an estimated processing and shipping time so that your buyers have a clear idea of how long it'll take for their items to reach them.
Also, be sure to include your returns and exchanges policy, and the payment methods you accept. If you've indicated "other" in your payment settings, you'll need to include information and instructions about this payment method in this section, as well as in each listing.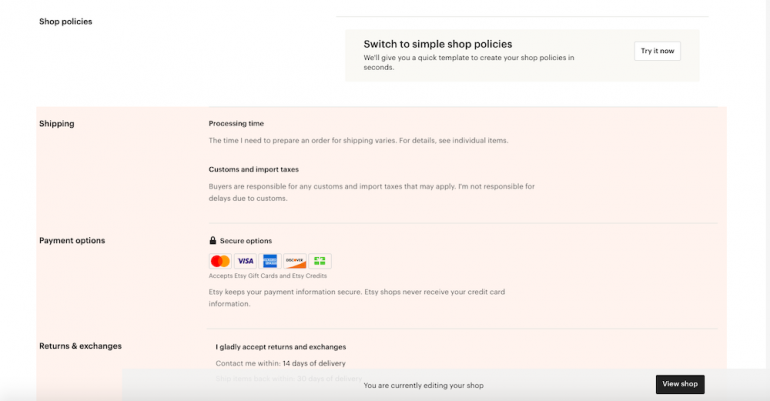 Group your items into categories so that buyers can more easily sift through your products. A bit like a navigation bar, sections will appear on the left side of your homepage and include the number of products within each category.
Feel free to move your items around on the page.
Add your shop's "about" section
Just like your personal "about" section, your store deserves its own bio, too. You have 5,000 characters to tell customers your business's origin story. Keep in mind that Etsy (and customers) value transparency and openness, so don't worry too much about writing traditional marketing copy; just be genuine.
You can also list anyone who helps you produce and create your products or run your store, provide photos or a video of your studio space or creative process and add links to your store's social media profiles.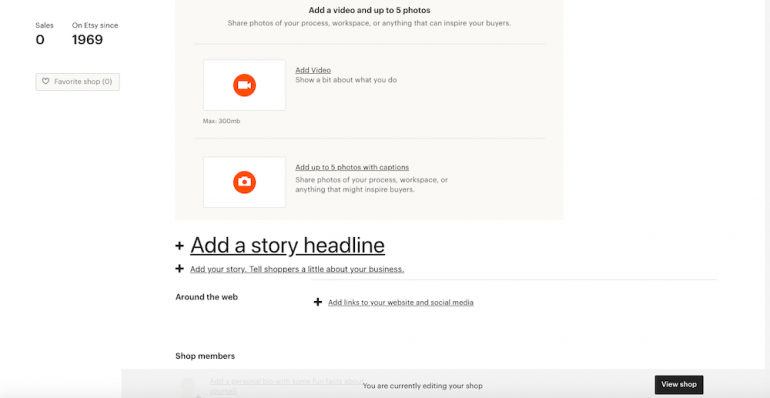 Use Etsy's social media tool
Advertising your Etsy store via social media is essential for garnering new business and keeping your existing base in the loop about new products.
Luckily, Etsy makes that really easy to do; with the platform's social media tool, you can quickly update all your social channels with store announcements, new listings, store milestones, great reviews or specific items you'd like to promote on social media via your phone or computer.
Keeping in mind everything we just discussed regarding how to start an Etsy shop, let's break down another important component involved with selling on the platform: Etsy seller fees. As we mentioned in steps five and six, you'll need to choose your payment preferences and set up your billing information, both of which are directly related to the Etsy fees you'll incur.
Like any online marketplace, Etsy charges its merchants fees associated with listing and selling products. Although joining and starting an Etsy shop is free — unless you opt for a paid subscription plan — you'll need to pay for the costs associated with actually doing business on Etsy.
If you're using Etsy Payments, these fees will be deducted automatically from your sales funds. If at the end of the month, you still owe additional fees, you'll be responsible for paying them, as you would any bill. In this situation, if you're a U.S. merchant enrolled in auto-billing, Etsy will automatically charge the credit card you have on file.
On the other hand, if you're operating in a country that cannot utilize Etsy Payments, you'll be responsible for managing and paying your monthly bill on the platform.
All of this being said, Etsy charges three main types of seller fees: a listing fee, a transaction fee and a payment processing fee.
Listing fees are the seller fees Etsy charges to actually list your items on your shop. Etsy charges 20 cents per listing and listing fees are added to your payment account (which you set up in step six) when an item is listed.
You have to pay this Etsy fee for each product you list, regardless of whether or not the product sells. A listing expires after four months, and at this point, if you want to keep the listing on your shop, you'll have to renew it and pay an additional 20 cents.
It's important to note that listing fees are billed in U.S. dollars, so if you're operating your Etsy shop in another country, your listing fee may be different based on the exchange rate.
Next, Etsy charges transaction fees when an item is sold. Etsy's transaction fee is 5% of the total item cost, which includes shipping and gift wrap, and is charged in your designated listing currency.
Therefore, if your payment currency is different from your listing currency, Etsy will convert the fee amount from the listing currency to your payment currency based on the current market rate. With this, however, it's important to note that if currency conversion is required, Etsy will charge a 2.5% fee for this process.
Etsy payment processing fees
If you accept payments online on your Etsy shop using Etsy Payments, you'll incur a payment processing fee for each transaction when an item is sold. The payment processing fees that Etsy charges will vary based on the location of your bank account. For U.S. sellers, Etsy charges 3% + $0.25 per transaction.
Moreover, if you're a seller in a location that is subject to VAT, or value-added tax, Etsy will incorporate this tax, as required, in both their payment processing and other seller fees.
Additional Etsy seller fees
Although listing, transaction and payment processing are the three main types of seller fees that Etsy charges, there are cases in which you'll incur additional fees.
First, if you purchase your shipping labels through Etsy, you'll have to pay the associated fees based on the shipping labels you choose. Shipping label fees will depend on location and other shipping settings.
Second, if you sell items from your Etsy shop in person using Square that are not synced from your Etsy shop inventory, you'll pay Etsy a 20-cent fee per transaction, in addition to the card processing fees from Square.
Finally, if you choose to utilize certain add-on services from Etsy, you'll need to pay the costs associated with that service. For example, if you run ads for your shop and products using Etsy, you'll be required to set a daily budget for the campaign and you'll be charged per click.
Moreover, as we mentioned earlier, although opening an Etsy shop is generally free, Etsy also offers one paid subscription plan: Etsy Plus
This plan offers expanded and advanced tools to help you grow and manage your Etsy business, including Etsy ad credits, advanced customization options and special discounts. Etsy Plus will cost $10 per month, and the standard fees discussed above will still apply.
Now that we've explained how to open Etsy shop, let's discuss top tips to ensure your Etsy business starts out on the right foot, sourced directly from Etsy shop owners.
1. Take professional (or professional-looking) pictures
Whether you like it or not, we live in an image-driven society — and that includes physical objects. It's crucial that you provide customers with product photos that are stylish, well-lit and portray the product from several angles.
Gari Anne Kosanke has owned her handmade jewelry shop, BeadLoversKorner, since 2010. She offers the following advice: "The biggest tip I have is to make sure you take great photos that represent your product. Etsy has an excellent app where you can upload photos directly from your phone and make minor size adjustments. Most phones have pretty decent cameras today, so it's possible for a beginner to just do everything right from the phone. I still make other adjustments to my photos with Photoshop, but I do upload pictures right from my iPhone."
Simply having great product photos isn't quite enough to guarantee that customers are drawn to your store (and are inspired to purchase your goods) — it's also important to consider how you're presenting your products on your site.
Kamaria Hill is the owner of Loccessories, a Chicago-based Etsy shop that sells natural hair accessories, jewelry and gifts; she underscores the importance of setting up an organized Etsy shop:
"Your buyer is judging you. That's the bottom line. And pictures give a powerful first impression. When a buyer clicks over to your shop from one of your listings and sees a jumble of different items, they don't have any confidence in your skill level at your craft. Having a cohesive look and a selection of similar items suggests to them that you're good at what you do and that the quality is there."
As Hill says, a slapdash collection of products implies that the store owner didn't put too much time and energy into organizing their store — or, potentially, their products.
On the other hand, thoughtfully curating your images, organizing them into easily navigable sections and writing detailed product descriptions for all of your items accurately represents the work and commitment you put into your business and reflects the quality of your products.
3. Make your store searchable with SEO
Leveraging SEO tactics on Etsy will make your store easy to find, so it's a surefire way of driving customers to your products. But even if you're an SEO wizard for your website or blog, know that Etsy has its own set of SEO rules that you'll want to nail down right off the bat.
You'll want to make sure your title is suitable for your product and keyword-friendly. Along these lines, you'll want to use as many keywords as possible in your tags, shop title, shop sections, product titles and descriptions. You should also ensure that you add tags that make sense with your title. To help you with this process, you can use a keyword tool like Marmalead or EtsyRank.
It's also important to know that if your store has more listings, it'll be easier to find via search.
Hill suggests aiming for at least 50:
"I have had my Etsy shop for years and really didn't give it much attention — it was more of a placeholder for my brand name. Recently, I started adding more listings and saw immediate results from averaging one sale a month to one to two sales per week, and 'favorites' have increased significantly."
Of course, it'll take some time for you to build up to 50+ listings, but you can use the prospect of increased traffic as fuel to create more and better products.
4. Price your goods properly
As almost any new business owner will tell you, pricing your products competitively is essential for garnering business and turning a profit, but it can also be one of the more difficult hurdles to overcome. Luckily, Etsy offers a few resources on this tricky topic, including an easy formula for pricing your products and a worksheet to carry out a couple of pricing strategies.
Don't short-sell yourself; price your products so that you can cover your material, labor and production costs, and at a rate that accurately reflects the quality of your products. But keep in mind that one of Etsy's major draws is the prospect of buying unique items at prices that won't break the bank. Try to keep your costs relatively modest so that you don't risk turning away a big chunk of the Etsy audience.
Also, remember that joining the platform and setting up your shop is free, but once you start listing and selling items, the various Etsy seller fees will kick in, so account for these fees as you price your products.
5. Keep your finances organized
Even if you're starting an Etsy shop as a side hustle, it's still a good idea to separate your business and personal finances. The easiest way to adopt this best practice of entrepreneurship is to sign up for a business credit card that's dedicated solely to your Etsy store's expenses.
There are tons of business credit cards on the market, and the right one for you really depends on what your personal credit score will qualify you for, your spending habits and the rewards you'd like to earn. But it's pretty safe to say that you could do with an extra cash infusion — in which case, a cash-back card is your best bet.
And if you're not a natural accounting expert, it's worth it to sign up for an e-commerce business accounting software so that you can easily track your sales and expenses.
Frequently asked questions
1. How much does it cost to set up an Etsy shop?
While it's free to sign up for, and create, your Etsy shop, Etsy charges 20 cents per listing plus an additional 3% plus 25 cents per transaction for U.S. sellers. If you sell items from your Etsy shop in-person using Square that are not synced from your Etsy shop inventory, you'll pay a 20-cent Square manual fee per transaction, in addition to the credit card processing fees from Square.
2. How do Etsy sellers get paid?
There are several options to get paid via Etsy, including PayPal, check or money order, or Etsy Payments, which is the main way sellers get paid. With this option, you can accept credit cards, debit cards, Etsy gift cards and store credit, and more.
3. Who pays for shipping on Etsy?
Sellers are responsible for shipping sold items to buyers. If you're using a shipping or fulfillment service, the seller is still ultimately responsible for getting the items to the buyer. However, you can decide whether to cover the cost of shipping yourself or pass that cost on to your customers.
4. How long does it take to get paid from Etsy?
Most sellers choose to get paid weekly. In this case, payments are sent to your bank account every Monday, and then it will take another two to three days before the payment is available. You can choose to get paid daily, weekly, monthly, etc.
Learning how to start an Etsy shop is logistically simple, thanks to the platform's user-friendly interface and abundance of internal resources. But it's after opening an Etsy shop that the real work begins.
Therefore, you shouldn't be discouraged if your store opens to little (or no) traffic. Just like brand-new brick-and-mortar stores, it can take time for your Etsy shop to build up a fan base.
And once you do land your first sale, encourage an ongoing dialogue with your customers. Check your messages inbox regularly, respond to questions promptly, address their concerns and ask for their feedback.
Other than the obvious pleasure of treating your customers respectfully, a perk of great customer service on Etsy is the potential for five-star reviews. They're a welcome source of positive reinforcement, true, but excellent reviews also convey to potential buyers that you're a trustworthy seller (and that your products hit the mark) — which will directly result in more sales.
Ultimately, your energies are best focused on doing what you love: creating unique, high-quality products. Excellent products are the biggest draw for new and returning customers, plain and simple.