7 Best Laundromat Franchise Opportunities for 2022
Review the top laundromat franchise opportunities and learn about the benefits of owning a laundromat.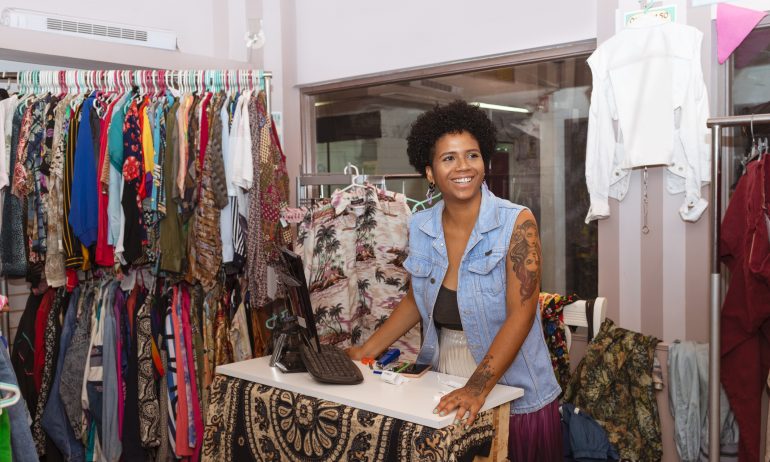 Many or all of the products featured here are from our partners who compensate us. This may influence which products we write about and where and how the product appears on a page. However, this does not influence our evaluations. Our opinions are our own. Here is a list of our partners and here's how we make money.
There are several advantages to buying a franchise over starting your own business from scratch. With a franchise, you're backed by a widely recognized brand, you often receive business support from the franchisor, and you have the convenience of following a proven business plan.
Many laundromat franchises have these benefits, and more. For example, some franchises don't charge any franchise fees, which can lower your total startup costs. Plus, laundry care continues to be a growing industry.
If want to tap into this lucrative industry and join a laundromat franchise, see below the benefits of owning a laundromat and a list of the top laundromat franchise opportunities.
The top laundromat franchise opportunities
Are you convinced that the laundromat industry is right for you? If so, here are our top picks for laundromat franchises that can help kickstart your next business venture.
1. Maytag Commercial Laundry
Minimum liquid cash requirement: $75,000
Founded in 1893 by Frederick Maytag, this brand is attracting attention in the multi-billion dollar laundromat industry. Their clean and modern facilities are equipped with heavy-duty washers and dryers that deliver fresh laundry every time. Also, their widely recognized branding creates instant credibility that can help drive loyal customers to your laundromat.
Opening a Maytag Commercial Laundry location is a seamless process for their franchisees. The franchisor assists you with the interior design, color schemes, and even which lighting strips to use.
Maytag Commercial Laundry also partners with Eastern Funding to help you secure the capital needed to get your laundromat up and running. The minimum liquid cash required for getting started with this franchise is $75,000. Maytag Commercial Laundry does not charge a franchise fee and is accepting franchisee inquiries in all states. You can head to their website to learn more.
Minimum liquid cash requirement: Unknown
If you're in Virginia or Pennsylvania, then the SuperSuds franchise is worth putting on your radar. Robert Schwartz founded SuperSuds in 1996 because he saw an opportunity to improve the laundry care industry. He understood that laundry was a chore for most and the faster you finish, the better.
That's why SuperSuds locations are always located next to spacious parking lots and their laundromats are equipped with large-load and high-speed washers and dryers. They do everything they can to save their customers time and energy. Wanting to make the laundromat more enjoyable, all SuperSuds locations are furnished with flat-screen TVs, WiFi, and radio.
If you decide to franchise with SuperSuds, you'll be walked through their proven "five-step formula." Their team will work with you on securing a location, writing your business plan, designing your laundromat, and more.
SuperSuds does not list any franchise fees or costs on their website. We recommend that you contact them through their website to further inquire.
3.

The Eco Laundry Company
Minimum liquid cash requirement: $230,000
If you're seeking a franchise with an inspiring backstory and an eco-friendly mission, then The Eco Laundry Company is worth considering.
Founder Phillipe Christodoulou started out in corporate America but a higher calling led him to a month of reflection in the mountains of Chiang Mai. There, he realized his purpose: to merge business with environmental consciousness. This led him to found The Eco Laundry Company, where the welfare of the planet and the satisfaction of their customers are at the core of their business philosophy.
In their mission to go green, each location offers reusable and eco-friendly laundry bags, uses energy-efficient machines, and even runs their business on 100% pure wind energy. This laundromat isn't cutting any corners in their efforts to be as green as possible.
The initial franchise fee for The Eco Laundry Company is $30,000 and you can expect an initial investment of at least $230,000. To learn more about this green laundromat and how to franchise with them, visit their website.
Minimum liquid cash requirement: $300,000
The Speed Queen laundromat was founded by Joe Barlow and John Seelig in 1908. A century of business experience and knowledge has grown the small laundromat into a successful franchise. The leaders at Speed Queen Laundromats have modernized their processes with cloud-based management controls and the latest commercial washer models. Their business model is also committed to elevating the customer experience with vibrant in-store designs, lounge areas, complimentary iPads, and free WiFi.
Speed Queen's initial franchise fee is $30,000. Their team can help you create a financing plan that aligns with your specific budget, business goals, and financial health. Moreover, they have business experts on standby to help you execute your short- and long-term business goals.
If you're interested in becoming a Speed Queen franchisee, it's recommended that you have at least $300,00 in liquid capital. To learn more, complete an inquiry form on their website.
Minimum liquid cash requirement: Unknown
Ever since their founding in 2012, WaveMAX has been challenging the average laundromat business norms. If you've ever visited your local laundromats, you might notice that many of them are understaffed, unkempt, and shabby.
Seeking to shatter this underwhelming stereotype, WaveMAX laundromats are immaculate, well-staffed, and equipped with high-quality commercial washers and dryers. They also offer complimentary WiFi to customers waiting for their laundry to finish.
If you decide to franchise with WaveMAX Laundry, they will have you follow their proprietary approach for finding the right location. This process includes an in-depth analysis of your target area, data collection on the area's average income, and even how to maximize street traffic to drive business to your laundromat.
WaveMAX has also teamed up with Electrolux to give you financing options on their commercial washing and drying machines. Franchisees can have up to 70% of their project costs covered and can access the only dryer on the market running on energy-efficient Eco Power.
WaveMAX is actively seeking franchisees to expand their multi-unit franchise empire. Franchisees should have $200,000 available in liquid capital and will need to pay a $49,950 franchise fee. To research more information on this laundromat powerhouse, visit their website.
Minimum liquid cash requirement: $100,000
If you're in Michigan, Texas, Florida, or Pennsylvania, then Zoom Express Laundry is a laundromat franchise exclusive to your area. Zoom Express equips their laundromats with sophisticated commercial washers and dryers that are more efficient at extracting water from wet clothes.
Zoom Express Laundry breaks away from the traditional coin-operated payment system—their laundry machines now accept cards and mobile payments. They even have a Zoom Express Laundry mobile app where customers can load credits and use them to operate the machines.
Franchisees should have a minimum of $100,00 in liquid capital. Their franchise fee runs at $39,500. For more information about becoming a franchisee with this innovative brand, check out their website.
7. Express Laundry Center
Minimum liquid cash requirement: $75,000
Express Laundry Center helps their franchisees gain loyal clientele and consistent revenue with fully equipped laundromats. Their facilities feature high-speed Continental ExpressWash washers, which generate up to 381 G-force extract speeds. In other words, you can finish your laundry faster and get back to your other to-dos.
When you join Express Laundry Center, you are given ongoing franchise support. They have teams proficient in marketing, advertising, and public relations available for any questions you might have. Also, they will help you with your interior designing, marketing campaigns, and website design.
Express Laundry Center franchisees are not required to pay a franchise fee. However, it is recommended for franchisees to have at least $75,000 in liquid capital to cover basic startup costs. You can head to their website to learn more about becoming a franchisee.
How to purchase a laundromat franchise
The first step in deciding you want to open a laundromat franchise is choosing which machine provider you want to work with. After reading the list above, you know that some providers require you to pay for the franchise while others do not. This may or may not play a role in your choice of which company to work with.
Your other option is to buy an existing laundromat. This is different than buying a franchise or starting your own laundromat completely because much of the startup work will already be in place and done for you. Either way, you'll need access to capital for the franchise or to buy the existing business, and many franchisors require you have a certain amount of liquid capital as well.
Learn more about how to get financing in our guide to laundromat business loans.
5 reasons to enter the laundromat industry
There are plenty of advantages and disadvantages of franchising overall. And the same is true within laundromat franchises specifically. If you're not sure if a laundromat franchise is the right business for you, check out these five benefits that could make this a savvy business move.
Since customers perform the labor of washing and drying clothes, laundromats have minimal staffing needs. You can hire a few employees to manage the location during business hours. Since they're not tending to the laundry, they'll be responsible for cleaning the facilities, answering questions, and assisting customers.
Clean clothes aren't limited by the seasons—they're in demand throughout the year. Since people need to wash their clothes on a regular basis, there's a market need for laundry services all year round. There's also no need to panic during a recession. Even if people are cutting costs, clean clothes are still a daily necessity.
According to Speed Queen, laundromats can be a lucrative business opportunity for the right entrepreneur. When you open your own laundromat, you can expect a 20% to 35% ROI with a 95% success rate. This is largely due to the continuous demand for clean clothes. Building a loyal clientele within your location's community will help you create a consistent revenue stream. And choosing a reputable franchise means you'll already have a loyal customer base waiting for you.
Even with long store operating hours, you don't have to be on-site all day, every day. This is a relatively low-maintenance business, so you can hire a few employees to manage the store when you're not around. This frees up your time and energy to create a work-life balance many entrepreneurs strive for.
There are many franchises out there across different industries. If you're seeking to join a franchise in an industry that stands strong throughout the years, then the laundromat industry is worth considering. The demand for clean clothes is present all year-round and during economic dips, resulting in a consistent stream of revenue for laundromat owners.
But it isn't enough to choose an industry. Buying a franchise requires a lot of legwork and access to liquid funds. If you're still working on securing the capital, you might be confused by all the different funding options available. To help you out, we've written a guide on the top franchise financing options to get your laundromat franchise up and running.
This article originally appeared on JustBusiness, a subsidiary of NerdWallet.