How to Get Business Insurance for Landscaping and Lawn Care Companies
Evaluate your coverage needs and get quotes from several providers to find the right insurance for your lawn care business.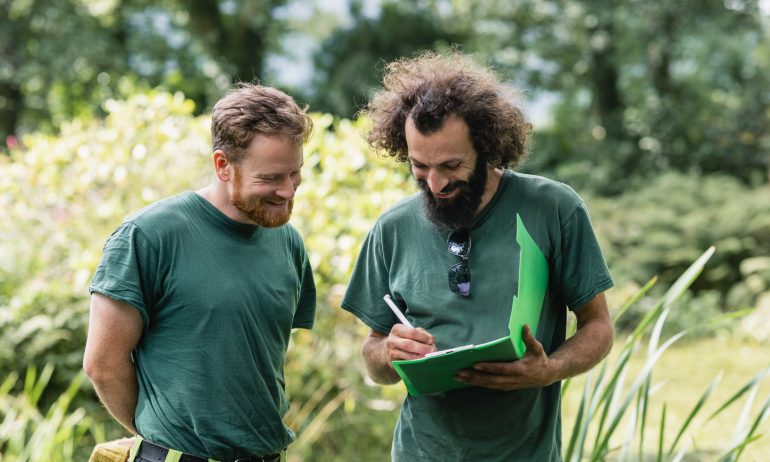 Many or all of the products featured here are from our partners who compensate us. This may influence which products we write about and where and how the product appears on a page. However, this does not influence our evaluations. Our opinions are our own. Here is a list of our partners and here's how we make money.
Whether you're a self-employed landscaping contractor or you run a lawn care company with multiple employees, small-business insurance can protect you against lawsuits and other financial losses.
Lawn care businesses face a range of industry-specific hazards — working with heavy equipment, machinery, potentially harmful chemicals, etc. — which means you'll likely need multiple types of insurance coverage.
Here are the types of business insurance that lawn care and landscaping companies should consider, as well as how to shop and find the right coverage for you.
Understanding the unique risks that your business faces will help you determine the insurance coverage that you need.
In addition to common risks, like property damage or employee injury, here are some examples of the industry-specific risks that lawn care and landscaping businesses face:
Broken or damaged equipment.

Illness due to exposure to chemicals.

Injuries from lawn mowers or other landscaping tools.
Think about what types of accidents, hazards, weather events or lawsuits might impact your business. Factors like the size of your company, location, number of employees, assets and the nature of your lawn care or landscaping work will play a role in assessing your business's risks.
2. Determine which policies you need
The right insurance coverage will protect your business from the full range of risks that you face. Here are some of the types of business insurance that may be available for lawn care and landscaping companies — and what these policies cover.
Claims against your business of third-party bodily injury, property damage and personal/advertising injury.

If a client trips over your lawn mower and breaks an ankle, they could sue you over the incident. Your general liability policy would cover any legal or settlement costs, as well as medical expenses.

Damage to your business property (assets, inventory, equipment) caused by weather events, certain accidents and other hazards.

An electrical fire destroying your lawn mower would be covered under your commercial property insurance.

Employees' medical expenses from work-related illnesses or injuries. Most states require employers to have workers' comp for their employees. If one of your employees is putting flowers in a garden and throws out their back, workers' compensation insurance would cover their medical expenses.

Vehicles that you use for business purposes. Accident-related expenses that arise from bodily injury or property damage are covered.

If your employee is driving your landscaping truck and they accidentally back into another car, your commercial auto insurance would cover damage to the car and any injuries the other driver receives.

Tools and equipment insurance

Cost to repair or replace business equipment that is damaged or stolen.

Tools and equipment insurance would cover the cost to replace your leaf blower if it's stolen from a job site.

Cost to repair or replace business property that is damaged or stolen while in transit or while being stored by a third party.

If you're driving your lawn seed from one job site to the next and your truck bed breaks, causing you to lose your inventory, inland marine insurance would cover the cost to replace it.

Offers additional coverage for liability claims made on other insurance policies, such as general liability, commercial auto or employer's liability, once they've reached the policy limit. If a client suffers a serious lawn mower injury and sues your business, your general liability policy will cover their medical expenses, your legal fees and any damages. If, however, those costs end up exceeding the limit of your general liability policy — e.g., the policy limit is $1 million, but the costs add up to $1.5 million — umbrella insurance would cover the remaining expenses.
You might also consider bundling multiple types of insurance into a business owner's policy, or BOP. Typically, BOPs combine general liability insurance, commercial property insurance and business interruption insurance, but these policies can be customized to meet your needs.
For example, Allstate offers a business owner's policy that bundles general liability, commercial property and business interruption insurance, as well as equipment breakdown coverage. You can also customize your policy with add-ons like data breach coverage and employee dishonesty coverage.
What's the best fit for your business?
Answer a few questions and we'll match you with an insurance partner who can help you secure quotes.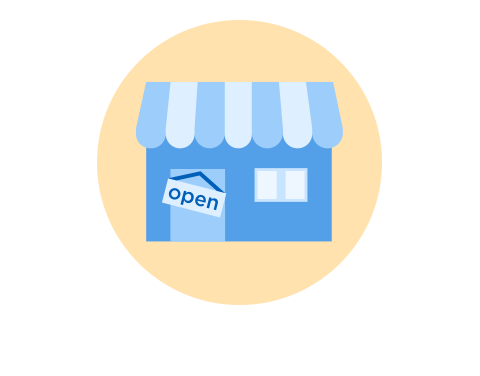 3. Shop for your coverage
To find the best insurance for your lawn care business, you have a few options:
Contact insurance providers directly
If you know which insurance company you want to work with, or have an existing relationship with a provider, you can contact the company directly to get a quote and purchase your lawn care business insurance.
Depending on the provider, you may be able to get a business insurance quote online or over the phone. Some providers will connect you with a local agent in your area who can help you get a personalized quote for your business's needs.
| | |
| --- | --- |
| | |
| You already have an understanding of the types of insurance that your business needs. | It can be time-consuming to contact several providers to get quotes. |
| You have an existing relationship with an insurance provider. | You may not get the same level of service as working with a broker or independent agent. |
| You want to expedite the process of getting a quote and purchasing a policy. | |
| You don't want to work with a broker. | |
Commercial insurance brokers will talk with you to understand the insurance needs of your lawn care or landscaping company and then contact providers to get quotes on your behalf. The broker will also help you compare quotes and choose the right policy for your business.
Working with a broker is a much more personalized experience — however, some brokers may charge a fee for their services.
| | |
| --- | --- |
| | |
| You want someone to manage the shopping process on your behalf. | Working with a broker will be slower compared with other options. |
| This is your first time purchasing business insurance, or you're unsure of what type of insurance you need. | Brokers are not obligated to get you the lowest rates. |
| You want to work directly with one person to help you through the buying process. | Brokers work on commission, so they may try to upsell you or sell you additional policies you don't really need. |
Use an online marketplace
Online marketplaces allow you to take a hands-on approach to the shopping process. You can enter information about your business and your coverage needs, and then compare quotes from multiple providers at the same time.
Many of these marketplaces offer access to customer support representatives who can answer your questions, discuss your insurance needs and help you compare your options.
| | |
| --- | --- |
| | |
| You want to streamline the shopping process. | The quotes you receive will be limited to the insurance providers that the marketplace partners with. |
| You don't want to contact multiple providers for quotes. | Communication between insurance providers and marketplaces may not always be seamless. |
| You want the option of receiving personalized assistance from an expert as you go through the shopping process. | Even if you purchase insurance through a marketplace, you may have to work outside its system to file claims or manage parts of your policy. |
NerdWallet recommends getting quotes from multiple insurance providers before making a decision on the right choice for your business. When comparing different providers, you'll want to look at:
Coverage: What is covered under the policies the provider offers? What isn't covered?

Liability limits: How much of a loss will the insurance provider cover? For example, Next Insurance offers three protection plan options for lawn care business insurance — the Basic Coverage has a $300,000 general liability limit per occurrence, whereas the Pro and Pro Plus Coverage plans each have a $1 million general liability limit per occurrence.

Cost: How much will the policy cost? Is there a deductible — and if so, how much is it? Based on data from its customers, Insureon estimates that landscaping businesses pay a median premium of about $45 per month, or $530 per year for general liability insurance.

Reviews: Is the insurance provider well-reviewed? How many complaints have been filed against the company on the National Association of Insurance Commissioners website?

Customer experience: What is the process for filing a claim, paying your bill or contacting customer service? Can you manage your account online or using a mobile app?
Once you've determined which policy and provider are best for your company, you're ready to purchase your lawn care business insurance. After you buy your policy, make sure you know when your payments are due, how to file a claim and generally how to manage your coverage.
If you need insurance to validate a business contract or start work on a project, you'll want to know how to get a certificate of insurance, or COI, to show as proof of your policy. Some clients may require that you add them as an additional insured on your policy, so make sure you understand how to handle that process as well.
6. Keep your coverage up to date
Review your lawn care business insurance coverage on an annual basis and make sure that your policies are up to date — especially if they are required for a project or a contract. When your policy is up for renewal, you can reassess your business's risks, as well as your existing coverage and current experience with your insurance provider, to determine if you want to change your policy.
If your business makes noteworthy changes before your policy is up for renewal — such as hiring your first employee or buying a brand new lawn mower — you'll want to consider reevaluating your coverage at that time in order to address any new risks your company faces.