Inland Marine Insurance: What It Covers, How to Get It
Inland marine insurance covers your business's materials or equipment while they're in transit or stored off-site.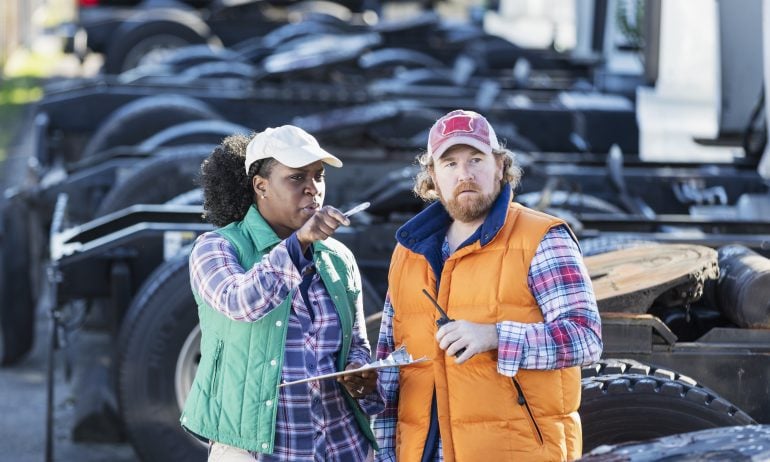 Many or all of the products featured here are from our partners who compensate us. This influences which products we write about and where and how the product appears on a page. However, this does not influence our evaluations. Our opinions are our own. Here is a list of our partners and here's how we make money.
Inland marine insurance is property insurance that covers materials and equipment while they're in transit or stored away from your business's primary locations, such as a construction site or in a warehouse. It also covers certain specialized items that traditional business property insurance won't cover.
Despite the word "marine," this coverage has nothing to do with the ocean or waterways. Inland marine insurance only protects property that is transported over land or stored on land away from your ordinary business premises.
Do you need inland marine insurance?
If you regularly transport property or store it away from your business location, inland marine coverage probably should be part of your business insurance package.
Inland marine coverage is often important for these types of businesses:
Contractors and freelancers who travel between job sites.

Food truck vendors and caterers.

Business owners who attend trade shows, exhibitions and conventions.

Businesses that ship raw materials or finished goods over land.

Businesses that have specialized types of property, such as veterinarians who transport animals or art dealers who store artists' work.
Most business owners should already have a commercial property insurance policy. Commercial property insurance covers buildings themselves as well as business personal property, which includes assets stored at a stationary business location.
However, let's say you're transporting inventory between two business locations. If the truck bed malfunctions and your inventory falls out and gets damaged, standard commercial property insurance may not provide coverage.
Similarly, if you have certain highly valuable or unique types of property, traditional property insurance might have an exclusion. That's where you may need inland marine insurance.
What does inland marine insurance cover?
In general, inland marine insurance covers the following:
Property in transit: This is property that you transport over land from one location to another.

Property stored off-site: This includes property that you keep at a warehouse or storage facility.

Property on movable vehicles: For example, an inland marine policy would cover the cooking equipment and raw ingredients that are stored in a food truck.

Property that provides the means of transportation: Inland marine insurance can cover businesses that own bridges, roads or communication towers.
Inland marine policies can also provide custom coverage for specialized property. For example, art dealers and galleries need to store art that belongs to other people. Veterinarians might need to transport live animals to a clinic. Vending machine owners store machines long term on other people's property. Inland marine insurance can provide coverage in all of these situations.
The name of your inland marine policy might differ based on exactly which risks you're insuring against and what type of business you have. For example, inland marine insurance is called "bailee's customer insurance" in instances where you are transporting a customer's property. Builder's risk insurance covers construction tools and machinery kept at job sites and storage yards.
What does inland marine insurance not cover?
Normally, inland marine insurance does not cover:
Stationary property: This is covered by standard commercial property insurance.

Vehicles: To cover vehicles you use for business purposes, you need to purchase commercial auto insurance. However, inland marine insurance can protect the contents inside your vehicle.

Earthquake and flood damage: Businesses in earthquake or flood zones should purchase separate commercial flood insurance or commercial earthquake insurance.

Property transported by sea or air: In these cases, you would need ocean marine insurance or air cargo insurance, respectively.

Property damaged before shipment: Inland marine insurance typically only covers damage or loss that occurs in transit.
Be sure to review your policy for other exclusions.
How much does inland marine insurance cost?
The cost of inland marine insurance varies significantly depending on the type of property that you're insuring.
These factors can affect the cost of inland marine insurance:
Type of business and property insured.

How often, how far and in what conditions the property is transported.

All-risks policies, which cover a variety of types of damage, are usually more expensive than named perils policies, which cover only the types of damage that are specifically mentioned in the policy.
The best way to estimate the cost of your inland marine insurance is to get quotes from multiple insurance providers and compare them.
How much coverage do you need?
Many small-business owners struggle to figure out how much inland marine insurance they need. You can't necessarily predict the size of a future loss with perfect accuracy. However, you can start by evaluating the value of your insured property.
For instance, if you're a contractor who leaves 10 pieces of equipment valued at $10,000 each at a storage yard, you would want inland marine coverage to compensate you up to $100,000. However, if a maximum of only five pieces of equipment are stored at any given time, you might only need half as much inland marine coverage.
How to get inland marine insurance
Many insurance companies sell inland marine insurance. However, you'll probably have to work with an agent to get coverage since online business insurance providers don't typically sell inland marine insurance policies.
If you already have commercial property insurance, general liability insurance or a business owner's policy — or BOP — start by asking your carrier if it offers inland marine coverage as an endorsement or separate policy.
Travelers offers insurance policies for highly specialized industries, including inland marine insurance for museums and fine art collectors and for businesses that transport or store medical equipment. You can buy Travelers insurance through an independent agent in your region. Read NerdWallet's review of Travelers business insurance.
Chubb sells inland marine insurance designed for a variety of specific industries, like civil engineering firms. You can also buy inland marine insurance for property your business is leasing or financing. Chubb insurance is available through independent agents nationwide. Read NerdWallet's review of Chubb business insurance.
State Farm offers inland marine insurance coverage targeted at specific types of property, such as vending machines, billboards and musical instruments. State Farm can add inland marine coverage into an existing State Farm business owner's policy, write a short-term policy or issue an annual policy, which can be helpful for businesses that only need temporary coverage. To buy State Farm business insurance, find a State Farm agent near you. Read NerdWallet's review of State Farm business insurance.
A version of this article was first published on Fundera, a subsidiary of NerdWallet.