Lightspeed Restaurant POS Review 2023: Pricing, Pros, Cons & Alternatives
Lightspeed POS for restaurants offers flexibility to support almost any kind of food service business.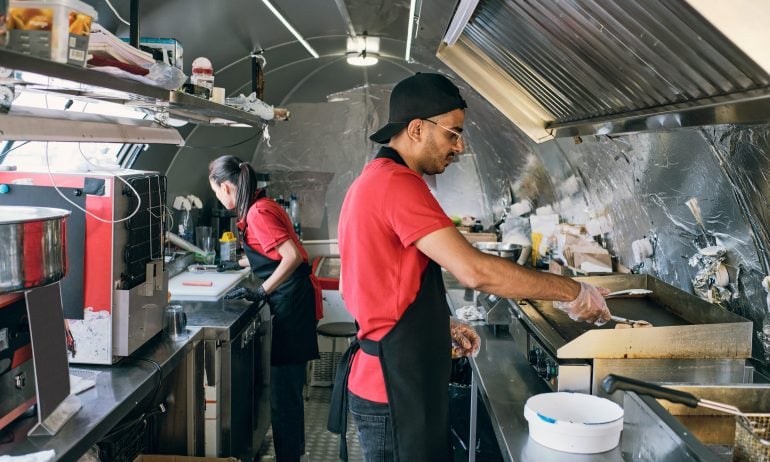 Many or all of the products featured here are from our partners who compensate us. This influences which products we write about and where and how the product appears on a page. However, this does not influence our evaluations. Our opinions are our own. Here is a list of our partners and here's how we make money.
Lightspeed Restaurant is a highly customizable iPad-based point-of-sale, or POS, system that scales and adapts to restaurants with widely ranging sizes, service styles and business models. Figuring out the add-ons you need for your business to operate smoothly may not be the easiest to do, though, and the total price for those add-ons can add up quickly.
A Lightspeed Restaurant POS setup could be a single iPad, cash drawer, payment terminal and a couple of printers. It can also cover much larger and more complex arrangements with a huge range of features and add-ons for full-service and quick-service restaurants, bars, coffee shops, takeout, delivery, self-ordering, staff and inventory management, loyalty and rewards programs and more. Here's what you need to know to decide if the system is right for your business.
Deciding factors
2.6% plus 10 cents per in-person transaction.

2.6% plus 30 cents for manually keyed transactions.

Pricing for Lightspeed's iPad and desktop hardware kits is quote-based. Individual hardware products are listed in Lightspeed's online store:

$99 for Chipper 2X BT card reader.

$199 for iPad stand or swivel stand.

$299 for WisePOS E countertop reader.

$429 for Lightspeed Lite Server for data backup and offline mode functionality.

You may be able to reuse or bring existing hardware from a previous system or the used market.

Annual contracts required for lower pricing.

24/7 support via phone, email and chat.

One-on-one training sessions.
What kind of restaurant does Lightspeed Restaurant work for?
Lightspeed Restaurant supports the following types of restaurants:
Full-service restaurants.

Quick-service restaurants.
The system can handle tables, in-house and takeout orders, delivery options, tabs, bills and payments. There are also many add-ons available (for an extra fee)to boost efficiency, support different or expanded business models, or provide additional analytics. It can also integrate with third-party meal delivery services like UberEats and DoorDash.
How much does Lightspeed Restaurant cost?
The core Lightspeed Restaurant offering is a cloud-based POS that runs on iPads. Servers enter orders on the iPad, which could be mounted on a counter or stand or carried tableside. The POS sends tickets and receipts to networked printers and accepts payments through an integrated payment processing system.
Managers configure staff accounts, the restaurant layout, the menu, prices and payment functionality to fit the business. The core POS also includes reporting functions to help you keep track of sales, menu items and staffing.
Lightspeed offers a free trial before you purchase.
Add-on features and functionality are available a la carte:
Customer-facing display app.

A tablet app that customers can use to place orders from their tables.

eCom for Restaurant, an online store builder for restaurants.

A kiosk mode that customers can use to place orders at the counter.
Lightspeed integrates with software for accounting, analytics, customer service, hotel management, invoicing, marketing, payroll, rental, reporting and more. Costs could quickly add up accordingly if you want to use the system for a service model significantly different from a typical sit-down or quick-service restaurant.
Lightspeed has its own in-house payment processor, Lightspeed Payments, but you aren't required to use it. The company provides setup documentation for the payment processors it supports, as well as processor-specific documentation to set up card readers or terminals to accept payments.
If you choose Lightspeed Payments as your payment processor, rates will depend on how the transaction is entered:
2.6% plus 10 cents per in-person transaction.

2.6% plus 30 cents for manually keyed transactions.
There are no monthly or annual fees, but Lightspeed charges a $15 fee for chargebacks.
Lightspeed sells hardware both individually and in bundles. Pricing for iPad or desktop hardware kits is quote-based, but Lightspeed does list individual hardware products and prices in its online store.
A basic system includes the following:
However, if you have existing hardware from a previous system or the used market, you might be able to reuse it with Lightspeed Restaurant. Lightspeed is fairly flexible in terms of compatible hardware. For example, it lists compatible iPad and iPhone models, several options for printers and many options for payment terminals.
Pros of Lightspeed Restaurant
Customization can fit almost any business
Lightspeed can be as simple or complex as you need and can be tailored to fit a wide array of restaurant layouts and service types. Just about every feature has significant customization and personalization options to help the system fit your specific needs and procedures.
You can reuse or bring your own hardware
You don't need to buy hardware directly from Lightspeed. If you're coming from a previous POS or have a source to buy used hardware at a discount, you can use it with Lightspeed as long as it's on the list of compatible options.
Lightspeed has enough features and add-ons to handle the majority of your restaurant business all in one dedicated system, which can make things a lot simpler for you. The system can also integrate to share data with other related systems to make it easier for you to keep everything in sync.
Cons of Lightspeed Restaurant
It might take a lot of effort to get everything just right with the huge array of configuration options, add-ons and integrations in Lightspeed Restaurant. Flexibility can be powerful, but watch out for the potential learning curve both for your initial setup and when training staff.
Lightspeed Restaurant supports add-ons for a lot of extra functionality, but the price for those add-ons can add up quickly. Because system pricing is quote-based, it's difficult to compare potential costs until you get customized quotes.
As a cloud-based system, Lightspeed Restaurant requires an internet connection. That means that when you lose internet service, your POS system can't work unless you buy Lightspeed's LiteServer. Using a LiteServer will enable basic functionality for orders, bills and receipts when offline. However, even with a LiteServer, you still can't run credit, debit or gift cards, use third-party integrations with other software or use POS data for your reports.
Alternatives to Lightspeed Restaurant
Toast: Dedicated hardware and standardized packages
2.99% plus 15 cents per transaction, if you choose pay-as-you-go option on hardware.

2.49% plus 15 cents for card-present transactions, if you pay for hardware upfront.

3.50% plus 15 cents for card-not-present transactions, if you pay for hardware upfront.
Why we like it: Toast offers its own purpose-built hardware for its POS, rather than using iPads like Lightspeed Restaurant. If you prefer dedicated options for the POS, payment terminals, self-order kiosks and kitchen displays that you know have been built with food service in mind, the company's hardware is a strong offering. It also offers an offline mode that could be helpful if you're concerned about connectivity with a cloud-based system. It has a free starter package and two higher packages.
Square: Handles restaurants, retail and the rest
2.6% plus 10 cents for in-person transactions.

2.9% plus 30 cents for online transactions.

3.5% plus 15 cents for manually keyed transactions.

3.3% plus 30 cents for invoices.
Why we like it: Square is NerdWallet's choice for best overall POS system. Square for Restaurants has features built for food service; similar to how Lightspeed offers its own retail POS solution, Square also has customized setups for retail and professional transactions. If you do a lot of retail business in addition to food service, or if you just want the flexibility to cover nearly any kind of transaction on your choice of iOS or Android devices, this product could be a great pick. A free starter tier, transparent pricing for payment processing and no contract requirement also makes it particularly easy to give it a try.