How to Start an Event Venue: The 6-Step Guide
Passionate about people and parties? If that's the business you want to be in, here's how to start an event venue.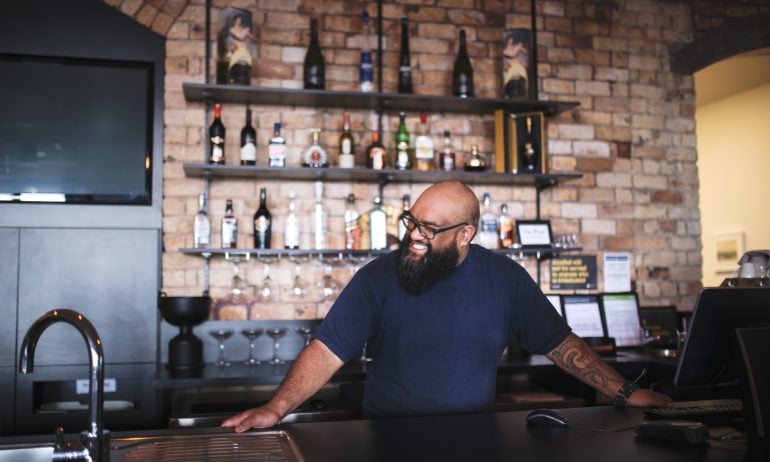 Many or all of the products featured here are from our partners who compensate us. This influences which products we write about and where and how the product appears on a page. However, this does not influence our evaluations. Our opinions are our own. Here is a list of our partners and here's how we make money.
If you're a people person — eager to please, meet new people and help create the bonds that often arise from sharing good food, drinks and ambiance — and you're interested in using that passion to start a business, you may be ready to start an event venue.
Katie O'Reilly is the senior partner of business development at Kenmare Catering and Events, which operates the Germania Place location in the heart of Chicago's Gold Coast. She says that her business was born out of her love for people.
"I came from a family of attorneys and I just didn't want to do that," O'Reilly says. "I have a passion for food and people that started early on — that was my core. So my perspective when I got out of college was that I wanted to throw parties and hold events and meet people."
With O'Reilly's help, we're going to take you step by step through how to start an event venue.
The industry standard for bookkeeping and other services.
Before starting an enterprise, it is important you educate yourself on the challenges and requirements needed to be successful. The same is true when trying to determine how to start an event venue. Research the viability of an event venue in your market.
Find out what the local requirements are, such as a license to sell liquor. Understand the costs associated with launching an event space and create a budget. Determine who your target market is going to be. Learn about your competitors. Then, put all this information together into a business plan.
While doing this research, consider reaching out to trade organizations such as the National Association for Catering and Events or the Wedding International Professionals Organization. These organizations can provide you with guidance and resources as you create your game plan.
2. Find a location that is convenient and comfortable
While you can control everything else about your space — how to customize it, what kind of events you want to host, what food to cater — your building and location will be a fixture of your business.
"Location is huge; it always makes a difference," says O'Reilly. "Here on the Gold Coast, there are people around us who love food and have the budget to afford it. The neighborhood is pretty, people like to visit, people can get a cab out of here — it's even a block from the beach. If you have people show up from out of town, you want them to be in a neighborhood where they feel comfortable, familiar. While there's definitely a trend towards that rustic setting nowadays, for us, everyone loves what we have — mom loves it, dad loves it, grandma loves it."
O'Reilly found the Germania Place location when her husband found himself working on a deal for the place, which the couple considered underdeveloped and undersold. They decided to take their years of experience and wealth of contacts and use the venue to launch their own business.
"Since some of the paperwork was already in progress for the venue, it only took a couple of months to get all the contracts in order and closed," says O'Reilly. She notes that this wasn't the typical experience; deals for similar spaces normally take longer.
3. Start your equipment investments off small
After what is likely to be a heavy investment in your venue — rent and overhead are often by far the biggest costs when running a business — there might not be much left over for the equipment, like tables and chairs or silverware. This is common, says O'Reilly, and she advises starting slow in this category.
"It was only fairly recently that we bought our own equipment," says O'Reilly, noting that she took over Germania Place in 2006. "China, flatware, linens: At first, you can't buy that stuff. Restaurants own it already, but venues don't, and it's a huge expense. And as much as you can ask for a deal, the companies that rent out linens and the like, they give caterers all the same deal."
"We also had to deck out our kitchen. We started small, leasing equipment, some of it refurbished. We took our time renovating the space, because you see things up the road that you have to manage and plan for. If something breaks, how can we afford to make it work until it gets fixed?" she says.
All in all, it took years before O'Reilly felt comfortable purchasing only certain items, like platters and glassware. After getting ahold of the venue, there are simply more pressing costs that need to be handled immediately and consistently: the fixed costs of the business.
The utilities for the building, the taxes and insurance costs.

Maintenance costs that come with caring for the building (which can add up if your space is large and/or historic).

Finding, hiring and retaining a quality wait staff to support what you can't do yourself (like carrying out hundreds of plates and drink orders).

Advertising and other marketing costs to get the word out.
These are just the most obvious costs to the business — others are less defined and vary depending on the building, including the codes you have to manage and what the health inspector requires.
4. Prepare to eat the cost of promotion
Other "costs" to factor in when trying to figure out how to start an event venue pertain less to purchasing certain items or hiring a certain number of people and more to promotion.
"The best way to promote your business is networking and getting involved with other people in the industry," says O'Reilly. "You have to keep building on yourself and showing people who you are and what your skills are — you can't sit in a dark space and expect people to show up."
"For us, the next step is letting people know about my culinary talent," she says. "I'm starting a web-based identity for myself — Katie O's Food Carnival — because my clients have been asking for it and you have to listen to that."
Beyond networking in-person and demonstrating your prowess online, there should also be some money put into the actual exposure of your place — throwing parties and events that showcase your capabilities, and why the next big wedding or corporate event should be at your venue. "You have to get people to eat your product before they agree to pay for it," O'Reilly explains.
5. Price yourself in line with the market, if not a little lower
When it comes to charging your customers, you'll need to follow the same pattern that most other businesses do: Put yourself in line with the rest of the market.
"Know your competition. Who are you against? What are they offering? Go to the other venues, take a look, see what the market is and when you're starting off, price yourself a little lower to get people into your venue first," O'Reilly says. "Take a little less profit, then you can build and begin charging more when you're established."
O'Reilly says that she recommends venues that are just starting out to book whenever they can and worry about making your expected profit later.
"If you have to take less money but you still get someone in there, you're still getting money. Get creative. If I'm dark, I'm making nothing and I have employees who are making nothing. So you have to keep generating whatever kind of cash flow you can, even if your profits aren't where you want them to end up eventually."
But as a baseline, O'Reilly says that her venue fee on a Saturday night is $5,500 for six hours — noting that it's a little under-market — and includes tables and chairs. But the packages that the venue offers allow for flexibility in pricing.
"The silver package is $109 per guest, the platinum package is $129, and diamond is $149. Each one brings more food, more courses and what we call luxury list items. These are the things that you come across in your planning that you didn't know you wanted at first, like a Champagne toast, a doorman greeting the guests. This gives the customer buying power," O'Reilly says.
6. Always keep the food and conversation going
The last thing to keep in mind when operating an event venue is that your goal is to make sure everyone has a good experience. However, a good experience can vary greatly depending on the clientele and the nature of the event.
What will be required of your venue depends on the events — weddings are easier to predict, though corporate events can vary greatly in terms of the provided entertainment, decorum and even costumes for guests to fit a theme. But Germania Place's menu is one that is incredibly expansive and customizable, yet conscious of what makes the most economic sense.
"We're smart shoppers and we know our ingredients," says O'Reilly. "You have to watch the trends and be aware of seasonality, expenses and where we would pay extra for the client to have that item of the highest quality."
Wasted food is also a big topic of conversation for the staff, which occasionally has to create dishes when they're not certain how much will be consumed.
"We design items that can save and be repurposed later, like a braised meat that can be re-braised and turned into a product for the next day," says O'Reilly. "But this is your night to ask me for anything. I call it the 'When Harry Met Sally' concept, because people are afraid to be demanding and ask for what they want — but I am creating for you."
Whether you're looking to open an event space that caters to weddings, concerts, or corporate and non-profit events, the end result is that you'll be in charge of each night's party. If you find joy in bringing happiness to people, this shouldn't be a problem. O'Reilly has a final piece of advice for those looking to break into the industry:
"Have your product be as promised, if not better," she says. "Make sure you're aware of it, and be involved. If you're an artist, you have to control your art."