Revel Systems Review 2021
This Revel review breaks down pricing, features and more, so you can determine if the POS system is right for you.
Many or all of the products featured here are from our partners who compensate us. This may influence which products we write about and where and how the product appears on a page. However, this does not influence our evaluations. Our opinions are our own. Here is a list of our partners and here's how we make money.
Revel POS is a full-service, iPad-based point-of-sale system well-suited for larger, high-volume businesses — particularly restaurants — who are looking for advanced software with a wide range of capabilities. In addition, Revel POS is a worthwhile option for businesses who prefer iOS-based systems, as well as those who already own an iPad.
On the other hand, if you're a smaller business looking for the essentials, as well as transparent pricing, you might instead consider an alternative.
Accept payments without worry
See our payment provider recommendations that fit your business.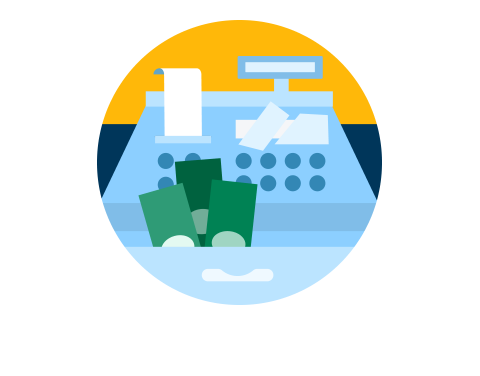 In short, Revel POS is a cloud-based, full-service, point-of-sale system designed to accommodate a wide variety of businesses. Revel is an iPad-based point-of-sale system — meaning you'll need a compatible iPad to use the Revel software and connect and utilize additional hardware. Revel is not compatible with Android devices and cannot be run using an iPhone.
The Revel POS system includes the essential tools that you need to manage your business and customers on a day-to-day basis. All Revel plans offer 24/7 phone and online support, personalized onboarding, free automatic product updates, unlimited users, secure cloud backup and always-on mode.
Additionally, although you can work with other payment processors, the Revel POS system includes Revel Advantage Payment Processing, which Revel recommends for a streamlined experience.
Overall, Revel advertises its POS system as an ideal solution for retail businesses, quick service businesses (like cafes and pizza shops), as well as restaurants and bars.
If you're wondering — "how much does Revel POS cost" — the answer is that the ultimate cost varies.
The Revel POS pricing will be based on a number of factors, including the cost of the Revel POS Software, your payment processing fees, installation costs and hardware costs.
First and foremost, the cost of Revel's POS software starts at $99 per month, but you'll have to pay for this software on an annual basis. Additionally, Revel requires you to commit to a three-year contract for its software. Therefore, the cost of the Revel POS system software will be, at minimum, a total of $1,188 per year, for three years.
You'll also need to consider the credit card processing fees you'll face when you accepting card payments through the Revel POS system. Because Revel prices these fees through a quote-based system, you won't know what these fees will look like until you talk to a Revel sales representative.
Moreover, Revel recommends that you opt for installation assistance when using its service. Your installation will come at a one-time cost of $649.
Finally, you'll also need to incorporate the cost of hardware to determine how much Revel POS will cost your business. The Revel POS system requires a compatible iPad, which can range in price from $200 to upwards of $500, depending on the model and storage. In addition, to accept credit card payments, you'll need to purchase a Revel card reader, which Revel doesn't disclose the price of online.
With this in mind, it's important to remember that any other hardware you require — stands, printers, barcode scanners, cash drawers, etc. — will need to be purchased separately as well. Although Revel advertises a hardware leasing program on its website, it doesn't indicate what the prices for this program might look like.
Finally, if you want to utilize any of the additional products or services Revel offers for its point-of-sale system, including gift cards and loyalty, dedicated account management, kiosks and mobile order takers, online ordering, multi-location management, and an inventory app, you'll need to work with your Revel sales representative to determine how much those add-ons will cost.
All in all, it's difficult to say exactly what the price of Revel POS will look like for your business — not only because the final cost will vary based on multiple factors, but also because Revel is less than transparent with its pricing.
Although Revel doesn't include much pricing information on its website, it does provide a lot of information about the features included with its software.
Customer experience features
First and foremost, the Revel POS software offers a handful of features that are designed to improve your customers' checkout experiences.
Customer discounts: To offer simple, on-the-spot savings and happy hours.

Gift card program: To boost gifted referrals.

Customer-facing display system: To speed up transactions.

Online ordering: To increase your customer base and revenue.

Customer loyalty programs: To implement a rewards structure and develop a customized loyalty program.

Customer relationship management systems: To gain customer insights.

Revel assistant: To receive real-time support within your software for setup, troubleshooting and more.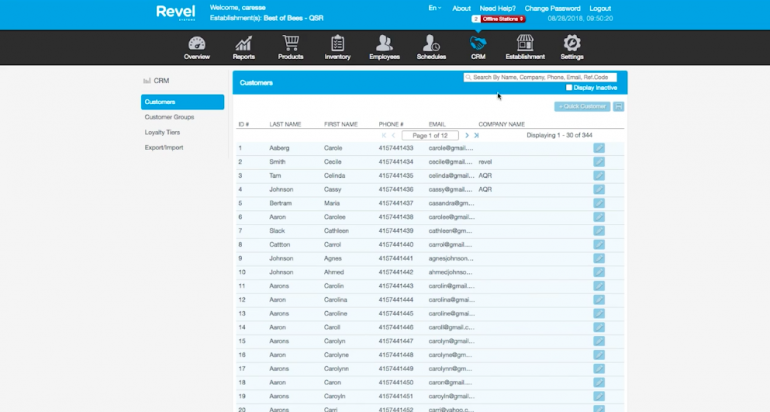 With the Revel POS system, you can accept payment securely and in the way that works best for your customers.
Payment flexibility: Allows you to split bills, offer bar tabs, create store credit and more.

EMV compliance: Revel's payment processing is EMV compliant — protecting you and your customers' data.

QuickBooks Integration: Revel integrates with QuickBooks to allow you to manage your finances and accounting in one place.
As a full-service POS system, Revel includes a variety of tools and features to help you manage your daily operations.
Revel Insights: Provides data and visualizations on the go.

Product management and menu building: In-app product list and menu building customized for your business.

Kitchen management: For communication between front- and back-of-house.

Employee management: For roles, permissions, time tracking, overtime and administrative paperwork.

Ingredient-level inventory: For tracking and low-stock alerts.

Reporting and analytics: To help identify best-selling products and business trends.

Enterprise management: For businesses with multiple locations.
On top of some of these more detailed capabilities, the Revel POS system also offers the essentials.
Cash payment tracking: To make sure all your payments are accounted for.

Table management: To organize your tables from making a reservation to accepting payment for a bill.

Delivery management tools: To expand your customer base with delivery orders.

Always On Mode: Enables your Revel POS to function through power outages and service disconnects.

Open API: To integrate with other solutions and build a truly customized POS for your needs.

Security: Includes PCI-compliant cloud technology, point-to-point encrypted payments and user access controls.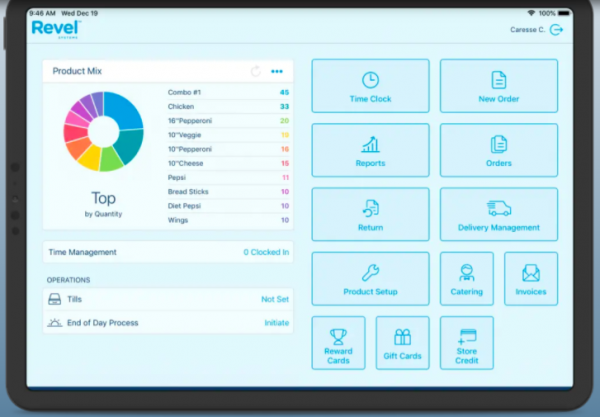 Although many other POS providers will offer complete, all-in-one POS systems, your Revel POS hardware options will be more mix-and-match.
This means that you'll have the option to purchase a cash drawer, scale, printer, barcode scanner or any other peripheral accessories for your business's POS system.
However, to use the Revel POS System you will always need a compatible iPad, as the Revel software only runs on iPad devices. Additionally, you'll also need to purchase a Revel payment device to accept non-cash payments from your customers. According to the Revel website, its system is compatible with:
ID Tech SecureMag (IDRE Series).
Revel does not disclose prices for these POS hardware devices.
By using any combination of Revel's POS hardware, you'll not only be able to run its software, but also use a customer display system, take mobile orders and implement a self-service kiosk.
If you're still unsure whether or not the Revel POS system can meet your business's needs, you might take a look at what Revel customers have to say about the product.
Overall, Revel POS receives average reviews. On most online review sites, Revel is rated around three to four stars, with individual user reviews falling on either end of the spectrum.
In terms of positive customer reviews, users write that Revel POS is easy to set up, is user-friendly and has an intuitive interface. Additionally, many customers comment on the overall functionality of the system — mentioning helpful features like inventory, CRM and more.
On the other hand, there are a handful of negative Revel reviews. These reviews often site technical issues associated with the Revel POS system as well as the lack of support from the Revel customer service team. Some reviewers write that customer service is difficult to get ahold of and that the representatives are not helpful.
Although some users like the fact that Revel is an iPad POS system, others dislike that it's exclusive to iOS. And some reviewers comment that the system, on the whole, is expensive.
With all of this information in mind, let's break down both the possible benefits and drawbacks of using the Revel POS system for your business.
As you can see from the list of features that the Revel POS software offers, this is an all-inclusive, fully functional point-of-sale technology.
Plus, the list of features Revel includes out-of-the-box is much more extensive than many competitors — capabilities like ingredient-level inventory tracking and Always On Mode are tough to find elsewhere.
Restaurant-specific features
In addition to the overall impressive functionality of the Revel system, this POS offers particularly noteworthy features for restaurant businesses.
With capabilities for online and mobile ordering, customer display systems, kitchen management, ingredient-level inventory, table management and more — Revel places a large focus on helping restaurants and other food-service businesses make the most of its system.
Included payment processing
Although Revel isn't transparent about its payment processing costs, it is a benefit that Revel includes its own processing service with its system. Meaning, if you sign up with Revel, you don't have to worry about acquiring payment processing from another provider. Additionally, its service accommodates all card types and Apple Pay and includes an in-house dedicated support team.
Plus, Revel's payment processing includes EMV and PCI compliance, point-to-point encrypted payments and other integrated security measures.
There's no one-size-fits-all solution for Revel POS system hardware — you can pick and choose which pieces your business needs, without worrying about investing in one single piece of hardware that automatically comes with features like a printer or a scale that aren't useful for your business.
If you want to take your POS system to the next level, Revel allows you to do so with its Open API. Revel's Open API allows you to integrate a range of additional software tools through its partner network or to build your own.
You can connect your Revel POS system with e-commerce platforms, accounting tools, workforce management software and more.
On the other hand, there are also a number of drawbacks to using the Revel POS system.
Overall, most of these downsides are related to the way the Revel POS pricing works. In short, Revel POS pricing is far from ideal and is actually pretty expensive, e
specially compared to other POS systems on the market.
You'll have to contact the Revel sales team directly to get an idea of how much its payment processing fees and hardware options will cost your business.
This is a huge downside — not only because getting a quote requires time and energy — but also because it will be tough to stop receiving calls and emails once you've given a sales representative your contact information.
In addition, quote-based systems make it difficult to know whether or not you're receiving a good deal. Because Revel doesn't provide a range of payment processing fees and hardware costs on its website, it can be difficult to know whether or not the quote you receive is a fair one.
Moreover, although Revel does indicate that its software starts at $99 per month, this is expensive for POS software. As an example, even if you opt for the restaurant or retail-specific version of Square, these software solutions will only cost $0, $60 or $299+ per month, depending on your plan.
Not only does Revel have an expensive monthly fee, but you also will have to pay for your software annually, instead of on an actual month-to-month basis.
Similarly, one of the costs that Revel does disclose on its website — installation — is expensive as well. Revel charges $649 for customized setup, whereas many POS competitors will help you set up your system at no additional cost.
Therefore, if you want to have assistance in setting up your system, you'll need to consider this sizable cost into the overall price of Revel for your business.
iPad only and no smartphone capability
This POS is iPad only, which makes it a difficult choice for businesses who already own or prefer Android or other tablet devices.
Additionally, whereas most mobile POS systems allow you to run their software on a tablet and smartphone, Revel can only be run on an iPad. In this way, Revel limits how truly mobile your point-of-sale system can be.
Three-year commitment required
Finally, and perhaps most importantly, to access a Revel POS system, you'll have to commit to a three-year contract. This means, at a minimum, you're committing to a minimum of $99 per month — plus undisclosed hardware costs and payment processing fees for three years.
This is a huge financial commitment to make considering you won't know how well the Revel POS system will work for your business. Plus, the majority of POS providers on the market now do not require any sort of contract — allowing you to use its software on a true month-to-month basis to ensure that it is right for your needs.
Nevertheless, Revel does provide free demos, so you'll certainly want to sign up for one before agreeing to a three-year contract.
Alternatives for Revel POS System
At this point, whether or not you think Revel POS might be right for your business, it's always worth exploring alternatives to see if you can find a solution that will be a better fit.
In particular, here are three options you might consider:
One of the most popular alternatives to Revel is Square. With its affordable POS innovations, Square has become a forerunner for small-business point-of-sale solutions. Square now offers seven hardware options, all with transparent pricing ranging from free with account opening to $799.
Additionally, whereas Revel charges a steep price for its software, the standard Square POS software is completely free. Square also includes its own payment processing — with transparent pricing on its website about any and all charges you'll face. Overall, it will cost you 2.6% plus $0.10 per transaction to accept credit card payments with Square.
Plus, on top of the standard Square POS software, Square also offers Square for Restaurants and Square for Retail. These advanced software options will cost you $0, $60 or $299+ per month depending on your plan, compared to the $99 minimum with Revel POS.
If you're looking for a restaurant-focused alternative to Revel POS, you might consider TouchBistro.
Like Square for Restaurants, TouchBistro offers advanced functionality specific to restaurant businesses — like inventory tracking, employee management, floor plan management, self-service kiosks, kitchen display and more.
Although TouchBistro doesn't offer a free software option, its pricing plans start at $69 per month, making this a more affordable option than Revel POS. Additionally, TouchBistro gives you the option to include the cost of your hardware in your monthly fees — that way, you don't have to pay for expensive hardware all at once.
Unlike Square and Revel POS, however, TouchBistro doesn't provide its own payment processing — so you'll have to choose a third-party provider, and your fees will range depending on the provider you work with.
This being said, when it comes to restaurant POS systems, TouchBistro is one of the best options out there.
Alternatively, if you're looking for one of the most affordable POS options, then you might look into PayPal Here. You'll simply access PayPal Here through your PayPal login through the free PayPal Here App. PayPal Here offers four payment reader options, ranging in price from $14.99 to $99.99.
You'll also need a smart device to use PayPal Here, so if you don't already have access to one, you'll want to add that price into your total cost.
Once you've covered all of these upfront costs, you'll simply have to worry about PayPal Here payment processing fees, which are some of the lowest flat-rate fees on the market. For any magstripe, chip or contactless payment you'll pay 2.7% of the transaction value.
A version of this article was first published on Fundera, a subsidiary of NerdWallet.