6 Profitable Small Farm Ideas
Looking to expand? Consider these small farm ideas to tap into new markets and create additional income.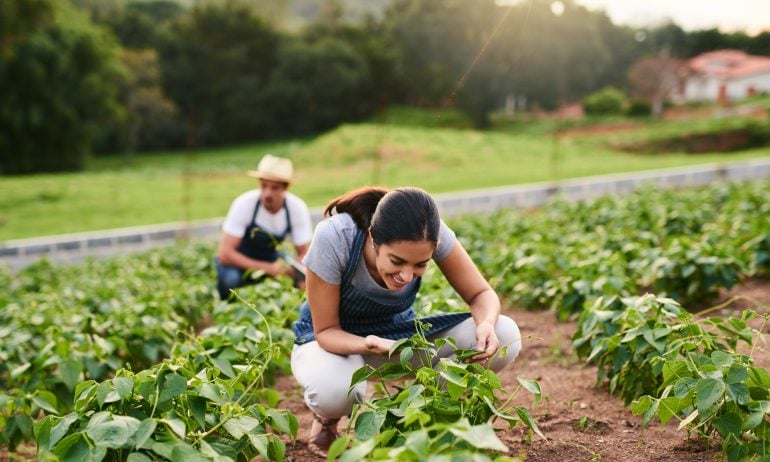 Many or all of the products featured here are from our partners who compensate us. This may influence which products we write about and where and how the product appears on a page. However, this does not influence our evaluations. Our opinions are our own. Here is a list of our partners and here's how we make money.
Running and maintaining a profitable small farm isn't easy. Sure, you get to be your own boss and set your own hours (at least in theory), but this usually translates into meeting the demands of buyers and handling fluctuating market conditions—all while waking up early and going to bed late.
In other words, your life as a farmer is less Instagram-worthy and more back-breaking than it might seem for people who aren't in the business. After all, a farm is still a business, and the same rules of starting a business apply—plus, some additional farm-specific responsibilities.
The good news is that there are a lot of options to extend what you're doing and create additional small farm income. For instance, farming and agrarian lifestyles are getting a lot of attention, particularly from nature-starved city dwellers and desk job toilers. That's a potential market to tap right there. Plus, as consumer tastes change and evolve, you have an opportunity to pivot toward new small farm business ideas—even on limited acreage.
We'll review some small farm business ideas that you can either take up, or that can potentially inspire you to find a small farm business idea of your own. Some are based on trending crops as well as some more outside-the-box ideas to bring make your working farm to another level of profitability. We'll also review some business loan options to help get these small farm ideas off the ground.
Small farm business ideas
Business ideas for small farms can range greatly—some can trend more toward lifestyle services, while others can be an extension of the small farm that you already run. Here are some small farm income ideas that can resonate with a variety of audiences.
1. Create a wedding venue
The nature of events—specifically, weddings—is changing. In 2017, the average cost of a wedding was over $30,000—an unrealistic sum for many. That's why couples are looking for alternative ways to celebrate their nuptials that cost less than weddings thrown in big event spaces. More casual spaces, like those on small farms, can provide this. There's even a trend called "micro weddings" that enables couples to get the fun of a big wedding in a kind of express fashion.
As a profitable small farm business idea, consider starting an events space or wedding venue that will enable couples to celebrate their wedding in an affordable fashion. You can offer some of these micro-wedding packages that entice couples on a shoestring, for instance, or rent your venue for a competitive price relative to some of the other venues in your area.
If this is interesting to you, take a look at our guide on how to start a wedding venue. You might choose to go a different direction on some steps, but this can provide a great basis for finding out if this small farm income idea is right for you.
2. Grow hops for local breweries
If you're interested in small acreage farming ideas, think about growing hops for local breweries. With the explosion of craft beer in nearly every corner of the country, there's a lot of beer being brewed—and lots of hops that need to go into that production.
The good news is that you don't need a ton of space to grow hops: Hop vines grow extremely densely, so you can plant about 1,200 plants per acre of land. Plus, you can grow many different types of hops, like the common Cascade or Centennial hop, as well as plenty of other non-proprietary hop varietals, for instance. One caveat, however: Hop plants yield more after they've been through a few seasons, so don't expect a massive harvest right away.
That's not all bad news, however, since many hop growers work on contracts well in advance, meaning that they'll purchase all of an upcoming season's yield a year or two ahead. So, this is a small farm business idea that can pay off not only now, but for years to come.
3. Grow specialty grains for brewing and distilling
Similarly, as craft breweries and distilleries continue to pop up across the country, there's an increasing interest in using grains from local, smaller growers. As you likely already know, most grains and malts are made on a commercial scale in North America. And although these grains are still the most common option for most brewers and distillers, there is a growing demand for locally grown wheat and barley malts.
Some states, like New York, even offer brewers tax incentives for becoming farm breweries. In turn, these breweries are obligated to use a certain percentage of state-grown ingredients. This means you could capitalize on the trend—as well as grant programs—by allocating some farmland to these crops and building relationships with your local friends in the trade.
4. Create an educational farm
Hands-on learning is important for children, and creating an educational farm can help foster this development. Consider creating an educational farm in which you run tours, classes, and seminars on the animals and agriculture on your farm, and encourage groups to get up close and personal with life on a farm.
You can even go further and create vocational opportunities for students to learn on your farm over the summers or during their school breaks. If you go this direction to build an educational farm, remember it's important to let institutions of learning know that you're offering these services. Along the same lines, this small farm idea makes the most sense for farms located in close enough proximity to schools that it's a viable destination.
5. Rent tiny houses and cabins online
We likely don't have to tell you that the vacation and getaway rental business is booming. Services such as VRBO and Airbnb have made it quite easy for vacationers to book a trip away. (For perspective, Airbnb states that 2 million people stay in one of their accommodations per night.) That's a big potential market to tap into.
Consider building a tiny house or cabin on your property for rental. Yes, it's an investment to put up a new structure. But if you market your new small business-within-a-business, you might find that it's a profitable one, especially if you take care to examine the market and see the prices of similar rentals in your area.
Although you may think that your farm lifestyle isn't terribly exciting, especially to city dwellers, plenty of people are looking to spend a few days away from their hectic pace and unwind in nature. That's especially true if you're within a couple of hours drive from an urban center, and can provide some fun extras—such as home-cooked breakfast from your fresh farm products—with people's stays.
Bees are important—not only do they make honey, but they also pollinate many of the crops we consume on a daily basis (including ones you might be growing). With the continued bee colony collapse and a substantial decline in the number of bees, saving the bees is hugely important for our ecosystem. But this eco-friendly pursuit can also be a profitable small farm business idea, too.
Beekeeping can open up a few different revenue streams. First, you can sell honey and beeswax-based products in a farm store or online. Many local merchants may want to carry your products as well. But you can also take advantage of the newfound interest in beekeeping and bee farms by offering tours, classes, and other experiences.
Importantly, beekeeping is a great option for small acreage farms, since hives don't take up a ton of space. The proof is in the rise of urban beekeeping, where people keep entire hives on their building roofs.
Business financing for a new farm venture
There's deciding on which small farm idea you want to pursue—and then there's finding the capital to get it off the ground. Luckily, you have options, especially if you've been in business for a while and are creating a new source of income on your small farm. Some of these ideas we listed above are far more capital intensive than others, but, luckily, there's a wide range of options for farm business loans to get you moving.
If you've had some time in business already, and have done well with your revenue numbers (and, subsequently, have kept a strong credit score), the first place you'll want to look for small farm business idea financing is SBA loans. That's because these loans are considered best in class due to their great rates, long repayment periods, and high capital amounts.
SBA loans are furnished by banks—often even small community banks like ones in your region—but the most important piece is that they're guaranteed by the U.S. Small Business Administration (SBA). That means that lenders have a safety net in case borrowers can't repay the loan, so they're able to extend such favorable terms to qualified borrowers.
Of course, as you might expect, these loans are competitive—which is why that piece we mentioned about having a strong business financial history is important. But, if you have a good track record in your farm business, you should certainly apply for an SBA loan. Check out SBA 7(a) loans, which are flexible working capital for your business, as well as SBA 504/CDC loans, which finance fixed assets.
Similar to SBA loans, USDA loans are furnished by banks and other lenders, but are guaranteed by the U.S. Department of Agriculture to businesses operating in a town or city with 50,000 or fewer inhabitants.
The USDA offers several different loan programs to finance a variety of capital needs, including buying equipment, buying land or buildings, working capital, debt refinancing, and more. These loans can go up to $25 million and are less competitive than SBA loans due to the location criteria. However, you will still need strong business financials to qualify.
If the small farm business idea you're pursuing involves fixed assets, you might want to consider farm equipment loans. This type of loan isn't super flexible—you're only able to finance the equipment you want to buy—but can be extremely helpful for getting the capital to purchase the big-ticket items you need. You bring a quote for the gear to a lender when you apply for the loan.
Additionally, you'll find it's generally easier to qualify for this type of financing than others, since the equipment you're purchasing serves as the loan collateral itself. Generally, you can apply and find out if you're approved in just a couple of days, which can help you get rolling on your small farm income idea as soon as possible.
A business line of credit can be an excellent choice for a small farm business loan for many different types of entrepreneurs. With this type of business loan, you apply through a lender for a credit line against which you can "draw" to pay for business-related expenses. Then, when you repay what you've drawn from your credit line, you're often able to access the full amount of capital again (this is what's called a "revolving" credit line).
There are a lot of great advantages to this type of loan—flexible spending, money on hand for opportunities and emergencies—but what you'll like best is that you only have to pay interest on what you use. So, if your actual cost for your small farm business idea comes in lower than your credit line, you could save money on your interest payments, too.
This kind of loan is more accessible to newer businesses than, say, an SBA loan. And you'll need less documentation, which means you can access the capital faster.
This article originally appeared on JustBusiness, a subsidiary of NerdWallet.