Square POS for Restaurants 2022 Review: Pricing, Features, Alternatives
Square is a great point-of-sale option for quick-service restaurants; it's quickly becoming a solid choice for full-service restaurants, too.
Many or all of the products featured here are from our partners who compensate us. This may influence which products we write about and where and how the product appears on a page. However, this does not influence our evaluations. Our opinions are our own. Here is a list of our partners and here's how we make money.
Square for Restaurants is a comprehensive cloud-based point-of-sale system that includes a kitchen display system, payment processing and reporting tools that let you quickly review your restaurant's performance. It's a good option for quick-service restaurants and is increasingly adding features for full-service restaurants.
This POS is a variation of Square's original POS with restaurant-specific features, like the ability to add modifiers, such as the addition of bacon on a cheeseburger, to an order. There's a free version that includes plenty of basics, but if you have more complex needs, there's also a premium version with more features. Its payment processing uses flat, transparent pricing, and none of the platform's services require a contract. While other Square products run on iPhones, Restaurant POS does not.
Square Plus costs $60 per month plus $40 per month per additional POS device.

Square also offers a free version with fewer features.

Square's POS and KDS run on devices you provide.

Square also builds its own POS hardware, which ranges from $299 for a handheld device to $799 for a fully featured terminal.

2.6% plus 10 cents for in-person transactions.

2.9% plus 30 cents for online transactions.

Cancel at any time without penalty.

Extended business hours for the free version, 24/7 support for premium subscribers.
Find the right payment provider to meet your unique business needs.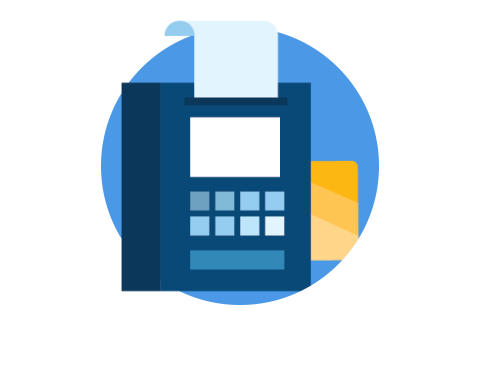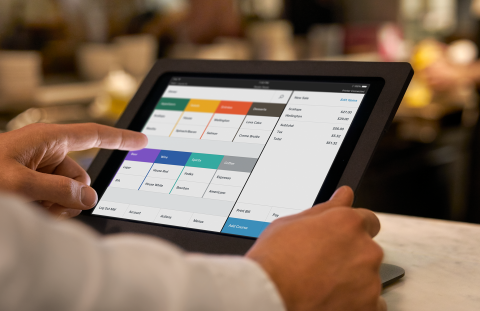 With a Square for Restaurants account, you can create a menu by listing each dish and drink you sell, its price, description and a photo. You'll also be able to add your restaurant's floor plan. The platform also supports multiple locations, and you can take orders on a website built with Square Online.
The platform has a simple, customizable user interface. For example, staff at a counter-service restaurant can quickly find food in categories you create, while a server at a sit-down restaurant might first select a table on the digital floor plan.
Features common to both free and paid versions include:
Integration with Square's kitchen display system.

The ability to show servers if you're out of an item.
Restaurant Plus gives you the ability to:
Assign orders to seats, not just tables.

See live wait times and turnaround times for each table.
Square uses apps that run on a variety of devices. If mobility is important, you can use a smartphone or Square's handheld device. For stationary setups, you can use a tablet or Square's touch-screen terminal. Square's management and reporting features can be accessed via a computer.
Square's KDS replaces printed tickets in the kitchen with a touch screen. It runs on an iPad and can route one order to multiple places, like burgers to the grill and onion rings to the fry station. You can create custom notifications, like an alert when a table's food is taking too long, and use kitchen-specific reports to review performance.
When a customer pays with a card, Square processes the transaction. You're charged a flat fee for each in-person transaction and a flat fee for any order you take online.
Both the free and paid version of Square for Restaurants track metrics such as gross and net sales, discounts, tips, refunds and sales per item. Restaurant Plus users have access to more in-depth information, like shift reports and live sales.
In addition to core POS features, Square's entire ecosystem of products can support other common business functions:
Customer loyalty program management.

Website creation and hosting.
Some features above are included for free on one or both POS versions, and others you can purchase. You can begin or end any add-on service at any time.
Accept payments without worry
See our payment provider recommendations that fit your business.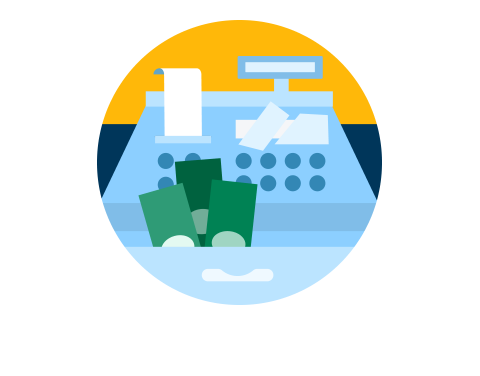 How much does Square cost?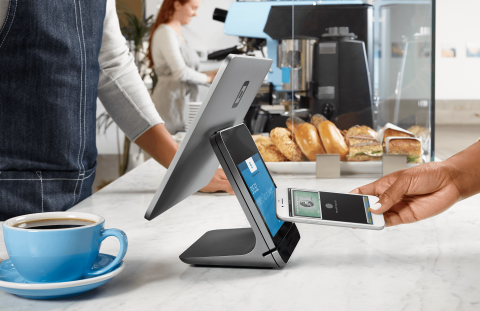 Swipe-only reader: First one is free, then $10.
Wireless tap and dip reader: $49.
Wireless touch-screen handheld terminal with built-in printer: $299.
Swivel stand for iPad with card reader: $169.
Touch-screen monitor with customer-facing screen and card reader: $799.
Square offers a free version of its POS system. Restaurant Plus costs $60 per month per location and includes a variety of additional features. If you use more than one POS device, you'll pay $40 per additional device.
In addition to more POS features, Restaurant Plus comes with:
KDS support at no additional cost. KDS costs $20 per month per device if using the free POS version.

Teams Plus, Square's premium team management software. Free POS users get basic team management functions.

24/7 customer support. Free POS users can access support during extended business hours, Monday through Friday.
2.6% plus 10 cents per in-person transaction.

2.9% plus 30 cents per online transaction.
Easy to quickly scale up or down
The combination of contract-free subscriptions and a big lineup of products means Square can keep up with the quick pace of change found in the restaurant world. New restaurants on a budget might find that Square's free POS system offers a good lineup of features at a great price, and quickly growing restaurants can easily add features, like KDS or customer loyalty management, on an as-needed basis without reconfiguring an old contract or making a long-term commitment to a new one.
Offers flexible tools that are simple to set up and simple to use
The ability to configure Square's hardware and software in different ways makes it a good fit for different types of food-service businesses: A single iPad on a swivel stand paired with a customer loyalty program could work well for a small coffee shop hoping to attract repeat customers; a KDS and a website could be the right fit for a ghost kitchen with a digital-first approach; three or four Square Terminals in a row can help move customers swiftly through a fast-casual restaurant at lunchtime.
Limited inventory management
Square does integrate with third-party inventory-management services like Marketman and Peachworks, but if you want a POS that has inventory baked in, you'll need to look elsewhere, like Upserve by Lightspeed.
Other systems have more front-of-house features
Full-service restaurants might benefit from certain features Square doesn't have, like Lightspeed's option to add suggested wine pairings or detailed dish descriptions for servers to review, or TouchBistro's fully integrated reservation management system.
Toast: for restaurant-specific hardware
Toast builds POS software and hardware exclusively for restaurants. Its KDS was built to withstand the high heat and grease found in kitchens. Square's KDS relies on an iPad and a tough case. Toast's handheld device is slim enough to slip in an apron pocket, whereas Square's is a little too clunky for that and has limited features compared to the iPad version.
TouchBistro: for a long list of features
If you are looking for a POS system that can manage a high level of complexity, consider TouchBistro. It allows customers to note allergies and special occasions along with their reservation, keeps track of your top customers and ensures they're getting a consistently great experience, and gives you access to more than 50 reports about your restaurant's performance.