Square for Retail POS Review 2021: Pricing, Features, Alternatives
A close look at Square for Retail, what it can provide your retail business and alternatives for you to consider.
Many or all of the products featured here are from our partners who compensate us. This may influence which products we write about and where and how the product appears on a page. However, this does not influence our evaluations. Our opinions are our own. Here is a list of our partners and here's how we make money.
Square for Retail is a point-of-sale system designed specifically for brick-and-mortar and online retailers of all sizes. Along with all of the features you've come to expect from Square POS, Square for Retail offers a variety of additional features to help retailers run their business more efficiently — including advanced inventory, employee and customer relationship management software.
All in all, Square for Retail is ideal for larger retail businesses — stores with multiple locations or big-box retailers. These types of businesses will be able to get the most out of Square for Retail's advanced features, and they won't mind the extra monthly cost. Smaller retail businesses should probably stick to the standard Square POS, and wait until they have grown more to invest in a POS system that will cut into their monthly budget.
Find the right payment provider to meet your unique business needs.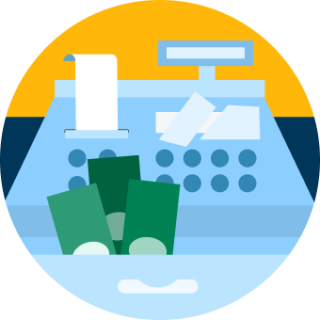 Square for Retail is POS software that works in conjunction with POS hardware and a payment processor to allow your business to process payment transactions. The Square for Retail app works exclusively on iOS devices and is cloud-hosted, meaning your information is stored on Square's servers and transferred to your device via the cloud.
What makes Square for Retail different from the regular Square POS app is that its features cater specifically to retail businesses.
When signing in to your Square for Retail app for the first time, you'll be prompted to do the following: Link your business bank account, build out your inventory catalog, enter your employee roster and customize your receipts. With all this information added, you'll be able to manage your store — both physical and virtual — from the Square for Retail app. Here are the things you can do in the app:
The most important thing a POS system can do, retail or otherwise, is process payments. If you sign up for Square for Retail, you also have to use Square as your payment processor. This simplifies things but be aware that Square is an aggregator — it operates one big merchant account on behalf of all its clients. The drawback to aggregators is that you may experience delays in payments (Square typically sends payments to merchants within 24 to 48 hours of processing), account holds or terminations if you can't comply with Square's terms of service.
If you can comply, you'll benefit from a very powerful payment processor. The Square for Retail app accepts all major credit cards and can process magstripe, chip and contactless payments from Google Pay and Apple Pay. Square can also process payments offline and will rush delivery of payment for an additional 1% fee.
With Square, you also get a virtual terminal, which allows you to accept keyed-in payments through a web browser for an increased processing fee (3.5% plus 15 cents per transaction). Through the Square for Retail dashboard, you can send customized invoices to clients and process those payments for a 2.9% plus 30 cents fee.
Managing inventory is one of the most important responsibilities for retail business owners, and the Square for Retail app provides the back-office inventory tools to help make this process easy.
From the Square for Retail app you can generate and print barcode labels, organize your stock by category, link vendors to specific items in your catalog, track and transfer your stock across locations, create purchase orders and send them to vendors, track purchase order statuses, receive notifications when stock is running low and keep track of all your vendor contact information.
You'll also benefit from having an unlimited SKU count, catalog customization with product variants, reports on inventory history and a bulk upload option to add your product catalog via a CSV file.
Customer Relationship Management (CRM)
Many of the Square for Retail CRM features are also included in the Square POS app. This includes the ability to create customer profiles automatically during payment, track customer transactions and buying history, automate customer segmentation, provide insights and guidance based on customer data and arrange for marketing communications to customers. One feature available in the Square Retail POS that is not available in the standard Square POS is the ability to add customer notes in the directory.
You can extend the capabilities of your CRM by purchasing Square Marketing for an additional $15 per month if you have 500 or fewer customer contacts. This cost will jump to $25 per month for 501 to 1,000 customer contacts, and $35 per month for 1,001 to 2,000 contacts. If you have more than 2,000 customer contacts, you must contact Square for pricing. This feature allows you to design custom marketing emails, automate campaigns and track the impact of your marketing efforts from your POS dashboard.
Employee management capabilities are included in both the Square for Retail app, as well as Square's other POS plans. With these employee management features, you can track employee hours using the POS app's built-in time clock. You can also arrange for custom permissions to the POS app based on location or seniority and oversee commissions and tip reconciliations. The standard Team Management plan is free for all locations; however, you can also upgrade to Team Plus for $35 per month per location. With this advanced plan, you will have additional reporting capabilities and an unlimited set of permissions.
For an additional fee, you can add Square Payroll to your POS app. This software allows you to run payroll by integrating hours worked from the POS time clock. Payment can be distributed via check or direct deposit, and Square performs all tax calculations and withholdings on your behalf. Square Payroll also generates, files and mails W-2s and 1099s at the end of the year, and payroll can be run multiple times per month at no additional cost. Square Payroll costs a $35 monthly subscription fee, plus $5 per month per employee paid. If you are only paying contractors, though, you can skip the subscription fee.
While Square POS comes with reporting and analytics functions, Square for Retail offers more advanced reporting features designed to help merchants glean insights into their business across all retail locations. With Square for Retail you can view detailed reporting on:
Cost of goods: Keep track of your cost of goods sold by location, category and timeframe.

Projected profit: Understand the total value, retail value, projected profit and margin of your current stock.

Gross sales: View how your business is doing during specific times of day, date ranges and locations.

Sales by category: Understand how your different categories of items are selling.

Employee sales: View sales volume by employee to help you identify top performers and better manage your staff.

Labor vs. sales: Track your labor costs versus sales to optimize your staffing hours and capacity.

Discounts: Track how your promotions are performing by viewing sales by discount.
Checkout features are consistent across Square POS and Square for Retail. Both allow you to send customized e-receipts, printed receipts or text receipts. Square for Retail can also accept tips, discounts, gift cards, split tenders, store credit and partial payments. When you set up your Square for Retail POS app, you'll have to input tax rate information so that Square can make those calculations at checkout.
One checkout addition you can provide customers is a digital loyalty program. The Square Loyalty feature starts at $45 per month and provides customers the option to opt-in to your store's loyalty program at checkout. As customers spend at your store they will earn points that can be redeemed for rewards. You can engage customers enrolled in the loyalty program through text, helping keep your business top of mind. Offering your customers a loyalty program can help create and retain repeat customers, so it could be worth exploring this additional cost.
Along with the aforementioned Marketing, Payroll and Loyalty apps, Square provides an app store with a fairly robust set of options. From the app store, you can integrate tools that provide assistance with accounting, e-commerce, scheduling, insurance, marketing and more.
Square for Retail is backed by Square Secure, a free service that protects payments and fights fraud on behalf of Square merchants. With Square Secure, all payments processed through your Square for Retail POS are encrypted by a PCI-compliant system. Square will investigate suspicious purchases and manage disputes with customers and the bank at no additional cost. Plus, all accounts come with a two-step verification process.
Square offers a few avenues to help you get the support you need. Phone support is available on weekdays from 6 a.m. to 6 p.m., and email inquiries are typically handled within 24 hours. If you need information faster, Square operates a Support Center full of useful guides and how-tos, a blog with tips and advice on how to get the most out of Square for Retail and a community forum where you can ask fellow merchants about the platform.
There are two big drawbacks when it comes to Square for Retail's hardware compatibilities. The first is that it is not compatible with the Square Register — Square's all-in-one POS solution that features a tablet and magstripe, chip and contactless payment reader. The second is that Square for Retail only works on iPads running iOS 9 or later. If you already have an iPad, you can get started with Square for Retail. However, you're going to want to invest in some of Square's POS hardware accessories, including:
Card reader: Square offers card readers that can perform swipe, dip and contactless payment processing, as well as mobile card readers that can turn a mobile device into a POS. The former will cost $49, while the latter is given for free when you sign up for Square for Retail.

Square Stand: The Square Stand is a swiveling stand that has a swipe/dip/contactless payment reader built-in. Users can plug their iPad directly into the stand to run payments. The Square Stand costs $199.

Square Terminal: The Square Terminal is a $299 countertop device that accepts swipe/dip/contactless payment and prints receipts.

Cash Drawer: Square offers two different cash drawers ranging in price from $129 to $249.

Receipt Printer: Square's USB receipt printer costs $299.

USB Barcode Scanner: Square's USB-enabled barcode scanner costs $119.
One important thing to note with all of Square's hardware options is that financing is available for those who can't afford to buy all of their POS hardware in one go. Square for Retail can also work with other POS hardware, as long as the app is run through an iPad.
The most sensible option for most retail merchants would be to purchase one of Square's hardware bundle kits. The kits come with a stand, card reader, receipt printer and cash drawer (depending on the kit) and start at $526.
Unlike Square POS, which is a free service, Square for Retail has three plans you can choose from. Square for Retail offers a Free plan with zero monthly charges. The Plus plan is $60 per month per location, and the Premium plan starts at $299. The processing rates vary for each. However, the Square for Retail costs associated with credit card processing rates are lower than Square POS. For all in-person transactions using Square for Retail, the processing fee is 2.5% plus 10 cents. In comparison, Square POS users have a 2.6% plus 10 cents credit card processing fee on all in-person transactions.
Note that if you also accept digital payments using Square for Retail, you'll face the same credit card processing fees that you would with Square POS: 2.9% plus 30 cents per transaction. And if you process any keyed-in, card-on-file or virtual payments, you will be charged a 3.5% plus 15 cents fee — which is the same for both Square and Square for Retail. Square for Retail comes with a 30-day free trial, and there are no long-term commitments with Square. Simply pay as you go and cancel at any time.
Let's take a step back and see what kind of value it can provide to your retail business:
If you're going to spring for Square for Retail, you should do it because it offers great features for your retail business. The inventory, employee, reporting and CRM features make it possible to manage all your back-office needs in one place — and the easy-to-use interface should allow you to do it all relatively quickly. Square for Retail also provides great add-ons to your software, such as Square Marketing, Payroll and Loyalty. Plus, Square is adding new features all the time.
Here is how Square for Retail ranks on the major review sites:
G2 Crowd: 4.5 out of 5 stars.

TrustRadius: 8.8 out of 10 stars.

Capterra: 4.5 out of 5 stars.

Better Business Bureau: A+.

TrustPilot: 4.7 out of 5 stars.
In reviews, users rave about how easy it is to get up and running with Square for Retail. The interface makes managing your store simple, and payment processing is quick and reliable. Users also enjoy the in-depth reporting offered by Square for Retail and that there is a robust amount of documentation in the Square Support Center to assist them with operating their system.
For those who are familiar with the Square POS, there are a few downsides that may make you reticent to commit to Square for Retail.
Given that Square POS is free, it may be difficult for some small business owners to switch to a service that may cost them — depending on the plan you choose. Square for Retail offers a Free plan with zero monthly charges. The Plus plan is $60 per month per location and the Premium plan starts at $299. The processing rates vary for each. Although the Square for Retail processing fees are lower than the standard Square fees, you'd have to do a lot of business to begin to see meaningful savings. Therefore, some might decide to stick with the low-cost Square POS, especially if they don't need advanced inventory or reporting features.
The other big drawback of Square for Retail, relative to Square POS, is that you can only operate Square for Retail on an iPad. Square POS can work on Android devices and mobile phones, as well.
Some of the issues with Square for Retail that customers repeatedly mentioned include annoyance with the higher monthly software fee, an inability to get in touch with customer service and limitations with the payroll and scheduling functions.
Alternatives for Square for Retail
If you're looking for a retail POS to compare to Square for Retail, here are some recommendations:
If you operate a brick-and-mortar retail store and also have an online store where you sell products, Shopify for Retail is a great option. With this product, you'll get many of the same inventory, employee and CRM features that you get with Square for Retail, but you'll also have access to your own Shopify website, which you cannot get with Square. Note that Shopify charges a monthly fee starting at $29 for use of its retail POS system, but high-volume merchants can also get access to generous credit card processing rates.
A cheaper alternative to both Shopify and Square is Clover POS. With Clover POS you can get a countertop register starting at $600 and POS software starting at only $14 per month. Although that level of software will not provide you the same level of functionality as you would get with Square for Retail, you can upgrade to the $29-per-month register plan — featuring in-person credit card processing fees as low as 2.3%. You'll also get some of the same inventory and reporting features that you get with Square for Retail and the ability to use your system on both Apple and Android devices.
A version of this article was first published on Fundera, a subsidiary of NerdWallet.