What Is Going Concern? Definition & How It Works
The going concern assumption expects a business to stay active indefinitely or at least for the foreseeable future.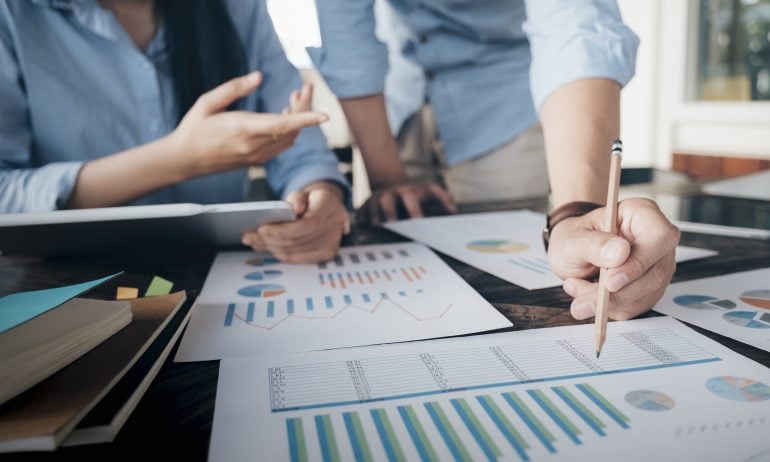 Many or all of the products featured here are from our partners who compensate us. This may influence which products we write about and where and how the product appears on a page. However, this does not influence our evaluations. Our opinions are our own. Here is a list of our partners and here's how we make money.
A going concern is a business auditors expect to stay active for the foreseeable future. The going concern principle assumes the goal is to operate rather than liquidate the business. A negative going concern opinion means the auditor expects the business to close within the next 12 months.
The going concern principle is also one of the key assumptions under generally accepted accounting principles (GAAP). If a company's auditor believes the company is not a going concern, the company typically must disclose that in its financial statements.
How going concern is determined
To determine whether a business is a going concern, an accountant — typically an external auditor — must dig into the business's financial statements.
An auditor is an accountant a company hires to conduct a comprehensive review (audit) of the business's financials and submit a report of the findings. This professional is not the same as an IRS or compliance auditor.
Many businesses undergo an independent, external audit on a regular basis (typically annually) in order to make sure their financial statements accurately represent the financial position of the business. This kind of audit is routine for many companies.
When is a company a going concern?
A business is considered a going concern until there is significant evidence to the contrary. Specifically, an analysis of the business's financial statements must show there is a threat of the business becoming unable to fulfill its financial obligations within the next 12 months in order for a business to no longer be a going concern. An auditor renders a "negative going concern opinion" in such cases.
A number of warning signs could signal that a business no longer being a going concern:
An low current ratio: The current ratio is the ratio of a business's current assets to its current liabilities. A current ratio of less than 1 indicates a business doesn't have enough cash and other easily liquidated assets (assets that can be converted to cash) available to pay its short-term liabilities.

Excessively past-due accounts payable: Most businesses will past-due accounts payable from time to time. But if a large amount of the business's accounts payable balance is past due or if the past-due amounts exceed 90 days, it could indicate the business is becoming insolvent.

Inability to get a loan: A business's inability to obtain further financing indicates lenders have low confidence in the business's ability to repay the obligation. This can be a warning sign the business may not be a going concern, at least not for much longer.

Dependence on discounted sales to make ends meet: Most businesses discount their products or services from time to time. In and of itself, this is not a concern. However, when a business starts relying heavily on discounted sales, it can be a warning sign.
These are just a few warning signs. No one sign spells imminent doom for a business, but when combined — either with each other or with other factors — they can spell trouble.
Going concern for public and private companies
If a business is publicly traded, the Securities and Exchange Commission (SEC) requires the auditor to disclose in the financial statements if a business's going concern status is in doubt. This can protect investors from continuing to risk their money on a business that may not be viable for much longer.
Privately held companies might volunteer to undergo an external audit. Sometimes this is done at the request of a board of directors or to reassure the business owner that the accounting is sound. If the auditor finds significant evidence that the business might not be viable under the going concern assumption, the auditor must disclose that in the audit report. Even if the business's financials aren't audited, an accountant who has concerns about the business's viability should disclose those concerns to the business owner.
How a negative going concern opinion affects a business
A negative going concern opinion might lead investors to sell their shares in the company.

Investors or other shareholders might also ask for a business valuation to determine the business's true value before making a final decision about how to act in light of the negative opinion.

If it appears the business will have to cease operations, the accountant might have to "write-down" the value of the business's inventory or other assets that the company will have to sell when the business closes. Writing down these assets — known as impaired assets — reduces the value of the company because the liquidation value of an asset is usually lower than the value of the asset on the balance sheet of a going concern.
If the auditor issues a negative going concern opinion, it doesn't mean the business will definitely fail. The business's management team's interpretation of the business's position, as well as any plans they are making to ensure the business remains a going concern, must also be taken into consideration. These plans may include:
Selling assets to pay for debt or operating expenses

Cutting expenses to improve the cash and profitability position of the company

Additional contributions of equity by owners or shareholders

Taking out additional financing (if that is an option) or restructuring debt to avoid liquidating the company.
Bookkeeping and accounting software

GoDaddy Bookkeeping $4.99 per month and up.

Sage 50cloud $47.25 per month and up.

Wave Financial Free (add-ons available).

Xero $11 per month and up.

Zoho Books $0 per month and up.
A version of this article was first published on Fundera, a subsidiary of NerdWallet