Wix vs. Weebly vs. WordPress — Which Is Best for Your Business?
Deciding whether Wix vs. Weebly vs. WordPress is best for your business depends on many factors.
Many or all of the products featured here are from our partners who compensate us. This influences which products we write about and where and how the product appears on a page. However, this does not influence our evaluations. Our opinions are our own. Here is a list of our partners and here's how we make money.
This article is out-of-date.

In 2018, Square acquired Weebly. Now, its main online store builder is Square Online, which features both Weebly functionality and integration with Square point-of-sale systems. For more information about Square Online and other options, see NerdWallet's list of the

best online store builders.
If a modern, mobile-friendly and expandable business website is your goal, you can't go wrong with Wix, Weebly or WordPress. All three of these top-rated platforms deliver features most small-business owners need for online, offline or combined sales business.
Wix and Weebly are the hands-down winners in terms of quick-launch websites and ongoing ease of use. You'll spend more time learning the WordPress platform, but that time is well-spent when you consider its unlimited potential. In the end, the right platform is the one that's the best fit for you.
| | | | |
| --- | --- | --- | --- |
| | | | Software is free to download but costs for web hosting, themes, plugins, and more will vary |
| | -All-in-one platform -Drag-and-drop design tool with over 500 templates -ADI wizard can build website for you | -All-in-one platform -Ecommerce capabilities included in all plans -Built-in integration with Square | -Thousands of plugins let you add any features you want -Unmatched blogging features |
| | -Can't easily change themes without rebuilding your site -No POS or multichannel integrations -Have to upgrade for ecommerce capabilities | -Only supports Square, Stripe and PayPal for payment processing -Has far fewer website themes to choose from than Wix | -Steep learning curve -Coding knowledge required -Ongoing site maintenance is your responsibility -Price can quickly escalate depending on plugins and themes you choose |
| | Callback service for all plans as well as support tickets | Phone, email, and chat support on all plans | No one-on-one support, online resources only |
| | -Those looking to easily build a business website -Those looking to sell only online (and not in-person) | -Those looking to build an ecommerce website quickly and on a budget -Those who already use Square as their payment processor | -Those with developer knowledge and time to learn the how the software and plugins work -Those looking to build an enterprise-level website |
You can create all types of beautiful and functional business websites with Wix, Weebly and WordPress — in that aspect, they're equal. However, how you get to that point, your design options, costs and overall versatility differs greatly between each platform.
The all-in-one website builder platform Wix packages every tool you need to build, launch and run any type of online business website into one tidy package. Wix websites are very easy to build, thanks to over 500 plug-and-play designs, called templates, that you can customize using Wix's drag-and-drop design tools. You can also design your website from scratch using blank templates or Wix's advanced Editor X designer.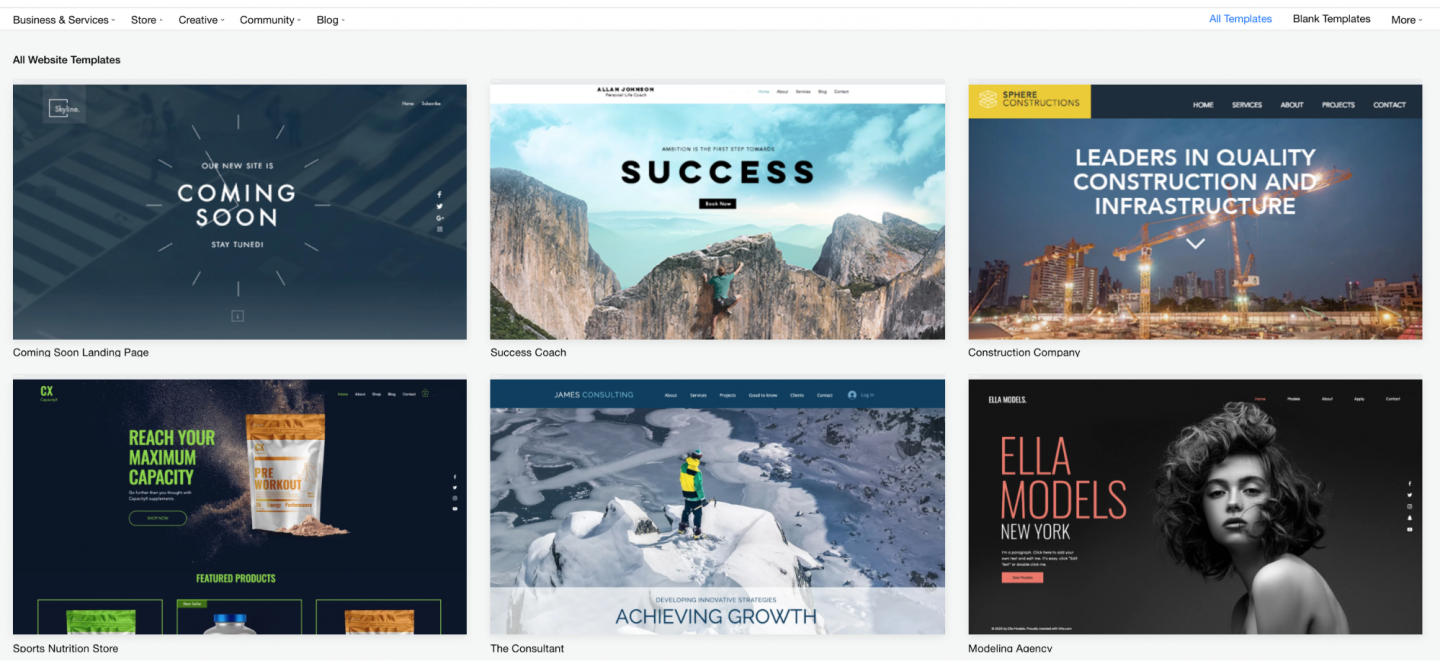 You can easily accept online payments and add complete e-commerce features to Wix websites, plus enable all kinds of business-specific functionality with over 250 Wix apps. Online restaurant menus with delivery and pick-up features, event management with ticket sales and online bookings are a few of the many features powered by Wix apps.
However, unlike Weebly and WordPress, Wix's online payment and e-commerce features aren't free. Wix offers a free website plan, but to accept any type of online payment, you need a paid Business and E-commerce plan, which starts at $23 per month. If you want to sell online using Wix, you'll have a monthly cost — there's no way around that.
Like Wix, Weebly is an all-in-one website builder platform that delivers a full set of website design, online sales and business marketing tools in one tidy package. Designing a unique website is extremely easy on Weebly. However, its drag-and-drop design tool isn't as full-featured as Wix.
Weebly also falls short of Wix in available plug-and-play website designs, which Weebly calls themes. You can choose from around 100 general and business-specific themes on Weebly, compared to over 500 design templates on Wix. Though, you can expand Weebly's website functionality with over 355 integrated apps.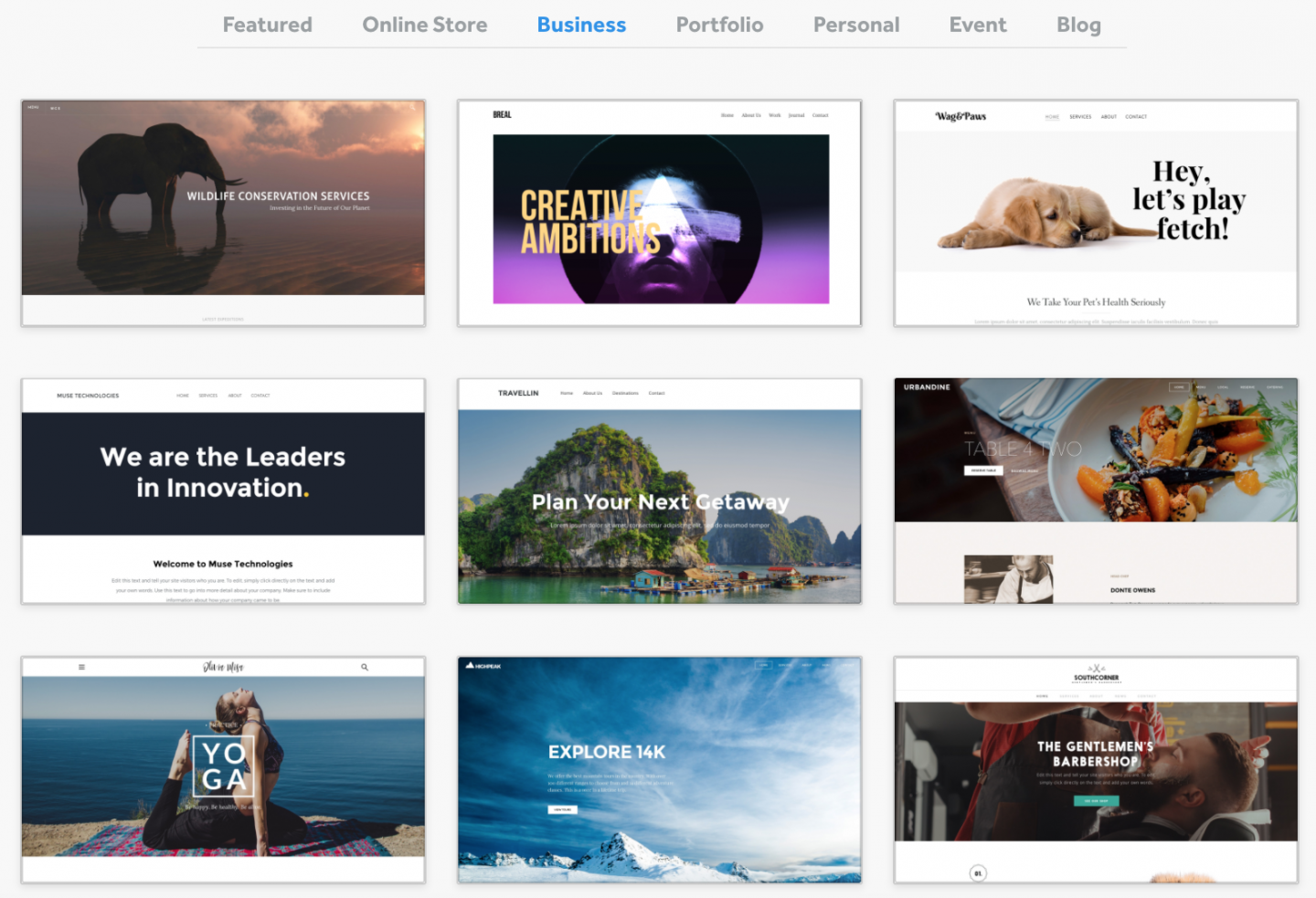 Weebly soundly tops Wix when it comes to economical online sales. Every Weebly plan, including its free plan, supports online payments and e-commerce stores. This is because Weebly is owned by Square, which is a top-rated small-business payment processor. Weebly is Square's built-in website and e-commerce solution. If you use Square for payment processing, you can run a Weebly website and online store for free.
Weebly does have paid website plans too, which offer expanded sales and marketing features. The $26 monthly plan also lets you use either Stripe or PayPal for payments alongside or in place of Square.
However, the Square plus Weebly pairing gives you a full suite of business management tools for free, including inventory, mobile payments, complete retail point-of-sale (POS) systems, bookings and much more. The combination delivers real value for startups and growing businesses.
WordPress operates very differently than Wix and Weebly. It's not an all-in-one package like the other two. Instead, it's a free, open-source platform made up of many parts, including website hosting, design themes, page builders and functional plugins. Since you must assemble and maintain these "parts" yourself, WordPress has a far greater learning curve compared to the all-in-one simplicity of Wix and Weebly.
However, WordPress also delivers near-infinite flexibility compared to Wix and Weebly, which are limited to their supported features and app universe. With WordPress, you can, quite literally, build any type of website that you can dream up.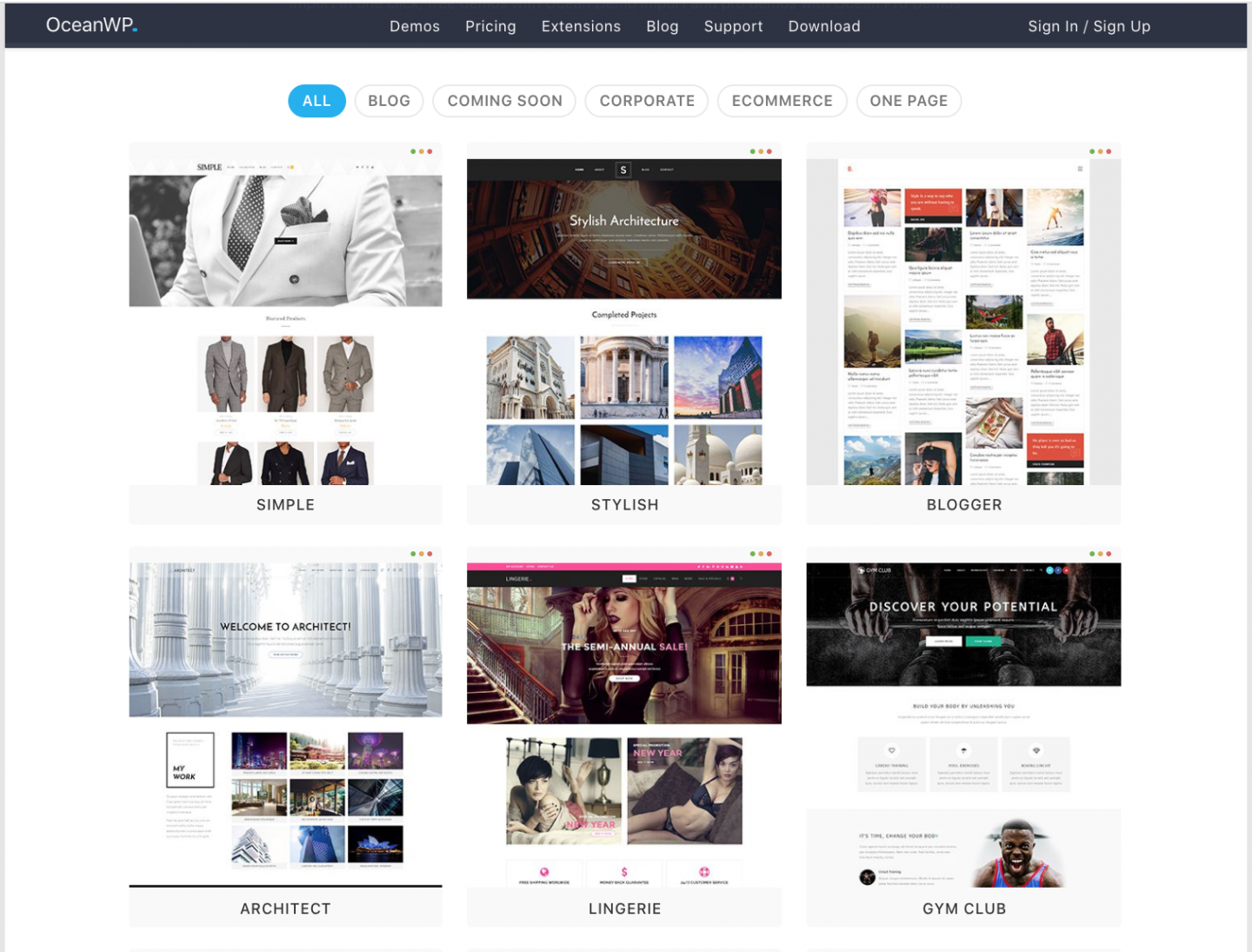 From e-commerce stores and online multi-seller marketplaces to worldwide news hubs, e-learning academies, affiliate powerhouses and video portals, WordPress can do it all — it just takes more setup work and ongoing upkeep to get there.
All-in-one Wix and Weebly website builders occupy a different category than multifaceted WordPress, but all three platforms still deliver terrific business websites. Let's dive deeper.
Wix, Weebly and WordPress all have a free option as well as paid plans, so even a shoestring startup has a choice. Wix and Weebly offer free plan levels, and the free hosting plan on WordPress.com lets you launch a WordPress site with no monthly fees.
Wix and Weebly paid plans provide added storage, sales tools and marketing features on top of the design tools, security and backups common to all plans. Likewise, paid WordPress hosting plans deliver added bandwidth, storage and website management features on top of the basic features of free plans.
Wix has eight paid plans, and these are split between general and e-commerce-type websites. If you simply need a marketing website or blog and don't plan on accepting online payments, you can use Wix Website plans that range from $13 to $39 per month, shown below.

To accept online payments for any type of sale — services, memberships, downloadable items or goods that ship — you'll need a Business and E-commerce plan, shown below. These range from $23 to $500 per month.

Weebly offers just four plans and all, including the free plan, support online sales including e-commerce sales, online bookings, virtual goods, service payments and more. You must use Square to process payments with the Free through Professional plans, but the $26 per month Performance plan lets you add PayPal and Stripe for payment processing.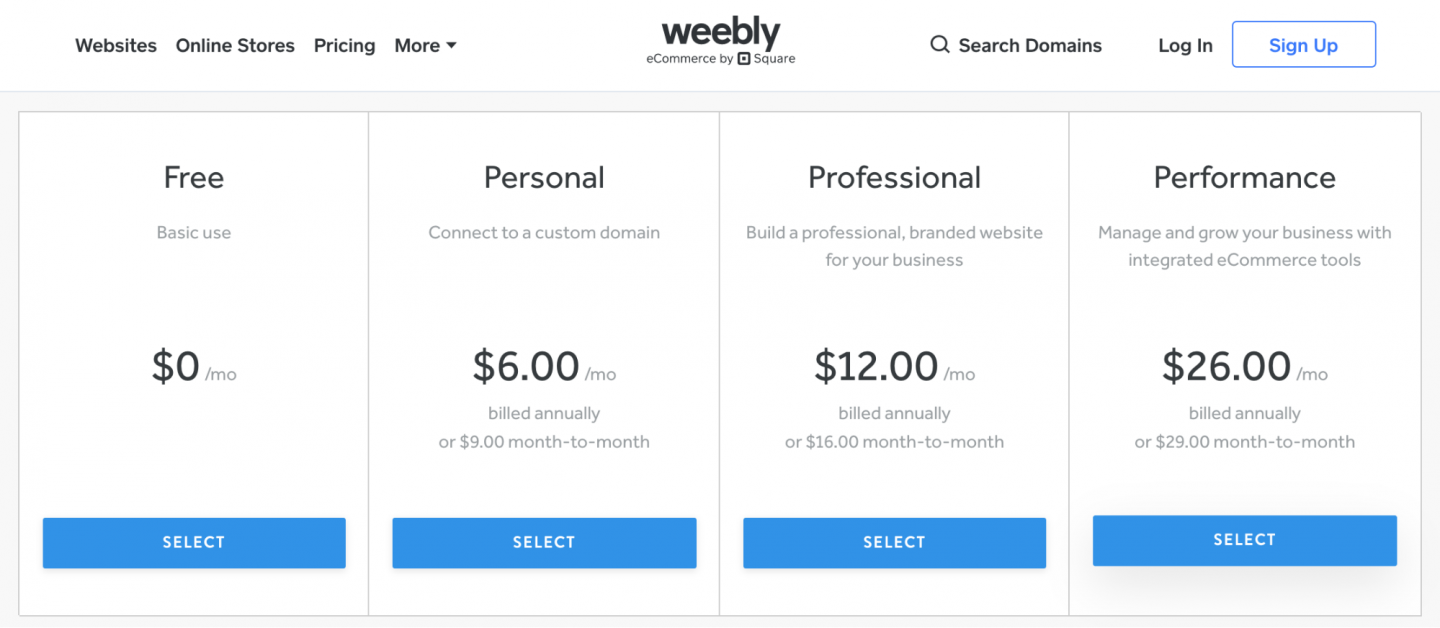 The cost of running a WordPress website can vary greatly. Hosting, which is where your WordPress website "lives" online, is generally very economical for most small-business needs. The free plan on WordPress.com is fine for basic blogging, but the $6.95 per month e-commerce plan on Bluehost, shown below, delivers everything that e-commerce startups and solopreneurs need.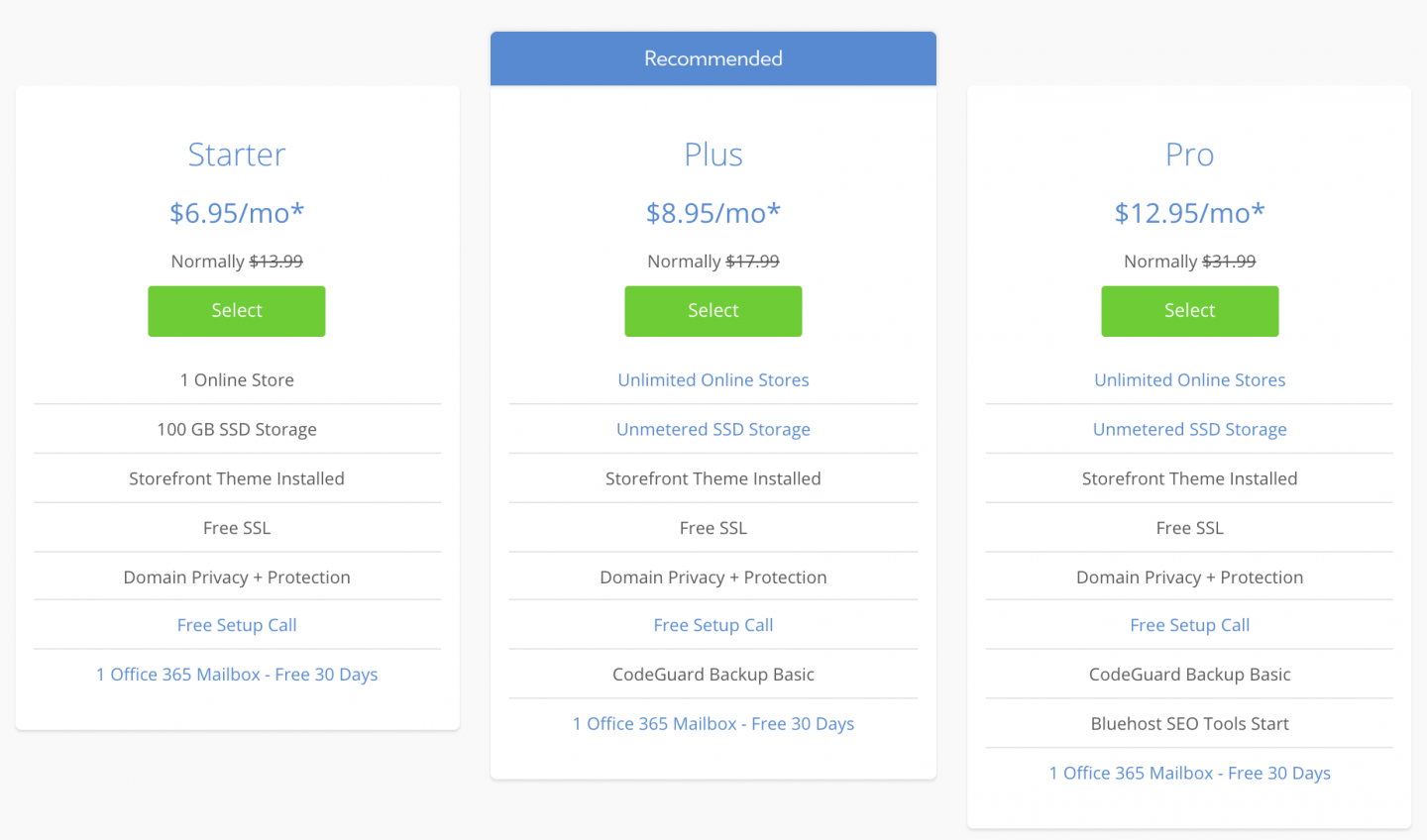 Hosting is just one of many potential costs in the WordPress universe. You'll also need a theme and various plugins to drive the overall look and functionality of your WordPress website. You can find plenty of free WordPress themes and plugins — even the power-packed WooCommerce e-commerce plugin is free. However, you might need paid plugins for specific features, like subscription sales, online bookings or advanced design tools.
Simply put, Wix and Weebly have set plan-based costs and features. WordPress has more moving parts and therefore more potential cost variations depending on your specific needs.
Ease of use and design features
If you're new to building websites, both Wix and Weebly soundly beat WordPress when it comes to ease of use. However, once you learn the WordPress platform, you can more easily expand WordPress into a powerhouse website, like an e-commerce superstore or nationwide news portal. Ease of use really depends on your comfort level with online dashboards and design tools, your overall goals and how much you're willing to learn.
Launching a new and highly customized Wix website is easy. Simply select your website template from over 500 modern, business-specific options, add your information, connect your domain name and presto! Your website is live.
Wix also gives you a stellar drag-and-drop design tool that gives it a design edge over Weebly. Starting with a ready template or a blank slate, you can create any look you want with drag-and-drop images and content. Or, let Wix's ADI wizard build you a custom website based on your answers to a few questions.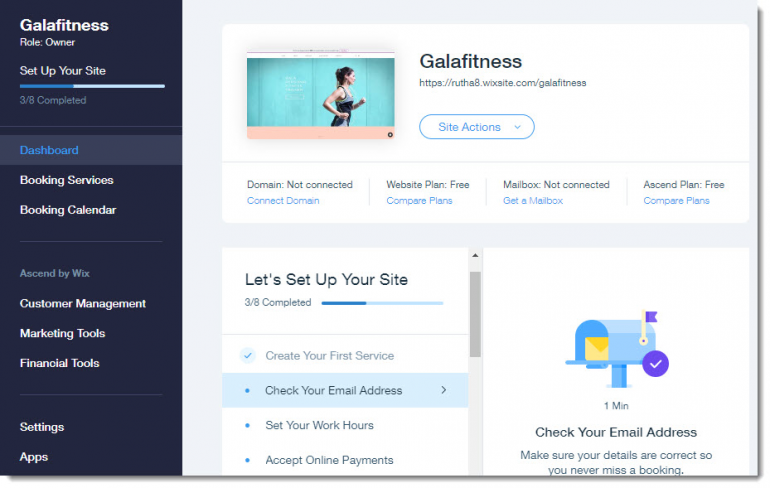 Wix's backend dashboard, shown above, is clean and intuitive, with ready access to your design, marketing and management tools as well as the Wix apps marketplace. Plus, you can easily upgrade your Wix plan — say to add an online store — without completely reworking or changing your existing website.
There is one drawback to Wix's stellar design offering. You can't easily swap your Wix website over to another template if you want to change your look. Changing to another template essentially requires a complete rebuild. So, take your time when choosing your Wix template, you'll live with it for a long time.
In contrast, both Weebly and WordPress allow you to change themes to update your overall look far more easily.
In terms of quick-and-easy website setup, Weebly doesn't have all of Wix's drag-and-drop design freedom. However, Weebly's ease-of-use does edge past Wix in a few notable areas. Weebly supports complex websites with tiered sub-categories, as shown in the menu below. WordPress supports this as well. In contrast, Wix only supports two menu tiers, for category and sub-category, so you can't build menus more than two tiers deep.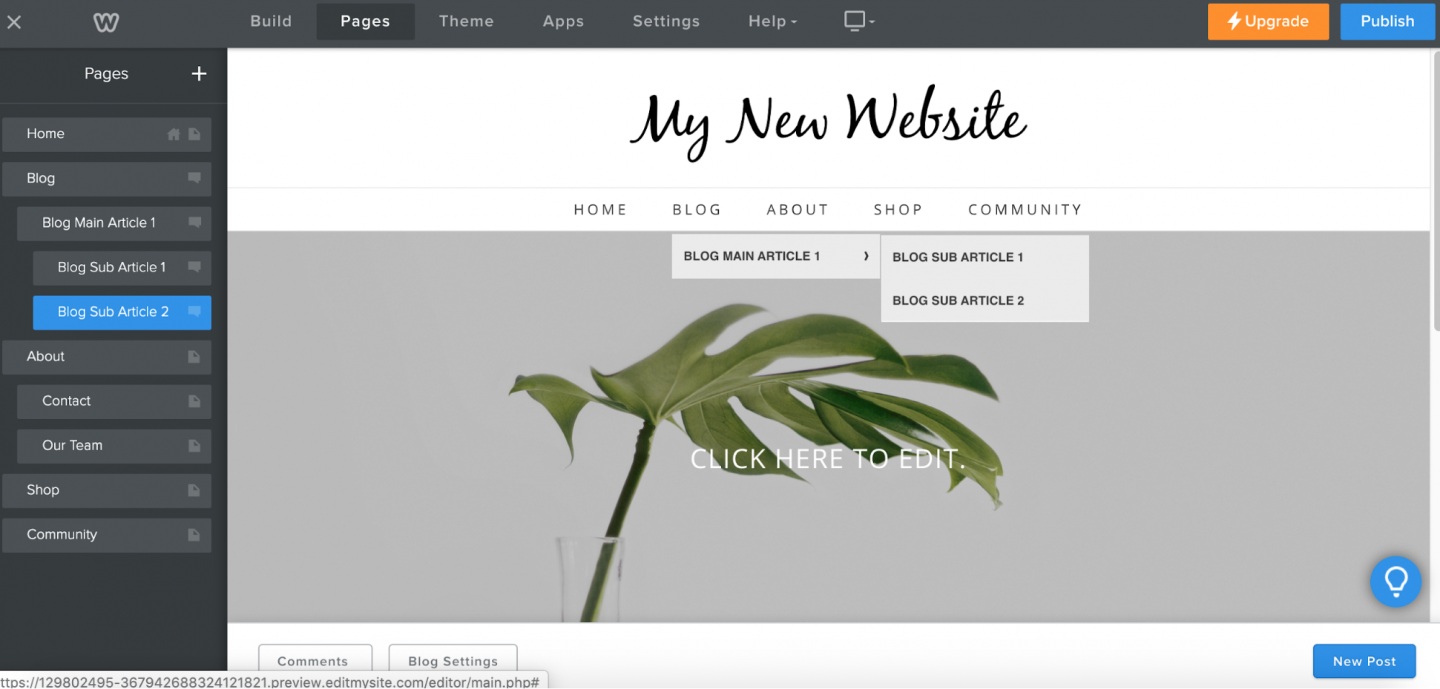 Weebly's built-in integration with Square also beats out both Wix and WordPress in terms of ease-of-use for sales management. Pairing Weebly and Square lets you track your online sales and your in-person mobile or retail store sales within one streamlined system. This can save you a ton of time on bookkeeping and inventory tasks if you sell products.
In contrast, Wix doesn't offer any ready integration to any POS system. If you want to sell in-person or in-store as well as online, you'll have to track it all manually. Many WordPress e-commerce plugins can connect to various POS systems, but it takes work to set this up and transfer needed data.
WordPress is not a simple platform for those new to building websites. You need to set up hosting, then select, install and set up a theme, then add various plugins to make your website work. Once that's completed, you can start to build your WordPress website.
Most WordPress hosting providers walk you through a basic website setup, as shown on Bluehost's intro screen, below. However, the platform doesn't deliver the near-instant website that you get with Wix or Weebly.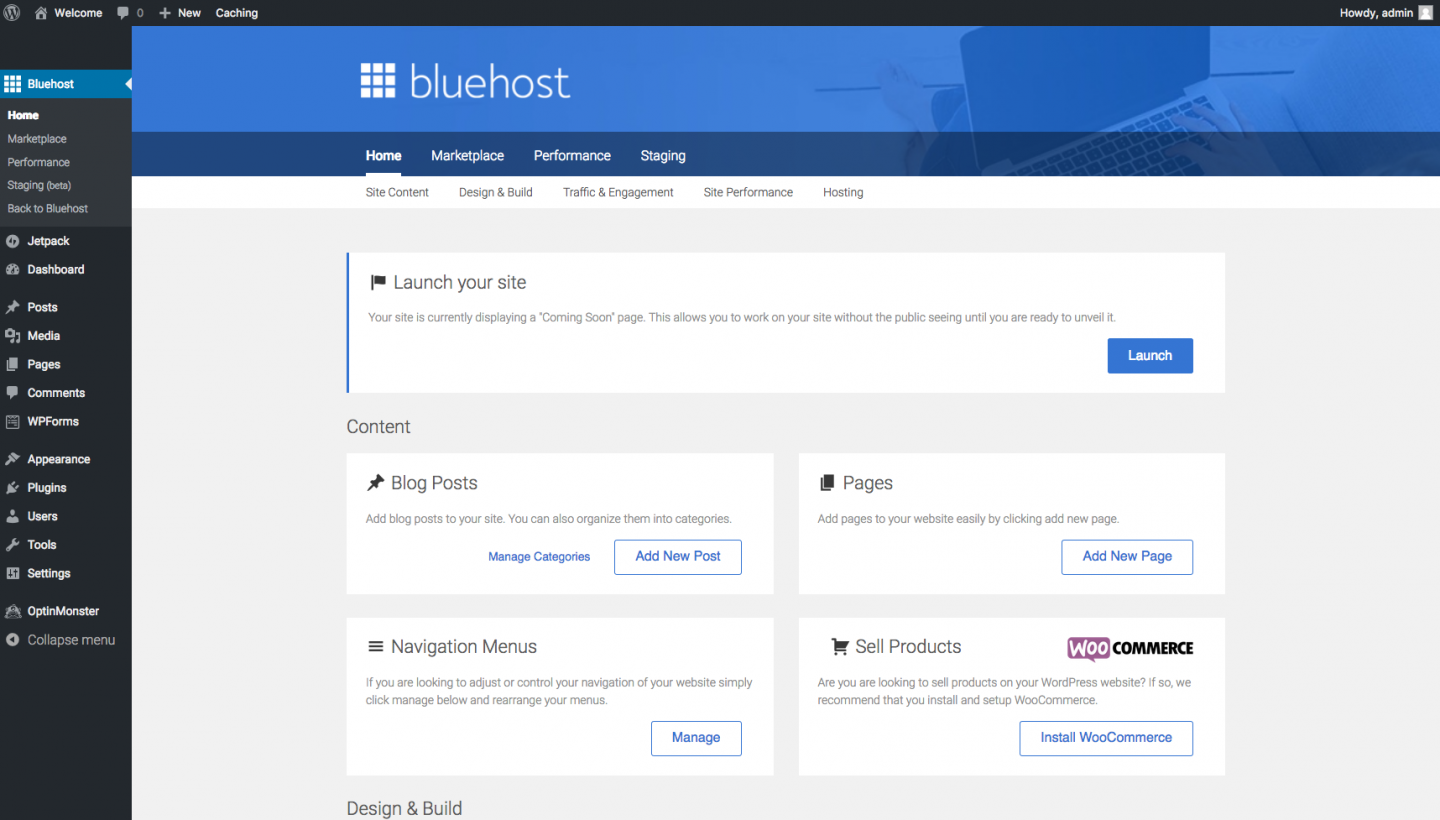 In terms of custom design features, WordPress websites offer a ton of flexibility, even without coding. Once you learn the platform, theme and plugins basics, custom looks are easy to build with drag-and-drop design tools like Elementor, Divi and Beaver Builder.
Once you've mastered the basics, WordPress is very easy to expand and there are tens of thousands of plugins that let you add all types of functionality. You can do much more with WordPress in terms of mega-stores, e-learning portals, monetized blogging and content marketing than you can on Wix and Weebly.
However, with WordPress, you're also on the hook for ongoing website maintenance, including theme and plugin updates and compatibility issues. The all-in-one Wix and Weebly platforms take care of these issues — and potential headaches — for you.
Wix and Weebly both offer customer support that covers their full platforms, design tools and apps. Weebly wins this round with phone, email and chat support on all plans while Wix offers a callback service for all accounts as well as support tickets. Both also deliver full-featured help centers and plenty of online tutorials.
WordPress doesn't offer "holistic" customer support that covers every aspect of the platform. For the most part, you'll learn WordPress through various online tutorials and videos published by WordPress hosting providers and other WordPress "gurus."
For product or service-based WordPress support, hosting providers support their hosting service and generally offer helpful WordPress tutorials for setup and general site management. Likewise, WordPress theme and plugin developers support their products and offer tutorials and how-to guides as well.
From virtual sales of online lessons to online payments for in-person services or goods that ship, Wix, Weebly and WordPress make it easy to get paid online. Of the three, Wix is the most expensive e-commerce solution since it requires a paid plan, while Weebly and WordPress are free — or nearly so.
You need a Business and E-commerce plan to accept online payments on a Wix website. These plans start at $23 per month. Once enabled, you can use the built-in Wix Payments option or select Square, Stripe or PayPal, which are competitive in terms of fees, or use another supported payment gateway.
Weebly's integration with Square makes it the most economical and flexible solution if you want to sell online as well as in-person via mobile sales or a retail location. Unlike Wix, you can accept online payments on any Weebly plan — including the free version — as long as you use Square for payment processing.
If you want to use another payment processor or add PayPal as an option, you'll need Weebly's $26 per month Performance plan. However, even on this plan, your only payment options are Square, PayPal and Stripe. Weebly doesn't support other payment gateways, like Authorize.net or Braintree, so there's no way to connect your own merchant services provider to Weebly.
WordPress offers a huge range of online payment options and all are powered by e-commerce or shopping cart plugins. Some, like PayPal Checkout and Stripe are single-processor solutions that you can add to any WordPress page, blog post or form. Others, like the WooCommerce e-commerce plugin, support multiple payment processors and gateways.
Wix, Weebly and WordPress support all types of online businesses and e-commerce sales. On Wix and Weebly, these features are built-in, while WordPress requires some type of cart plugin to add payment, product and sales management features.
Once you're on Wix's Business and E-commerce plan, you can tap into some powerful online store-building tools. You can add products with variations, like size and color, and even sell digital items via download, like photos and e-books. You can also create categories to organize your collection online.
For physical goods, you can track inventory in your Wix store and print shipping labels using the built-in Wix Shipping for USPS. Or, connect Shippo, ShipStation or another shipping service for multi-carrier shipping labels like UPS and FedEx. For other types of online businesses, you can use Wix apps to enable specialized sales for event tickets, prepaid bookings and members-only access.
For all of Wix's e-commerce power, it's not a great choice for a seller who wants to combine online and in-person sales or sell on Amazon, eBay and other online marketplaces. POS and multichannel integrations just aren't available on Wix — yet.
Weebly tops Wix's e-commerce features in a few ways. Most notably, it cleanly integrates with Square POS for streamlined online, mobile and retail store sales. If you're looking for a sell-anywhere solution, the Weebly plus Square combo is hard to beat. Weebly, through Square, also offers more robust inventory tools than Wix, plus you can create deeper menu structures to organize large collections in your online store.
Like Wix, Weebly still falls short in terms of multichannel sales support for platforms like Amazon, eBay and Etsy. For that, you need a dedicated multichannel e-commerce solution like Shopify or BigCommerce — or WordPress.
E-commerce features on WordPress are powered by the e-commerce plugin that you choose. The free WooCommerce e-commerce plugin is by far the most popular solution. In fact, the WordPress plus WooCommerce pairing drives more than half of online stores worldwide.
This combination works great for physical and digital product sales, plus it supports all kinds of specialty websites using paid WooCommerce extensions. This lets you power e-learning portals, membership sites, service sales and bookings and multichannel sales across Amazon, eBay and other online marketplaces — all on WordPress.
WooCommerce is one of many e-commerce plugins available in the WordPress universe. While it's the most popular solution, another e-commerce plugin might suit your needs even better. If WordPress seems like the right solution for your business, be sure to explore all of your e-commerce plugin options.
In the Wix vs. Weebly vs. WordPress matchup, WordPress is the clear winner in terms of blogging features. All three platforms support blogging and provide tools for tagging, categorizing and displaying posts in myriad ways. Each platform also supports various post types, including video posts, image gallery posts and audio files for podcasts.
However, WordPress is the only one that gives you total control over your blog content and lets you manage unlimited contributors. That's why WordPress powers some of the world's mega-sites — including major news outlets, entertainment websites and media powerhouses. In fact, Wired, The New York Times, Time.com, The New Yorker, BBC America, TechCrunch and many more online giants run on the blog-based WordPress platform.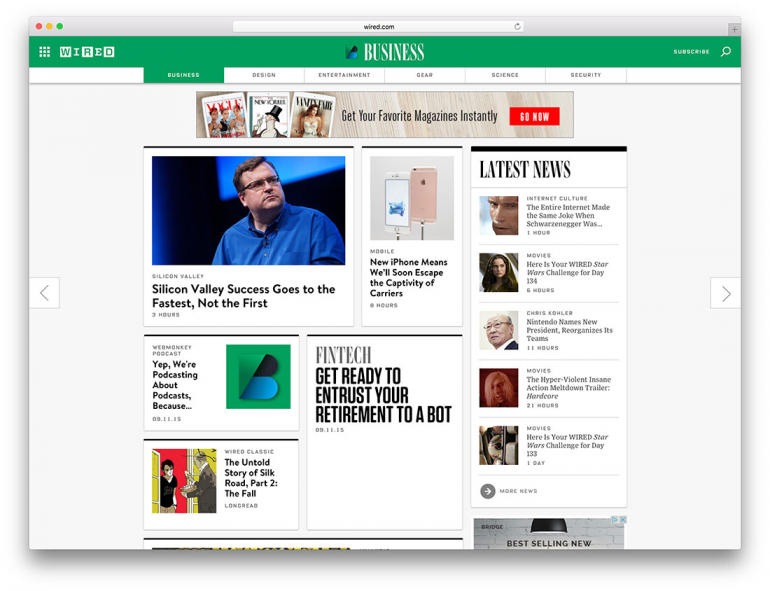 If you're planning to launch a blog-based content website to earn income from affiliate links. Or, if your goal is to create any type of content and media-rich blog-style website, WordPress is worth serious consideration.
A version of this article was first published on Fundera, a subsidiary of NerdWallet.