H&R Block Tax Review 2023
H&R Block's e-filing products are intuitive and easy to use, and the free version offers filers a robust selection of forms.
Many or all of the products featured here are from our partners who compensate us. This influences which products we write about and where and how the product appears on a page. However, this does not influence our evaluations. Our opinions are our own. Here is a list of our partners and here's how we make money.
H&R Block's e-filing products are intuitive and easy to use, and the free version offers filers a robust selection of forms. Although it's not the most expensive of the tax software providers we reviewed, H&R Block's online tax software isn't the cheapest either.
Still, its free version is one of the best on the market, the interface is straightforward and easy to use, and on-screen help from a human is available for an extra cost.
Allows you to file a 1040 plus schedules 1, 2 and 3, which makes it usable by a lot more people than most other free software packages.

Basic Online Assist  $70 + $40 per state.

Free version, plus access to a tax pro for help and advice. No final review.

Deluxe $55 + $49 per state. (Online Assist: $115, $50)

Itemize and claim several tax deductions and credits. Works well for business income but no expenses.

Premium $75 + $49 per state. (Online Assist: $165, $50)

For investors or rental property owners (Schedules D and E, and K-1s).

Self-Employed $115 + $49 per state. (Online Assist: $195, $50)

For small-business owners, freelancers and independent contractors.
---
One note about prices: Providers frequently change them and may offer discounted services and packages toward the beginning of the tax-filing season. These markdowns tend to get replaced with surge pricing the closer we get to April. We base our reviews on the list prices and not the discounts to reflect this. You can verify the latest price by clicking through to H&R Block's site. H&R Block also offers desktop software, where your return doesn't reside in the cloud, but it's not part of our review.
---
One of H&R Block's biggest pluses is its free version, which is better than most.
What you get from H&R Block's free version
Like the free tax software from most of its competitors, H&R Block Free lets you file Form 1040, take the earned income tax credit, and claim your additional child tax credit. It can also handle unemployment income.
H&R Block's free version also lets you file schedules 1, 2 and 3 of Form 1040, which is a big bonus, because many taxpayers need to file those forms to report things such as deductible student loan interest, certain retirement contributions, alimony, and the lifetime learning credit. The caveat here is that you may need to upgrade if the specific form you need to finish your schedule isn't included.
While H&R Block's free version has expanded capabilities, if you plan to itemize deductions, were a landlord, freelanced, sold cryptocurrency, contributed to an HSA, ran a small business or had any other situations going on, you'll probably need to upgrade to one of H&R Block's paid packages.
H&R Block's online filing software follows the popular model of a friendly chat with a tax pro. If you're a new user, you'll be asked to select a series of prompts that applied to your tax situation in the last year, such as if you have kids, own a home, had a health savings account, or donated to charity. Based on the information provided, H&R Block will match you with one of its many available packages. You can either agree with its suggestion, or choose a different product. If you're a returning user, your information is autopopulated from last year, making modifying or adding new details easier.
As with most other providers, your actual tax return — the form that gets submitted to the IRS — is filled out piecemeal and behind the scenes. The program runs you through a series of questions to determine eligibility for certain tax breaks or assess reporting requirements. Questions are posed simply, with helpful contextual information and links made available as needed. The program also allows you to automatically import or upload photos of select tax forms, such as your W-2, to save you time when adding your income and wages.
Note: If you find that you've accidentally started working with, say, the Premium version, and then realize the Deluxe might suit your needs, H&R Block does make it a little bit easier to downgrade to another package than other providers do. You can either work with the program's virtual chat assistant or call H&R Block's toll-free support line to downgrade with an agent but, as with other tax-prep providers, be aware that you'll need to start your return over once you've been downgraded.
H&R Block's interface is visually simple, straightforward and easy to use, and it steps up to explain concepts as you go. Skipping around to specific sections can be a little tricky, but a banner across the top keeps track of where you are in the filing process.
Embedded links provide more information without having to wander around, the help menu is visible from all pages, and you can click to access the chat support portal throughout. Notably, if you keep the "Help" sidebar open as you make your way through each section of your tax return, the sidebar will automatically refresh to show related advice on the topic. 
A shopping cart button up top tells you which package you're buying, whether you've also selected add-ons, and how much your total software bill is so far. It also keeps track of your total refund but doesn't give you too much insight into how that total is determined as you go. 
You can switch from another provider: H&R Block can import last year's return from an H&R Block or TurboTax data file, or from a PDF of your tax return from any provider.
Auto-import certain tax documents: You can import your W-2 from your employer (via PDF or direct import if your payroll provider is partnered with H&R Block), which lets you avoid time spent keying in numbers from little boxes. You also have the choice to upload a photo of it. You can also import many kinds of 1099s, and the Self-Employed version also lets you import your 1099-K or 1099-MISC directly from Uber if you have a driver's account.
Donation calculator: The Deluxe, Premium and Self-Employed packages also integrate DeductionPro, which helps calculate the deduction value of donated clothes, household items and other objects.
Crypto support: H&R's recent integration with CoinTracker eliminates one of the biggest pain points for cryptocurrency investors — manual entry. Premium and Self-Employed users can now link their CoinTracker accounts to automatically import their crypto transactions.
Platform mobility: Because the software is online, you can log in from other devices if you choose to work on your return here and there. There is also a mobile app available.
---
H&R Block's human tax help
Two notable human help support offerings from H&R Block are Online Assist and Tax Pro Review.
Online Assist is an add-on service that you can tack onto any of H&R Block's packages. It gets you unlimited, on-demand chat or video screen-sharing sessions with a certified public accountant, enrolled agent or other tax expert at any point while preparing your return. (You can see them; they see only your screen.) The tax pro will not review, sign or e-file your return for you, though.
H&R Block's Tax Pro Review is another add-on service that offers a one-on-one review of your completed return with a human tax pro who will go over your documents and check for accuracy and possible missed deductions or credits. If you want, the tax pro will also sign and e-file your return for you. The review usually happens within three days. H&R Block says the add-on generally runs from $25 to $50, but the cost will vary depending on the package type (i.e., the more expensive the package, the pricier the add-on). H&R Block also offers full-service virtual help, where a pro completes your entire return. That service starts at a list price of $80.
What sets H&R Block's human help support features apart from other providers we review is its enormous band of human tax preparers at the company's 10,000 or so offices around the world. Help at brick-and-mortar stores isn't free, of course (in-office appointments start at $80), but it helps to know you can go there if you get confused or stuck.
Not all of H&R Block's tax pros are CPAs or enrolled agents, but the company says they undergo over 60 hours of training and complete an additional 30-plus hours of annual training to get ready for tax season.
H&R Block's support options
Here's a look at the various ways you can find answers and get guidance when filing your return with H&R Block.
General guidance: Searchable knowledge base and website, including video tutorials, calculators, news, articles and guides.

Tech support: Free chat or phone tech support across all packages; virtual assistance chat feature provides basic tax and tech support to help with simple questions. H&R Block also has an online support page.
Getting audited is scary, so it's important to know what kind of support you're getting from your tax software. First, be sure you know the difference between "support" and "defense." With most providers, audit support (or "assistance") typically means guidance about what to expect and how to prepare — that's it. Audit defense, on the other hand, gets you full representation before the IRS from a tax professional.
H&R Block offers free audit support, but you also can buy a product called Worry-Free Audit Support. This includes IRS notice correspondence management and help, audit preparation and in-person audit representation from an enrolled agent; it costs $19.99.
You could also add Tax Identity Shield for $19.99, which provides personal assistance if it turns out criminals used your personal information to file a fake tax return.
If you're getting a tax refund
No matter how you file, you can choose to receive your refund in several ways:
Direct deposit to a bank account.

Loaded onto an Amazon gift card (2.5% bonus) for H&R Block desktop product purchases through Amazon only.

Direct the IRS to buy U.S. Savings Bonds with your refund.
You have the option of paying for the software out of your refund, but there's a $39 charge to do so.
---
Federal: $50.95 to $94.95. Free version available for simple tax returns only.

Xpert Assist add-on provides access to tax pro and final review.

Promotion: NerdWallet users get 25% off federal and state filing costs.

Federal: $55 to $115. Free version available for simple tax returns only.

State: $0 to $49 per state.

Online Assist add-on gets you on-demand tax help.

Federal: $69 to $129. Free version available for simple returns only; not all taxpayers qualify.

State: $0 to $59 per state.

Live Assisted gets you access to a tax pro and a final review.

Promotion: NerdWallet users can save up to $15 on TurboTax.

Federal: $34.95 to $64.95 Free version available for simple tax returns only.

State: $0 to $39.95 per state.

On-demand tax help at Premium and Self-Employed tiers.

Promotion: NerdWallet users get 30% off federal filing costs. Use code NERD30.
---
H&R Block offers several filing options and is a solid competitor against TurboTax. If you want to file your taxes online, but would feel better knowing you can run to a human at a desk in a brick-and-mortar office if you get stuck, H&R Block stands alone.
NerdWallet's comprehensive review process evaluates and ranks the largest online tax software providers. Our aim is to provide an independent assessment of available software to help arm you with information to make sound, informed judgements on which ones will best meet your needs. We adhere to strict guidelines for editorial integrity.
We collect data directly from providers, do first-hand testing and observe provider demonstrations. Our process starts by sending detailed questions to providers. The questions are structured to equally elicit both favorable and unfavorable responses. They are not designed or prepared to produce any predetermined results. The provider's answers, combined with our specialists' hands-on research, make up our proprietary assessment process that scores each provider's performance.
The final output produces star ratings from poor (1 star) to excellent (5 stars). Ratings are rounded to the nearest half-star. For more details about the categories considered when rating tax software and our process, read our full methodology.
See all your savings, credit cards, and investments together in one place.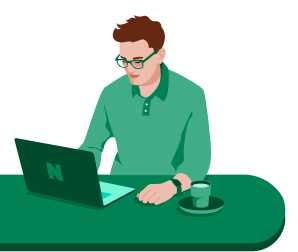 Get more smart money moves – straight to your inbox
Sign up and we'll send you Nerdy articles about the money topics that matter most to you along with other ways to help you get more from your money.