Can You Negotiate on Airbnb?
A polite approach and knowing when to negotiate could get you a lower rate on your next stay.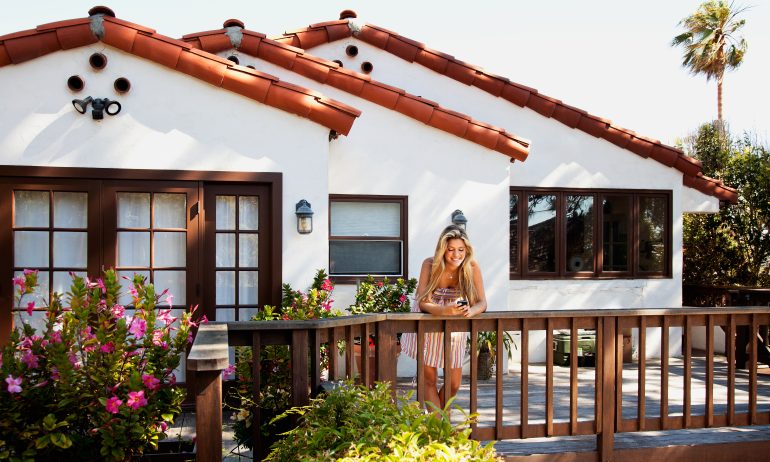 Many or all of the products featured here are from our partners who compensate us. This influences which products we write about and where and how the product appears on a page. However, this does not influence our evaluations. Our opinions are our own. Here is a list of our partners and here's how we make money.
With a whopping 6 million listings across 100,000 cities and towns, chances are there's an Airbnb listing where you want to go. And depending on your destination, you might be able to book anything from a shared room to an actual castle.
In addition to booking unique properties, Airbnb can be a great option for travelers on a budget. Even if there's a listing in your budget, you might be able to score a better price on your next Airbnb by contacting the host and asking for a lower rate. That's right, you can negotiate with Airbnb.
Here's everything you need to know about how to negotiate an Airbnb price — and some potential pitfalls.
Can you negotiate on Airbnb?
The short answer is yes, you can negotiate your Airbnb stay. To do so, simply contact a host to ask for a discount or propose a lower price. Then the host has an opportunity to provide a special offer that's only available to your account. If the new price works, you can accept the reduced rate to book the stay at a cheaper rate.
However, just because you can negotiate on Airbnb doesn't mean that you should always try to do so. As we will cover below, trying to negotiate your Airbnb price can have drawbacks that — worst case — can leave you without a place to stay.
When should you try to negotiate your Airbnb price?
Simply asking a host for a discount might work. However, to be successful in getting a discount, you'll want to have a decent reason for asking. Here are five times that it can make sense to negotiate your Airbnb stay.
Say you're looking at booking a stay this weekend. If there are lots of Airbnb listings still available in the area, hosts may be willing to give you a discount. After all, a host may be happy to get a reduced rate rather than having the listing sit unused.
Longer Airbnb stays are also a great opportunity for negotiating the price. For a host, a longer stay means less time spent dealing with check-ins and checkouts, fewer cleaning trips, and possibly fewer empty nights between stays. Because of this, many hosts will automatically discount longer stays.
If a listing doesn't provide a discount for longer stays — or the discount is too small — you can contact the host to propose a lower rate. You may also want to ask for a discount if you're just shy of qualifying for a discount. For example, if you're staying six nights, you can inquire to see if you can get the weekly discount.
Filling a gap between stays
Due to a proliferation of high cleaning fees, Airbnbs have become less attractive for one- or two-night stays. However, if your short stay would fill a short gap between a host's longer booked stays, you may be able to persuade an Airbnb host to reduce or waive the cleaning fees. Again, the host might be happy to collect some revenue for that night rather than having the property sit empty.
New listing with few reviews
Most Airbnb guests look at reviews to figure out which property would be best. A listing with few or no reviews can often be overlooked and sit empty. So, a new host — or a host with a new listing — may be happy to offer a reduced rate in exchange for a booking.
You also have the option of offering additional services — above and beyond what the host requires of guests — in exchange for a lower price. Perhaps that's offering to swap out the sheets and towels or even doing some of the cleaning yourself.
How to negotiate your Airbnb price
You can negotiate an Airbnb price through Airbnb's "special offers." These are specific offers that an Airbnb host can provide a potential guest — or possibly multiple guests at the same time — to incentivize them to book a stay.
To get the ball rolling, you'll first need to select the "Contact Host" button on the Airbnb listing to message the host through Airbnb's messaging service.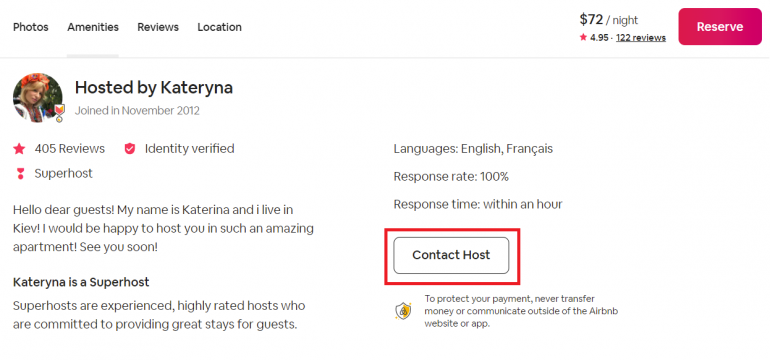 In your message, express interest in booking a stay at a specific listing, noting that you're seeking a discount. Again, it's best practice to provide a reason. Make sure to provide specific dates if you have them or general dates if your travel plans are flexible. Note that the host can counter with different dates or even a different listing instead.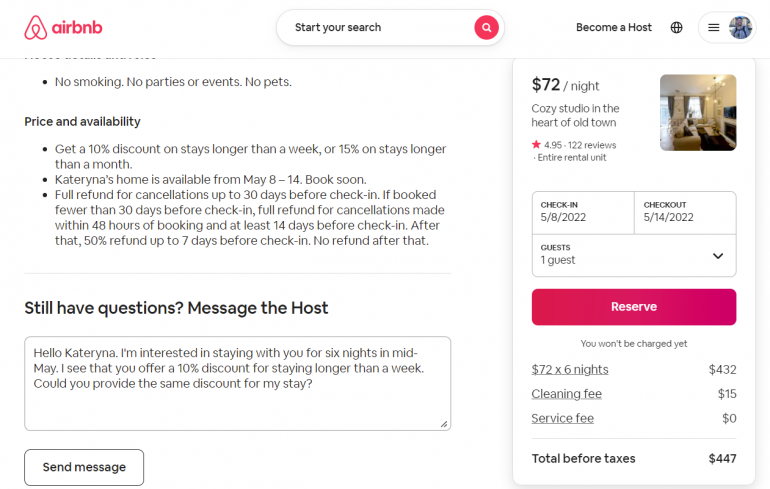 If you're messaging multiple hosts, personalize each request. Mention a specific aspect of their listing that you find attractive. Or possibly note that you could potentially begin your stay right after you see that another guest is departing. These personal touches show the host that you're engaging with them and will likely help your situation.
Once the host receives your request, the host can choose to provide you with a special offer. This offer is the subtotal of what the host will receive from your booking — with cleaning fees included. However, you'll still need to pay Airbnb's service fee, any taxes and security deposit.
What are the drawbacks of negotiating your Airbnb price?
If you're considering negotiating on your Airbnb stay, just keep in mind that there can be drawbacks.
Airbnb hosts have noted that negotiating is a "red flag" that will lead some hosts to cancel the request. That's especially the case if the host has already provided a discount as part of a weekly or monthly rate.
Also, haggling over prices is a lot more acceptable in some cultures than in others, so It's worth checking to see whether it's done in your destination. You can still try to negotiate your Airbnb price, but it may be fruitless and just lead to frustrated hosts.
It's worth noting that Airbnb hosts can go so far as to block you from booking a stay with them. That means it may not be wise to try to negotiate if you're set on staying at a particular property or if availability is tight.
If you're considering negotiating your Airbnb price
You can negotiate the rate for your next Airbnb stay. There are several reasons that you can give for requesting a cheaper rate, from a last-minute booking to an extended stay. Depending on the situation, a host may be happy to discount the price to avoid having a property sit empty.
Just remember to be respectful when requesting a discount. Make sure that your request is friendly and personalize it so it doesn't seem like you're fishing around to several hosts. Hosts have the option to block you from booking a stay with them. So, it may not be a good idea to try to haggle if your options are limited.
---
How to maximize your rewards
Get more smart money moves – straight to your inbox
Sign up and we'll send you Nerdy articles about the money topics that matter most to you along with other ways to help you get more from your money.