The Guide to United First Class
United First is available on short haul flights and doesn't provide the lie-flat product of United Polaris.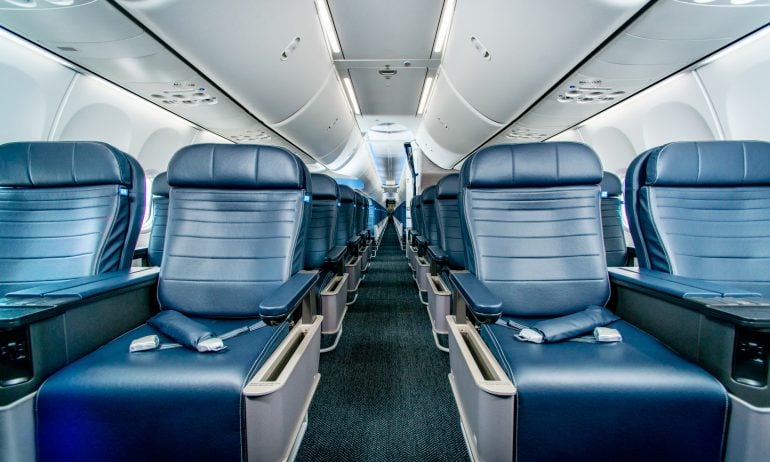 Many or all of the products featured here are from our partners who compensate us. This influences which products we write about and where and how the product appears on a page. However, this does not influence our evaluations. Our opinions are our own. Here is a list of our partners and here's how we make money.
Whether you're headed off for a short flight or a long-haul trip around the world, first class is virtually always the most comfortable part of the plane. With United, a first class ticket gives you perks from the check-in counter to baggage claim. However, you'll pay quite a bit more for the extensive list of privileges.
If you're interested in learning more about the costs and perks of United First, as it calls its first class experience, keep reading to learn more about how it all works and if it may be worthwhile for you.
Domestic United First class experience
United First is available on flights in the U.S. and Canada, including Alaska and Hawaii. It's important to note that United First is different from United Business and United Polaris. United Business class is available on flights between the U.S. and Latin America or the Caribbean, as well as some U.S. transcontinental flights.
However, for long-haul international flights, business class is the highest level of service. It's called United Polaris. This is a completely separate cabin, and there is no first class for long-haul international flights. United Polaris provides a luxury experience with lie-flat seats, Saks Fifth Avenue bedding, restaurant-quality dining and more.
Since United First is offered on shorter flights, you will not find lie-flat seats in this cabin. Instead, you'll get a large, recliner type seat. You also receive a free checked bag, bigger seat, priority boarding and security lines and complimentary alcoholic beverages.
It may seem counterintuitive that United's first class cabin is not its most superior product. However, the best way to think of it is in terms of seats. On domestic and short international flights, your seat is always a recliner, whether it's in economy (smaller seat) or first class (bigger seat). However, on long-distance international flights, you're receiving either a recliner seat (whether that's in economy or Premium Plus) or a seat that transforms into a bed (business class — United Polaris).
What to expect on United First class
The United First experience starts on the way to the check-in counter.
United Airlines Premier Access
Customers with this fare class get access to United's Premier Access lane at check-in counters and the priority line for security. If there are long lines, this can save you a lot of time and might even let you arrive at the airport a little closer to flight time.
When you land, you'll be among the first off the plane, which helps you get your bags and get on with your trip or get home as quickly as possible. From start to finish, United First is definitely a step up from other levels of service.
United First class baggage
In United First, you can bring up to two regular bags with no added fee. When you land, your bags will get priority handling and should be among the first to show up on the carousel. In contrast, Economy customers have to pay $30 extra to check a bag, and basic economy customers even have to pay extra to bring a carry-on.
Economy passengers can check a bag for free with an eligible United credit card like the United℠ Explorer Card.
When you arrive at the gate with a United First ticket, you'll get a Group 1 boarding position automatically. The only passengers that board before Group 1 are people allowed to preboard like customers with disabilities and active members of the military.
Although you're not boarding before this group, you're still boarding before the majority of the other passengers.
Once onboard, United First features a bigger seat with more room to stretch out, a power plug, and extra tray table space so you can eat, drink, and work or watch a show on your laptop at the same time.
United First seating also includes some level of entertainment service. DirecTV is complimentary in United First, but you'll still pay extra for Wi-Fi.
United First class food and drinks
One of the best parts of United First compared to economy is the food and beverage options. Those beers, wines and cocktails that cost money in coach are complimentary in first class. Many flights also include premium meal service without an extra charge.
Flights under an hour include basic snacks, while flights over an hour include refreshments. At two hours and 20 minutes or more, you'll get a full meal service, depending on the time of your flight. Longer flights have better meals and choices.
How to book United First class
You have a few ways to make it into a United First seat. Those range from paying a United First fare to landing an upgrade. Here are the most common ways to book United First:
Pay cash: United First tickets can be purchased when you book your flight. Naturally, First class fares typically cost quite more than economy.

Get an upgrade to United First: If you have an economy seat and want to move up, you may be able to use miles to upgrade to United First.
Rescheduling your United First class flight
If there's a chance you'll need to reschedule your flight, then booking with United in almost any class of service — whether United First or economy — provides some of the most flexible travel of any U.S. airline. That's because as of August 2020, United does not charge change fees for most premium cabin domestic tickets (as well as economy tickets).
That said, if your new flight costs less, you will not receive a refund of the fare difference, even though there's no change fee. For example, maybe you really want an earlier flight and your ticket was booked in United First. If a seat is available in economy but not United First, you can have the economy seat — but you'll have to eat the higher cost of the United First flight. Similarly, if your new flight is more expensive than the original flight you booked, you'll have to pay the additional cost.
Additionally, United will allow you to join the standby list for free starting Jan. 1, 2021, if you want to take an earlier United flight on the same day.
MileagePlus Premier members have even more flexibility. Rather than try to fly standby, MileagePlus Premier members can request a same-day change for no extra charge, as long as the new flight is within 24 hours of the originally scheduled flight with the same origin, destination and fare class. If you make a change to a more expensive flight class, you'll have to pay the difference.
Booking United First class with points and miles
If you're on the fence about trying out United First, consider using frequent flyer miles or credit card rewards to get you to the front of the plane. When you redeem rewards for flights, your out-of-pocket costs are very limited. It's a great way to give it a try without spending a lot more than economy.
If you're interested in business class for long-haul flights, you'll need to know the difference between United Business and Polaris.
The United co-branded credit cards may be worth considering if you want to earn MileagePlus miles that you can redeem for flights. In addition, credit cards that earn Chase Ultimate Rewards® points are helpful as well. Not only can you transfer points to United at a 1:1 ratio but you can also book United flights directly through the Chase Ultimate Rewards® portal.
Is United First class a good deal?
If you are loyal to United Airlines or just find it the most convenient airline for your travels, you may be wondering if United First is a good deal. Because the cost difference between economy and first class varies by flight, there is no right or wrong answer to this question.
For travelers who just care about getting from point A to point B in the cheapest and most efficient way possible, paying extra for United First probably doesn't make sense. But business travelers, people who prefer luxury and those who are looking to earn elite status may find the added cost well worth it.
In many cases, flying first class more than doubles the cost of a ticket. You have to consider your budget and travel preferences when deciding how much you're willing to pay, or if you're willing to put in more miles, for shorter lines, free drinks and a bigger seat.
Frequently asked questions
What does United Airlines first class include?
Do you get lounge access with United First Class?
What is the difference between United Business and First Class?
Does United Airlines serve food in first class?
From better food to bigger seats, United First entails extras that will make your flight a lot more comfortable. First class seats in United are typically far more expensive than their economy counterparts when paying cash fares. But if you're close to reaching United elite status or are mulling applying for a United credit card, then use the promise of a potential upgrade to United First as incentive to help make it happen.
Photo courtesy of United Airlines.
---
How to maximize your rewards
Get more smart money moves – straight to your inbox
Sign up and we'll send you Nerdy articles about the money topics that matter most to you along with other ways to help you get more from your money.