The Guide to Hawaiian's Cancellation Policy
Should your flight be canceled, Hawaiian will either get you on another flight or refund your fare.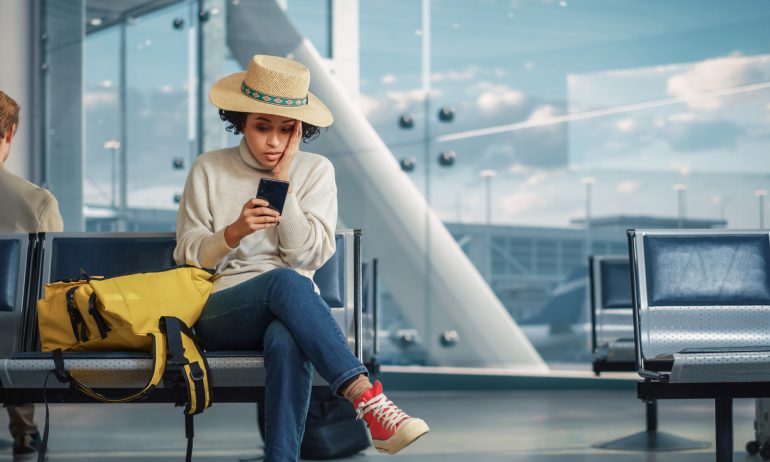 Many or all of the products featured here are from our partners who compensate us. This influences which products we write about and where and how the product appears on a page. However, this does not influence our evaluations. Our opinions are our own. Here is a list of our partners and here's how we make money.
---
You spent months meticulously planning your Hawaiian vacation. You even booked the best-ranked domestic airline, Hawaiian Airlines, which is also one of the most reliable.
Then, just when you think everything's a go, your Hawaiian flight is canceled. Maybe weather forced the airline to ground your flight, or it had a mechanical issue. Either way, it's a good idea to understand both Hawaiian Airlines' cancellation policy and Hawaiian Airlines' refund policy.
Here's everything you need to know.
Why does Hawaiian Airlines cancel flights?
When you pay for something, you expect to get it. But airlines can't always deliver, often due to reasons beyond their control. Here are some of the most common reasons flights are canceled.
Hawaii is famous for sunny beach days year-round and, unlike the Caribbean, it's not known for hurricanes. That said, storms in the Pacific can still wreak havoc in Hawaii, whether they make landfall as hurricanes or as tropical storms.
In 2018, for example, tropical storm Olivia forced Hawaiian Airlines to cancel some commuter flights and created chaos for travelers throughout the islands. That's all to say that Hawaiian Airlines reserves the right to cancel flights due to storms or other dangerous weather conditions.
Volcanoes are a big draw to Hawaii, offering travelers surreal hikes across volcanic landscapes and, sometimes, a chance to see red-hot lava erupting from the earth. But these stunning Hawaiian landmarks also create a slight — but still real — risk of disrupting air travel.
Volcanic ash poses a direct threat to planes and airline safety. Vog, or volcanic smog, can affect visibility for pilots should the winds blow in the wrong direction at the wrong time.
Hawaii's airports aren't near any active volcanoes, so it's highly unlikely that lava could melt your plane's runway. But Pele, the Hawaiian goddess of fire and volcanoes, is famously unpredictable, so visitors should be prepared for the unexpected.
At 8:10 a.m. on Jan. 13, 2018, Hawaiian residents got an emergency alert that a ballistic missile was on course to strike the densely populated island of Oahu.
It took 38 excruciating minutes for panicked residents to get the follow-up text: There was no missile.
The emergency alert had been a mistake. And though the false alarm caused only some minor flight delays, the incident is an illustration of how unforeseen security events can upend travel plans and cause airlines to cancel flights.
Other reasons Hawaiian may cancel your flight
In the fine print of its policies, Hawaiian Airlines leaves a lot of leeway to cancel flights for many reasons.
Aircraft issues, government demands, labor shortages or any other event not reasonably foreseen by Hawaiian could cause your flight to be canceled.
Flyer rights after a Hawaiian Airlines flight cancellation
The federal government announced in May 2023 that it's writing new rules to require airlines to compensate passengers when flights are canceled or delayed for long periods of time. But until those rules are in place, your travel will fall under the current guidelines.
If Hawaiian Airlines cancels your flight, it will do one of these things:
Put you on another Hawaiian Airlines flight to your destination or next stopover point.

Put you on another airline's flight to your destination or next stopover point.

Cancel your ticket and refund your money. 
What to do if your Hawaiian flight gets canceled
When Hawaiian cancels your flight, you have two options: rebook your flight or request a refund.
How to rebook after a Hawaiian Airlines flight cancellation
If you have the Hawaiian Airlines app, you might consider rolling the dice and booking a new flight immediately in-app without consulting an agent.
If you're traveling with a companion who can assist in rebooking, you might try a few different angles simultaneously — one person looks at options in the app while another contacts customer service.
If the app doesn't give you any decent leads, contact the airline's reservations team so that they may assist you. You can use live chat, text, phone or email.
The Hawaiian Airlines customer service phone number is 1-800-367-5320, which is also the number for the reservations team. If you're a HawaiianMiles member, you might have better luck dialing the loyalty program's service center at 877-426-4537.
How refunds work with Hawaiian flight cancellations
Whether you'll get a refund — and how much — depends on if you can easily be rebooked, what type of seat you purchased and how far you are into your journey.
When Hawaiian puts you on another flight
No airline wants to give you back your money, and they don't want to share it with other airlines, either. So, naturally, Hawaiian will try to get you on another Hawaiian Airlines flight to your destination or the next stopover point on your itinerary. But they can only do so if there's space on an alternate flight.
The good news: Hawaiian won't stick you with an itinerary that requires multiple stops if you originally booked a direct flight.
So if your nonstop from Portland to Honolulu was canceled, you won't be rebooked on a trip from Portland to Honolulu by way of Seattle or Las Vegas — or both.
In fact, Hawaiian Airlines' rules state that any flight you are rebooked on must either depart or land within two hours of your originally scheduled flight. If they can't keep you within that two-hour window, you can accept whatever alternative flight they offer or choose to receive a refund.
If you were booked in Extra Comfort or first class
If you paid for an Extra Comfort or first class seat on a flight that gets canceled, Hawaiian will try to rebook you in a comparable seat. But because space may be limited so close to takeoff, you might be put in an economy class seat instead.
If that happens, Hawaiian will refund you according to how you initially paid for your seat.
If you paid for an upgrade on your canceled flight but got an economy seat on your new flight, the upgrade fee will be reimbursed to you.

If you paid for a first class seat and got downgraded, you'll be refunded the difference between the first class ticket you bought and the economy class seat they rebooked you in.
When you've already flown one leg of your trip
If Hawaiian cancels your flight and chooses to refund your money — or if you can't get on a flight within two hours of your original flight and you opt for a refund — you'll be reimbursed only for the unused portion of your trip.
So if you booked a round-trip ticket and flew to Hawaii, then the airline cancels your flight home, only that flight home can be refunded, not the Hawaii-bound flight you already took.
But if the first leg of your trip is canceled and you can't even get to Hawaii, you could be refunded for the whole trip.
What should you do if your Hawaiian Airlines flight gets canceled?
If Hawaiian Airlines cancels your flight, remember: You're just one of dozens or even hundreds of passengers they'll have to rebook. That's why queuing up quickly — either at the gate, through the app or on the phone — is crucial.
If you're at the airport, go immediately to the agent at the gate and ask to be rebooked.
If there's a line, log on to the app or website while you're standing in line to see if your itinerary has instructions on how to rebook your travel. That will reduce the risk that seats on replacement flights are all gone by the time you get to the front of the line.
If you're not at the airport, log in to the app or the website. Under "Manage Flights," select "My Trips" and be prepared to enter your booking number or HawaiianMiles login credentials.
Look for a notice that your upcoming flight has been canceled. Under that notice, you will see options for how to rebook.
You can also contact Hawaiian Airlines by:
Calling 1-800-367-5320, 24 hours a day.

Live chat on their website, hawaiianairlines.com.

Texting 38285 between 5 a.m. and 11 p.m. Hawaii time. 
Under the best circumstances, there's usually a wait to get a live agent on the phone, so consider that calling is potentially your slowest option.
If Hawaiian Airlines cancels your flight
Act fast, but don't panic. Hawaiian Airlines' cancellation policy includes a commitment to either get you on another flight or, if they can't, refund your money.
Check your online itinerary for rebooking instructions, then contact customer service in person, via live chat or by phone as soon as possible.
The Hawaiian Airlines' refund policy also reimburses you in case you paid for an Extra Comfort or a first class seat and one isn't available on your replacement flight.
---
How to maximize your rewards
Get more smart money moves – straight to your inbox
Sign up and we'll send you Nerdy articles about the money topics that matter most to you along with other ways to help you get more from your money.