At NerdWallet, we strive to help you make financial decisions with confidence. To do this, many or all of the products featured here are from our partners. However, this doesn't influence our evaluations. Our opinions are our own.
---
» This article is being updated.
---
Although American Airlines introduced premium economy seats on its planes in 2016, it's taken a long time to get access to those seats using AAdvantage miles. Premium economy awards on American flights only became available in January 2019.
In this article, we'll explain how you can book premium economy awards on American and its partners that offer them.
Premium economy is a class of service designed to fit in between economy and business class. Compared with economy seats, premium economy generally offers wider seats with more legroom and more recline, plus generally improved food and drink offerings. Some airlines also include amenity kits, extra free checked baggage, and priority access to check-in, security and boarding. Some carriers, like Japan Airlines, even include lounge access for premium economy passengers.
Which AAdvantage partner airlines have premium economy?
Premium economy is offered on American Airlines, British Airways, Cathay Pacific, Iberia, Japan Airlines and Qantas.
Be aware that when flying British Airways you'll also have to pay a significant fuel surcharge in addition to your miles. For example, for a trip from Los Angeles to London you'd have to pay $204 in fees and taxes for a British Airways flight, versus just $5.60 in taxes for American (though in this case, American is also charging significantly more miles).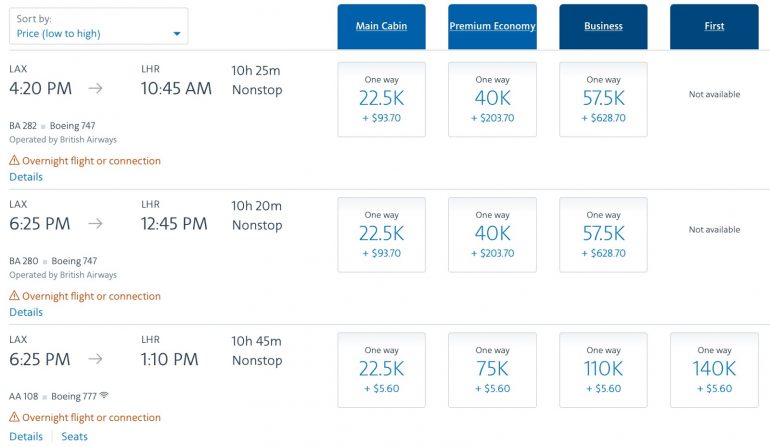 What routes have premium economy seats?
Premium economy seats are generally installed on wide-body planes designed for long-haul international flights. Look for these plane types when shopping for flights from the U.S. to Europe, South America, Asia and the South Pacific.
Sometimes you'll find those wide-body planes flying shorter domestic or regional routes. For example, American flies a Boeing 787-9 Dreamliner from Los Angeles to Dallas every day, and you may find other short routes that are operated by a Boeing 787 or an Airbus 350.
You typically won't see seats sold as premium economy on these short routes, since the flight isn't really long enough for you to get most of the benefits of booking the improved service.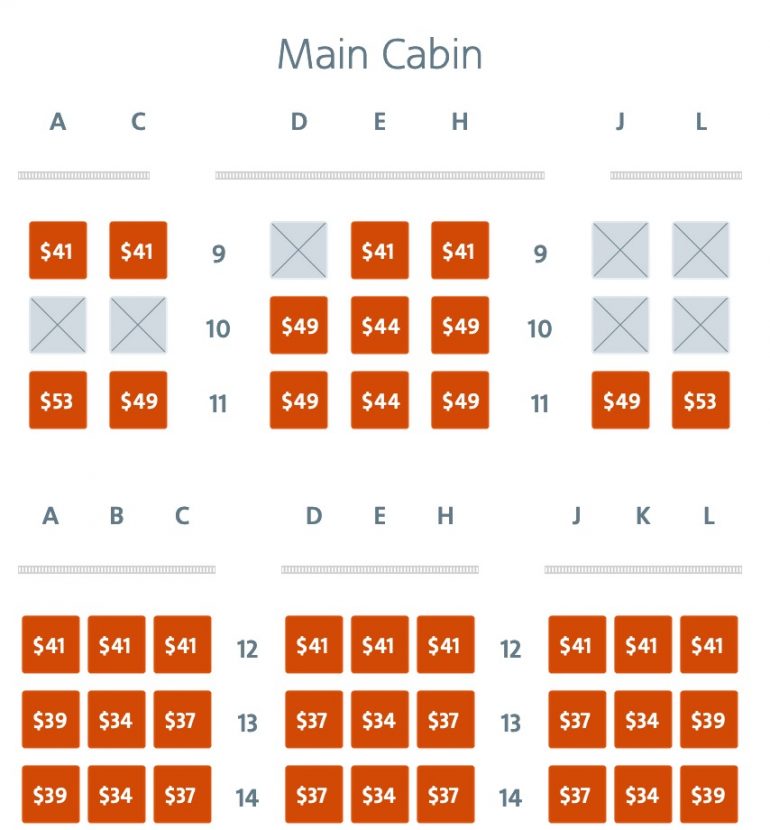 Rows 9 through 11 on this American 787-9 are premium economy seats, but on a domestic flight like Los Angeles to Dallas you'll see them sold as Main Cabin Extra seats.
How many miles does it cost?
American has three different levels of award pricing, depending on how much demand there is for a route. If you can find the cheapest MileSAAver award seats available, this is what you'll pay for premium economy tickets one-way:
25,000 miles from the contiguous U.S. to/from Alaska.

40,000 miles to/from Europe and South America.

50,000 miles to/from Hawaii and Asia.

65,000 miles to/from the South Pacific.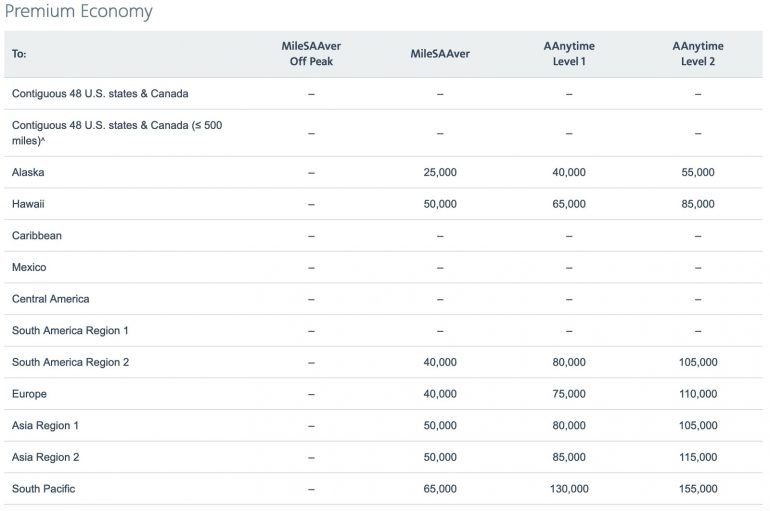 How does pricing compare to other airline programs?
American AAdvantage's pricing is roughly in line with other programs you might use to book premium economy on British Airways. To demonstrate this, let's look at two other mileage programs: British Airways Avios and Alaska Airlines Mileage Plan.
British Airways Executive Club
British Airways' award structure is much more complex than American's, but if you're traveling to London, there are many cases in which you would need fewer Avios than AAdvantage miles to book a premium economy flight. How many you'll need depends on two factors: How far you're flying and what dates you're traveling on.
If you're traveling on an off-peak date, flying from Los Angeles to London will cost 32,500 Avios in premium economy, while on a peak date you'd have to pay 50,000 Avios.
Shorter journeys cost less. New York to London requires 26,000 Avios off-peak and 40,000 Avios on peak dates. When booking with Avios, though, you have to pay for each flight segment separately — so if you're going somewhere else in Europe and/or don't live in a city with British Airways service, you'll have to pay more Avios for the connecting flights, which quickly eliminates the mileage savings.
Alaska Airlines Mileage Plan charges 42,500 miles for British Airways flights from the U.S. to Europe, making AAdvantage a better deal. Plus there are also a lot more options for earning AAdvantage miles from credit cards than Mileage Plan miles. But once American starts allowing premium economy awards on Cathay Pacific, the 50,000 miles AAdvantage charges for flights to Asia will be significantly more than Mileage Plan, which only requires 35,000 miles to fly in premium economy — and 50,000 miles would get you a business class seat.
Is premium economy a good deal?
There's often a fairly small difference between the number of miles required for a premium economy ticket and a business class ticket. In such cases, since business class on these routes often means a lie-flat seat and a seamlessly premium experience, it's almost always going to be worth the relatively small number of extra miles.
On the other hand, award tickets are subject to availability and there's bound to be flights where premium economy seats are available while business class is not — especially if you're traveling with a family and want several seats in the same cabin. So you'll have to decide what makes sense for you based on what flights are available and how many miles you have to spend.
How to Maximize Your Rewards