Port vs. Starboard: Which Side Is Better on a Cruise Ship?
Your view from the port vs. starboard side will vary depending on the sailing, so consider what you'd like to see.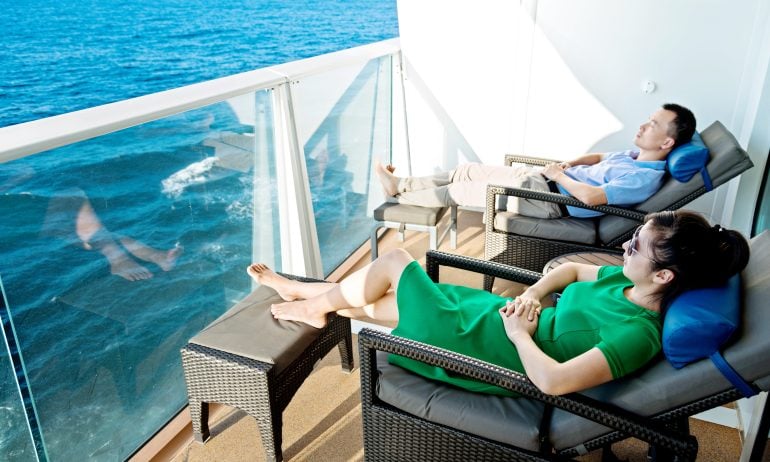 Many or all of the products featured here are from our partners who compensate us. This influences which products we write about and where and how the product appears on a page. However, this does not influence our evaluations. Our opinions are our own. Here is a list of our partners and here's how we make money.
Choosing your cabin on a cruise can present a dizzying array of choices. Interior, ocean view or balcony? Low or high cabin? Forward or aft? What service level do you want? And each option comes with its own price point.
One of these decisions is whether to book a stateroom on the port side versus starboard side of the cruise ship.
If you have an interior room, this won't matter much, but even in ocean-view rooms with only a window view, your choice can make a huge difference in your experience.
Here's how to understand what is port side versus starboard side of a cruise ship and decide which is the right cabin for you.
What is port vs. starboard side?
For avid cruisers, port and starboard may be as natural as saying "left" and "right."
But if port sounds like an after-dinner drink and starboard is what you feel after you've had too much port, here's a quick primer.
Port and starboard are terms for direction relative to the front of the ship. When facing the front of the ship, the port side is on your left and the starboard side is on the right.
The terms come from Old English and how boats were configured in the early days of boating. Port and starboard are on the same sides of the ship, regardless of your orientation. If you face the rear (aft) of the ship, port is on your right and starboard is on your left.
When does the choice matter?
Your choice of the starboard or the port side of a cruise ship may not matter if you select an interior room or have a lower stateroom with only a small window. Typically, your choice of ship side will start to matter if you opt for a higher room offering a balcony.
Some cruises offer an equal experience for those on the port side and travelers on the starboard side. If your cruise is a closed-loop or a round-trip beginning and ending at the same port, your cruise is likely to be equally scenic on the port or starboard side. You may just see different things at different parts of your journey.
The same is true if you are cruising across the open ocean. Your view of the ocean will be similar on both sides.
Ensuring spectacular coastal views
If it's majestic coastal scenery you are after, consider booking the side that will face the direction of the coast for the majority of your trip.
Some captains will turn the ship around in particularly scenic locations like Glacier Bay in Alaska or Napali Coast in Hawaii so that all passengers can enjoy some views. But if you are cruising along the coast, one side of the ship will likely offer better views.
Whether the starboard versus port side of your cruise ship is more desirable depends on the travel direction and route.
For example, cruising from Vancouver, B.C., to Whittier, Alaska, northbound, you might prefer a starboard side room to get majestic views of the Canadian and Alaskan coastlines. Southbound cruisers will want to opt for a port-side room for the same views.
You may also prefer the port versus the starboard side of your cruise ship based on where the sun is.
If soaking up every warm ray of sunshine is your priority, a room facing the equator on an east-west cruise will provide the best sunshine all day long. In the Northern Hemisphere, book the starboard side of an eastbound cruise and the port side of a westbound cruise.
On the other hand, if you are sensitive to the sun, or want to ensure that your cabin remains cool, consider booking on the side of the ship that is likely to face the nearest pole.
On an east-west cruise in the Northern Hemisphere, you will get the most protection from the sun if you book the port side of an eastbound cruise or the starboard side of a westbound cruise.
If you're cruising in the Southern Hemisphere, the north-facing rooms will enjoy the most sun, so take the recommendations above and swap the sides. Eastbound cruises get the most sun on the port side; westbound on the starboard side.
Watching a sunset over the ocean or seeing the sun slip behind distant islands can also be a reason for a side preference.
To catch sunsets, you'll want to be on the port side on northbound cruises and starboard on southbound cruises.
If seeing the sunset from your cruise is a priority, ensure that your dinner time doesn't conflict with the sunset. Cruise operators will often publish the sunrise and sunset times along your route. And dining in your stateroom is an option if you want to take advantage of the view.
Embarking and disembarking
Another consideration is the view you get when your ship is in port. But which side offers a better view is relatively unpredictable because cruise ships can dock on either side of the ship.
The direction a ship docks depends on port configuration, direction of travel, regulations and captain discretion. Even if you painstakingly research which ports you will visit, basing your cabin selection solely on this is unlikely to pay off with a great view.
The views from most ports aren't typically spectacular and you're probably going to spend most of the time in port on shore exploring. And at a larger busy port, any view is likely to be blocked by other cruise ships.
There is no one side of a cruise ship that is always "the best." Whether a cruise ship's port versus starboard side is better for you on a given itinerary will be a personal calculation based on preferences, route and what you want to see.
The best way to determine the best side to book is to examine the planned route, consider your preferences for scenery and sunshine, and book the side likely to give you the experience you value most.
---
How to maximize your rewards
Get more smart money moves – straight to your inbox
Sign up and we'll send you Nerdy articles about the money topics that matter most to you along with other ways to help you get more from your money.