The Guide to Emirates Skywards
Emirates Skywards miles make this airline and its luxe offerings more accessible with ways to earn and redeem.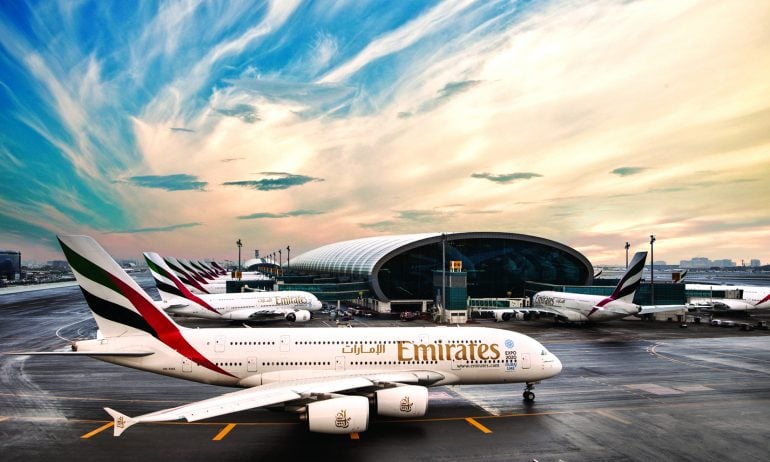 Many or all of the products featured here are from our partners who compensate us. This may influence which products we write about and where and how the product appears on a page. However, this does not influence our evaluations. Our opinions are our own. Here is a list of our partners and here's how we make money.
Have you seen those photos of ridiculously blinged out airline seats? You know the ones: They often include flashy big screen TVs, popup minibars, digital windows and seats so big you could melt right into them. These luxurious cabins belong to Emirates, an international airline based in Dubai. While the airline will happily sell you a ticket to fly in these seats, we've got another way.
Let's take a look at the airline's loyalty program, Emirates Skywards, plus how to earn airline miles and the best ways to redeem them.
Emirates isn't all gold-hued seats and airplane bars. It has all of the regular cabins you'd expect from an airline, including . What the company is really known for, however, is their ultra-exclusive first class products, on which you can find showers and state-of-the-art digital windows.
Unlike most U.S. carriers, you'll earn reward miles on your ticket based on your fare class and distance flown, not the cost of your ticket. This is good news for cheap, long-haul tickets, and the Emirates' website even features a that estimates the amount of reward miles you'll earn on your flight.
Although Emirates isn't part of an airline alliance, it does have a number of on which you can fly and opt to earn Emirates miles. These include and , among others.
Emirates has two U.S. credit card options, both of which offer different features. The Emirates Skywards Premium World Elite Mastercard® has a steep $499 annual fee, but comes with a 60,000 miles sign-up bonus after spending $3,000 in purchases in the first 90 days. Cardholders also enjoy a 50% bonus on all Skywards miles on Emirates flights.
The Emirates Skywards Rewards World Elite Mastercard, meanwhile, has a more affordable $99 annual fee and comes with a 50,000 miles sign-up bonus after spending $3,000 in the first 90 days. Cardholders will earn a 25% bonus on reward miles on all Emirates flights.
Both cards earn 3x miles on Emirates flights, 2x miles on airfare, hotels and rental cars, and 1x miles on all other purchases.
Emirates also happens to be a transfer partner of multiple flexible point currencies. American Express Membership Rewards, , , HSBC U.S. and all transfer to Emirates at a 1:1 ratio, which means one point becomes one airline mile.
If you're looking to boost your balance,  is currently featuring a large welcome offer:  That's enough for a one-way ticket in first class from New York to Italy, with some left over.
You can also transfer at a 2:1 ratio to Emirates.
Finally, transfer at a 3:1 ratio, with a 5,000 mile bonus thrown in for every 60,000 points you transfer.
Redeeming your miles for max value is pretty easy via Emirates. In mid-2020, Emirates opted to reduce fuel surcharges for its award flights — this makes flying with them far more enticing.
Perhaps the best way to spend your Skywards miles, however, is on a flight itself. This is especially true since Emirates is in the process of eliminating all partner awards for its first class; if you'd like to experience the high life, you're going to need to book it with Emirates directly.
Unfortunately, Emirates doesn't allow you to redeem miles for any fare class except "Flex Plus," which is the airline's most expensive option — even in miles.
Let's take a look at the flight between New York-JFK and Milan, which is a popular option among those wanting to experience Emirates' first class. A one-way ticket will cost you 85,000 Skywards miles, while a round-trip fare is 170,000 miles.
A flight from New York-JFK to Dubai, meanwhile, is 136,250 one-way and 272,500 miles round-trip. That's a pretty hefty increase over the Milan routing, though obviously it'll take you all the way to the Middle East rather than Europe.
Business class is another option for redeeming points, with a flight from New York-JFK to Dubai costing 100,000 miles one-way and 200,000 round-trip. As you can see, this isn't that much cheaper than a first class ticket, but the difference between the two cabin classes is stark.
Perhaps the best case scenario in which you'd prefer to fly business over first class is when traveling with a partner — are completely isolated and thus make it difficult to experience the flight together.
Although its first class cabin is phenomenal, its business class remains outdated, with a 2x2 seating configuration that lacks privacy. If you're looking to spend miles to fly business class, you may want to consider booking elsewhere.
Finally, you can also opt to fly economy, which is significantly cheaper than both business and first class flights.
A one-way award from New York-JFK to Dubai is 62,500 miles, while a round-trip ticket is 125,000 miles.
Emirates has a total of four different elite levels, depending on how much you fly.
Members of the airline's entry-level tier, called Blue, do not have to collect tier credits to be eligible. Unfortunately, the tier doesn't offer many benefits: There's no complimentary seat selection, no excess baggage allowance, no miles bonus and no complimentary lounge access.
Here's what's included and what's required for the higher-level tiers in Emirates' elite status program:
There are plenty of other perks available, including specific benefits when you fly via FlyDubai, the low cost airline operated by Emirates.
We've already spent a fair amount of time talking about Emirates' first class product, and for good reason. The airline's cabin on the A380 features a lounge complete with dedicated bartender — and don't even get us started on the onboard shower. Each suite is fully enclosed for ultimate privacy.
Its newest first class product, meanwhile, features just six seats in each first class cabin. You can find these seats on select Boeing 777-300ERs These suites are also completely enclosed, and Emirates has one-upped itself by creating digital windows on its middle seats, somehow transforming those dreaded spots into the cabin's most popular options. These project images from cameras outside the plane in real time.
Emirates customers clearly agree, as the airline won best first class from TripAdvisor's Travelers' Choice awards in 2020.
If you're itching to try out the onboard shower or the digital window, you'll want to make sure that you're booking the correct cabin. Fortunately, it's simple to figure out which airplane you'll be flying. When searching for flights via Emirates' website, you'll simply look in the top right-hand corner of your flight info to see the aircraft that's flying.
Although many people are probably familiar with the luxury Emirates offers its customers, they're likely less aware of how to get these seats for themselves. Fortunately, Emirates Skywards is a well-worn path toward finding and booking award flights with your airline miles.
Even better, Emirates Skywards miles are easy to earn, with co-branded credits and a number of different transfer partners, including AmEx, Chase, Capital One and Citi, which makes earning enough miles for a ticket simple.
To view rates and fees of , see .
You want a travel credit card that prioritizes what's important to you. Here are our picks for the , including those best for: