9 Best Perks of Emirates Airlines First Class
Booking a long flight means you'll have more time to enjoy the onboard shower and massive entertainment system.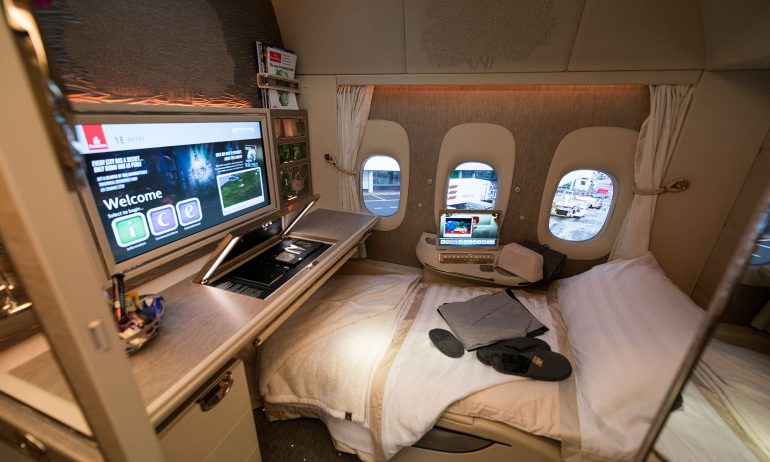 Many or all of the products featured here are from our partners who compensate us. This influences which products we write about and where and how the product appears on a page. However, this does not influence our evaluations. Our opinions are our own. Here is a list of our partners and here's how we make money.
Emirates Airlines first class is a bucket list item for frequent and infrequent travelers alike. The airline's reputation for luxury and top-notch service make its first class experience highly sought after.
Emirates offers first class on the A380 and the Boeing 777 and the experience is slightly different on each.
Here's what you need to know before flying Emirates first class, including the best perks, which plane to find them on and how to book.
The best Emirates first class benefits
1. Private Emirates first class suite (Boeing 777 only)
Emirates offers a first class product on both the A380 and Boeing 777, but the Boeing 777 is the only aircraft with fully-enclosed private suites. In fact, these exclusive spaces are the world's first private inflight suites.
On the Boeing 777, you get a large private suite, which Emirates bills as "your own private hotel room in the sky." The suite is spacious, spanning 84" at its longest point and consisting of up to 40 square feet. It affords maximal privacy thanks to floor to ceiling doors. It has mood lighting, virtual windows and even temperature controls if you get too hot or cold.
Annoyingly, some of these suites are technically "middle" seats, meaning no window. However, these middle suites have faux windows with HD projections of the view from outside. And if you get one of the real window seats, they'll even let you borrow binoculars to see outside.
2. Semiprivate first class seating on the A380
On the A380, the first class seats still have a door for privacy, but the doors don't go all the way to the ceiling. The space is still luxurious, but it's smaller than the suites. They're 82" long suite (versus 84" for the Boeing 777 version) with a seat that reclines from upright position to a full-flat bed.
Though if you're sitting next to a buddy, you can combine your spaces thanks to the configuration of adjoining centre suites (which have an electrically operated privacy divider that can be raised and lowered)
However, the A380 offers something that the Boeing 777 doesn't: a shower spa.
3. Emirates first class shower (A380 only)
If you want to take a shower when you're flying first class with Emirates, you can do so only on the A380 — a lavish feature first introduced in 2008. You can access one of two shower spas on the upper deck. The "spa" is really just an oversized bathroom that has a shower, sink, mirrors, vanity unit, a changing area and even a large TV screen embedded in the wall that shows a live flight map. 
The shower cubicle offers water temperature control, and there are nice touches including a hairdryer and full-length mirror. But what makes this spa nicer than likely your own bathroom is the heated floors.
You don't even need to pack your own shower kit, because the shower spa offers hair and body products, such as Irish brand Voya shampoo, conditioner and shower gel. You even get a Bulgari amenity kit that includes the company's signature fragrance: Eau Parfumée au Thé Blanc.
4. Caviar and Dom Perignon at 40,000 feet
You can expect delicacies like black caviar in the chef-designed meals prepared with fresh seasonal local ingredients and gourmet snacks served on fancy chinaware.
Emirates also caters to people with dietary restrictions. For example, passengers who don't eat meat and dairy can opt for Emirates' three-course vegan meal — or just pick vegan snacks à la carte.
Food options vary depending on the length of your flight. Drinks range from complimentary Dom Perignon champagne and fine wine to juices, coffee, tea, soft drinks, beer and spirits. 
An example dining menu for a long-haul flight includes caviar, cream of mushroom soup and Arabic dips for appetizers. For the main course, you can select from a pan-fried beef tenderloin, Bzar chicken, fried tapioca-soy dumplings or a pan-seared salmon trout. For some light bites, a tofu poke bowl, stir-fried vegetables, or a lamb and rosemary pie is available. 
5. Bulgari and Byredo amenity kits, moisturizing pajamas and headphones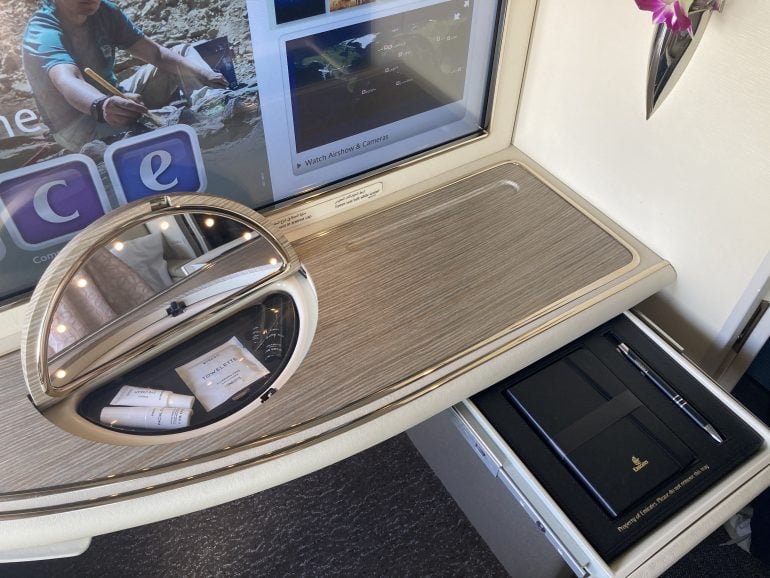 Bulgari amenity kit (in first and business class)
The amenity kits provided in Emirates first class are fancy, too. When you get to your seat, you will find a Bulgari amenity kit that includes a fragrance (the Eau Parfumée Au Thé Vert) and other skincare necessities for your flight. The Bulgari kit is available to first and business class passengers.
Byredo wellness kit (first class only)
The Byredo wellness kit is only offered to first class passengers on the Boeing 777. The products in this kit include a cleansing face towel, toner, eye cream, roll-on sleep oil and chamomile pillow mist. You'll also receive a faux leather notebook and branded pen. 
Moisturizing pajamas (first class, long-haul overnight flights only)
Pajamas are one of the best perks of flying first class on many airlines. However, Emirates takes it up a notch by offering moisturizing sleepwear that is designed to prevent skin dehydration on long-haul overnight flights. The fabric is infused with shea butter and Argan oil, which is released when you move around.
The pajamas are also available for sale at the Emirates official e-store.
Bowers & Wilkins noise canceling headphones (first class only)
If you forgot your headphones, no biggie. In first class, you receive Bowers & Wilkins noise canceling headphones that were designed exclusively for Emirates. The headphones are lightweight and made of sheepskin leather for comfort. 
6. Emirates chauffeur service (paid business or first class only)
When you fly on a paid ticket in business (Saver, Flex or Flex Plus) or first class on Emirates, you get the privilege of a chauffeured ride to the airport and drop-off at your destination once you land. 
Unfortunately, this service is not available when flying on a Skywards business or first class award ticket, or on any economy ticket that was upgraded to business class. In addition, you will not get a chauffeur if you're traveling on an Emirates award ticket, even first class, booked through an Emirates Skywards airline partner. 
Chauffeur service is available in select cities in Africa, Asia, Australia, Europe, New Zealand, North and South America, and the Middle East. You can head over to Emirates' chauffeur page and input your destination to see if the service is available in your region. Typically, the chauffeurs will pick up or drop you off within a 50-mile radius from the airport, although you can also pay extra if you live farther away. In Dubai, you'll be greeted when you disembark by a guide who will even walk you through passport control and to your chauffeur.
While the complimentary chauffeur service is complimentary with your first class ticket, you'll need to plan for it ahead of time by signing up through the Emirates website or by calling Emirates after you've booked your flight.
7. Emirates A380 onboard lounge
When flying in a premium cabin on the A380, passengers can hang out in the onboard lounge on the upper deck of the plane. The lounge features a bar in the center of the room and seating on the sides. If you need a break from being in your assigned seat, you can go to the lounge and hang out. 
You can order cocktails and spirits and enjoy some snacks while watching some programming on the 55-inch TV or mingling with other passengers.
8. Emirates first class lounge in the airport
There are more than two dozen Emirates lounges all over the world. The most exclusive is the first class lounge in Dubai, where only Emirates passengers flying in first class, those who have Platinum Emirates Skywards status or people who paid $250 or $300 for a day pass get access, so it's truly an exclusive experience. 
The lounge includes Emirates' Timeless Spa, which provides first class passengers with complimentary spa treatments, such as face and body scrubs, massages and nail therapy. There's also a shoeshine service, private cigar lounge, children's area with arcade games, buffet dining, private Duty-Free shopping area and a dedicated Le Clos wine cellar. The lounge also offers typical lounge amenities, including free Wi-Fi and a business center.
The lounges outside Dubai are not that fancy, but they're a delightful way to relax and dine before your flight.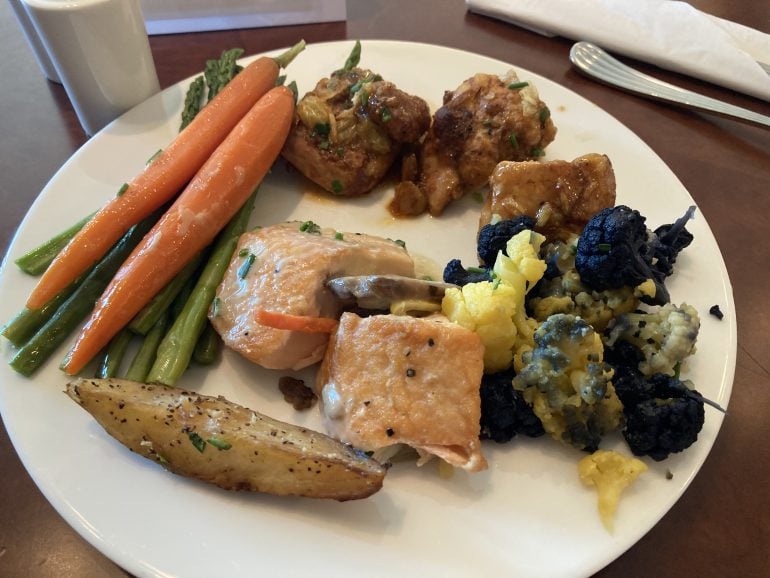 For all other lounges, first class passengers share the Emirates lounge with other business class passengers and Emirates elite status holders. Economy passengers can also access the lounge, but they must pay between $100-$300 for access.
9. Generous baggage allowance
Emirates baggage allowance is based on a total weight concept for your bags rather than a piece concept for all routes, except when traveling between the Americas and Africa. Here are the Emirates bag policies, by region, and compared across fare classes:
| | | | | |
| --- | --- | --- | --- | --- |
| Flights to and from the Americas and Africa (except flights within the Americas and between US and Europe) | One piece up to 23 kg for Special fares. Two pieces up to 23 kg each for Saver, Flex, and Flex Plus fares. | Two pieces up to 23kg (50 lb) each. | Two pieces up to 32kg (70 lb) each. | Two pieces up to 32kg (70 lb) each. |
| Flights within the Americas and between the US and Europe | One piece up to 23 kg for Special and Saver fares. Two pieces up to 23 kg each for Flex and Flex Plus fares. | Two pieces up to 23kg (50 lb) each. | Two pieces up to 32kg (70 lb) each. | Two pieces up to 32kg (70 lb) each. |
| | 20-35 kg, depending on fare type. | | | |
When flying in first class, your baggage allowance is 110 pounds (50 kilograms) across all your checked pieces.
If you're flying between the Americas and Africa, within the Americas, or between the U.S. and Europe, the first class baggage allowance is two pieces up to 70 pounds (32 kilograms) each.
And you might be wise to check luggage. Keep in mind that, with Emirates first class, there's no overhead space to store your luggage (there's only a bit of space under your seat for something like a smaller bag).
How to book Emirates first class
Booking first class seats with Emirates is simple, whether you're searching by dollars or miles. There's an easy drop-down that allows you to search only for first class seats. If you're booking an award, be sure you're signed in to your Emirates Skywards account to see the option to book flights using miles.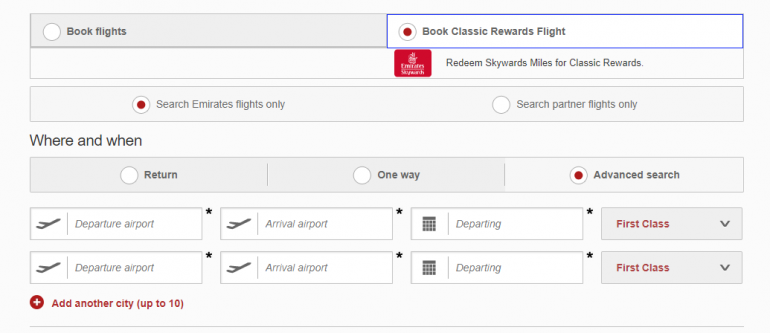 Ways to maximize value in Emirates first class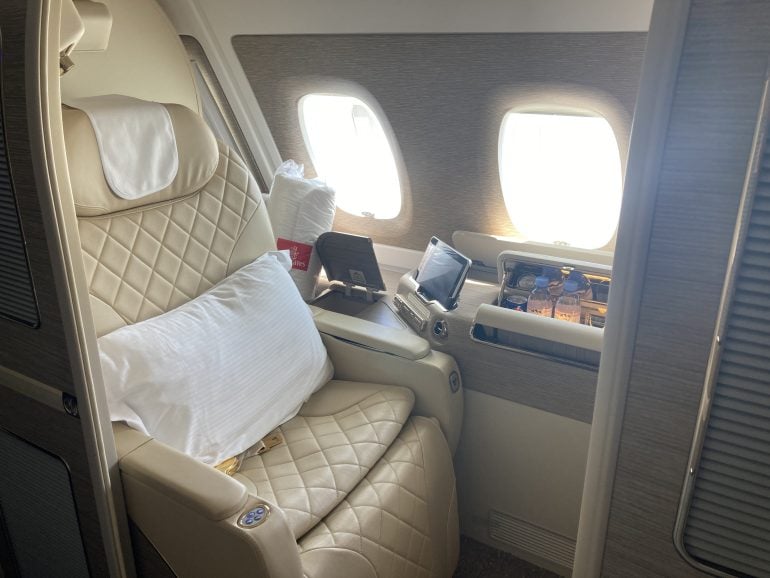 Plan ahead to make sure you're not letting any of the Emirates first class luxuries go to waste. For budget travelers, an Emirates first class experience may be a once-in-a-lifetime opportunity. From the high-end amenity kits complete with Bulgari fragrances to the A380's onboard showers with heated flooring, the luxuries make the flight a vacation in and of itself.
Plan ahead to see if you can use the complimentary first class perk of a chauffeured driver to or from the airport. If it's not available with your booking or in your city, you will still want to plan to arrive at the airport early to take advantage of the Emirates lounge or its partner lounges.
With all the amenities we listed above, you should give yourself enough time to enjoy them. Whether you book with miles or cash, you're paying a premium for the experience.
The longest U.S.-based Emirates flight you can nab is the Los Angeles to Dubai route, which is over 8,300 miles. On this A380 flight, you'll have enough time to take a shower at 35,000 feet, enjoy multiple meals, watch a movie on the award-winning entertainment system and still lie down for some shut-eye in your moisturizing pajamas — yes, pajamas specifically designed to keep your skin moisturized while flying. A long flight will give you extra time to enjoy plenty of Dom Perignon and incredible first class food.
If the long flight isn't in the cards for you, some shorter flights can give you the Emirates first class flight experience for less. Look outside the U.S. and use Emirates to hop between other locations. Emirates partner Japan Airlines, for example, has a distance-based miles chart, making JAL a great partner to consider for booking shorter Emirates flights with miles.
Consider transfer partners
Since Alaska Airlines devalued its rewards with Emirates, there aren't many super incredible, secret ways to get these flights for much less, especially when you factor in fuel surcharges and fees on top of the miles you spend on the ticket.
Best perks of flying first class on Emirates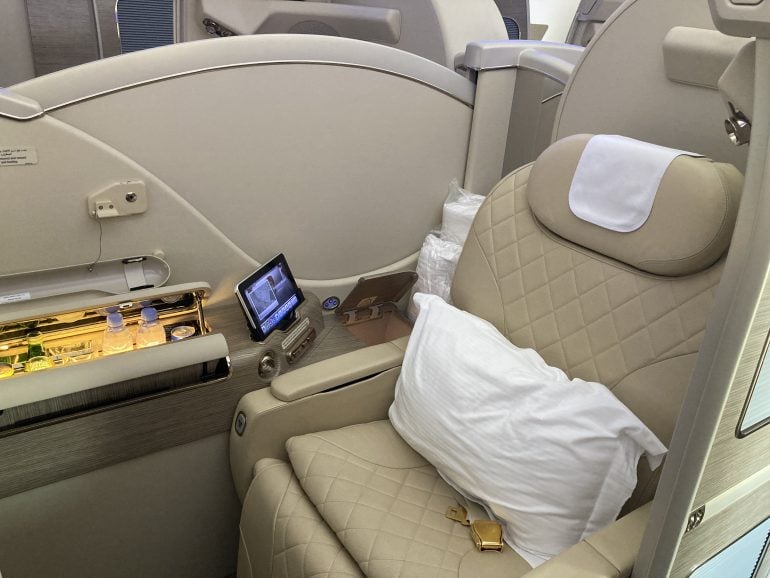 Most folks will be flying in Emirates economy (or Emirates premium economy, for a small splurge). But if you're lucky enough to experience an Emirates Airlines first class flight, make the most of it. And with a smart booking strategy using credit card points or other frequent flyer miles, even the most budget-minded traveler might be able to take part in (and be blown away by) this incredible experience.
---
How to maximize your rewards
Get more smart money moves – straight to your inbox
Sign up and we'll send you Nerdy articles about the money topics that matter most to you along with other ways to help you get more from your money.