The Guide to Different Types of U.S. Passports
Most travelers should apply for a standard U.S. passport, but other options exist for specialized travel needs.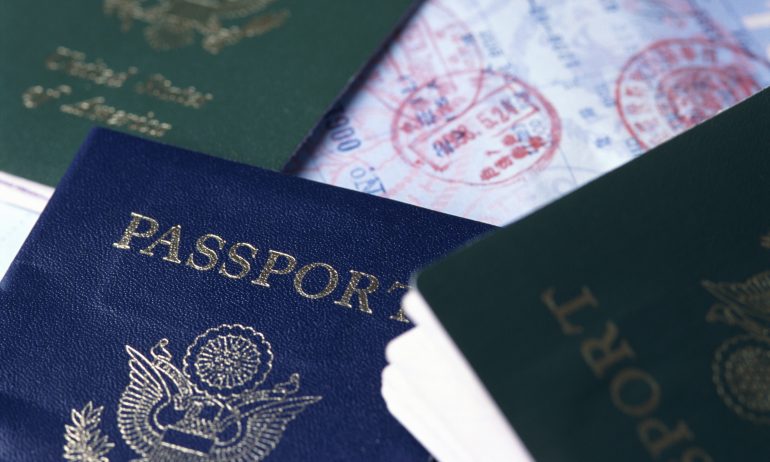 Many or all of the products featured here are from our partners who compensate us. This influences which products we write about and where and how the product appears on a page. However, this does not influence our evaluations. Our opinions are our own. Here is a list of our partners and here's how we make money.
If you thought all U.S. passports were the same, think again. There are actually five types of U.S. passports, but the majority of passport holders will have just one. The most common type of passport is a regular passport, which most U.S. citizens can apply for, although less than half of U.S. citizens have one.
While most qualify only for a regular passport, it may be helpful to know what other types of U.S. passport options are out there. Perhaps one day, you'll become a diplomat or hold an official government or volunteer job where you can acquire one for free.
This passport is the navy blue standard that is used for most types of travel. If you are studying abroad, taking a family vacation or traveling for work, you'll likely carry this type of passport.
The standard option includes 28 pages, but for those that travel frequently, it is possible to request a double book with 52 pages.
To apply for this type of passport, typically called a Type P passport, applicants must provide original or certified proof of U.S. citizenship (like a birth certificate) as well as a passport-size photo and photo identification.
These passports are valid for 10 years for most. For those who apply under age 16, these books are only valid for five years.
If you have changed your name (due to marriage or divorce, for example), additional documentation may be required.
U.S. nationals, those born in American Samoa or those born on Swain Island, are also eligible for this passport.
While it can take typically between six and nine weeks to get a U.S. passport, there are faster ways to get one. Applicants can use an official passport office to apply and pay for expedited service or use an independent expeditor service that handles much of the formality on the traveler's behalf (although for a higher fee).
There is a subset of regular passport types that are issued for no fee. These are valid for five years and available to employees of the American National Red Cross, Peace Corps volunteers and members of the Department of Defense.
For those who qualify, an official passport is meant for those who work for the U.S. government and travel on official business. If approved by the Department of State, the main passport holder can also request official passports for a spouse and immediate family members.
To apply for this type of passport, applicants must go through the Special Passport Issuance Agency. While there is no fee required for this type of passport, appropriate documentation for eligibility must be shown.
These passports have the words Official Passport on a maroon cover to help them stand out from the rest. Unlike regular passports, these are only valid for five years and can only be used for official government business. A personal or leisure trip is not eligible.
Foreign service officers or those performing diplomatic duties on behalf of the United States overseas are eligible for this passport. A diplomatic passport, with a black cover, is only eligible to be used when on diplomatic business, which is why these passport holders almost always have a second regular passport to use when not serving in a U.S. diplomatic role.
These can only be used when on diplomatic missions, which are subsidized by the U.S. government. Valid only for five years, these passports require eligible documentation proving the applicant's diplomatic role as well as a copy of official orders from their assigned post. These passports are issued without charge but must be returned upon completion of diplomatic duties.
Another of the rarer passport types is the service passport, which has a gray cover and is issued to third-party government contractors traveling to the United States on official business. They would apply for this passport type if they are ineligible to travel using their own regular passport. This is only valid for five years.
These are available with a regular passport application for an additional fee, but as the name suggests, they come in the form of an identification card rather than a book. These can be used as official identification, but also for land border crossings into the United States and Mexico.
These are especially helpful for those who live in the U.S. but travel across the border frequently for work or other purposes. Using a passport book to cross the border would quickly fill with stamps, which is why this option is more expeditious.
It is also eligible for sea travel to the U.S., Mexico, Canada, Bermuda and the Caribbean. If you like to travel often by cruise, this can be an excellent solution without worrying about filling up your passport book.
Passport cards have the same eligibility requirements as a regular passport book. They are eligible for 10 years for adults ($30) and five years for those under 16 ($15).
Passport types in the U.S., recapped
The next time you are in line at a U.S. immigration point, take a look at the passports around you. Not everyone has Global Entry or uses Mobile Passport. And not everyone has the same color passport cover as other U.S. citizens. When you spot one with a different color, you now have a bit more insight into the type of work that person (or one of their family members) does.
---
How to maximize your rewards
Get more smart money moves – straight to your inbox
Sign up and we'll send you Nerdy articles about the money topics that matter most to you along with other ways to help you get more from your money.