United Launches PlusPoints System for Upgrades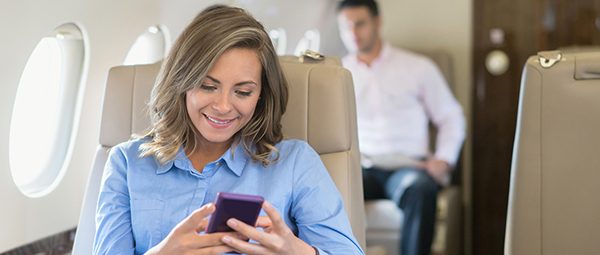 Many or all of the products featured here are from our partners who compensate us. This may influence which products we write about and where and how the product appears on a page. However, this does not influence our evaluations. Our opinions are our own. Here is a list of our partners and here's how we make money.
On Sept. 24, 2019, United announced that it will change the way its upgrade system will work for Premier Platinum and 1K elite members. United is introducing PlusPoints, which is a new currency system for upgrades that will go into effect on Dec. 4. The PlusPoints system will replace Regional Premier Upgrades (RPUs) and Global Premier Upgrades (GPUs).
The current system: RPUs and GPUs
RPUs and GPUs are upgrades that are provided to United's two highest published elite tiers: Platinum and 1K. RPUs can be used on most flights within the U.S. (including Hawaii and Alaska), Central America, the Caribbean, South America, Canada, Oceania and Mexico.
GPUs, which are the most valuable of upgrades, are usable on all flights, including long-haul international flights.
MileagePlus members receive two RPUs upon attaining Platinum status. Once 1K is reached, two additional RPUs and six GPUs are issued.
The following rules apply to RPUs and GPUs:
Cannot be used on award tickets.

Usable on nearly all paid tickets except Basic Economy.

Allow for a one-cabin upgrade (Economy to Premium Plus, or Premium Plus to Polaris).

Valid for one-way segments.

Expire at the end of January two years after they were earned (i.e. if you reach 1K in May 2019, the RPUs and GPUs expire in Jan. 2021).

Can be redeemed online upon booking and confirmed immediately if there is upgrade space. If no availability exists, the upgrade will be waitlisted and clear in order of priority.

GPUs are valid on Lufthansa and All Nippon Airways flights.
The likelihood of a confirmed upgrade depends on your status, how many passengers paid for upgrades (and their status levels), the fare class of your ticket (i.e. discounted economy or full-fare economy), and many other factors.
PlusPoints is looking to make upgrades easier and more flexible.
The new system: PlusPoints
On Dec. 4, all Platinum and 1K elites will see their existing RPUs and GPUs convert into PlusPoints at the following rates:

Upon reaching Premier Platinum status, members will receive 40 PlusPoints. 1Ks will receive 280 PlusPoints (plus the 40 earned with Platinum) for a total of 320 PlusPoints. This chart from United compares the current system with the new system.

If you're already a United 1K, you will receive 40 PlusPoints each time you earn 25,000 Premier Qualifying Miles (PQMs) or 30 Premier Qualifying Segments (PQSs).
Given that you need 100,000 PQMs or 120 PQSs in a year to reach 1K status, the extra 40 PlusPoints will be provided once you reach 125,000 PQMs or 150 PQSs.
How much will upgrades cost with PlusPoints?
Under the new PlusPoints currency, upgrade pricing will depend on the flight distance and the cabin that you're upgrading from/to.
In the new system, United defines "short-haul flights" very specifically as flights without United Polaris business, including flights within the U.S., flights between Guam and Honolulu, island-hopper service and intra-Asia flights. It also includes flights between the U.S. and the following locations:
Short-haul flights will be priced at 20 PlusPoints, which is equivalent to the conversion rate of one RPU.
Long-haul flight upgrade pricing will vary by cabin:

Currently, GPUs can be used to upgrade from any paid United economy fare. Discounted fare classes S, T, L, K, G are only eligible for upgrades on flights to certain regions.
Now, you will be able to upgrade from these discounted fare classes to Polaris business class for a whopping 80 points on long-haul flights. Although this is a steep ask, the cost difference between these two types of fares is significant.
An upgrade from United Premium Plus to Polaris business class will only cost 30 PlusPoints vs. currently costing one GPU (equivalent to 40 PlusPoints). The new system appears to be a lot more flexible and in some instances cheaper.
The infographic below illustrates the versatility that the new system provides: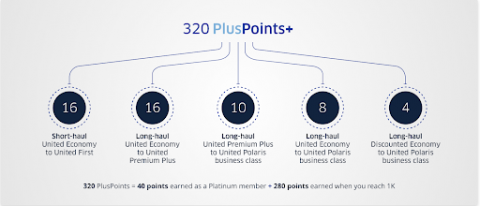 You can tailor your upgrades in a variety of configurations, including only domestic or international flights. This is a big contrast to the existing system of RPUs and GPUs.
For example, if you're a 1K and only travel internationally, after Dec. 4, you will be able to use all of your PlusPoints for international upgrades and not worry that your RPUs will be wasted.
1Ks can skip the waitlist
Skipping the waitlist on upgrades is another benefit of the new system and is specifically for 1Ks. Currently, when you use your RPUs or GPUs to request an upgrade and there is no availability, you get placed on a waitlist and hope that the upgrade clears.
Skipping the waitlist will be available on certain international long-haul flights. United will now allow you to use an additional number of PlusPoints to confirm your upgrade on the spot. Skip Waitlist must be requested at least 30 days before departure.
The number of points required has not been disclosed, so it remains to be seen how high the threshold will be.
PlusPoints for multi-segment routes
Not only will you will be able to request several upgrades at once, but on a multi-segment route, you will only pay for the most expensive upgrade in the request. As in the example below, when you request an upgrade for the entire four-segment itinerary, 40 PlusPoints will be deducted from your account once the upgrades are requested.

If all the segments clear, it will only cost 40 PlusPoints (instead of 80) because this is the highest priced upgrade in the entire trip. This is a pretty neat feature, as you will be able to enjoy a premium cabin experience on each of the segments despite only paying for one upgrade.
In the example above, if only the Chicago to Newark (ORD-EWR) upgrade clears, you will only need to redeem 20 PlusPoints. If none of the segments clear, no points will be deducted from your account.
One tiny drawback of the change is that under the current system, if you try to use a GPU but only the domestic portion of upgrade clears, the entire GPU is returned. The same scenario with the PlusPoints system will cost you 20 PlusPoints. However, this is such a small negative change among many positives.
Multiple upgrade requests at once
You will now be able to request multiple upgrades at once as long you have enough PlusPoints. This is a distinction from the current system, because you cannot make unlimited RPU or GPU requests.
For example, if you make a booking in December for three separate flights in January, you could only apply a GPU to one of the flights. The GPU will be withdrawn from your account and you will not be able to make another GPU upgrade request. If that upgrade doesn't clear, your GPU may expire in January without use. Under the new system, you will be able to use your 40 PlusPoints (GPU equivalent) to submit upgrade requests on each of the three separate January flights, thereby increasing your chances of the upgrade clearing.
The new PlusPoints system introduces a lot of really interesting improvements to the current upgrade system. Despite all this, I can't help but think that something negative can be lurking around the corner.
PlusPoints are essentially a new type of currency. United could devalue PlusPoints down the road and/or increase the number of points needed for upgrades. As restrictive as they were, the value of GPUs and RPUs was static and not subject to inflation.
It's always a pleasant surprise when an airline announces changes that aren't negative. The PlusPoints system brings with it a slew of exciting benefits that should improve the upgrade experience for Platinum and 1K elites, such as enhanced flexibility and (for 1Ks) the ability to skip the waitlist on some flights.
---
How to Maximize Your Rewards
Get more smart money moves – straight to your inbox
Sign up and we'll send you Nerdy articles about the money topics that matter most to you along with other ways to help you get more from your money.