How Uplift Buy Now, Pay Later Works for Travel 
While 0% APR might sound like a good deal, you're missing out by using Uplift instead of a travel credit card.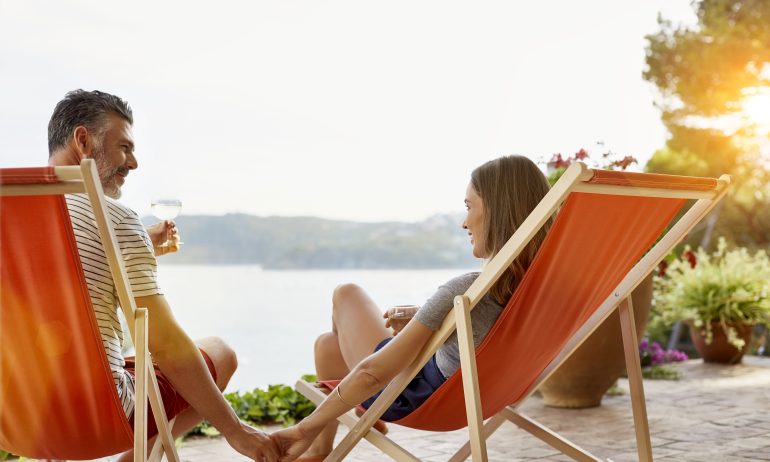 Many or all of the products featured here are from our partners who compensate us. This influences which products we write about and where and how the product appears on a page. However, this does not influence our evaluations. Our opinions are our own. Here is a list of our partners and here's how we make money.
Many travelers want to book vacations, but with inflation and surging demand affecting the price of airline tickets, rental cars and other household expenses, sometimes they simply don't have the money. Instead of carrying a balance on high-interest rate credit cards, some are turning to buy now, pay later options like Uplift to finance their travel.
Here's a look at how Uplift buy now, pay later works, when you should or shouldn't use it and what other alternatives exist for financing a trip.
What is Uplift buy now, pay later?
Uplift is one of the buy now, pay later options available to finance purchases of clothes, household goods, travel and more. BNPL allows you to spread the cost of purchases across multiple payments.
These financial technology — or fintech — companies generally offer easier credit than traditional credit cards or personal loans. Some don't pull a hard inquiry from your credit report, which means that signing up won't affect your credit score.
Uplift doesn't charge any fees to customers, including late fees or prepayment penalties. However, depending on your purchase and credit history, you may pay interest between 0% and 36%. Uplift charges simple interest on its loans, which means it doesn't charge interest on top of interest.
Which airlines offer financing through Uplift?
When booking your flight, you'll notice that many airlines offer BNPL financing through Uplift or one of its competitors. Uplift is currently available for use on many U.S. and international airlines.
Here are a few of the major airlines that offer financing through Uplift:
Delta Air Lines and American Airlines use a different BNPL service called Affirm.
How Uplift works for travel
Here's how to book your flight using Uplift:
Choose your travel dates, departure city and destination as usual.

Select the flight that meets your needs.

Enter traveler(s) details.

At the payment screen, select Uplift as your payment method.

Enter your personal details and click "check my rate."

You'll be presented with several payment options, including higher and lower monthly payments. Choose the payment plan that works best for you.
How to apply for Uplift financing
The application process is quick and easy. After selecting Uplift as your payment method during checkout, you'll provide basic personal information like your name, mobile number and date of birth. If you are a U.S. citizen, you must also provide your Social Security number. Then, you'll receive an instant credit decision.
Depending on your credit history, purchase details, repayment term and other factors, you may or may not pay interest on your purchase. Uplift interest rates vary between 0% and 36%.
Uplift will send email and text reminders when a payment is due. You'll make payments at Uplift.com according to the plan that you selected — loan proceeds go to the airline from Uplift.
Automatic payments are available to ensure that all of your payments are made on time. If you don't authorize this, you'll need to make each monthly payment manually. You can also pay off your balance early without incurring prepayment penalties.
Even if you don't have a flight to purchase, some of Uplift's partners allow customers to pre-qualify ahead of time. This will give you a good idea of how much you can afford through its buy now, pay later financing.
Should you use buy now, pay later for travel?
While many people view BNPL loans as a good way to finance purchases, they may not be a wise choice. The loans can make it easy to get into debt, and the recurring payments can quickly overwhelm your budget.
Here are some reasons you may want to skip financing with a BNPL loan:
Cannot travel immediately. Because the payment process between Uplift and the airline isn't immediate, you must wait a few days between booking your flight and when you travel. For travelers who are in a hurry, BNPL financing may not work.

Fees add up. Though Uplift advertises itself as a fee-free service, other BNPL apps may charge fees. Depending on the size of your purchase, BNPL fees may be more than the interest charges from other options, like a credit card or personal loan.

No flexibility with payments. When you make a BNPL purchase, there's a predefined repayment schedule that you must adhere to. You cannot extend your repayment schedule or refinance your payments through Uplift. Payments are usually more than the minimum payment due on a credit card. If you can't make the BNPL payment, some lenders charge a late fee. In most cases, you can't make any additional purchases until your account is brought current.

Credit limits can be much lower. Many BNPL apps offer financing without the traditional hard credit check and underwriting that credit cards require. Because of that, credit limits tend to be lower than many credit cards.

Doesn't earn rewards. Most BNPL loans don't earn rewards like a credit card when paying for your flights. This makes it harder to earn miles, points or cash back toward your next vacation.

No travel benefits. Travel credit cards also include other benefits that BNPL apps don't include, such as trip interruption or cancellation insurance, delayed/lost baggage protection and trip delay reimbursement.

Not all airlines accept BNPL apps. The roster of airlines that accept BNPL financing is growing, but not all airlines currently participate. Among the major U.S. airlines, only American Airlines doesn't offer BNPL financing. Alaska, Delta, Frontier, JetBlue, Southwest and United all offer some form of buy now, pay later payment options.
While buy now, pay later loans are growing in popularity, they aren't always the best option when booking a flight. These payment alternatives to Uplift may be a better option for your situation:
Pay with your existing credit card. While you may pay a higher interest rate, credit card minimum payments are fairly low. Because of this, you'll have more flexibility with your monthly minimum payments over a loan through Uplift.

New credit card 0% APR offer. If you need extra time to pay off your purchase without incurring interest, a 0% APR credit card is an excellent option.

Get a personal loan. A personal loan offers a fixed payment schedule. Lenders who do traditional underwriting may offer a lower interest rate than a company like Uplift that does a quick credit check.

Apply for peer-to-peer lending. Peer-to-peer lending platforms are a good option for consumers with fair credit.
If you're interested in using Uplift to pay for travel
BNPL lenders like Uplift enable customers to pay for their flights over time without using their credit cards. Depending on your credit and purchase details, you may qualify for 0% financing on your purchase.
While BNPL financing can be attractive, remember that you won't earn additional rewards like you would when using a credit card. Additionally, these purchases don't have the same benefits and protections as a credit card, and won't offer insurance for trip cancellation, lost bags or a trip delay. Consider all of the factors before deciding if using Uplift or BNPL loans are right for you when booking your next flight.
Frequently asked questions
Can I use Uplift to pay for someone else's flight?
Do you have to pay off your balance before your trip?
What happens if I cancel my flight?
Can I use Uplift for more than one flight at a time?
---
How to maximize your rewards
Get more smart money moves – straight to your inbox
Sign up and we'll send you Nerdy articles about the money topics that matter most to you along with other ways to help you get more from your money.