What to Know Before Flying Delta Air Lines With Pet Cargo
Your pet traveling in cargo needs its own reservation, and the fee will vary based on the size of its crate.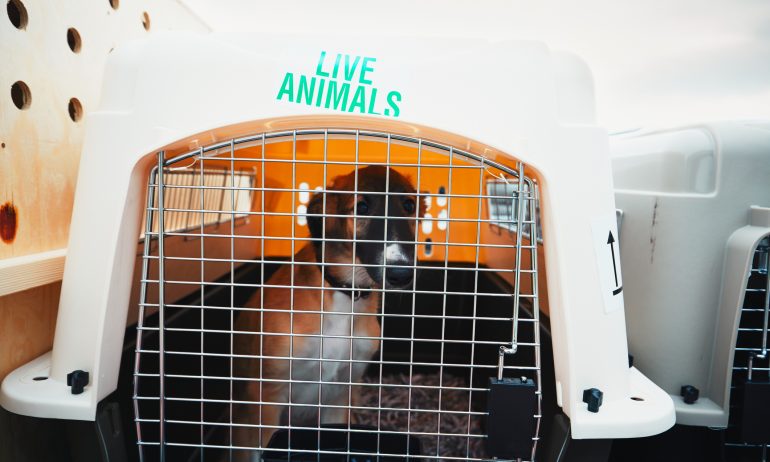 Many or all of the products featured here are from our partners who compensate us. This may influence which products we write about and where and how the product appears on a page. However, this does not influence our evaluations. Our opinions are our own. Here is a list of our partners and here's how we make money.
Delta Air Lines passengers who plan on flying with pets have a few options, depending on their animal's size and species and their destination. If your furry companion requires a pet carrier size that won't fit under the plane seat in front of you, one alternative is Delta Air Lines pet cargo.
Before shipping your pet, here are the Delta pet policies to be aware of.
Pet cargo service is on temporary embargo
Due to the coronavirus pandemic, Delta has temporarily suspended pet cargo service for domestic and international flights. This embargo is in effect until further notice.
An exception might be available for U.S. military members or diplomats. To inquire about the exception, contact Delta's support services to learn about placing an advanced booking.
The Delta Air Lines' pet policy
If you're planning a trip with your pet, be familiar with Delta's pet policy ahead of time to be prepared when the embargo is lifted. Only small dogs, cats and household birds can be brought into the cabin as a carry-on. Delta pet cargo allows a wide range of species, with a few exceptions. That means you'll need to use Delta's pet cargo if you intend on traveling with your pet chinchilla.
The Delta pet policy also has other requirements. For example, your pet must meet age requirements, and the use of certain items on your pet is restricted during transport (for example, choke collars or radio-controlled collars).
Your pet must meet all of Delta's pet policy rules for a safe and comfortable journey.
Your pet's carrier has to meet Delta's guidelines, too. An appropriately sized carrier will not only keep them physically secure during the flight, but can also reduce stress.
To fly Delta, your pet's carrier must be big enough so that your pet can sit and stand without having to crouch. Its ears must not be able to touch the roof of the carrier in these positions. Additionally, the carrier must be large enough to let your pet turn around without effort, as well as lie down comfortably and naturally.
International pet travel rules differ
Flying with pets overseas on Delta has another set of rules and regulations. Notably, the airline's cargo doesn't offer shipping of warm-bodied pets for flights longer than 12 hours.
Also, research the international pet travel guidelines of your destination country. For example, Australia doesn't allow animals transported in the cargo hold into the country, and Delta permits only dogs, cats, ferrets, insects and fish between the U.S. and U.K.
Upon arrival at your destination, pets might also be required to quarantine. Pets arriving in Hawaii, for example, need to quarantine for 120 days in Honolulu, where the only quarantine facility in the state is located.
Before finalizing your travel arrangements, read up on the most current regulations for your destination.
Delta Air Lines pet cargo requires its own booking
Unlike a piece of luggage you can check without notice, animals flying in Delta's pet cargo need a reservation. If you're flying domestically, you can book a reservation up to 14 days ahead of your departure. Contact Delta at 800-221-1212 to make arrangements.
Passengers with an international itinerary must arrange a Delta pet cargo reservation through a third-party pet shipper. Shippers must be approved by the International Pet and Animal Transportation Association.
So, how much does it cost to fly dogs on Delta? What about other animals?
The Delta pet cargo cost varies depending on factors like the size of your pet's kennel, the origin and destination and the size and weight of your pet. Contact the airline or pet shipping service directly to get an exact rate.
Compare that with bringing your pet on board as a carry-on (if possible), which has fees of $125 each way if you're flying to or from the U.S., Canada or Puerto Rico.
How flying with pets on Delta compares to other airlines
Certainly suspending pet cargo service during the pandemic didn't do Delta any favors, but other policies dinged them as well. Delta scored particularly low on cost (meaning it has high fees compared to other airlines).
With Delta's pet cargo service on embargo indefinitely, you'll need to make other arrangements if your pet doesn't meet carry-on requirements. This might include flying on another airline that offers pet cargo service. At this time, Alaska Airlines and Hawaiian Airlines offer limited pet cargo service to their passengers.
If Delta's dog policy and rules for other pets don't work for you, consider an alternative travel method, like driving, or leave your pet under the care of a friend, relative or pet-boarding facility for the duration of your trip.
---
How to maximize your rewards
Get more smart money moves – straight to your inbox
Sign up and we'll send you Nerdy articles about the money topics that matter most to you along with other ways to help you get more from your money.