Why Airlines Like Qatar Airways Are Launching New International Routes, Despite COVID
Qatar Airways expanded recently by building on the growing Oneworld alliance and utilizing smaller planes.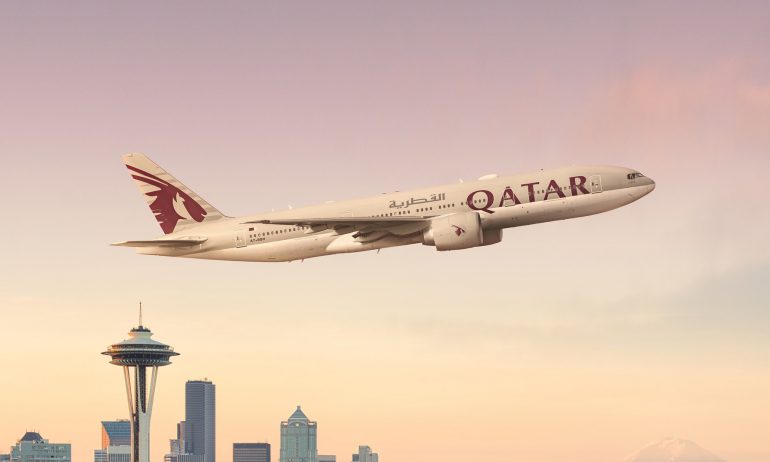 Many or all of the products featured here are from our partners who compensate us. This may influence which products we write about and where and how the product appears on a page. However, this does not influence our evaluations. Our opinions are our own. Here is a list of our partners and here's how we make money.
With a sharp decrease in travel comes a sharp decrease in airline routes you can take. Now, you can no longer travel direct from, say, Orlando to Amsterdam (a route once offered by Delta). About one-third of airline routes worldwide were lost in 2020.
But launching a new international route during a pandemic? That seems counterintuitive. Yet Qatar Airways has added seven new international destinations since the start of the pandemic. Between April and July, Qatar Airways became the largest international carrier in the world, according to data from the International Air Transport Association.
The airline's newest route launches this month: service between Hamad International Airport in Doha, Qatar and Seattle, Washington. And just last month, Qatar Airways launched service out of San Francisco, California, making it the only Middle East carrier operating to San Francisco International Airport.
Who is traveling on an international flight right now?
If travel bans and COVID-19 concerns have reduced travel, who is actually flying?
Repatriation: Qatar Airways estimates its flights brought more than 260,000 Americans home during the pandemic. Offering repatriation flights at a time when other carriers were canceling flights at the last-minute could prove to serve a long-term benefit: customer loyalty.
"We didn't just drop markets and leave customers stranded," says Mark Drusch, SVP of Revenue Management, Alliances and Strategy at Qatar Airways. "By doing that, we helped people get home."
In fact, home is the only place a lot of passengers could go. Entry to Qatar is restricted to Qatari nationals, their immediate families and permanent resident permit holders. Other passengers connected to nearby countries including India, Iran, Pakistan, Singapore and Vietnam, many of which also have travel restrictions.
"By staying in markets and not leaving people stranded, the market knows we are reliable," Drusch says, adding that he anticipates passengers will remember that when it's time to book their next leisure or business trip.
Business and tourism: "I don't want to declare business travel is back," Drusch says. "But we're beginning to see a trickling of business travel."
What Drusch says is coming back: certain types of tourism.
"We have a lot of people who want to go on that unique vacation," he says. "We're not talking Cabo or Hawaii. We're catering to people looking for vacations in areas off the beaten path. It's Jordan, Oman, the beaches of Zanzibar, Seychelles and the Maldives. People are looking for less-dense, more-secluded vacations, and we only expect that trend will grow."
Why launch new routes when air traffic is down?
Building up the Oneworld alliance: Qatar is a Oneworld alliance member, and Drusch says the new routes capitalize on alliance growth, which in turn benefits Qatar Airways.
Belonging to an airline alliance is appealing for loyalty members, who can earn and redeem rewards on all member airlines. That means Qatar Airways Privilege Club members can earn Qmiles when travelling on Alaska Airlines, and likewise, Alaska Mileage Plan members earn miles when flying Qatar Airways.
And for all customers, airline partnerships make it easier to transfer to connecting flights. You could book a ticket from Doha to a small city like Spokane, Washington by flying to SFO on Qatar Airways, and then connecting on Alaska Airlines to Spokane.
Smaller, greener planes save money (and the environment) over the competition's larger aircraft: A surprising benefit that Qatar Airways had over the competition in 2020 — smaller planes. Pre-COVID, Qatar was touting its fleet of Airbus A380 aircraft, which is the world's largest passenger jet with capacity to carry 461 customers.
Now, it mostly relies on its fleet of significantly smaller Airbus A350 aircraft for flights including the San Francisco route. Qatar's Airbus A350-900 has 36 seats in Qsuite business slass and just 247 seats in economy class.
"Due to COVID-19's impact on travel demand, the airline has grounded its fleet of Airbus A380s as it is not environmentally justifiable to operate such a large, four-engine aircraft in the current market," according to a statement from Qatar Airways.
In contrast, Emirates — which is a close competitor to Qatar Airways — currently operates only Airbus A380s and Boeing 777s, all much larger planes than the Airbus A350.
"They're too large for the market right now, and not environmentally-friendly," Drusch said.
The Airbus A350 is already widely considered the world's most environmentally friendly long-haul aircraft, using an estimated 25% less aircraft fuel than that of comparable aircraft types.
Since COVID-19, flights aren't as full as they once were. One of the variables used by the International Civil Aviation Organization to calculate carbon dioxide emissions is the number of seats occupied. For Qatar Airways, operating a smaller aircraft proved beneficial at a time when seats are far from selling out — both from an environmental standpoint and a revenue standpoint.
Airlines (including Qatar) cut routes — but they're rebuilding
As of late January 2020, there were more than 47,756 operational routes throughout the world, more than half of them in the U.S., Western Europe and Northeast Asia, according to a Bloomberg report citing data from OAG Aviation Worldwide. By November, there were just 33,416 routes.
Even Qatar Airways was not immune to the route purge. At one point during the pandemic, Qatar was only flying to just about three dozen destinations worldwide. With no domestic market coupled with their reliance on international destinations, both Emirates and Qatar Airways dropped off OAG's summer 2020 list of top 20 airlines by seats.
Prior to the pandemic Qatar Airways served nine U.S. cities, and while Qatar never stopped flying to the U.S. completely, it temporarily cut service to all but two cities: Chicago and Dallas-Forth Worth. But the airline projects that by the end of March 2021, it will have rebuilt its network to 126 destinations worldwide.
Current data also shows that travel to the Middle East is already popular now. Four of the most popular international routes for December 2020 started or ended in Dubai, according to OAG data.
Top 10 Busiest International Routes in December 2020
| | |
| --- | --- |
| | |
| | |
| | |
| New York JFK - Santiago (DO) | |
| | |
| Seoul Incheon - Tokyo Narita | |
| | |
| Moscow Domodedovo - Simferopol | |
| New York JFK - Santo Domingo | |
| | |
And for the airlines launching new routes, the many changes brought about by the pandemic — while often challenging — provide an opportunity to experiment and learn. With more passenger data, Drusch says the airline has been able to improve its operations and understand where people want to go. Even today, Drusch says Qatar Airways is noticing "unmet traffic needs." In fact, the new San Francisco route is currently one of the highest-booked flights in Qatar Airways' system, he says.
For other airlines, 2020 has provided an opportunity to experiment with new business models, such as South Africa's new airline, Lift. Its founders say their company deviates from traditional supply-driven business models with a "demand-driven business model," where flight schedules are determined by popularity and demand.
"Many think it's crazy starting an airline in these times," says Lift cofounder Gidon Novick. "We think it's the best time ever."
---
How to Maximize Your Rewards
Get more smart money moves – straight to your inbox
Sign up and we'll send you Nerdy articles about the money topics that matter most to you along with other ways to help you get more from your money.