In the world of technology, it's not uncommon for companies to revamp their products, creating a new and improved version of a former model. Portable Bluetooth speakers are no exception.
JBL performed one such upgrade when it followed up its popular Charge 2 wireless speaker with the Charge 2+.
So whether you're a Charge 2 owner wondering if you need to level up or a newbie to the JBL speaker space entirely, we're telling you everything you need to know about these two music-pumping devices.
At a glance: Unless you care about protection from rain and splashes, the JBL Charge 2+ doesn't deliver much more than the JBL Charge 2.

| | JBL Charge 2 | JBL Charge 2+ |
| --- | --- | --- |
| Retail price | $99.99 | $99.95 |
| Colors | Black, blue, purple, white | Black, blue, gray, orange, pink, red, green, yellow |
| Bluetooth | Yes | Yes |
| Built-in microphone | Yes | Yes |
| Battery life | Up to 12 hours of playback | Up to 12 hours of playback |
| Splash-proof | No | Yes |
| Buy on Amazon | | |
Design
JBL maintained its signature look between the Charge 2 and Charge 2+. Both speakers have a lightweight, cylindrical design emblazoned with the JBL logo and feature a panel of buttons on the side.
Weighing about 1.3 pounds, these Bluetooth speakers are compact and portable enough to be carried in one hand.
The JBL Charge 2 comes in black, blue, purple and white, while the Charge 2+ steps it up a notch with a wider array of bold colors: black, blue, gray, orange, pink, red, green and yellow.
» MORE: Jawbone Big Jambox
Features and functionality
By and large, these two products have more features in common than they do differences. Each is designed to deliver big bass sound while maintaining a minimal size and extreme portability.
Here's a quick look at some of their similarities:
Battery life. Enjoy continuous music playback for up to 12 hours with both the Charge 2 and the Charge 2+. Recharging takes four hours. When plugged in, the speakers also can charge your devices (such as smartphones and tablets).
Social mode. Perfect for parties, this mode allows three compatible devices to take turns wirelessly playing through the same speaker.
Speakerphone. Both speakers have a built-in microphone, so you can answer calls and talk on speakerphone in between blasting your tunes.
For all their commonalities, we identified one obvious difference.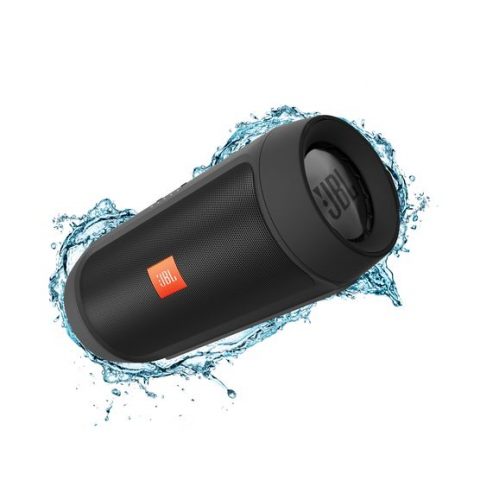 The Charge 2+ is splash-proof. Unlike its predecessor, this one can go in the rain or chill with you by the pool. It's not fully waterproof, so won't withstand being submerged in water, but you won't have to fret if you get it wet.
» MORE: Amazon Echo vs. Amazon Tap
Price and availability
The JBL Charge 2 retails for $99.99 from JBL (although it wasn't in stock on the JBL site as of early July 2016), while the Charge 2+ is sold for $99.95 from JBL (currently available on back order). It's not uncommon to find these two on sale at Amazon. Whether or not you get yours at a discount, always consider using a relevant rewards credit card when you shop to earn cash back on your purchase.
Keep in mind that the original Charge 2 is more difficult to find than the Charge 2+, which is readily available from retailers such as Best Buy and Kohl's.
» MORE: Bose SoundLink v. Beats Pill
Sound off
So which speaker sounds like a hit in your life?
If you already own the JBL Charge 2, we recommend saving your money and skipping on the upgrade. The Charge 2+ won't offer much more than you already have.
But if you're never owned either speaker, the JBL Charge 2+ gives you everything the Charge 2 does, plus the peace of mind that it's splash-proof. Pick this one if you plan on bringing your portable speaker with you to the beach this summer.
Courtney Jespersen is a staff writer at NerdWallet, a personal finance website. Email: [email protected]. Twitter: @courtneynerd.