TaxSlayer is still one of the best deals on the market this year. Its features, interface and support options are comparable to those offered by providers charging twice the price. All users get free tech support via email and phone, but Premium and Self-Employed users can submit questions to tax pros, get priority tech support and gain access to free live chat.
---


Quick facts
Clean user interface and interview-style Q&A
A bargain compared with bigger-name competitors
Less robust support than competitors offer
↓ Compare TaxSlayer with other software
TaxSlayer's prices
This is a huge plus for TaxSlayer. Its packages are less expensive than the other competitors. People who need advanced tax software, which can run $100 or more elsewhere, can especially benefit from the price difference, particularly when you factor in what other providers charge to prepare a state return.
The company's free version lets you file the new Form 1040 (the IRS killed off the 1040EZ and the 1040A in 2018) and allows you to claim credits such as the child tax credit and the earned income tax credit. But if you want to do much else, you'll need to get one of the paid versions. Translation: if you plan to itemize, were a landlord, had capital gains, freelanced or ran a small business, or had any other situations going on that require filing a separate schedule, you'll need to pay.
Another nice price perk is that active-duty military members get the Classic edition for free (state costs $29, though).
Available packages and list prices
Free
• Federal: $0
• State: $0

This option allows you to file a 1040 and your state return for free, but you can't itemize or file any of the new tax schedules 1-6. It works for people who don't plan to claim any deductions or credits other than the standard deduction, the earned income tax credit or the child tax credit.
Classic
• Federal: $24
• State: $29

The free version is for people with really simple tax situations; this is the package for everybody else: itemizers, landlords, freelancers and so on. It imports W-2s and will pull in last year's return to get you going. This package is free for active duty military (state is still extra, though).
Premium
• Federal: $37
• State: $29

This package has all the features of the Classic version, plus better support: audit assistance, access to tax professionals, priority tech support and live chat.
Self-Employed
• Federal: $47
• State: $29

The company's less expensive packages can file returns for self-employed people, but this version comes with access to a self-employment tax pro.
Ultimate
• Federal: $57
• State: $29

This package tacks on free audit defense for three years, identity protection and restoration coverage, front-of-the-line support, and one-on-one help from a tax pro if you need it.
One note about prices: Providers frequently change theirs, and we've found at least one serving up small variations to users in different locations. We'll keep updating this review, but you can verify the latest price by clicking through to TaxSlayer's site.
TaxSlayer does not offer desktop software, so if you don't want your return to reside in the cloud — that is, you'd rather it stay on your computer while you work on it — you should consider another provider.
TaxSlayer's features and ease of use
TaxSlayer's interface is as handsome as other more expensive versions on the market, and (again) it comes at a fraction of the price. A banner along the side keeps track of where you are in the process, and the software displays your refund or amount owed.
Because the software is online, you can log in from other devices if you're working on your return here and there. The provider also has a mobile app if you're interested in working on things that way.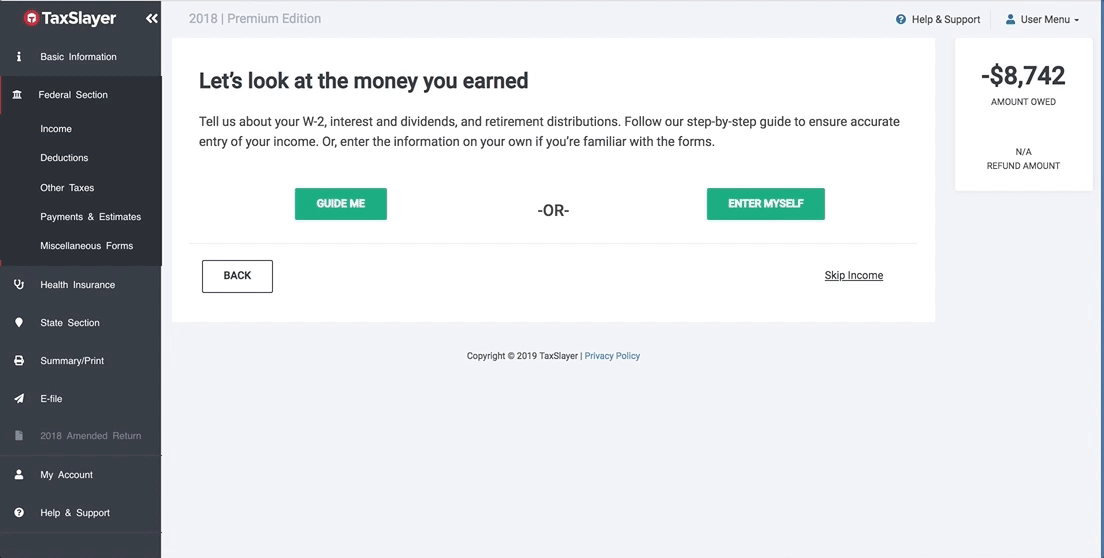 Support options with TaxSlayer
Ways to get help
Searchable knowledge base
Free tech support by phone or email
Free chat for Premium, Self-Employed, and Ultimate packages
Access to on-demand tax help from tax professionals (if you paid for it)
Like other providers, TaxSlayer offers an online knowledge base users can search for answers about specific tax issues.
Though phone and email tech support are free, the more valuable kind of help — tax help — is free only for Premium, Self-Employed and Ultimate users. Users submit their questions to enrolled agents or CPAs.
Live chat also is available for Premium, Self-Employed and Ultimate customers, though that's only for tech support. Phone support is available seven days a week.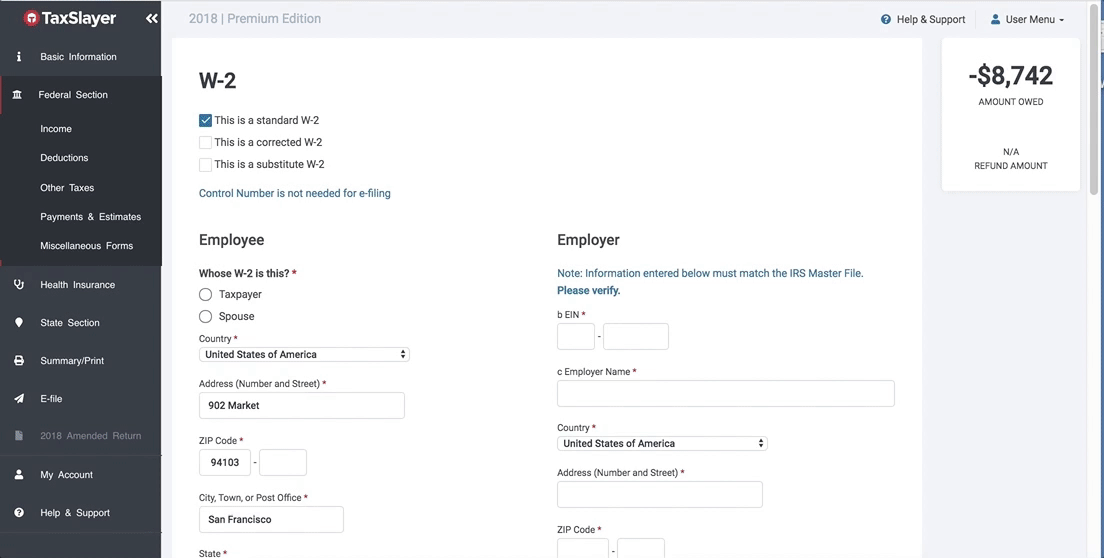 If you're audited
Getting audited is scary, so it's important to know what kind of support you're getting from your tax software. First, be sure you know the difference between "support" and "defense." With most providers, audit support (or "assistance") typically means guidance about what to expect and how to prepare — that's it. Audit defense, on the other hand, gets you full representation before the IRS from a tax professional.
TaxSlayer Premium, Self-Employed and Ultimate come with free audit assistance (users of other versions can buy it for $29.99), which helps you prepare for an audit but won't represent you in front of the IRS. The coverage applies for three years from the date you buy the software. Audit defense, which includes representation before the IRS, comes with the Ultimate package.
Tax refund options
No matter how you file, you can choose to receive a refund via direct deposit to one or more bank accounts (the fastest option) or in the form of a paper check. Other options include applying the refund to next year's taxes or directing the IRS to buy U.S. Savings Bonds with your refund.
TaxSlayer can load your refund onto Green Dot Bank prepaid debit card if you like. And if you're using a paid package, you have the option of paying for the software out of your refund.
How does TaxSlayer compare?


Read full review






Read full review






Read full review



Pricing

On the higher end




---




Ease of use

Q&A user flow is the best we tested




---




Support

Live video help from a tax pro available, plus online FAQs





Pricing

On the higher end




---




Ease of use

Less flashy, but still a solid, clear experience




---




Support

Live on-screen help from a tax pro available, plus online FAQs and 12,000 locations





Pricing

Good budget pick




---




Ease of use

Simpler, but upgraded design is a plus




---




Support

Online FAQs plus phone and chat





Compare more software
The bottom line
TaxSlayer may not be as well known as big brands like TurboTax and H&R Block, but even though meaningful support is relatively thin unless you're willing to pay extra, overall the provider offers a great price point and attractive software.