What is Form W-2?
IRS Form W-2, the "Wage and Tax Statement," reports an employee's income from the prior year, how much tax the employer withheld and other information. Employers send employees a Form W-2 in January (and a copy to the IRS). Employees use Form W-2 to prepare their tax returns.
The basics of the W-2 form
The IRS requires employers to report wage and salary information. Employers do that via Form W-2.
Don't confuse a W-2 with a W-4 — that's the form you use to tell your employer how much tax to withhold from your paycheck every pay period (learn how withholding taxes work). And notice the key word here: employer. Freelancers or contract workers get 1099s from their clients, not W-2s
Employers must send employees a W-2 by the end of January each year. Your employer may send you instructions for how to obtain yours online.
Every employer that paid you at least $600 during the year has to send you a W-2. Tip income may be on it.
For many people, the information on the W-2 determines whether they're getting a refund or writing a check at tax time.
» MORE: See the 10 IRS forms you need to know about before you file your tax return this year
You need your W-2 to do your taxes
Your Form W-2 tells you how much you earned from your employer in the past year and how much withholding tax you've already paid on those earnings.
When you do your taxes, you'll need the W-2 to fill in a lot of the information.
How to read and understand your W-2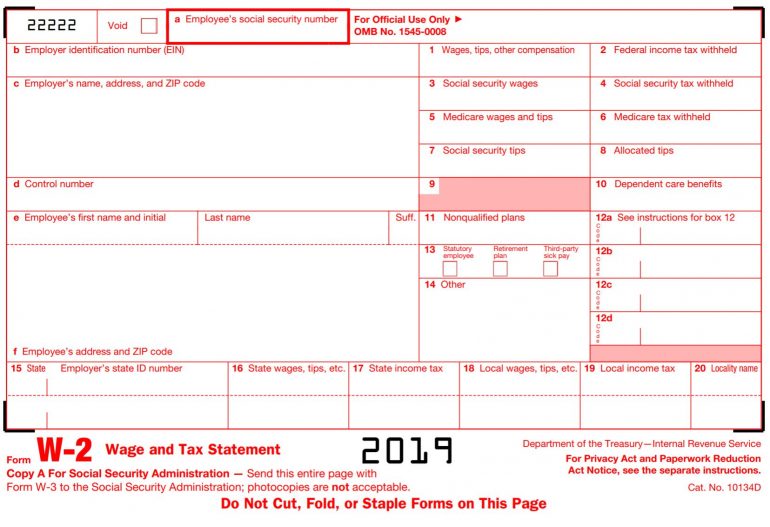 You'll use the 2019 W-2 to file your tax return in 2020. Form W-2 shows more than just what you were paid. It also details how much you contributed to your retirement plan during the year, how much your employer paid for your health insurance, or even what you received in dependent care benefits. All of that data affects your tax picture — your retirement contributions might not be taxable, for example.
Box 1: Details how much you were paid in wages, tips and other compensation.
Box 2: Shows how much federal income tax was withheld from your pay.
Box 3: Shows much of your pay in Box 1 was subject to Social Security tax.
Box 4: Shows how much Social Security tax was withheld from your pay.
Box 5: Shows much of your pay in Box 1 was subject to Medicare tax.
Box 6: Shows how much Medicare tax was withheld from your pay.
Box 7: Shows much of the tip income you reported to your employer (those tips are included in Box 1) was subject to Social Security tax.
Box 8: Shows the amount of other tips your employer allocated to you. This pay isn't included in Box 1. (Learn how to report tips on your income tax return.)
Box 10: Shows the amount of dependent care benefits your employer paid to you or incurred on your behalf. Generally, anything over $5,000 ($2,500 if you're married by filing separately) is also included in box 1.
Box 11: Generally, this box shows how much money was distributed to you during the year from your employer's deferred compensation plan.
Box 12: Here, there are four areas in which the employer can provide more detail about some or all of the pay reported in Box 1. For example, if you've contributed to the company's 401(k) plan, the amount of your contributions might show up in Box 12 with the code letter "D." There are many codes, which you can see in the IRS's W-2 instructions.
Box 13: This box indicates whether the employee's earnings are subject to Social Security and Medicare taxes but aren't subject to federal income tax withholding, whether the employee participated in certain types of retirement plans, or whether the employee got certain kinds of sick pay.
Boxes 16-19: Show how much of your pay is subject to state income tax, how much state income tax was withheld from your pay, how much income was subject to local taxes, and how much local tax was withheld from your pay.
>>MORE: Need to talk to someone at the IRS? Our list of IRS customer service phone numbers might get you help faster
When you should expect to receive your W-2
The IRS requires employers to furnish W-2s to the government and employees by Jan. 31 or face penalties. The IRS generally defines furnish as "get it in the mail," which means you should have yours in hand by the first week of February.
Employers can also send employees their W-2s electronically, but it's not required.
Even if you quit your job months ago, your ex-employer can still wait until Jan. 31 to send you a W-2 — unless you ask for it earlier, in which case the employer has 30 days to provide it.
Interesting note: If you die, you'll still get a W-2 that year.
Your W-2 information is not a secret
Employers are legally required to send copies of your W-2 to the Social Security Administration and IRS ("Copy A") and your state and local tax authorities ("Copy 1").
You won't get away with anything if you just shove your W-2 in a drawer and decide not to put the information on your tax return. In fact, you'll probably get a terse letter and a few months' worth of headaches from the IRS — and the state, if your state has income taxes — after they compare your return to the information your employer sent to the government.
» MORE: Really get to know your money — how much you have and how you're spending it.
If your W-2 is wrong
If your employer leaves out a decimal point, gets your name or a dollar amount wrong, or checks the wrong box — it happens — point out the mistake and ask for a corrected W-2.
Pointing out the mistake and waiting for a new W-2 will cost you time, but here's something that could make you feel better: The IRS might fine your employer if the error involves a dollar amount or "a significant item" in your address.
What if I lost my W-2?
If your W-2 doesn't show up by Valentine's Day, first ask your employer for a copy and make sure it's got the right address.
If that doesn't fix things, call the IRS (here's a list of useful IRS phone numbers). You'll need to provide information about when you worked and an estimate of what you were paid.
Remember that your tax return is still due in April, so you might need to estimate your earnings and withholdings to get it done on time. (Go here to learn more about getting an extension.) Plus, the IRS might delay processing your return — read: refund — while it tries to verify your information.
If your W-2 finally shows up after you already filed your tax return, you might need to go back and amend your tax return.