Lowe's Advantage Card Review: A Must-Have for Diehard DIYers
You get an automatic 5% discount on almost everything in the store. There's no annual fee.
Many or all of the products featured here are from our partners who compensate us. This may influence which products we write about and where and how the product appears on a page. However, this does not influence our evaluations. Our opinions are our own.
Our Take
The bottom line: This card offers top-notch value on spending at Lowe's, making it one of the best credit cards available for home improvement. The automatic discount can easily save you hundreds of dollars on a big project.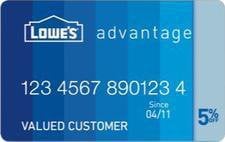 Annual Fee
Regular APR
Intro APR
Quick Facts
Enjoy everyday savings of 5% off* your eligible purchase or order when charged to your Lowe's account.
Pay over time with Lowe's Special Financing on purchases of $299 or more. Enjoy 6 months Special Financing** on each qualifying purchase.
Tackle your next project with Lowe's financing options. Enjoy up to 84 fixed monthly payments with reduced APR financing until paid in full when you use the Lowe's Advantage Credit Card on any purchase $2,000 or more.
Pros & Cons
Pros
No annual fee

No foreign transaction fee
Alternate Pick: Rewards + 0% APR
Chase Freedom Unlimited®
Well over a year with no interest
If you need more time to pay off a big purchase than the six months of "special financing" offered by the Lowe's Advantage Card, consider this option. New cardholders can get more than a year at 0%, as well as a sign-up bonus that could be pretty easy to attain with the spending from a home improvement project. And it earns rewards, too.
Read our review
Full Review
For those who spend plenty at Lowe's and want top-notch savings on those purchases, the Lowe's Advantage Card is a standout choice.
Unlike store cards that give you rewards points that have value only if you return to the store and spend more money, this Synchrony Bank-issued card gives you a flat 5% discount on almost everything, and the annual fee is $0. Those high-value discounts make it a compelling choice not just for loyal Lowe's customers, but also for those who spend heavily on home improvement elsewhere and could easily shift that spending to Lowe's.
Lowe's Advantage Card
: Basics
New cardholder offer: When you're approved, you'll receive a coupon good for 20% off your first purchase (maximum savings: $100). As of this writing, Lowe's said this offer was good through Jan. 31, 2021.
Discount: 5% off eligible purchases. This applies to most items in the store, but not all. More on that later, but among the exceptions: You won't get this discount on purchases if you use special financing or installment financing offers on the card.
Interest rate: The ongoing APR is 26.99% Variable.
Purchases of $299 and up are eligible for special financing. (This is a deferred interest offer, which means interest is still being calculated on the purchase. If it's not paid in full by the end of the promotion, you could get stuck with huge interest charges.)

Purchases of $2,000 or more are eligible for 84 months of installment financing at a lower APR of 7.99%. With this option, you pay for the purchase in fixed monthly installments (each of which, Lowe's says, is equal to about 1.56% of the initial purchase price). These payments will be included in your minimum amount due every month.
Benefits of the 
Lowe's Advantage Card
This card gets you a 5% discount at Lowe's on all eligible purchases. That makes it one of the most rewarding credit cards for home improvement purchases available. And because the discount is taken instantly at purchase, you get rewarded right away; there's no waiting to collect points.
To be sure, there are some limits on which purchases qualify for these discounts. If you opt for special financing or installment financing, for instance, you won't get the discount. Also, you can't stack this on top of other discount programs (e.g., military, employee, low-price guarantee), and you don't get 5% off if you're using a coupon for a product. It also won't apply to:
Extended protection plans.

Shipping, delivery and assembly fees, or taxes.
Even with those limitations, though, the card can still deliver outstanding savings on home improvement spending at Lowe's. You'd be hard-pressed to find similar value on other cards.
Unlike with most credit cards, the Lowe's Advantage Card comes with a sign-up bonus you can get right away: When you're approved, you'll receive a coupon good for 10% off your first purchase (maximum savings: $100). The offer is available through July 31, 2020.
Again, some restrictions apply; for instance, discounts won't be applied to gift cards, certain brands, taxes and fees or services. But if you're making a big purchase — say, a refrigerator or flooring — maxing out that offer is a breeze. And in some cases, that instant bonus might give you a reason to choose the card over others.
The Lowe's Advantage Card has an annual fee of $0. That makes it easy to pull ahead in savings, even if you don't use it for a time — say, when you're between remodeling projects.
Lowe's card vs. Home Depot card
You can't really talk about the Lowe's Advantage Card without also talking about The Home Depot Consumer Credit Card, offered by the biggest name in the home improvement game. Home Depot's annual sales are higher than Lowe's, so you might expect its credit card to offer richer perks, too. But in a head-to-head comparison, the Lowe's Advantage Card blows Home Depot's card out of the water.
The Home Depot Consumer Credit Card offers no ongoing purchase benefits at all — no discount, no rewards. You can get six months of deferred-interest special financing on purchases of $299 or more, or up to 24 months for certain promotions, and you get a year to make returns as opposed to the usual three months. And that's about it. When you consider that pricing reviews have found that the two chains are roughly equivalent in terms of cost, the Lowe's Advantage Card is such a better product that it's not even a competition.
Drawbacks and alternatives
Doesn't come with a true 0% APR offer
The Lowe's Advantage Card comes with your choice of a deferred interest offer or installment financing, but neither of these options is a true 0% APR offer. Installment financing comes with interest charges, and deferred interest offers can hit you with huge fees if they aren't paid in full before the terms expire. You also won't get 5% discounts on purchases when you opt for these financing offers. A card that offers a true 0% intro APR period could be a better option, since it gives you a break on interest and doesn't surprise you with big charges if there's a balance when the promotion ends.
The Bank of America® Cash Rewards credit card could be a great pick. It comes with an intro APR period. The card also offers 3% cash back on a category of your choice from a list ("home improvement and furnishings" is an option) and 2% cash back at wholesale clubs and grocery stores, on up to $2,500 in category/wholesale club/grocery store rewards each quarter. It also earns 1% cash back on all other purchases. You can change your category selection up to once a month. There's a sign-up bonus, too.
Can be used only at Lowe's
The Lowe's Advantage Card is a closed-loop card, which means you can use it only at Lowe's. You can't use it at, say, a restaurant, grocery store or other places that take credit cards.
If you want a card that can be used at more than one place, try the Discover it® Cash Back, which offers 5% cash back in rotating, quarterly categories on up to $1,500 in purchases each quarter, and 1% cash back on all other purchases. Activation is required. "Home improvement stores" was a bonus category during one quarter of 2014, 2015, 2016 and 2017. It comes with an intro 0% intro APR for 14 months on purchases and balance transfers, and then the ongoing APR of 11.99% - 22.99% Variable APR. INTRO OFFER: Unlimited Cashback Match – only from Discover. Discover will automatically match all the cash back you've earned at the end of your first year! There's no minimum spending or maximum rewards. Just a dollar-for-dollar match. The annual fee is $0.
Is the
Lowe's Advantage Card
right for me?
If you're a regular Lowe's customer already, then the Lowe's Advantage Card should be in your wallet. If you could just as easily go to Lowe's as Home Depot, then consider getting this card and pledging your allegiance.
Comments
NerdWallet reviews are the result of independent research by our editorial team while cardholder reviews are contributions from independent users not affiliated with NerdWallet. Banks, issuers and credit card companies are not responsible for any content posted on the NerdWallet site, nor do they endorse or guarantee any posted comments or reviews.

Some of the reviews on the NerdWallet site were purchased through a third party provider. Users who post a review directly on the NerdWallet site will not be compensated in any way. Please see our Terms of Use and Posting Guidelines for more information.