Klarna Review 2022: Should You Buy Now, Pay Later?
Klarna's Pay in 4 plan lets you divide your purchase cost into four interest-free installments instead of paying all at once.
Many or all of the products featured here are from our partners who compensate us. This may influence which products we write about and where and how the product appears on a page. However, this does not influence our evaluations. Our opinions are our own. Here is a list of our partners and here's how we make money.
Our Take
The bottom line:
Klarna may be a fit for borrowers who are shopping for a big-ticket item and can comfortably afford the monthly payments.
Pros & Cons
Pros
No-interest financing options.

Available at many retailers.
Cons
Offers small loan amounts.

Doesn't report on-time payments to the credit bureaus.
Get more smart money moves — straight to your inbox
Become a NerdWallet member, and we'll send you tailored articles we think you'll love.
Full Review of Klarna
Klarna offers buy now, pay later payment plans for online and in-store purchases through its mobile app. You can use these plans to shop at popular retailers like Macy's, Etsy, Foot Locker and Sephora.
Founded in Sweden in 2005, Klarna has expanded to 17 countries and serves 90 million shoppers. Its financing model is similar to companies like Afterpay, Affirm and Zip (formerly Quadpay) which also provide short-term loans at checkout.
Though it's usually best to pay for something outright instead of using a loan, buy now, pay later plans may make sense for buyers purchasing a big-ticket item, as long as the loan charges little or no interest and you can comfortably afford the payments.
Klarna's most popular payment plan, Pay in 4, lets shoppers split their purchase into four equal installments to be paid every two weeks, with the first due at checkout.
For example, if your purchase costs $200, you would pay $50 at checkout. The three remaining $50 payments would each be billed to your debit or credit card every two weeks until you've paid the full $200.
Installments are interest-free, but the company charges a late fee of up to $7 if the payment is unsuccessful after two tries. There is no penalty for making a payment early or paying off your balance in full before the final due date.
Another interest-free Klarna payment plan is Pay in 30. Instead of paying at checkout, shoppers have 30 days after the item has shipped to pay for their purchase. Since you pay only for what you keep, this allows online shoppers to try before they buy, according to the company.
Klarna also offers a traditional loan option available at select retailers with annual percentage rates of 0% to 24.99%. The APR for standard purchases is 19.99%.
| | | | | |
| --- | --- | --- | --- | --- |
| | Pay four equal installments, due every two weeks. | First installment (your balance divided by four). | | |
| | Pay nothing for 30 days, then pay the full balance. | | | None, but if you don't make the full payment, you could be considered in default. |
| | Pay with a loan up to 36 months. | | 0%-24.99%; 19.99% for standard purchases. | |
Finally, Klarna offers a single-use virtual credit card, which can be used at any U.S. retailer, even those that don't offer Klarna. Once the card is generated, you can plug in the card's details when you check out, just like any other credit card. According to the company, each card follows a specific payment plan, which you can view and manage in the Klarna app.
Paying cash is always cheaper than financing a purchase. However, Klarna can help you purchase something you need but can't fully cover upfront — as long as you're certain you can afford the subsequent payments.
Look specifically for a payment plan that charges little to no interest. In this case, the Pay in 4 or the Pay in 30 plans would be your best bet.
Klarna may be a good option if you:
Need to buy a big-ticket item. If you can't pay the full price of your purchase at checkout, but can save enough to make on-time payment(s), using Klarna is a way to get your item now and pay later.
Are new to credit and do not qualify for a credit card. You may find Klarna easier to qualify for than a credit card. The company considers your credit score in addition to other factors, but there's no minimum score required.
Have a credit card but don't have a high credit limit. Taking a Klarna loan is better than maxing out a credit card, which can lower your credit score and incur penalty interest rates.
Want a BNPL plan that earns rewards. Once you download the Klarna mobile app, you can join "Vibe," a free rewards program that awards one vibe per dollar spent with Klarna. These vibes can then be turned into rewards, like gift cards.
Klarna is not a good idea if you:
Want to use a POS loan to build credit. Klarna does not report on-time payments to the credit bureaus, though it may report missed payments. On-time payments can help build your credit score only if the lender reports them.
Pay only the minimum on your credit cards. If you don't have the money to pay down your credit cards, it's not a good idea to take out another loan, especially for a nonessential purchase.
Have a hard time keeping track of your balance. When you choose a payment plan, Klarna automatically bills your debit or credit card, meaning it's easy to overdraw if you don't know how much money is available in your account.
If Klarna is unsuccessful in charging your account, you could be charged a fee or the loan could be considered in default.
Want a simple BNPL product. Unlike similar providers, Klarna offers a range of pay-later products, each with different terms, interest and late fees. Though that means more ways to finance your purchase, it might be hard to know what you're signing up for. Make sure to read the loan terms carefully before you opt in.
Before you build a budget
Track all your spending at a glance to understand your trends and spot opportunities to save money.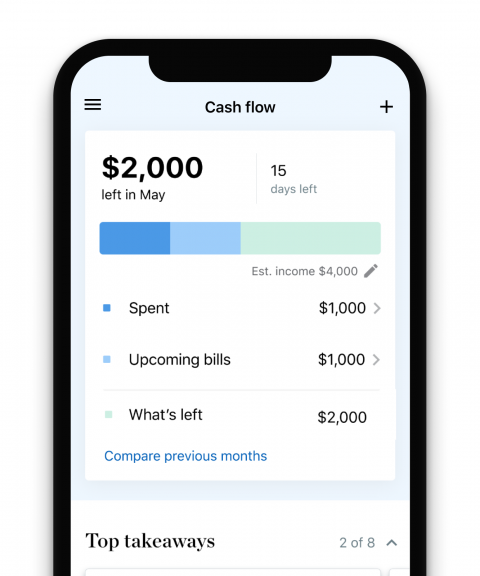 Personal loans: If you're considering Klarna's financing plan, you may want to research what APR you could get on a personal loan. If you qualify for a lower rate, you may save money in the long-term.
Most lenders offer pre-qualification for personal loans, so you can check available rates without impacting your credit score.
0% interest credit card: If you have good or excellent credit, you could also apply for a 0% APR credit card. These cards offer introductory periods up to 18 months and charge no interest during that time. You may also receive a sign-up bonus or access to a rewards program.
Unlike Klarna, most lenders and credit card companies will report on-time payments to the credit bureaus, which could help build your credit.
Methodology
This product is not yet rated.
Find the Best Personal Loan
Frequently asked questions
Klarna provides short-term, point-of-sale loans for online and in-store purchases, so shoppers can buy now and pay later.
Klarna's Pay in 4 plan lets shoppers divide their balance into four interest-free installments to be paid every two weeks. The first payment is due at checkout.
Klarna has partnered with over 5,000 merchants in the United States. This includes popular retailers such as Macy's, Foot Locker, Etsy, GameStop and Sephora.
Klarna may perform a soft credit check. This will not affect your credit score or show up on your credit report. For traditional financing, Klarna may perform a hard credit check, which will be reported to the credit bureaus.
Yes, if you fail to make payments on your loan, you could default, and Klarna may report this information to the credit bureaus.
If you make your monthly payments on time and in full with one of Klarna's interest-free payment plans, there is no catch. But similar to using a credit card, it's easy to overcharge. If you fail to make your payments, Klarna may consider the loan defaulted and send the loan to collections.