5 Ways to Level Up Your Banking Smarts
These are five ways to boost your savings balance and get smarter about banking strategies.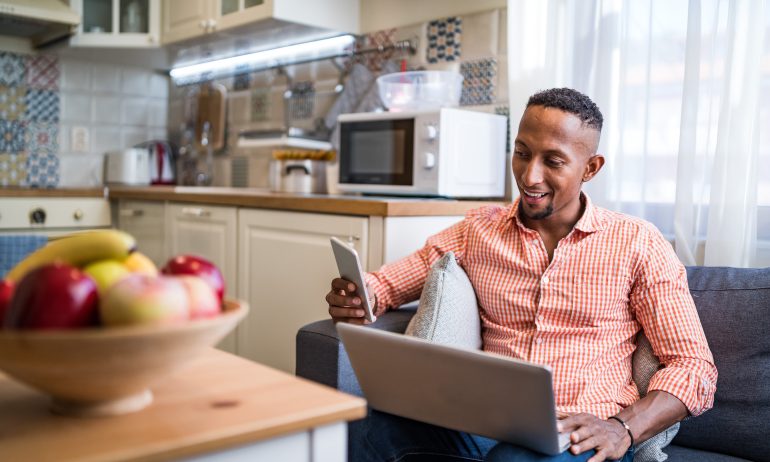 Many or all of the products featured here are from our partners who compensate us. This influences which products we write about and where and how the product appears on a page. However, this does not influence our evaluations. Our opinions are our own. Here is a list of our partners and here's how we make money.
Discover the bank accounts that fit your financial goals
Just answer a few questions to compare bank accounts that meet your needs.
Wondering just how savvy you could be with your bank accounts? Brush up on ways to boost your savings balance and get smarter about banking strategies. Here are five actions you can start today.
1. Overcome account anxiety
When was the last time you took a look at your bank statements? If it's been a while, you're not alone. It can be common for people to avoid looking at their expenses and deposits, says Omari Hall of GreenPath Financial Wellness, a nonprofit organization based in Farmington Hills, Michigan.
"It could be that looking at your account and seeing the balance gives you a sense of anxiety," Hall says. Or, it could be the familiar sense of disappointment in wanting to buy something but seeing that the funds aren't there.
But looking at your account also gives you data, which can be beneficial, he says.
"When the data is in front of you, it's easier to decide what to do with your money," Hall says. For example, if you notice you are using expensive food delivery services several times a week, it could prompt you to plan a few meals cooked at home instead. This is especially true when calculating how much money you'd save.
2. Aim for saving consistency
Part of being a savvy saver means putting money away for an emergency fund. It's nice to have a cash cushion — ideally, enough to cover three to six months' worth of expenses, though that amount is unrealistic for many people, Hall says.
If you are building your savings, Hall suggests having a goal of consistency instead of a particular amount. For example, say you get paid weekly and set up automatic savings deposits of $10 with each paycheck. With this consistent saving, you would have more than $500 after a year. That could go a long way toward paying for an emergency expense.
3. Make the most of account yields
From your first dollar saved, you'll want to put your money in a high-yield account. Earning more interest allows your balance to grow faster over time. And rates on savings accounts right now are higher than they've been in years.
Suppose you have $1,000 to deposit in a savings account (say, you had $500 saved and received another $500 as a tax refund).
If you keep the money in a savings account that earns only a 0.10% annual percentage yield, your balance will earn only a dollar in interest after a year. But put that money into a high-yield savings account that pays a 4% APY, and your funds would grow by $41 in that period. Without much more effort, that's $40 more than you'd have if you kept your money in the low-rate account.
There are also checking accounts that let you earn high yields on your balances. You might have to jump through a few hoops — make a certain number of debit card transactions each month, for example — but if you find one that works with the way you bank, you might earn higher yields on both your checking and savings.
If you have a bank account that charges you a $5 monthly fee, you're paying the bank about $60 a year — which could be more than you're earning in interest. Some institutions charge more. Opt for an account that waives this charge with requirements that are easy for you to meet, or better yet, go for a free account that doesn't charge maintenance fees at all. Also, look for checking accounts with low or no overdraft charges. Many financial institutions have reduced these penalties or eliminated overdraft fees.
5. Learn about federal insurance
Many of the accounts that offer the best yields are online-only. If you've never opened an account with an online bank before, you might wonder if banking online is safe. However, your money is protected if the account is with a bank with federal insurance through the Federal Deposit Insurance Corp. or with a financial technology company that partners with a federally insured bank. For credit unions, the money would be federally insured through the National Credit Union Administration.
According to the FDIC, "the standard deposit insurance amount is $250,000 per depositor, per insured bank, for each account ownership category." (Examples of ownership categories are joint accounts and single accounts.) And per the NCUA, that standard insured amount is the same.
This means if your financial institution fails, you still have access to your money, up to the insured amount. Before depositing your money with any institution, however, be sure to check its policies and make sure funds are federally insured.
Boosting your banking smarts doesn't have to take a lot of effort. These five suggestions can level up your banking knowledge — and bank balances.
Get more smart money moves – straight to your inbox
Sign up and we'll send you Nerdy articles about the money topics that matter most to you along with other ways to help you get more from your money.