How Ex-Offenders Can Rebuild With a Bank Account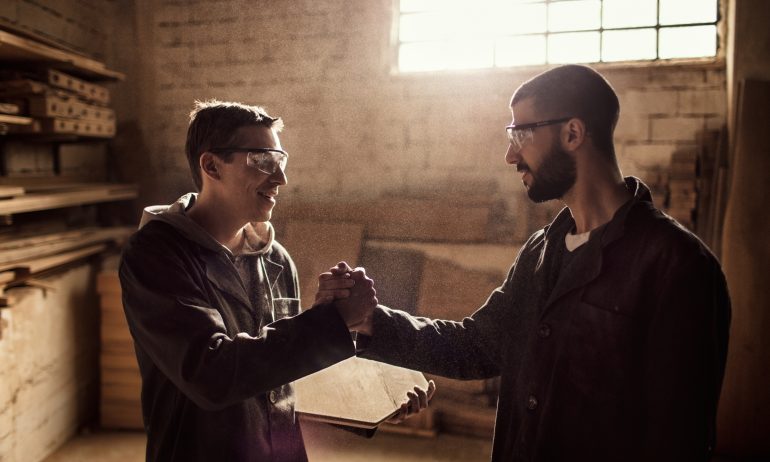 Many or all of the products featured here are from our partners who compensate us. This influences which products we write about and where and how the product appears on a page. However, this does not influence our evaluations. Our opinions are our own. Here is a list of our partners and here's how we make money.
Discover the bank accounts that fit your financial goals
Just answer a few questions to compare bank accounts that meet your needs.
People who have been recently released from prison often face unique challenges when reintegrating back into society, including when it comes to finances. Just opening a checking or savings account can be difficult if you're unfamiliar with how the financial system works or how to meet a bank's qualifications.
But having a bank account can make life smoother in many ways: It's a safe place to keep cash and allows for easier bill payment, money transfers, check writing and other financial services.
If you or a loved one is in this position, here are some of the issues that may come up in the process of restarting one's banking life, along with some tips for getting things moving in the right direction.
SoFi Checking and Savings

APY
4.60%SoFi members with Direct Deposit or $5,000 or more in Qualifying Deposits during the 30-Day Evaluation Period can earn 4.60% annual percentage yield (APY) on savings balances (including Vaults) and 0.50% APY on checking balances. There is no minimum Direct Deposit amount required to qualify for the stated interest rate. Members without either Direct Deposit or Qualifying Deposits, during the 30-Day Evaluation Period will earn 1.20% APY on savings balances (including Vaults) and 0.50% APY on checking balances. Interest rates are variable and subject to change at any time. These rates are current as of 10/24/2023. There is no minimum balance requirement. Additional information can be found at http://www.sofi.com/legal/banking-rate-sheet.
The hurdles: Lost documents, inexperience, scammers
Some of the biggest roadblocks for formerly incarcerated people when it comes to banking include:
Locating documents and a permanent address
To open an account, banks typically require information like a permanent street address, some form of government-issued identification and a Social Security card or tax identification number. If documents have gone missing or expired, they'll have to be replaced. A permanent address can be an obstacle, too: "Felon-friendly" housing may be challenging to find, and it takes time to earn enough money to afford rent or a mortgage.
Little or no experience with managing finances
Depending on the amount of time spent incarcerated, ex-offenders might have a lack of experience with opening accounts and managing money or using current banking technology.
Vulnerability to fraud and identity scams
Formerly incarcerated people who are getting on their feet financially may be targeted by criminals who are betting they're unfamiliar with common identity theft scams and the technology fraudsters use.
The next steps: Help getting back on track
There are solid resources available to ex-offenders rebooting their banking history. Here are some steps to take to get help:
Reach out to reintegration services
This is perhaps one of the most beneficial steps a recently released ex-offender can take. There are nonprofits and government programs throughout the U.S. dedicated to helping formerly incarcerated people set up their lives after prison. Search online for organizations in your city or state. Philadelphia, for example, has the Office of Reentry Partnerships, and Los Angeles County has resources for reentry on its 211LA website. Such agencies can offer guidance on what to do and when.
For example, banking might not be an ex-offender's No. 1 financial priority, said Art Green, spokesperson for reintegration nonprofit Hope for Prisoners.
"Finding a job is usually first, which can be very difficult in and of itself," Green said. Then, "depending on the crime someone committed, they may have to pay tens of thousands of dollars in restitution. They also might have back child support that they have to pay."
Such pressing financial obligations may mean there's initially little discretionary income to funnel toward a bank account.
Once an ex-offender is ready to pursue a checking or savings account, however, reintegration services can be a wealth of information and connections for financial help. For example, many nonprofits partner with banks and credit unions that help clients with opening new accounts, and some offer mentorship programs with ex-offenders who have graduated from a reintegration program.
Gather important documents
Ideally, one's birth certificate, Social Security card and other forms of identification were given to a trusted person or locked away in a safe deposit box. These documents will need to be on hand when applying for new bank accounts and other financial products. If any documents have disappeared or expired, new copies will need to be requested. The government site USA.gov offers guidance for replacing them.
Find a permanent residence
Having a place for receiving official mail, like tax forms and utility bills will help with applying for a driver's license or other state-issued ID, which in turn will help with opening a bank account. Housing options may include a halfway house or living with friends or family; reintegration services can often connect ex-offenders with felon-friendly housing as well.
Try a checking account that's made for fresh starts
If a low credit score is preventing you from opening a regular account, look for a bank or credit union that offers second chance checking accounts. At MountainCrest Credit Union in Washington, for example, new members who have credit scores below 600 and the appropriate documents and proof of address can open a Fresh Start Checking account while they work on fixing their finances. After a year in good standing, they can upgrade to a regular checking account.
Reestablishing finances after serving time may seem overwhelming. Bear in mind that there are people and organizations that are ready to help ex-offenders succeed.
APY
4.60%
With $0 min. balance for APY
Bonus
$300
Earn up to $300 with direct deposit. Terms apply.
Get more smart money moves – straight to your inbox
Sign up and we'll send you Nerdy articles about the money topics that matter most to you along with other ways to help you get more from your money.