Can't Get a Checking Account? Don't Give Up, Get Moving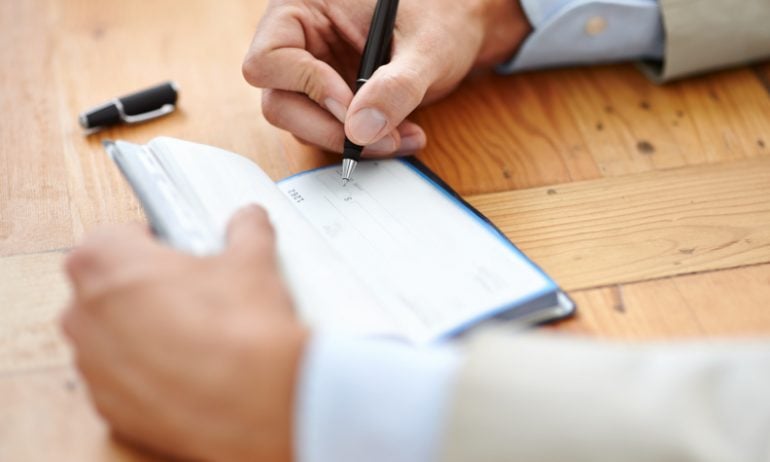 Many or all of the products featured here are from our partners who compensate us. This influences which products we write about and where and how the product appears on a page. However, this does not influence our evaluations. Our opinions are our own. Here is a list of our partners and here's how we make money.
Being denied a checking account isn't a permanent roadblock to financial stability.
After overcoming homelessness, Lavonna McKoy, 47, was trying to put her finances in order when she found out she didn't qualify for an account at a major U.S. bank. United Way's Making Wages Work program provided her with financial coaching — one of many free services the nonprofit offers to help extend opportunities for education, income and health.
"I had people in my corner who made me feel motivated to not give up," says McKoy, who now works with a United Way partner that helps homeless people find housing in Atlanta. "The coach gave me pointers on what to do," including applying for an account at a credit union, an option that worked for McKoy.
After you've been denied a checking account, you still have options. Clear away your financial obstacles by identifying the problem, taking steps to repair your banking history, and seeking help to kick old habits.
Find out why you got turned down
A bank or credit union often denies a checking account when a negative report exists in your name at a checking account reporting agency such as ChexSystems or Early Warning. These agencies share their reports with banks and credit unions, which use the information in deciding whether to approve accounts.
According to the Consumer Financial Protection Bureau, situations that could cause you to be denied a checking account include:
Involuntary closure of a checking account by a bank or credit union due to unpaid negative balances from overdrafts.

Having shared a joint account with someone who had these problems.
For McKoy, unpaid balances from bounced checks made her an unlikely candidate for a checking account, but she was able to repair her banking history, and you likely can, too.
Repair your banking history
A comeback will require some effort on your part. Do some digging to identify what's lurking in your banking history.
Identify the checking account reporting agency that flagged you. The bank or credit union that turned you down can provide that information. Then contact that agency to request a free copy of its report.
Review your report and identify any mistakes. Dispute these errors with the checking account reporting agency and the bank or credit union that rejected you.
If you find any errors, follow up by looking at your credit report — especially if you suspect identity theft. A credit report can also alert you to other problems that might disqualify you for a bank account. According to the CFPB, some banks and credit unions may look into your credit report when evaluating whether to approve you for a checking account.
As you get your finances on track, you'll be working on building your credit score. Get your score for free, and watch your number climb as you meet your goals.
Once you know why you were denied an account, decide whether traditional banking is the next immediate step.
"Not everyone is bank-ready," says Lark Kesterke, director of impact and investments at United Way. "When people are locked out of traditional checking accounts and switching gears to being in a banking relationship, it takes a little bit of time."
You may need to make an interim move, such as:
Paying off charges and making good with the bank: Some banks or credit unions will require you to pay off negative balances before opening a checking account.

Getting a second chance checking account: Patch up your banking history by keeping this account in good standing. In a few months, you could transition to a regular checking account. Second chance accounts usually require you to pay monthly fees, set up direct deposit or enroll in money management programs.

Waiting it out with a low-fee prepaid debit card: It can take up to seven years for black marks in your banking history to disappear. A low-fee prepaid debit card is an alternative to a bank account, but you're likely to pay more in fees. A recent NerdWallet study found that the average annual cost of not having a bank account is $196.50 for people with a prepaid debit card that offers direct deposit and $497.33 for those who have a prepaid debit card without direct deposit.
In much of the country, you can dial 211, a free number to connect people with community resources in their area, some of which include financial literacy programs. Organizations such as United Way and Bank On — which is made up of coalitions of local public officials, government agencies, financial institutions and community nonprofits — also offer programs throughout the country.
When a Bank On client is denied an account, "we ask the financial institution to let them know what the reason was," says Regina Stark, director of external affairs at Bank On Washington. Then the group refers the individual to "a nonprofit that can help them fix whatever issues they may have."
Nonprofits that partner with Bank On offer financial coaching and money management classes for free to help people meet their individual goals.
"It was a six-month-long process, but right now I feel that it was worth every single Thursday that I sacrificed," McKoy says about the Making Wages Work Program.
After taking her coach's advice, McKoy was able to get a second-chance checking account at a credit union. Since then, she has transitioned into a regular checking account and is a volunteer financial coach at United Way. She is now saving up to buy a house.
Get more smart money moves – straight to your inbox
Sign up and we'll send you Nerdy articles about the money topics that matter most to you along with other ways to help you get more from your money.