3 Common Banking Scams and How to Avoid Them
Bank fraud and scams abound; here's what you can do to protect yourself and your bank accounts.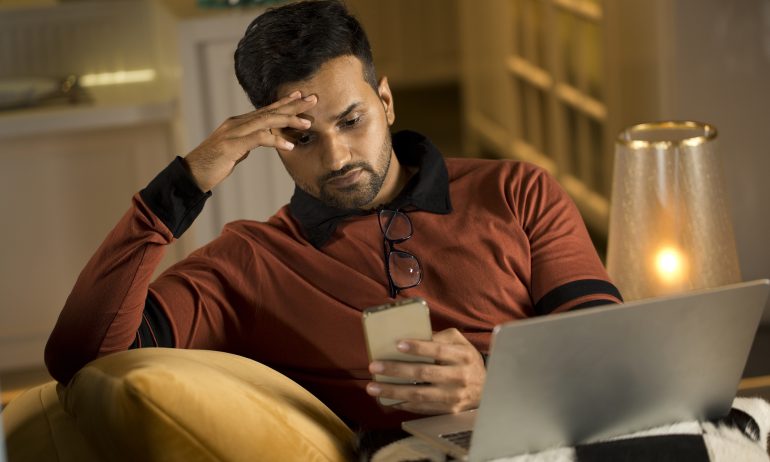 Many or all of the products featured here are from our partners who compensate us. This influences which products we write about and where and how the product appears on a page. However, this does not influence our evaluations. Our opinions are our own. Here is a list of our partners and here's how we make money.
Discover the bank accounts that fit your financial goals
Just answer a few questions to compare bank accounts that meet your needs.
About 2.8 million U.S. consumers reported more than $5.8 billion in losses to fraud in 2021 — up 70% compared with 2020, Federal Trade Commission data shows. Those losses include fraud affecting bank accounts. Though banking technology and security have come a long way, bank scams continue to cheat people out of their money.
Keeping your bank account funds safe is critical because unlike with fraudulent charges on a debit or credit card, you don't have much recourse if you give away money from your bank account. Money lost to bank fraud or scams isn't covered by the Federal Deposit Insurance Corp. (or National Credit Union Administration assurance if you use a credit union). It's like giving away cash — it's unlikely to be recovered.
But you can be proactive about keeping your funds safe. Here are three common bank scams and how to avoid them.
An automatic debit scam occurs when a scammer gets your checking account information (including the bank's routing number and your account number) and takes money out of your account.
The scammer may contact you by email, text or phone to get the information. Then, they'll set up automatic payments to themselves from your account — in the same way that subscription and monthly services are set up to be debited from accounts.
How to avoid automatic debit scams: Don't give up or confirm your account routing number to someone who contacts you. If someone claiming to be from your bank asks for this information, call your bank's official phone number to check if the request is legitimate.
SoFi Checking and Savings

APY
4.60%SoFi members with Direct Deposit or $5,000 or more in Qualifying Deposits during the 30-Day Evaluation Period can earn 4.60% annual percentage yield (APY) on savings balances (including Vaults) and 0.50% APY on checking balances. There is no minimum Direct Deposit amount required to qualify for the stated interest rate. Members without either Direct Deposit or Qualifying Deposits, during the 30-Day Evaluation Period will earn 1.20% APY on savings balances (including Vaults) and 0.50% APY on checking balances. Interest rates are variable and subject to change at any time. These rates are current as of 10/24/2023. There is no minimum balance requirement. Additional information can be found at http://www.sofi.com/legal/banking-rate-sheet.
2. Fake contest or job scams
Another kind of scam is a fake contest where a scammer contacts you and says that you've won something and you need to send a payment for shipping or processing of the nonexistent prize. A similar scheme may appear as a job requiring you to buy gift cards with your money. Then, you'll be asked to provide your "boss" at the fraudulent company with the PIN to redeem the gift cards — and never get reimbursed.
How to avoid fake contest and job scams: Don't give away or spend your money for something that sounds too good to be true.
3. Overpayment or fake check scams
In an overpayment scam, someone who's buying something from you will send a fake check for an amount that's more than what it should be. Then, they'll ask you to refund the excess amount. If the scam works, you'll send the money, and when it's too late, you'll discover the check they gave you was fake.
Similarly, with a check-cashing or fake check scam, someone will give you a personal or cashier's check to deposit and ask you to send some of the money to a third party. While the check is pending in your account, you'll send the money only to find out that the initial fake check they sent you didn't go through.
How to avoid overpayment or fake check scams: Don't accept a check you're not expecting or that's for an amount greater than you asked for — and don't agree to refund money that's in excess of that amount.
Best practices for avoiding any banking scam
Regardless of the scam, you can avoid being ensnared by taking certain precautions.
"It all starts with sharing information you shouldn't share with people you don't know," says Paul Benda, senior vice president of operational risk and cybersecurity at the American Bankers Association, a banking industry trade association.
Never confirm personal information with someone who contacts you first — even if they have personal details of yours such as your home address. A financial institution will never ask you to confirm your password with them.
Never click on links in an email or text message claiming to be from your financial institution. It's easy for scammers and fraudsters to set up email addresses, phone numbers, websites and communications that appear to be legitimate and may even show up in a web search. Instead, log in to your account or call the phone number listed on your bank card and confirm whether the request is legitimate.
Initiate contact with your financial institution. "You should only provide information where you have initiated the conversation," Benda says. Because scammers "can spoof the caller ID, they can sound really good; they can have a lot of your data so they sound like they're legitimate — we're not dealing with amateurs anymore."
If someone contacts you and claims your financial institution needs to verify information, end the call without responding. Then, call your bank's official phone number (get it from the bank website or the back of your debit card, not just from a Google search).
Never make a monetary transaction under pressure. If someone you're dealing with says the money needs to be given to them right away or is otherwise expressing urgency, recognize this behavior as a big red flag and step away. "A legitimate bank is never going to pressure you to do something," Benda says.
Get more smart money moves – straight to your inbox
Sign up and we'll send you Nerdy articles about the money topics that matter most to you along with other ways to help you get more from your money.