3 Ways to Skip Your Bank's Long Phone Lines
When phone wait times are long, try to reach your bank via live chat, Twitter or message instead.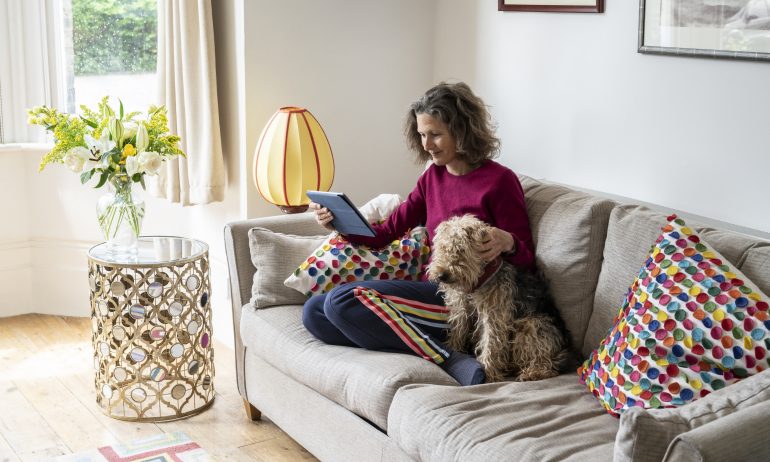 Many or all of the products featured here are from our partners who compensate us. This influences which products we write about and where and how the product appears on a page. However, this does not influence our evaluations. Our opinions are our own. Here is a list of our partners and here's how we make money.
Discover the bank accounts that fit your financial goals
Just answer a few questions to compare bank accounts that meet your needs.
To reach your bank's customer service fast, a phone call might not be best. Especially right now.
"The level of service [at banks' call centers] is not where it normally is," says Brad Cleveland, senior advisor and founding partner at the International Customer Management Institute, which helps banks and other companies make call centers more effective.
The coronavirus pandemic has impacted both sides of the service experience, adds Cleveland. Call volume is up while call centers have had to reduce staff in offices, adjust schedules and have more reps working from home. All this contributes to longer wait times on the phone.
But you can skip hearing "All our agents are busy" and use non-phone alternatives; here's a quick list of popular ones.
Some banks offer a live chat function that resembles text messaging with a representative on a bank's website or mobile app. This channel is typically a secure place to ask account-specific questions if you're logged into your account. Wait time — if there's one at all — tends to be a lot shorter than for calls, and there's a good reason for that.
"Banks are converting [more] to messaging to handle more conversations at once," says John Kelly, area vice president of financial services at LivePerson. The company powers chat technology for various clients including some national banks.
Unlike with phone calls, chats enable representatives to work with multiple customers one-on-one simultaneously. Kelly adds that chatbots, or conversational artificial intelligence software, can play a role too, such as answering frequently asked questions or directing a customer's issue to the right agent.
Not all chat functions work the same. Some banks require you to log in first; others let you message when you're visiting their websites.
Tip: Save information before the chat ends. Unlike with emails, closing a chat might mean losing a record of your correspondence; copy-and-paste or screenshot a chat if you need to reference that information later.
SoFi Checking and Savings

APY
4.60%SoFi members with Direct Deposit or $5,000 or more in Qualifying Deposits during the 30-Day Evaluation Period can earn 4.60% annual percentage yield (APY) on savings balances (including Vaults) and 0.50% APY on checking balances. There is no minimum Direct Deposit amount required to qualify for the stated interest rate. Members without either Direct Deposit or Qualifying Deposits, during the 30-Day Evaluation Period will earn 1.20% APY on savings balances (including Vaults) and 0.50% APY on checking balances. Interest rates are variable and subject to change at any time. These rates are current as of 10/24/2023. There is no minimum balance requirement. Additional information can be found at http://www.sofi.com/legal/banking-rate-sheet.
If your bank doesn't support chats, contacting it on Twitter might help you avoid call queues. Most banks have a social media presence; some even have handles, or usernames, dedicated to customer service and listed hours for live Twitter support.
Using a public platform has some advantages. You can scroll through other customer inquiries to see if you have similar ones by clicking the tab "tweets and replies" on the bank's Twitter page. And you can get a bank's attention in a more visible way, especially if you've been unable to reach it via other channels.
If you're unsure what your bank's Twitter account is called, check your bank's contact page on its website or search for your bank on Twitter. Here are some examples: @AskCapitalOne for Capital One, @ChaseSupport for Chase, @BofA_Help for Bank of America and @AllyCare for Ally Bank.
Tip: Don't include personal financial details in your tweets. If you bring up an account-specific issue, a bank may ask you to call or send more details privately in a direct message via Twitter.
Messages don't have the same immediacy or back-and-forth energy as chats or tweets do, but they might be more convenient than waiting on hold. Get familiar with how your bank's messaging system or "message center" works, generally by logging into your account online. Messages tend to function like emails and you might also find an option to send a message in a form on a bank's contact page, but you won't use your regular email.
Tip: Explain your situation clearly in your first message. Since many banks require you to log in beforehand, you've already identified yourself and won't need to include any personal account information. In fact, your bank might tell you to avoid doing just that.
If you still need to call
Have any paperwork or information you need ready, whether to verify your identity to the agent or to describe your issue.

Time your call when there's less demand. "Mondays and especially mid- to late mornings are busiest in these organizations' call centers," says Cleveland. Aim for early morning or towards the end of a weekday that's not Monday. Or try a weekend if your bank has hours then.

Ask for the best way to circle back for ongoing issues. This might mean calling a more direct number next time.
In a crisis, it may be instinctive to reach for the phone when contacting your bank, but think through your options first. If you've been impacted by COVID-19, see this list of several banks' response pages. Some banks let you make online requests for payment deferrals, for example. If you still need assistance, consider contacting your bank through multiple channels to see which is fastest.
"Bring your patience and carve out part of your day," says Cleveland. "We all just have to hang in there."
APY
4.60%
With $0 min. balance for APY
Bonus
$300
Earn up to $300 with direct deposit. Terms apply.
Get more smart money moves – straight to your inbox
Sign up and we'll send you Nerdy articles about the money topics that matter most to you along with other ways to help you get more from your money.