How to Make Mobile Check Deposits
You can deposit checks without going to a bank or ATM. Here are the steps to easily make mobile check deposits.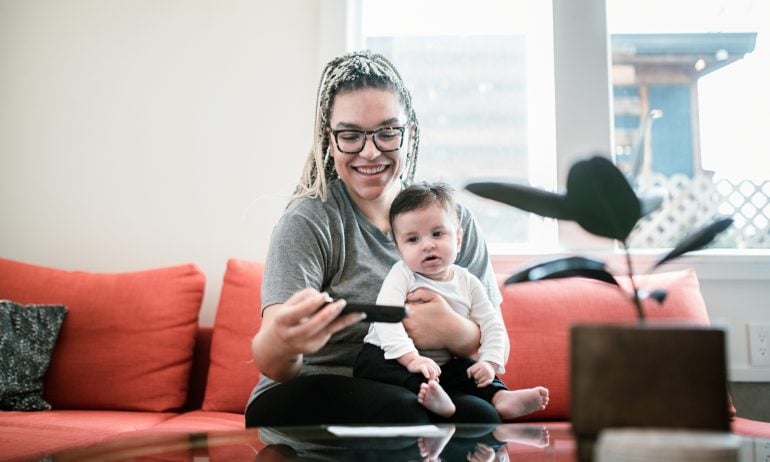 Many or all of the products featured here are from our partners who compensate us. This influences which products we write about and where and how the product appears on a page. However, this does not influence our evaluations. Our opinions are our own. Here is a list of our partners and here's how we make money.
Mobile check deposit is a service that financial institutions offer, allowing you to deposit a paper check using your mobile device. Depositing checks with your phone or tablet can take just a few moments, and you won't have to worry about finding the nearest branch or ATM. Your funds will be available for use usually within one business day, though some financial institutions may charge a fee if you want to access them immediately.
By following a few key steps, you can make a mobile check deposit without causing any errors or processing delays.
Here's how to make a mobile deposit using your device:
1. Know your bank's mobile check deposit requirements
Check to see if you can use your bank's mobile check deposit feature (or "remote deposit capture," as the service is formally called). Most banks let you deposit checks remotely if you're eligible for mobile banking, but at least one financial technology company has requirements that must be met before you're eligible to use the mobile check deposit service.
Personal, business and government checks are generally accepted for mobile deposit. Other payment forms, such as money orders or international checks, might not be accepted for mobile deposit at your bank. Additionally, a general requirement from most financial institutions is that the check shouldn't be more than six months old. The check should also be made out to you, the depositor.
2. Confirm the check amount is within mobile deposit limits
For security reasons, many banks restrict the amount you can deposit remotely. See what your bank's daily and monthly mobile deposit limits are, then confirm that your check amount is within those limits. If it isn't, you'll most likely need to deposit it another way, such as at an ATM or bank or credit union branch office, or by mailing it in.
After confirming that you can use the mobile deposit service and that your check falls within the mobile deposit limits, endorse the check by signing on the back. If the check is made out to you and someone else, you may also need the other person's signature on the check to endorse it.
Look up any additional instructions from your bank online or in the app. For example, you may need to write "for remote deposit only" or include your account number underneath your signature.
4. Open the mobile deposit function in your bank app
Sign in to your banking app and find the mobile deposit feature. You might need to manually enter or select some information, such as the account you want to deposit to (if you have multiple accounts with the bank) and the exact amount of the check.
5. Take clear pictures of the check with your mobile device
Lay your check on a flat surface in a well-lit area. The mobile deposit feature in the banking app will ask to access your device's camera. After giving permission, position your phone or tablet above the check. There will be a rectangle on the screen guiding you to align the check. Make sure the entire check is in view. Steady your hands and keep the check in focus on the camera's viewfinder. Then, tap the button on the screen to take the picture. You'll need a snapshot of both the front and back of the check. All details, including account and routing numbers, should be clearly visible in the picture.
Some banks' apps capture the image without prompting you, which can be helpful but also cause problems. If you have trouble with auto-capture, make sure your check and phone are set up correctly before opening the bank app.
If the check images aren't coming out clearly, you can try a few things:
Place the camera a few inches farther above the check before taking the picture, leaving some space on all sides of the check within the camera viewfinder.

Clean your camera lens by wiping it with a soft cloth.

Make sure your app is updated.

Uninstall the app, restart your mobile device and then reinstall the app.
6. Confirm the check details and complete the deposit
Review the check details in the app and verify the check is going to the right account and that all other information, including the amount to be deposited, is correct. Once you're ready, tap through to complete the mobile deposit process.
7. Keep the check until it's processed
Your bank may notify you when a check is accepted, either through its mobile app or an email. Once this happens, consider writing "void" or "deposited by mobile" across the front of the check and holding onto it until the deposit shows up in your account.
Like any deposit, it may take a day to a week for mobile checks to be processed, depending on the bank and when you made the deposit. There's a cutoff time, such as 5 p.m. or 11 p.m., for a check to be considered part of that day's transactions. If the check is for a large amount, it may take even longer for all the funds to be available. Monitor your account, and if the money doesn't show up after a week or two, visit a bank branch and present the paper check as proof of the deposit.
Frequently asked questions
What is mobile check deposit?
Can I deposit any check by mobile check deposit?
How long does mobile check deposit take?
Get more smart money moves – straight to your inbox
Sign up and we'll send you Nerdy articles about the money topics that matter most to you along with other ways to help you get more from your money.