Mobile Check Deposits: Pro Tips to Ensure They Go Smoothly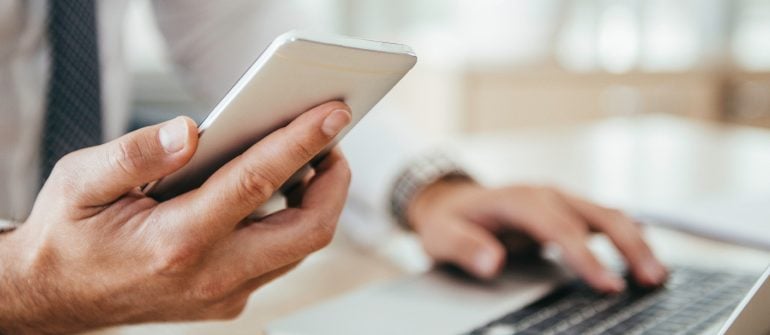 Many or all of the products featured here are from our partners who compensate us. This may influence which products we write about and where and how the product appears on a page. However, this does not influence our evaluations. Our opinions are our own. Here is a list of our partners and here's how we make money.
Depositing checks from your phone or other mobile device is convenient — just take a picture of your check, tap a few keys, and the check is on its way into your account. Sometimes the process can go awry, however, and keep you from completing your deposit.
Follow these 7 tips to prevent your mobile check deposits from getting declined.
Don't hold the check when you're photographing it; set it down so the picture is steady, not blurry. Only the check should be in the frame — no stray papers, credit cards, random Legos or other visual distractions. "Make sure your fingers aren't over the account number line at the bottom," says Bob Meara, Celent senior analyst for banking.
Use good lighting and avoid heavy shadows falling across the check.
"You have to capture the four corners of the check," says Marek Helcl, mobile deposit product owner at Mitek Systems, a provider of check deposit technology. One bank, Capital One, advises customers to draw a small dot on each corner, which won't hurt the check but does make it easier to read.
Find the best online checking
Discover and compare NerdWallet's picks for the best online checking accounts.
Detach check stubs or pay slips
If your paycheck comes attached to a whole sheet of paper with a pay stub, "rip all that off so it's a nice rectangle," Helcl says. Nothing should be attached, including any check stubs, pay slips or vouchers.
Use a plain, dark background
"A light check on a white table is very hard for the computer to see," Helcl says. Busy patterns — even the speckly grain of a granite kitchen countertop — make a bad background for a check photo. One rejected check that Helcl examined had been photographed "on top of a plastic bag of walnuts that was on a Batman print tablecloth," he says. All the reflections and angles made for a terrible photo and a failed deposit.
Keep your banking app updated
Many of the newer apps these days run in video mode and snap the picture for you when conditions are right. Bank of America, U.S. Bank and Wells Fargo are among the big banks using the newer technology. The app prompts you whether you need to, say, move to the right, get closer to the check or use more light.
"The consumer simply holds the device over the check — they don't need to click — and the device automatically captures a usable image," says David Albertazzi, a senior analyst covering banking technology at Aite Group. "That means even first-time users will be successful." So it's worth updating your banking app to the latest version your device supports.
Check for good signal strength
You need a strong cell phone signal for your check image to travel to your bank's server and get verified. If your signal is weak, wait until you have a better signal before trying to deposit your check, Meara says.
Confirm the check status — twice
Some checks do get rejected after inspection due to a poor photo or missing information. If the check was for a small amount, you might not notice and take steps to correct the problem. Your app will alert you when the deposit goes through, but you should take the further step of confirming that the money went into your account, either with your mobile app or by logging in to your bank's website.
"My Wells Fargo app will tell me within seconds that the deposit was sent to the bank. After a few minutes, it comes back to say it was verified. Wait till you get the definitive confirmation," Meara says.
Avoid redeposits and associated fees
If someone in your household deposits a check via mobile app without telling you, you might deposit it a second time. When a mistake like this happens, some banks simply email you to alert you to the issue. Others will hit you with a "duplicate presentment" charge. To keep things organized, clearly write "Deposited by mobile app" on the paper check when you're done.
As of mid-January, check printer Harland Clarke started printing paper checks featuring a tick box in the endorsement area on the back for customers to mark when they use mobile deposit, providing a useful reminder.
With these insider tips, your mobile check deposits are more likely to go through smoothly the first time. That will leave you with more free time for your favorite pursuits rather than driving to the ATM or the bank branch.
Alliant Credit Union High-Rate Checking

APY
0.25%You'll qualify for an annual percentage yield of 0.25% if you opt out of paper statements and have at least one electronic deposit made to your account each month, such as a direct, ATM or mobile deposit or a transfer from another financial institution.
Get more smart money moves – straight to your inbox
Sign up and we'll send you Nerdy articles about the money topics that matter most to you along with other ways to help you get more from your money.