Remitly Money Transfer Review
Competitors with quick delivery options tend to charge higher fees, but Remitly money transfers balance speed with decent prices.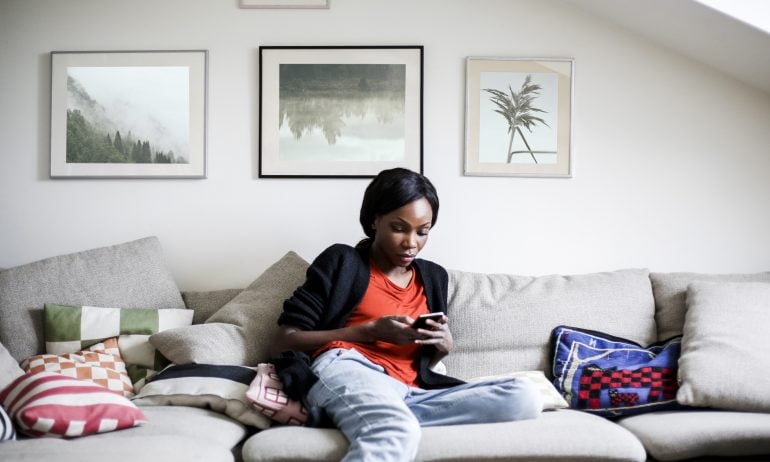 Many or all of the products featured here are from our partners who compensate us. This influences which products we write about and where and how the product appears on a page. However, this does not influence our evaluations. Our opinions are our own. Here is a list of our partners and here's how we make money.
Discover the bank accounts that fit your financial goals
Just answer a few questions to compare bank accounts that meet your needs.
Remitly is a web-based money transfer provider that lets you send money fast from the U.S. to over 90 countries, especially the Americas. Competitors that have options for delivery within minutes tend to have higher fees, but Remitly balances speed with decent prices. It often charges fixed fees around $4 for sending money, depending on the country, amount sent and payment method.
Remitly's exchange rates generally have a markup from a little more than 1% to a little more than 3%. The markup largely depends on the currency and payment method, but it's roughly on par with similar competitors. (Skip ahead for the definitions of money transfer terms.)
This overview of Remitly is for U.S.-based audiences sending money within the U.S. and abroad only.
People who want cheaper or fee-free options in exchange for sending money a little slower, and an easy mobile app experience.
Fast delivery using a debit card. Remitly has the ability to deliver money to recipients within minutes if you use a debit card.

Free and/or cheap delivery options. The Remitly Economy option allows you to send money for fees as low as $3.99 or send over $1,000 for $0 to some countries.

Promotional rates. First-time users of Remitly will get a significantly cheaper promotional rate for a limited amount of money, depending on the receiving country. (Expiration dates on these promotions can be changed by Remitly at any time.)

Robust customer service. Phone service is available 24/7 in English and Spanish, and live chat is also available 24/7 in English, Spanish and French. Remitly's FAQ section of its website has a clear list of common questions sorted by category and is available in more than a dozen languages.

Strong mobile experience. Remitly's mobile apps offer a resoundingly positive experience, earning a 4.9-star rating for iOS users and 4.8 stars for Android users, both on a 5-star scale.
Low sending limits. At $2,999 to $30,000 per day (depending on how much information you provide to confirm your identity), sending limits are much lower than some competitors', some of which don't put a cap on how much you can send.

Credit card fees. Funding transfers with a credit card costs an extra 3% of the transaction amount, which is similar to what some competitors charge (though less than others).

Long delivery times for Economy option. Cheaper transfers, using your bank account, take three to five business days for delivery.
SoFi Checking and Savings

APY
4.60%SoFi members with Direct Deposit or $5,000 or more in Qualifying Deposits during the 30-Day Evaluation Period can earn 4.60% annual percentage yield (APY) on savings balances (including Vaults) and 0.50% APY on checking balances. There is no minimum Direct Deposit amount required to qualify for the stated interest rate. Members without either Direct Deposit or Qualifying Deposits, during the 30-Day Evaluation Period will earn 1.20% APY on savings balances (including Vaults) and 0.50% APY on checking balances. Interest rates are variable and subject to change at any time. These rates are current as of 10/24/2023. There is no minimum balance requirement. Additional information can be found at http://www.sofi.com/legal/banking-rate-sheet.
Remitly transfer methods and options
Remitly offers several ways to transfer money. Here's a breakdown of the options:
Sending channels: Remitly's website and mobile app.

Payment options: U.S. bank account, debit card and credit card — standard for many online providers. You can also pay by prepaid debit card.

Delivery options: Bank deposit at the recipient's bank; cash pickup at participating stores, pharmacies or banks; mobile account deposit or home delivery.

Transfer limits: Generally, $2,999 per day within 24 hours of registering with Remitly. This can be increased to $6,000 or $10,000 per day, depending on how much additional information you're willing to provide, including details about your use of Remitly, your full Social Security number, government-issued ID, and details about the source of your funds, for example. The amount you can send within a month is capped at $30,000. Some providers don't place a limit on the amount you can send.
Definitions: Money Transfer Rates
There are three rates that determine how much your money transfer will cost and how much money your recipient will receive.
Exchange rate: An exchange rate is the price of one currency in relation to another currency. For example, if you want to convert U.S. dollars to euros, you would check what one U.S. dollar is worth in euros.

Midmarket rate: The midmarket rate, also called the interbank rate or interbank exchange rate, is the exchange rate that big banks use to swap currencies among one another.

Exchange rate markup: Most providers use an exchange rate markup when pricing your transfer. They give customers an exchange rate that's the midmarket rate plus an additional percentage, or markup, to make a profit on the transfer. The higher the markup, the less your recipient gets in their currency.
General advice for international money transfers
1. Know how exchange rates work (and how to find the best). One of the ways money transfer providers make money is through exchange rate markups. Most transfer providers won't give you the exchange rate you'd find on a currency exchange platform like the one at Bloomberg.com or Reuters.com. Those sites just tell you the price of one currency in relation to another, but they are a helpful starting point to know what the best rate looks like this minute. When you check the exchange rate for an international transfer with services like Western Union, focus on the exchange rate markup by looking at the foreign currency amount. The higher it is, the lower the markup is, and the more money your recipient receives.
2. Compare total transfer costs across multiple providers. There are two types of costs: upfront fee and exchange rate markup (see above). Find the provider that has the lowest fee combined with the best exchange rate you can get. Usually online nonbank providers offer cheaper transfers than banks.
3. Avoid paying with a credit card. It's an option for some providers, but there might be a higher upfront fee and your credit card issuer may tack on costs such as interest and cash advance fees. A transfer paid by bank account directly tends to be a much cheaper (and much slower) transfer. If you need money delivered quickly, use a debit card, which will also incur a lower fee than using a credit card.
APY
4.60%
With $0 min. balance for APY
Bonus
$300
Earn up to $300 with direct deposit. Terms apply.
Get more smart money moves – straight to your inbox
Sign up and we'll send you Nerdy articles about the money topics that matter most to you along with other ways to help you get more from your money.